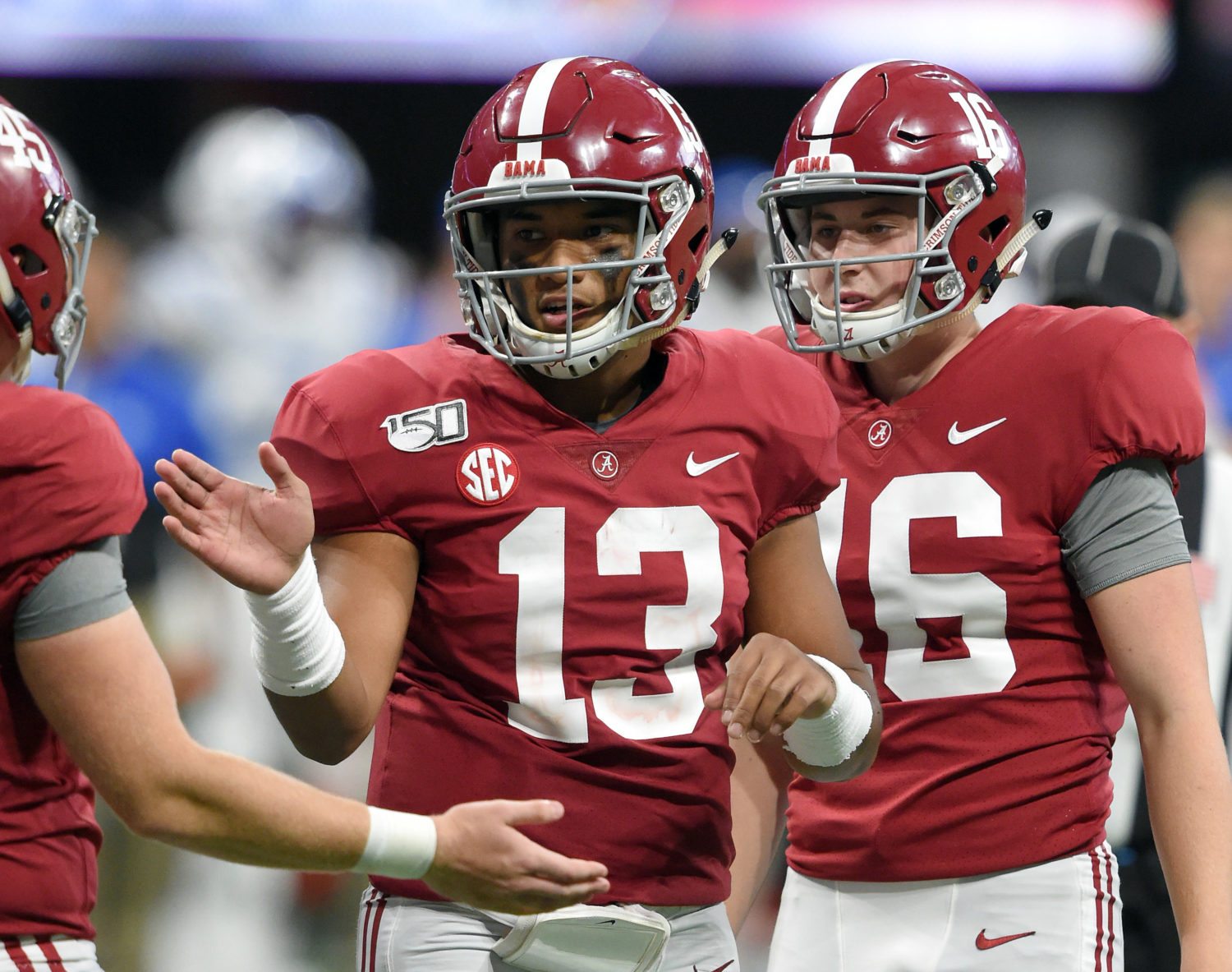 ALABAMA
Alabama's perennial Achilles' heel? Tide would love to kick it to the curb
In Greek mythology, Achilles was the greatest of all the warriors.
He was able of body and true of purpose, and was invulnerable in all of his body except for one place — his heel.
For when Achilles' mother, Thetis, dipped him in the river Styx as an infant, she held him by one of his heels. And therefore when Achilles took an arrow to the heel from Paris at the end of the Trojan War, that was that.
Flash forward a few thousand years, and one can draw the same parallel to the world of college football, the Alabama Crimson Tide, and the most un-football of all football elements — the kicking game.
No one should confuse Saturday Down South with Homer's Illiad, of course. Our job isn't to deliver dactylic hexameter about the intricacies of American intercollegiate amateur tackle football. But it is worth drawing a parallel between the Trojan War and the College Football Playoff.
Alabama under Nick Saban has unmistakably been the schoolyard bully in college football since 2009, once they vanquished Tim Tebow once and for all and went on to beat Colt McCoy's shoulder and the Texas Longhorns in a very large Bowl of Roses.
Four more national titles later (for a total of 17 … or 16 if you're a hardcore Gump who wants to die on the 1941 hill) and Saban's Alabama franchise is Coca-Cola to the sport. The Apple of athletics. The unquestioned No. 1. The Alpha to all the other Omegas that aren't wearing orange and purple in Clemson, S.C.
But even though Saban's Alabama is Coca-Cola and Apple doesn't mean they are omnipotent. Because just like our boy Achilles — and Coca-Cola's New Coke or Apple's Newton — Alabama football has a noticeable weakness … one associated with the same body part that put Achilles in the dirt:
Kicking.
Simply put, Alabama is going through a bit of a time at kicker. Apparently, Saban can both charm the socks off of every 5-star athlete (and sell the heck out of some Aflac …) except when it comes to the small little dudes who come trotting out onto the gridiron wearing soccer shoes.
Because when you place the mighty Crimson Tide between 20-55 yards away from a set of pipes 10 feet off the ground and 18 feet, 6 inches apart from each other, well … Achilles.
The most recent example came this past Saturday, as heralded recruit Will Reichard had a 49-yarder lined up the 1st quarter that he bounced off the right upright. Reichard managed to replicate the trick in the 4th quarter, doinking a 48-yarder off the left upright on the other end of the Mercedes-Benz Stadium field. Mercifully, no crossbars were injured in the process.
"I think he hit both field goals that he hit, he really hit well," Saban said Tuesday to AL.com. "It's a little unlucky that both of them hit the pole, but hopefully he'll be able to gain confidence and improve on that in the future."
And even though Reichard's double-play kept 6 points off the board, Saban thought Reichard did "great" in his first college game — as he handled punting and kickoffs (all 7 for touchbacks) in addition to field-goal kicking.
"He kicked a lot of touchbacks," Saban said, "which shows his leg strength."
That's all fine and good, and probably the right thing to do given that Saban understands the delicate head space in which kickers operate. Much like MLB relievers and professional golfers, the best kickers have no recollection of mistakes and own an unassailable belief that they are too great to fail.
But like Mitch "Wild Thing" Williams and Tiger Woods both learned, that's all fine and good until the pipes start getting in the way. Suddenly, that 18-foot, 6-inch chasm starts looking like a sewing needle that can't possibly fit a football between. Suddenly the finicky timing between snap and spot feels a hair off. The wind is always against you. The grass/turf isn't quite right.
Alabama fans have seen this before. Just last season, Austin Jones was penciled in as the Tide's kicker until he had missed a PAT and a 27-yard field goal attempt in the 2018 season opener against Louisville. That was all Saban needed to see, as he went with freshman Joseph Bulovas the rest of the season. The year before, Andy Pappanastos had an FG attempt to win the national championship game against Georgia — a 36-yarder from the middle of the field. Pappanastos missed, sending the game to overtime.
Leigh Tiffin had a chance to beat defending national champion LSU in regulation in 2008, but missed from 29. In 2011, Cade Foster missed kicks of 44 and 50 yards on Bama's first 2 drives of the game against LSU. Saban let Jeremy Shelley try a 49-yarder on the 3rd drive, and it was blocked. Foster had a chance to redeem himself with a 52-yard attempt in overtime. He missed that, too. The Tide lost an epic 9-6 game in OT.
And we won't even get into the 2013 Iron Bowl and then-freshman Adam Griffith's 57-yard try at the end of the game. We don't have another second to spare.
The Crimson Tide have lost only 10 games since 2011. Three came down to missed field goals.
Somewhere in Greece, an heir to Achilles is wincing in pain and doesn't know why. But all over Alabama, Saturday's double-doink feels strangely familiar … and sickening.