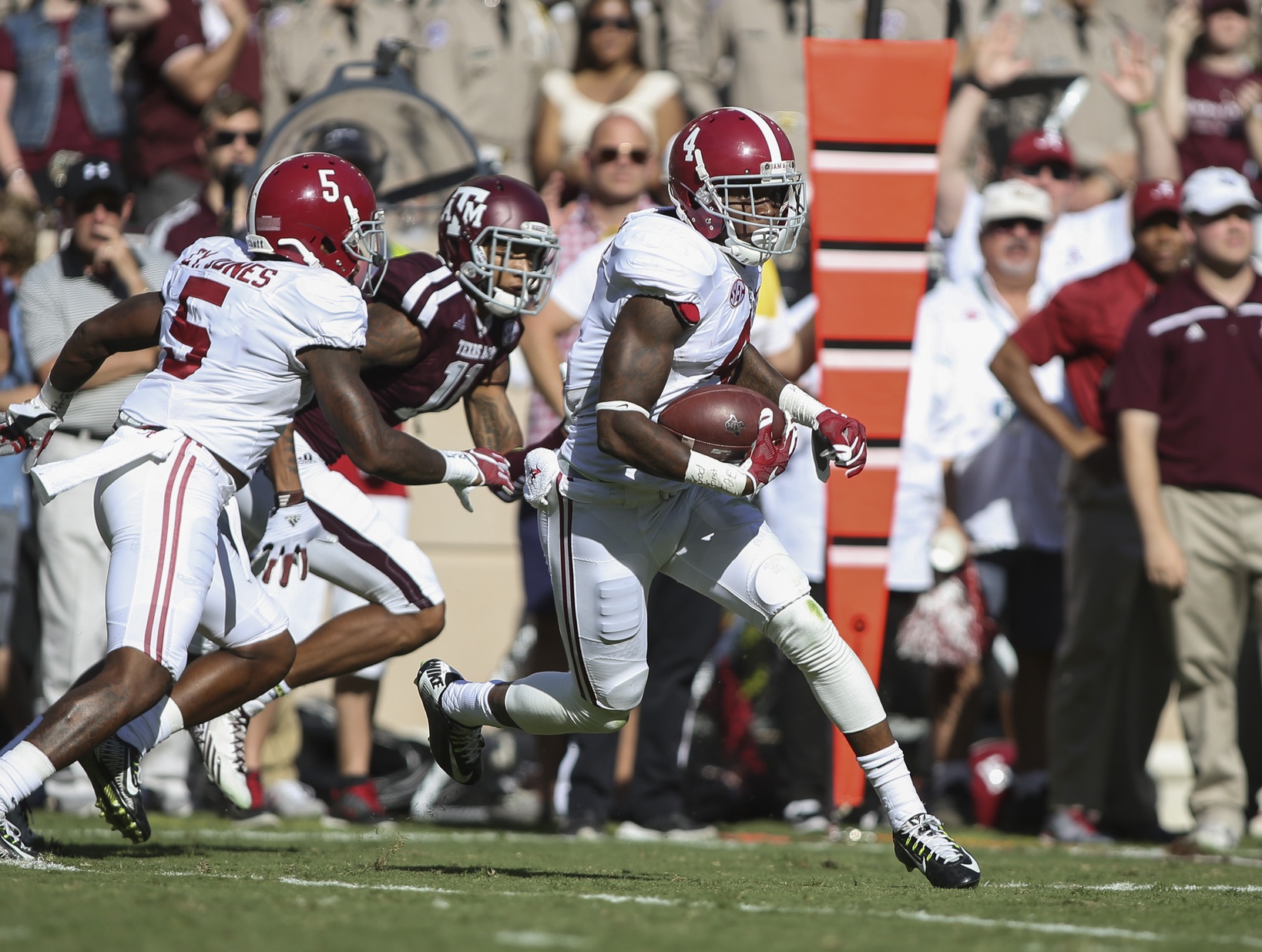 ALABAMA
Better/Worse in 2016: Alabama pass defense
Alabama's secondary had plenty of uncertainty entering 2015 with one key player switching positions and a dependency on freshmen to make an early impact.
As it turned out, Eddie Jackson not only made a successful move from cornerback to safety, he led the SEC in interceptions with six and earned First-Team All-SEC honors.
Meanwhile, the redshirt freshman who took his spot in Marlon Humphrey was named to the Freshman All-SEC Team, and true freshman Minkah Fitzpatrick was named a Freshman All-American by Sporting News.
On top of that, Alabama fielded a front seven that was arguably the best we've seen in a long time.
As a result, the Crimson Tide led the SEC in opponent completion percentage (50.5) and interceptions (19) while finishing second in opponent passer rating (105.2).
Here's how Alabama's passing defense performed in other key categories in 2015:
Passing yards allowed per game: 200.6 (6th in the SEC)
Most yards allowed: 405, Clemson
Passing TDs allowed: 17 (tied for 9th)
300-yard passers allowed: 3 (Chad Kelly, Dak Prescott, Deshaun Watson)
The Tide has a tough task on its hands if it wants to improve on its effort from last season.
Pass rush
The Tide led the entire FBS with 52 sacks last season, four more than Clemson.
Jonathan Allen, who is entering his senior season, led the way by finishing second in the SEC in sacks (12) while recording 14.5 tackles for loss, 4 pass breakups, 6 QB hurries and 2 forced fumbles.
Kirby Smart, who was the program's defensive coordinator since 2008, is now Georgia's head coach. With the Tide, Smart's units ranked among the SEC's top five in sacks in five of those eight seasons.
Don't expect much of a change from a schematic standpoint with Jeremy Pruitt now guiding the defense, but the former Alabama defensive back should certainly make his mark on the secondary, especially with his recent track record against the pass.
As defensive coordinator/defensive backs coach at Florida State in 2013, the Seminoles ranked first in the country in pass defense (156.6) on the way to a national title. Then, he served in the same roles at Georgia in 2014 and 2015, and the Bulldogs ranked fifth and first in the nation, respectively, against the pass in those seasons.
The team will have to overcome the losses of A'Shawn Robinson and Jarran Reed, but the team is still loaded with talent in the trenches.
Sack artist
Allen returns to lead a unit that returns each of its top four sack leaders from last season.
If someone has the suspicion that Allen's performance was one of those that came by racking up sacks against lesser competition, you're dead wrong. All 12 of his sacks came against Power 5 schools, and 11 of those 12 were against ranked teams.
The 6-foot-3, 294-pounder enjoyed four games with multiple sacks: season opener vs. Wisconsin (two), at Texas A&M (two), at Mississippi State (three) and vs. Michigan State (two).
Allen and Tim Williams (10.5 sacks) were the first Alabama players to record double-digit sacks in a season since Wallace Gilberry had 10 in 2007, Nick Saban's first year in Tuscaloosa.
Allen decided to return for his final season despite being projected as a first-round draft pick by everyone.
Ball in the air
Jackson, Fitzpatrick and Humphrey are all back to lead the secondary, but the group has suffered some attrition in the offseason. That may lead the team to once again rely on unproven players.
Senior Maurice Smith and sophomore Shawn Burgess-Becker have recently announced their decisions to transfer, while junior Tony Brown is facing an indefinite NCAA suspension for unspecified reasons and Laurence "Hootie" Jones was arrested on weapon and drug charges in mid-May.
That presents some concerns for the back end of Bama's defense, but if any team is equipped to handle it, that would be Alabama.
Three spots are clearly locked down, Ronnie Harrison seems poised to play free safety, then you have redshirt freshman Kendall Sheffield and junior Anthony Averett as potential options to fill vacancies.
Depth could be a concern, but there's still plenty of talent coming back to a unit that intercepted four more passes (19) than any other SEC team.
Pickoff artist
That moniker fits Jackson perfectly as his six interceptions led the conference and was the most by an Alabama player since Robert Lester's eight in 2010.
No one expected his transition to safety to go as smoothly as it did. The 6-foot, 194-pounder made his presence felt throughout the season. He opened and capped 2015 with interceptions, and he had four of them (two returned for touchdowns) over a three-game span in the meat of the season.
Jackson wasn't just a pickoff artist, he was a pickoff return artist. He had 119 return yards off interceptions against Texas A&M, a single-game school record. He also shattered the school's single-season mark with 230 interception return yards on the year.
Greatest concern
The biggest potential problem for Alabama could be depth due to the aforementioned questions that the secondary faces.
It's not easy for any school to overcome the loss of four players in its secondary, so that will be something to keep an eye on going forward for fans in Tuscaloosa.
In particular, the nickel spot will need attention since Brown and Smith seemed to be the top candidates to fill that role.
One stat that must change in 2016
One thing the Tide have to solve this season is its tendency to give up the big play through the air. Alabama allowed 50 passes of 20-plus yards, a number only surpassed by Arkansas' 53 allowed.
The team was also exploited by 10 passes of 40-plus yards, again only exceeded by the Razorbacks (11).
Alabama could also help itself by allowing fewer touchdowns through the air this coming season. Opposing teams got in the end zone 17 times via the pass in 2015, which was tied for the fourth-highest mark in the SEC.
Better/worse in 2016?
While it may be tough to top its performance in a few statistical areas, Alabama could very well be better in terms of passing yards per game allowed after ranking just sixth in the SEC last season (200.6).
Coming up with more than 19 interceptions and holding opponents to a completion percentage less than 50.5 is highly unlikely.
However, another year of experience should return Alabama to the standard it carried from 2008-13, a period in which the school didn't allow more than 200 yards per game in any of those campaigns.