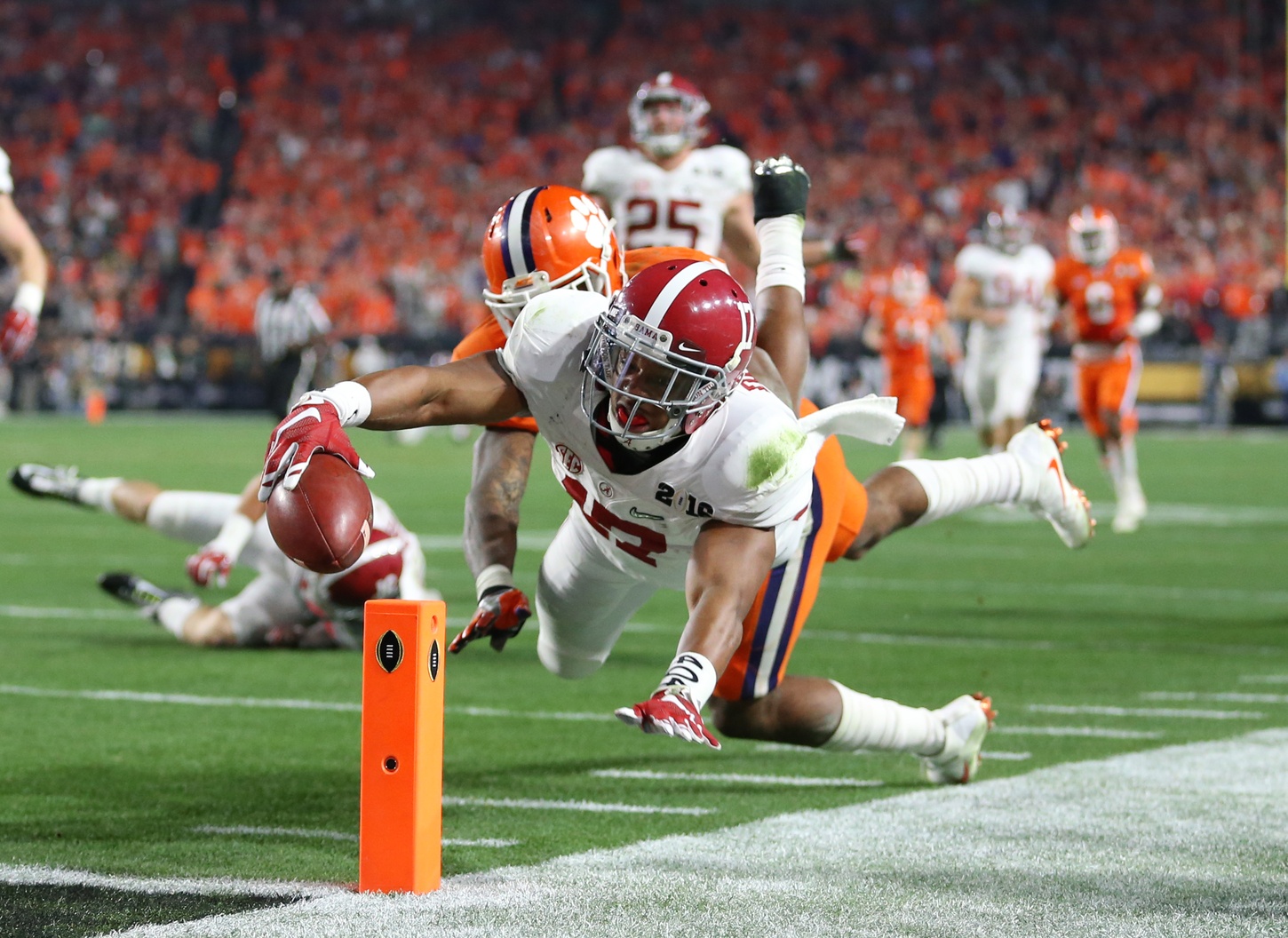 ALABAMA
Better/Worse in 2016: Alabama special teams
It hasn't always been a strength for Alabama, but the Tide reminded everyone last season why special teams can be the difference-maker when it comes to winning national championships.
Alabama fared well in just about every major area of the kicking game in 2015, ranking among the better half of the SEC.
Even kicking field goals, which has been a thorn in the Tide's side in past years, was solid for a majority of the season. Here's a look at where Alabama finished last season in several key special teams categories:
2015 Stats
FGM-FGA: 23-33
Longest: 55 yards
Punting average: 43.3 (fifth in SEC)
Kickoff return average: 21.7 (fifth)
Kickoff return TDs: 1 (tied for second)
Punt return average: 12.7 (sixth)
Punt return TDs: 5 (first)
Kickoff/punt return TDs allowed: 2
Bobby Williams, the team's special teams coordinator for eight seasons dating back to Nick Saban's second year in Tuscaloosa, has moved to an off-the-field position.
Burton Burns, another long-time assistant under Saban who enters his 10th season with Alabama, will add special teams duties to his other task of coaching running backs. Let's take a look at what Burns has to work with as the 2016 season approaches.
The kicker
Senior Adam Griffith hasn't always been revered at Alabama. Everyone remembers his third career field goal attempt on The Plains, a kick that fell short of the uprights before being returned to the other end zone, otherwise known as the Kick Six.
Griffith didn't exactly help his case by going 12-for-19 in his sophomore season, but he bounced back with a solid junior campaign in 2015.
Although he finished 23-for-32, making just 71.9 percent of his attempts to rank eighth in the SEC, Griffith spent the majority of the Tide's championship run drilling them where they're supposed to go.
After starting the season 0-for-4, Griffith was successful on 14 of his next 16 tries, which covered a span of eight games. Over that stretch, Griffith made a career-long 55-yarder against LSU. For the season, Griffith was 2-for-2 on attempts of 50-plus yards, making a 50-yarder at Auburn three weeks later.
Speaking of that Iron Bowl game, Griffith was the only offense Alabama had in that game up until halftime as the Tide held a slim 12-6 lead over its rival. He'd finish that game 5-for-5, and he'd finish the season 9-for-11 while making all 62 PATs. Only Ole Miss' Gary Wunderlich (63) was perfect on more PATs.
Meanwhile, Griffith's kickoff average was 63.2 yards (third in the SEC), and his touchback percentage was 55 percent (fourth in the SEC).
The punter
The Tide will have experience returning in the punting game as well. JK Scott is back after a solid sophomore year.
Scott's 44.2 average yards per punt was fifth in the SEC. Out of his 70 punts, Scott downed 25 inside the 20-yard line. He also boomed 21 of them over 50 yards with a long of 59.
Scott stepped up in big games for Alabama last season. In hard-fought wins over Tennessee and Arkansas, Scott was named one of the special teams players of the week. In both games, Scott basically netted 400 yards on just eight punts.
Against the Razorbacks and Vols, he had four combined 50-yarders and four downed inside the 20. Then, he had his best effort in the SEC Championship Game with four 50-yarders in that contest alone, including a season-long 59-yarder, to go along with a season-best 51.2 yard average.
The returners
Alabama will be without its primary kick and punt returners from last season as Kenyan Drake and Cyrus Jones have moved on to the NFL.
It isn't clear yet who will carry those duties in 2016, but receiver ArDarius Stewart and running back Damien Harris were speculated as options on kick returns, while Robert Foster and Minkah Fitzpatrick were seen as candidates on punt returns.
However, Saban told AL.com in April that receivers Calvin Ridley and Xavian Marks had emerged with strong showings in the spring. Saban said there were two or three other guys seeing time for those roles, but he mentioned those two by name.
Neither player had experience with returns of any kind last season. Marks, a 5-foot-8, 163-pound sophomore, has run indoor track in his time at Alabama and ran a 4.4 40-yard dash in the spring.
As far as kickoffs go, Harris returned nine of them and averaged 19.3 yards per return last season.
Cover teams
Alabama was better defending kick returns, allowing just 19 yards per return, fourth in the SEC. That average was actually better against SEC competition as the Tide only allowed 17.7 yards per return. Only Mississippi State did better against league foes.
The team could stand to be better in guarding against punts in 2016. Alabama's opponents averaged 10.3 yards per return, which was eighth in the SEC. Meanwhile, the Tide surrendered two punt return TDs, something only six other Power 5 schools allowed last season. Vanderbilt was the only other SEC school to permit multiple punt return TDs.
Special moments
Alabama had quite a few. Of course, everyone will remember the perfectly executed onside kick from Griffith to Marlon Humphrey, a momentum-swinging play in Alabama's 45-40 win over Clemson in the national title game.
Less than a minute after that, quarterback Jake Coker found tight end O.J. Howard for a 51-yard touchdown that put the Tide up 31-24. A little over two minutes later, Drake took a kickoff 95 yards for a score to put Alabama up 38-27.
There were other big plays throughout the course of the season. After all, the Tide had five punt return TDs on the season, two more than any other team in the FBS. Cyrus Jones scored four of them, including a back-breaking 57-yarder against Michigan State in the College Football Playoff semifinal.
Still, none were as timely as the two against Clemson on the biggest stage.
One stat that must improve
While Griffith was reliable for the most part, Alabama still needs to make a higher percentage of its field goals in 2016, especially right out of the gates.
The Tide can't afford another poor start from Griffith, who missed his first four kicks last season, including tries from 24 and 39 yards. Two of the team's first three games are a neutral-site contest against USC and then a road game at Ole Miss.
The team can take comfort in the fact that it attempted more field goals than any SEC school (33) and still tied for the most makes (23). However, Griffith will have to put away the gimmes as five of his nine misfires were between 20 and 40 yards.
Better/worse in 2016?
With the experience that Alabama has coming back at placekicker and punter, the Tide should see an improvement in those areas. Griffith still exorcised plenty of demons, and Scott was consistent and present when the team needed him.
Alabama may not enjoy five punt returns for touchdowns, but that shouldn't be used too carelessly as an indicator of special teams success. Only one FBS team had that many in the last five years, and that was North Carolina in 2013.
The team has plenty of playmakers it can deploy in those roles, so the potential for big returns is still there.
In terms of coverage, Alabama's 10.3 average yards per punt return allowed is actually the most given up by the school since the turn of the century. With Burns in his first year in charge of special teams, he'll need to make sure that's an aberration.