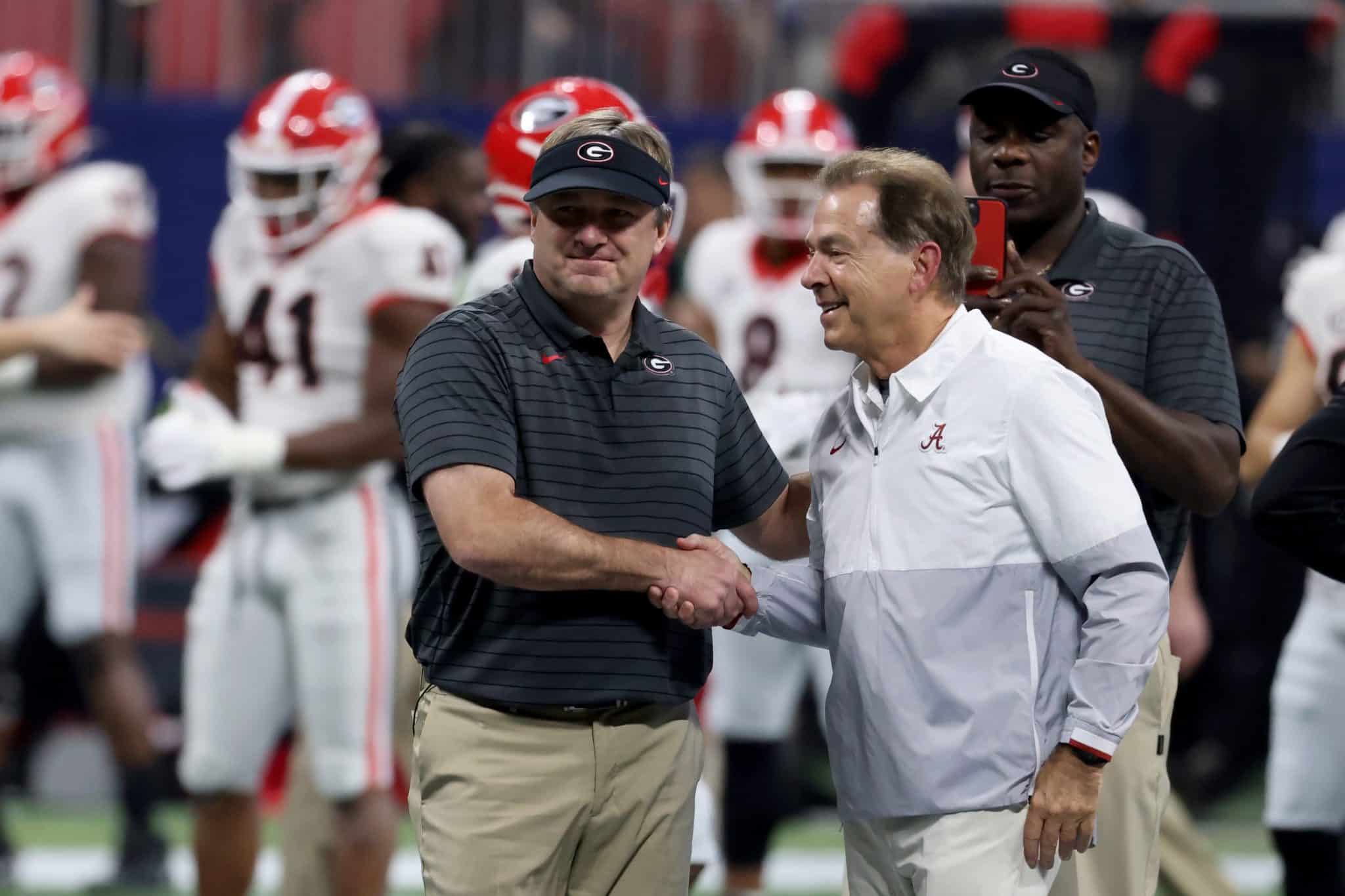 ALABAMA
Alabama football: Is Georgia the 'New Alabama?' Let's see where the next 12 months take us
The juxtaposition last Monday night inside that football palace in Inglewood, California, was simply too telling to not see its historical symbolism.
A few miles from the real Hollywood, Kirby Smart once again had the movie lights spotlighted on him, while way up in the far reaches of SoFi Stadium there was Nick Saban, smiling pretty for those ESPN cameras while part of the network's all-world coverage of the national championship game.
The pupil had the pulpit.
The teacher was in the audience.
And the way we view the college football world seemed to be shifting in the state where residents deal with seismic movements in the ground.
Then the actual game started, amid the SoCal glow and glitz, and the feeling was crystalized amid the screams and echoes of a 60-minute Georgia beatdown of TCU that brought the Bulldogs their 2nd straight national title. It was a repeat that brought a ripple effect we haven't seen in the sport since, well, that coach doing commentary with those ESPN guys was launching his dynasty in Tuscaloosa a little over a decade ago.
We have seen other college football programs win championships since Alabama torpedoed Texas to capture the 2009 crown. The sport hasn't been colored all crimson and white since that night in Pasadena, right down the road from SoFi.
It's just seemed that way.
But that smiling assassin Cam Newton won a national title the very next season for the rival school on The Plains. Jameis Winston did the same in Tallahassee in 2013. Ohio State followed in 2014, beating Bama in the semifinals of the first College Football Playoff. Joe Burrow conquered the Crimson Tide in that November classic in T-Town on the way to that magical championship run for LSU in 2019.
And what about the whole Clemson phenomenon that saw Dabo Swinney beat Saban twice for all the marbles in a 3-year span?
Didn't that signal the proverbial shift that everybody thought was inevitable, because no dynasty lasts forever?
Well, there were a few differences in the Clemson thing and what we all just witnessed last Monday night. Clemson's 2 national titles in 2016 and 2018 both came 1 year after Alabama championships, so the Crimson Tide afterglow was still shining bright, and the thought was that the next Alabama title was right around the corner because it was — both times.
Saban's empire struck back with a natty in 2017, and it took 2 years (oh, the blasphemy) but it added a 6th championship in 12 seasons when Mac Jones led the Tide to the crown during the chaotic, COVID-shortened 2020 season.
So, there have been brief commercial breaks before during Alabama's long, dynastic run.
There have been championships won by other SEC schools. Rival schools, like LSU and Auburn. Clemson had the audacity to win 2 titles and both times do it at Bama's expense.
But somehow, Clemson's rise into the top echelon of the sport, alongside Alabama, wasn't met with nearly the same lifted eyebrows that Georgia's ascension has brought.
Why not?
Well, for a few very good reasons.
First, Dabo's Tigers never won 2 titles in a row like Smart's Bulldogs now have. When a college program or pro franchise conquers its sport in back-to-back years, it just screams a lot louder than winning 2 in a 3-year span, which is still an incredible feat. There's just something totally domineering about a repeat, an air of untouchability that can make you hypnotized to the thought that no other team is ever going to win the whole thing again.
Secondly, when Clemson won its 2 crowns, Alabama was on the same field that night, so while the Tide fell short in both years, it was literally still right there, 2 wins from capturing 4 straight national titles. The 2016 season's championship game came down to the final play (remember Hunter Renfrow?), and so the thought was that a few bounces here and there and Alabama would've prevailed. Bama's blowout loss in the 2018 season's title tilt was totally uncharacteristic of a Saban team, but it was the Tide's 4th straight appearance in the championship game, so nobody with a right mind was foreshadowing The End for Alabama.
Thirdly, there is a very real component to all of this hysteria about a changing of the guard in college football, and it's called proximity. Because while Clemson, South Carolina, isn't all that far from Tuscaloosa, Alabama, it's not as close as Athens, Georgia, is, in actual distance and in historical football terms.
In other words, Clemson isn't an old, Southern-fried SEC rival of the Crimson Tide, like Georgia has long been. This fact speaks to the core of why what the Bulldogs pulled off the other night roughly 3,000 miles from the country sounds of the SEC reverberated so violently throughout the college football landscape — and especially in the football-mad states of Alabama and Georgia.
So, while all of these other championship moments have happened at other programs since the birth of the Alabama dynasty in 2009, a few of them at Bama's direct expense, we have never seen a dynamic quite like what Georgia has concocted the past 2 seasons. The Bulldogs' feat has hit so close to home for Saban's program and its fans because the Bulldogs are so close to home.
Alabama has had 2-year championship droughts before since that 1st title under Saban, from 2013-14 and from 2018-19, but the 2021-22 title "drought" now carries the weight of 1,000 boulders barreling toward Bryant-Denny Stadium.
And many in the college football world are wondering if Saban's program still contains the overall brute force to stop those boulders from bowling over the dynasty that has ruled the 21st century. Or has Georgia, which is now on an absolute, red-colored roll, with its budding dynasty powered by Saban's former longtime defensive coordinator, suddenly become too much to handle for Alabama or anybody else?
Time will tell on both, but make no mistake, the clock is ticking. Because when the guy (Smart) who bolted from Tuscaloosa 7 years ago has the secret sauce, for now at least, that his former boss (Saban) once held, there should be genuine concern about whether the Crimson Tide are heading for an extended title drought and not just experiencing one of those 2-year championship commercial breaks.
An entire rabid and, yeah, extremely anxious fan base has a long offseason now to wait to find out if Alabama can rise up, yet again, and take back the mantle, or if the folks who've already labeled Georgia "the new Alabama" are actually, gulp, kind of right. Smart was a defensive back at Georgia, but while he's a total Georgia Guy he's also an Alabama native, hailing from Montgomery, and undeniably a proud Saban disciple.
And this might be the biggest dynamic of all in measuring the seismic shift in the sport that hasn't quite happened yet but is threatening to take hold. Very simply, it's the Smart Dynamic. It's that curious vision of a bright, bold man with a sharp Alabama twang, who's only 47 years old, who's only 7 whole years into his first head coaching job and who's crushing it the way not even the most ardent Bulldogs backer could've imagined.
It's a scary set of circumstances for an Alabama football universe that has ruled the sport for so long, because Georgia might not be going anywhere anytime soon and Smart is young enough to possibly be setting up for an endless reign in Athens. Like, a Joe Paterno-type deal, where he arrives as a young man and just stays there forever, until he's an old man, long after his statue has been erected outside Sanford Stadium.
When you really think hard about it — and SEC rival schools probably don't want to think about it at all — who knows how many versions of Uga that Smart can outlast Between the Hedges before it's all over?
This is exactly what is staring Alabama in the face, what is staring Saban in the face, as the calendar flips to 2023 and Tide legends Bryce Young and Will Anderson Jr. head out the Bryant-Denny door. This is Bama's new reality, one they've never quite faced since all the fun began about 15 years ago.
There is an intense, growling, budding behemoth in the Tide's own SEC back yard, and it doesn't appear to be going anywhere. Rather, it seems to just be getting rolling.
This is no Ohio State or Michigan, who are always hanging around the party but rarely grab the brass ring.
This is no LSU, which is coming fast, as it showed Bama at Death Valley in November, but which is still very much laying the bricks to Brian Kelly's foundation.
And, nope, this is no Clemson, which became Alabama's equal (and even superior in those 2 title games) for a good while but has cooled off, for now at least, as it gets ready to install Garrett Riley's new offense.
This is most certainly Georgia, and this is a serious problem for the Crimson Tide. Because while Stetson Bennett has finally played his last game in a Bulldogs uniform (we think) at age 25, the Bulldogs will be beyond loaded again this fall, maybe even more than they were in 2021 and 2022, albeit with an inexperienced quarterback.
But if it's indeed Carson Beck who replaces Bennett as many believe, he will have overflowing talent everywhere he looks, and he'll be backed by a defense that we'll bet won't be raided by the NFL Draft quite the way it was in 2022.
Smart's final words to ESPN before kickoff in last Monday night's destruction of TCU was: "We're going to be hunting tonight."
Well, in 2023, Georgia is going to be hunting history, the kind of history that even Saban hasn't concocted during his reign in Tuscaloosa. The Bulldogs will be hunting an earth-shattering 3-peat, and in a very real and threatening way Alabama will be defending its dynasty this fall. Heck, some are already claiming the dynasty is done with and Georgia is already the New Alabama.
And that might yet happen, and just maybe the mantle officially gets passed from mentor to pupil this coming fall if/when the Bulldogs do what hasn't been done since … well, never before in the AP poll era, which goes all the way back to 1936.
But the torch hasn't been passed yet.
Not quite.
It's on the verge of happening, no doubt, and Georgia is surely becoming the New Alabama, like, as we speak.
But remember your recent history. Remember Dabo and Clemson. The Tigers captured 2 nattys in 3 years in 2016 and '18 but have cashed in exactly 0 in the past 4 seasons and haven't even made the College Football Playoff the past 2 years.
Just when you think you have the exact formula for winning championships as if you're standing on an assembly line and not a sideline, the conveyor belt breaks down, even a little. Kirby Smart knows this, too, even as he's currently sitting on top of the college football world. He's an aptly named smart guy. He's an outstanding football mind, too, and surely a coaching legend in the making.
But nothing is guaranteed, even when things are as delightful as they are in Athens, Georgia, right now. Smart knows that, too.
And Saban, for as long as he's been at Bama and for as long as he's been a head coach, still seems to have a good run of years left in the tank, if he chooses to keep on chugging. He's 71, but he's a young 71, if that's possible. His 2022 team was fatally flawed but was also a made field goal and a 2-point conversion stop away from going 12-0, even if it didn't totally feel that way with the ugly Texas and Texas A&M escapes, the injury to Young and those sea of penalty flags in big road games.
Just like Smart next fall, Saban will have a new starting quarterback who's following a legend, and he'll also have a new defensive coordinator, with Pete Golding leaving Alabama to run Lane Kiffin's defense at Ole Miss.
You know what other new thing (or things, in this case) Saban will have in 2023? Another top-ranked recruiting class with 7 5-star studs ready to revitalize a roster that is losing a lot of playmakers, particularly on defense. The 45-day transfer portal period is winding down, as are all things college football, until everything revs up again in a few months.
Then, before you can sing "Glory, Glory" or "Yea, Alabama!" preseason camp will be here.
And then the whispers and shouts will start again about The End of Alabama and the neighboring state school being The New Alabama.
The pupil will go back to the grind, and the teacher won't be watching anymore.
The push-pull of this fascinating Alabama-Georgia dynasty dynamic will start up again in September.
Four dramatic months after that, we will all find out which way it shifted.
And if that juxtaposition looks any different next January.