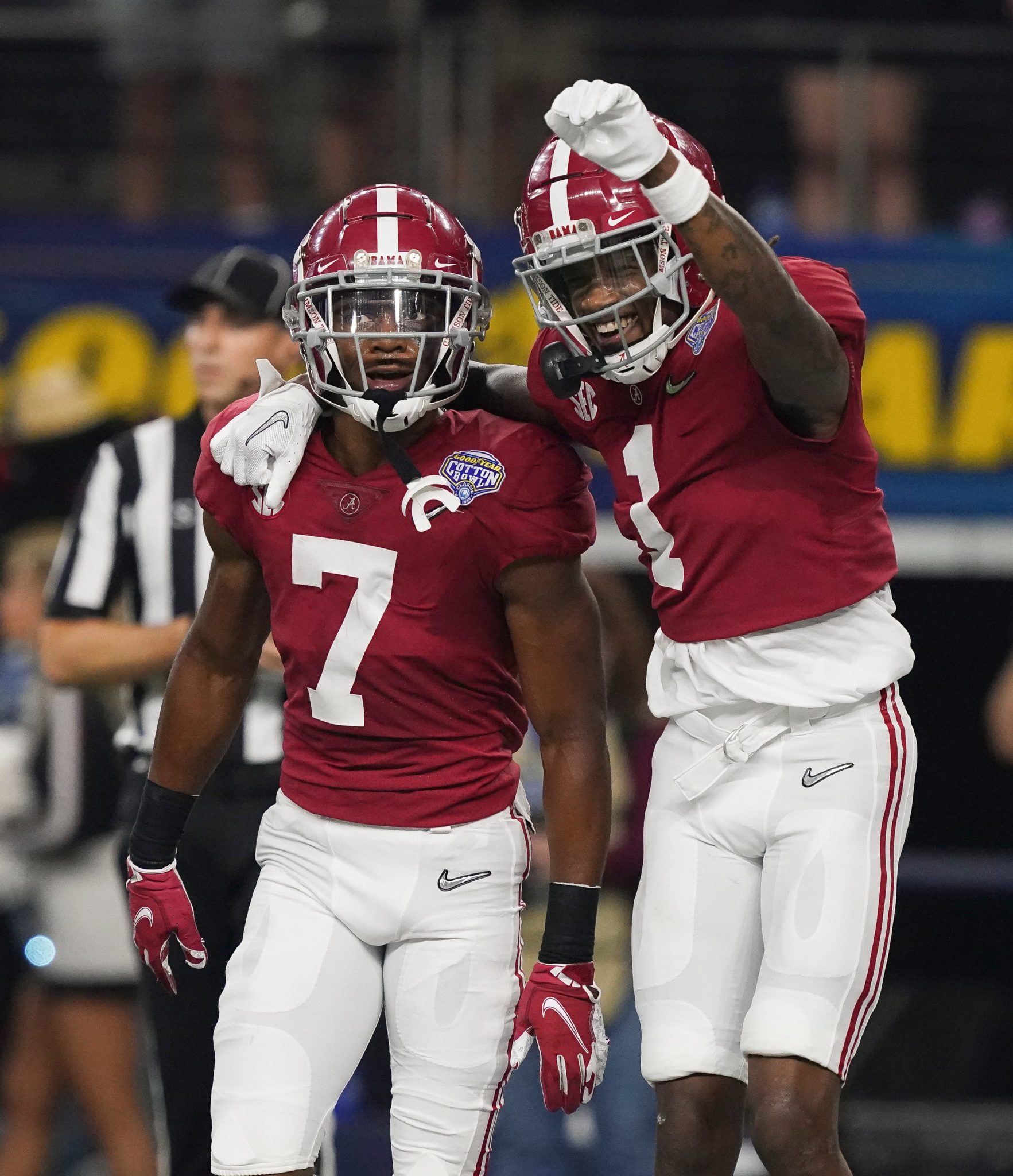 ALABAMA
Alabama star Jameson Williams is ultimate proof the transfer portal works. He might be the best receiver in America, too
Jameson Williams is proof that the transfer portal works. Well, at least for the players. Maybe not the coaches.
Williams has gone from lost on a depth chart to a supernova star in less than a calendar year. The Alabama receiver is an MVP candidate in the National Championship Game on Monday. He's also been mentioned as an elite NFL prospect by several draft analysts. That's quite a year.
The 6-2, 190-pound receiver plays bigger than he is, but he certainly isn't small. He's a deep threat with skills to play underneath defending coverages. He's basically everything one would want from an NFL receiver in one package.
Williams might have had that same opportunity had he stayed at Ohio State instead of transferring to Bama. However, it certainly didn't look like that was the case before he left Columbus for Tuscaloosa. Williams has been somewhat vague about his departure. He's said the receiver room got "crowded" at Ohio State. That's a bit of a head-scratcher. Surely, Ohio State would have made room for Williams' elite talent to shine through during games if the Buckeyes thought he was that good. Ohio State's WR room might be the deepest in the country, but it's not as if any position group at Alabama is ever devoid of talent. Williams wasn't just stepping into an open position on the depth chart. He had to earn it.
While we don't know if Williams was guaranteed a starring role at Alabama, we do know he always had a special place in his heart for the Crimson Tide. He didn't have a choice. His father was adamant that his son should sign with Alabama when he was a 4-star prospect from Cardinal Ritter College Prep in St. Louis, Mo.
"It was real close," Williams told Bama Insider. "My dad and I had full blown out arguments about it. I was thinking different than him and went to Ohio State instead of Alabama."
It seems as if the elder Williams was on the right track. After signing with Ohio State as part of the 2019 class, Williams played in 22 games and started 6 for the Buckeyes. That's not bad for a player entering his third season of college football. However, Williams either wasn't being fully utilized at Ohio State, hadn't bloomed as an athlete or there was something else amiss. In those 22 games at Ohio State, Williams had just 15 catches for 266 yards and 3 touchdowns. In 14 games for Alabama this season, Williams has 75 receptions for 1,507 yards and 15 touchdowns with still another chance to shine on Monday.
Will Ohio State coach Ryan Day be cheering for Williams from afar? Day lost a top-notch talent to the Tide. If a coach is ultimately responsible for a player's success, then Day failed with Williams. Ohio State does indeed have a deep group of receivers. However, it's impossible to argue that Williams should have been satisfied with his opportunities at Ohio State. Williams has been excellent this season and there are plenty of rave reviews about his potential in the NFL.
Pro Football Focus has projected Williams as the No. 15 pick in April's NFL Draft. Some have projected that Williams will be drafted even higher. NFL Draft guru Mel Kiper has reportedly said Williams could go to the New York Jets with the 4th overall pick. Being selected that high overall would have to sting a bit for Day, wouldn't it? Especially if Williams helps Bama win another national title and is drafted before OSU's dynamic duo of Chris Olave and Garrett Wilson.
Plenty has been said about Alabama coach Nick Saban's ability to adapt in this rapidly changing world of college football. He has accepted up-tempo offenses, which no one would have ever believed possible. He has now accepted the immediate transfer portal, which no one would have even dreamed would be a possibility just a couple of years ago. Always looking for an advantage, Saban has found another one and utilized it well. That may result in a national championship for the Crimson Tide.
Imagine if Williams had never left Ohio State for Alabama. First, Bama might not even be in this position. Second, the Tide would be severely hampered against Georgia on Monday. Williams is undoubtedly Bama's top option in the passing game, especially since John Metchie III is out. Considering Metchie's injury, is there any player on Alabama's roster more valuable than Williams other than quarterback Bryce Young? Ja'Corey Brooks, the No. 2 receiver in the 2021 recruiting class, has flashed promise and will have a huge opportunity on Monday. But Williams' presence — and dangerous skill set — set up other receivers for success. Alabama WRs have long called them "brother routes," where one player serves as a decoy and draws a double team to set up another for success. Williams has embraced that role, too.
Williams is the best proof yet that the transfer portal benefits players.
And he still has more to prove.