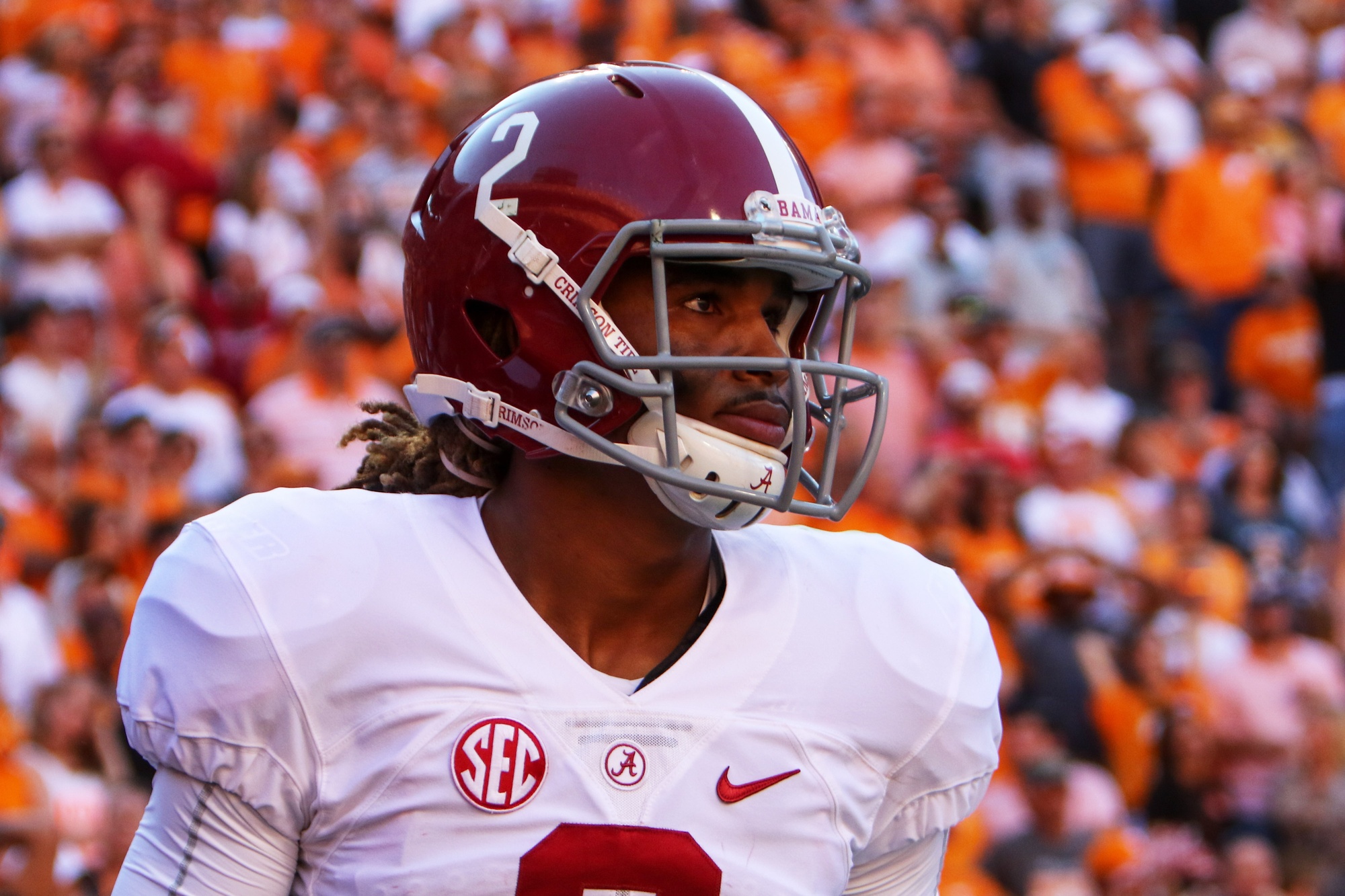 ALABAMA
Making the case for Alabama QB Jalen Hurts' Heisman candidacy
No true freshman has ever won the Heisman Trophy. But then again, Alabama quarterback Jalen Hurts isn't your average player, and clearly we think highly of him.
Hurts has already defied the norm by starting for the Tide early in his first collegiate season, this coming after many speculated Cooper Bateman had more of an inside track. It made sense with Bateman being a redshirt junior and the fact that it isn't the best situation for a team with national championship aspirations to start a true freshman under center.
He's not the typical Nick Saban quarterback. In fact, he's a more athletic runner and accurate passer than Blake Sims, Saban's only other true dual-threat QB to this point.
Hurts has thrown for 1,385 yards, 9 touchdowns and 3 interceptions on 113-of-178 passing and rushed for 428 yards and 8 TDs on 74 attempts.
Last week, the true freshman recorded a team-best 132 yards and 3 touchdowns on 12 rushing attempts against Tennessee. Hurts looked noticeably faster than the Vols' defensive skill players, specifically on his 45-yard touchdown just before halftime.
"He's a dynamic quarterback with his speed and being able to run and being able to pass," Tennessee defensive back Rashaan Gaulden told AL.com on Saturday. "The hardest quarterback to face is a dual-threat quarterback in my opinion. He exploited us today in being able to get around the edge and deliver on long balls when needed. What hurt us the most was him being able to get around the edge and provide explosive plays for his team."
Hurts and the Tide made then-No. 9 Tennessee look vastly overmatched during a 49-10 victory in Week 7. That's the kind of performance that validates Heisman hype. So does playing quarterback for the national championship frontrunner, let alone the No. 1 overall team in college football.
Yet Hurts is, at best, a darkhorse Heisman candidate as of now. Surely that could change with a big performance on Saturday against No. 6 Texas A&M. The matchup features the SEC's last two undefeated teams and will likely decide both the SEC West and an assumed spot in the College Football Playoff.
Let's also acknowledge that A&M has two of the SEC's best pass-rushers in Myles Garrett and Daeshon Hall. Hurts proved last week that he can still produce despite facing a strong pass rush from Tennessee's Derek Barnett. But facing two potential All-SEC defensive ends and putting up big numbers would be even more impressive.
And that's really the biggest necessity for winning the Heisman. The trophy voters do consider statistics but focus more on signature performances. That's what Louisville quarterback and Heisman favorite Lamar Jackson had early in the season with video game-like numbers against Florida State in what was considered to be a huge upset. But the voters could still weigh recent performances more than anything, especially with the Seminoles looking less like a national contender as time passes.
That benefits Hurts, who continues to improve with added experience. There's absolutely no reason he shouldn't be a serious Heisman candidate after emerging as the starting quarterback for college football's best team.
Several weeks ago, it seemed almost sacrilegious for anyone other than Jackson to be considered a Heisman favorite. But as time has passed, it's more realistic that others could make a push for the award.
Jackson is still the favorite, but several more signature performances could help Hurts gain some more recognition. Don't forget, Leonard Fournette seemed like a runaway winner for the award last season before Derrick Henry made a strong push in November. Henry's signature performances in big games, combined with playing for a national contender, was crucial to him winning the award last December.
That's still a possibility for Hurts, who has three remaining games against ranked opponents — A&M, LSU and Auburn.
But for now, the true freshman deserves to at least be mentioned as a serious contender for the award, not just a darkhorse candidate, based on his stellar play in the first half of 2016.