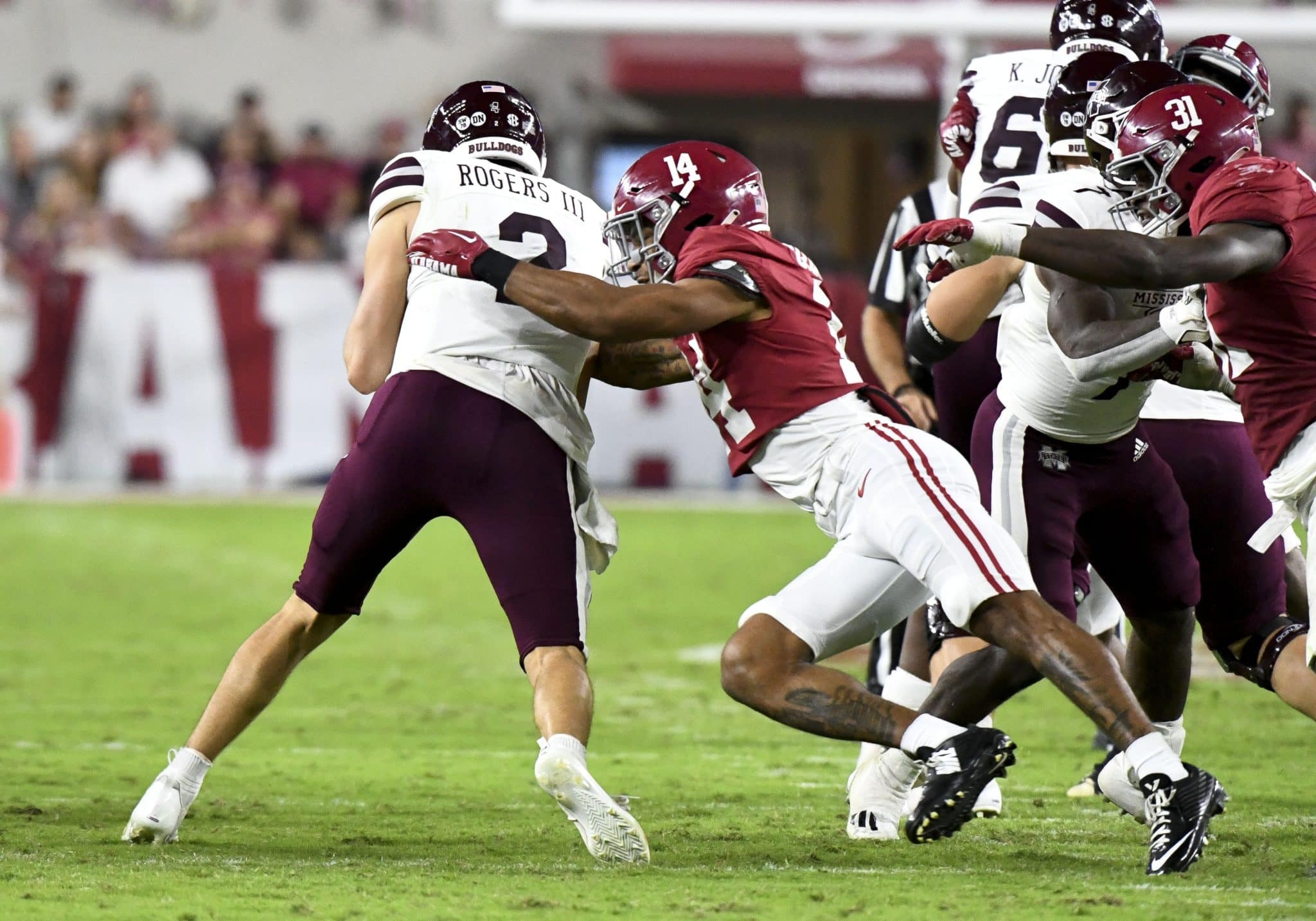 ALABAMA
Rapid Reaction: No. 6 Alabama responds after loss, takes out No. 24 Mississippi State
Almost exactly a year ago, Alabama journeyed to Starkville, fresh off its first loss of the season, and put a 40-point pounding on Mississippi State.
It was a satisfying win, a soul-searching kind of win to get to 6-1, and it resurrected the Crimson Tide's season. They reeled off 5 more wins to end the regular season, pounded Georgia in the SEC title game and took out Cincinnati in the College Football Playoff semifinals before ultimately falling to the Bulldogs in the national championship game.
The 6th-ranked Tide were looking for the first signs to a sequel to that cheerful 2021 theme on Saturday night at Bryant-Denny Stadium, and they found it in all forms in a 30-6 victory over No. 24 Mississippi State. The win helped Alabama's SEC championship odds and sent the Tide off to their backloaded bye week at 7-1 (4-1 SEC) and with all their big-time goals still in front of them.
Yeah, Bama got right against the Bulldogs for the 2nd straight year, and the Tennessee calamity was put on the shelf for good.
The night's narrative could've gone in a slightly different direction at the start, but senior defensive back DeMarcco Hellams' crushing hit on 4th-down-and-3 broke up a Will Rogers pass at the Alabama 15-yard line that stopped a 13-play, 57-yard drive when the Bulldogs were trying to draw 1st blood.
And on the ensuing possession, Bryce Young, as he does often to many SEC programs, made the Bulldogs pay a dear price. With all-purpose terror Jahmyr Gibbs out of the lineup suddenly with an apparent injury suffered on the Tide's 1st possession, Young avoided a sack on 3rd-and-10 at the Mississippi State 31, had time to read half of Bama's playbook and fired a touchdown strike down the middle to JoJo Earle for a 7-0 lead with 3:57 left in the 1st quarter.
Mississippi State's night of missed opportunities was just beginning. On its next possession, Rogers led the Bulldogs on a 15-play drive that fizzled at the Bama 26-yard line and turned into nothing when Massimo Biscardi's 44-yd field-goal attempt went off the left upright to keep Bama up 7-0.
And right on cue, Young, who torched the Bulldogs for 348 yards and 4 touchdowns in that victory in Starkville, gave Mississippi State a double dose of regret. This time, the pain was inflicted quickly and with the help of penalties, with Young finding Roydell Williams and Ja'Corey Brooks before 2 personal-foul penalties and an offside call set Bama up at the Bulldogs' 19-yard line.
Gibbs, who returned to the lineup, did the rest, scampering around the right side for an easy touchdown run, making it 14-0 and suddenly turning it into a long night for Mike Leach's team, which fell to 5-3 overall (2-3 SEC) with its 2nd straight primetime road loss.
That 14-point, second-quarter hole made Mississippi State melt in desperation, as Leach went for it (yet again) on 4th-and-1 on the Bulldogs' next possession despite the ball being at his own 29-yard line.
Leach's familiar fire and riverboat gambler coaching style backfired, as it did a few times early on Saturday night. Rogers threw incomplete, Bama was set up in grand fashion and the Tide pounced again.
This time, it took 4 plays to burn the Bulldogs. Young started the short march to a 21-0 lead with a 17-yard strike to Traeshon Holden and ended it with a 6-yard TD pass to Holden, and the error-filled loss a week earlier in Knoxville was slowly (maybe very slowly) slipping out of the memories of Tide fans.
And yep, it got worse for the Bulldogs, almost immediately. The Crimson Tide defense, feeling good about itself after bending without breaking multiple times already, got a 3-and-out, and Young and the offense went back to work.
It was a 10-play, 56-yard drive this time, all led by the revitalized Young, who looked just fine in his 2nd game back from the sprained right shoulder that kept him out 2 weeks ago against Texas A&M, the last time the Tide played in front of their home fans. The march stalled at the Bulldogs' 32-yard line, but the normally reliable Will Reichard, who's had his struggles the past few weeks, drilled a 50-yard field goal to make it 24-0 with 2:54 left in the half.
It was Reichard's 3rd field goal made this season of 50 or more yards, and it told the Tide that this night, after 2 straight hellacious weeks of last-second finishes (1 good, 1 bad), was going the easy route.
And fittingly, Bama all-world linebacker Will Anderson Jr., who terrorized the Bulldogs last season with 4 sacks and 4 tackles for loss, brought a resounding end to the dominant half by sacking Rogers with 19 seconds left.
Rogers, Leach and the Bulldogs limped to the locker room.
The Tide, who Nick Saban and Anderson called out for having a lack of intensity and energy before the Tennessee loss, roared into the locker room. They had only 1 penalty in an economical and efficient 1st half that served notice that 1 loss might not make a season, or in this case derail it.
In the 3rd quarter, everything settled down, as it usually does in these Bama-type blowout games over the years. And Leach kept going for it on 4th down, because he had to this time, and the Tide defense kept telling him not to do it again, forcing yet another Rogers' incompletion on 4th-and-12 from the Bama 31 to bring a 14-play drive to a halt.
And after Jaylen Moody recovered a fumbled punt return by Mississippi State that set Bama up at the Bulldogs' 17-yard line, Reichard booted a 33-yard field goal on the 2nd play of the 4th quarter to make it 27-0.
Reichard would add a 3rd field goal, a 38-yarder with 9:13 left, to make it 30-0 and tie a bow on things.
At that point, the Tide still had that 1 measly penalty (they finished with 3).
They had 0 turnovers.
And they had absolutely 0 hangover from the Tennessee loss, as the bye week finally beckoned.