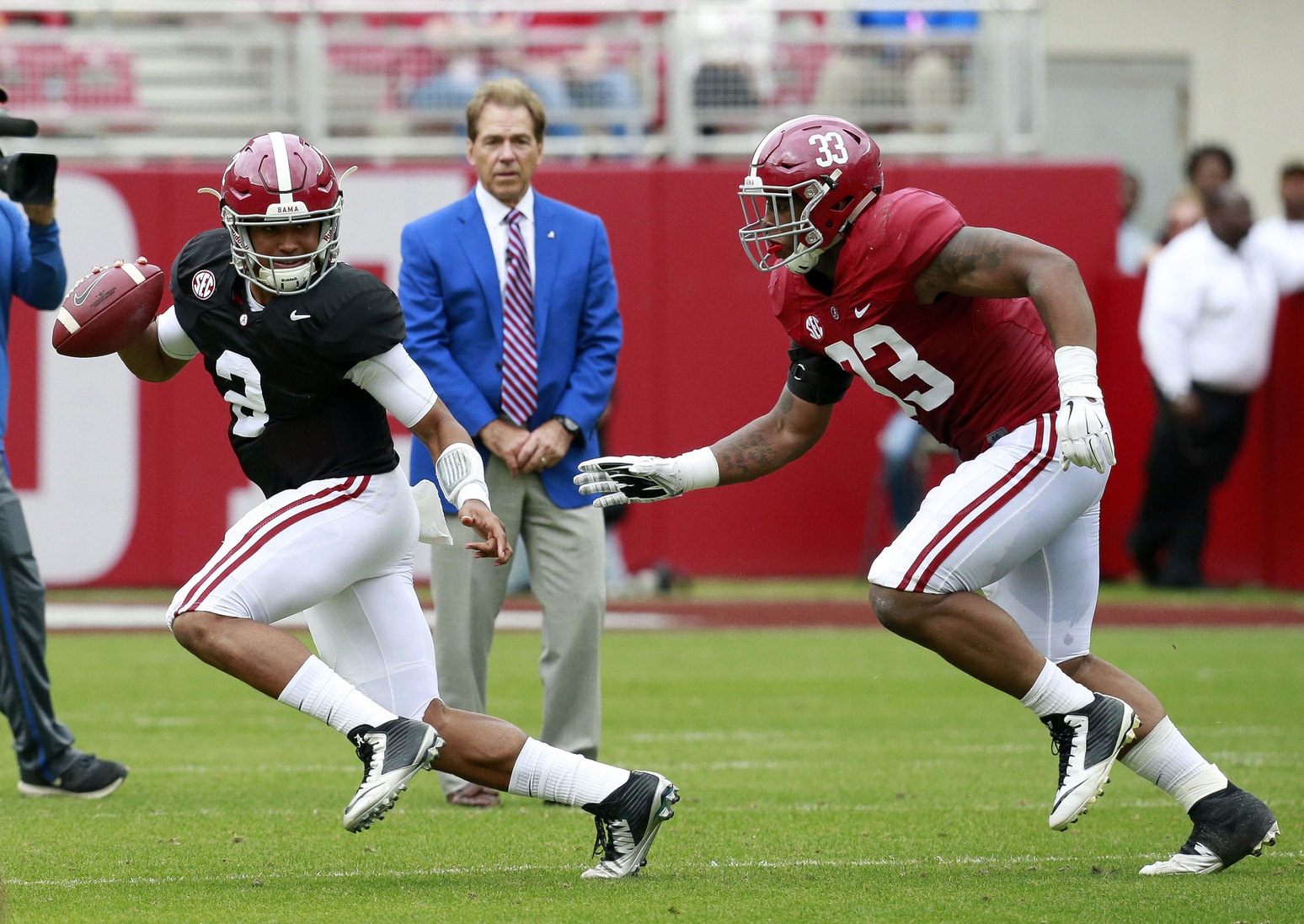 ALABAMA
DA punts discipline to Nick Saban, who must do the right thing
Football is so hard, it will make you sweat.
And as a result, Alabama has its All-SEC left tackle and an experienced body for its increasingly thin secondary back, at least unless Nick Saban decides to administer discipline from within the program.
Hopefully he will. But why is it that, in this day and age, there's such a strong feeling that he won't?
In case you haven't heard, Crimson Tide left tackle Cam Robinson and safety Laurence "Hootie" Jones were arrested in May after they were caught in a park in their hometown of Monroe, La. with marijuana and two handguns — neither registered and one allegedly stolen — inside their vehicle.
But Ouachita Parish district attorney Jerry Jones dropped the charges Monday, citing insufficient evidence. He later publicly expressed a desire not "to ruin the lives of two young men who have spent their adolescence and teenage years, working and sweating, while we were all in the air conditioning."
So, in effect, they got off because they are football players who sweat at practice. That's spoken directly from the DA.
He pretty much kicked the can to Alabama's coach, who will decide whether there's any consequence to these actions outside of the current public embarrassment from the arrests being out there for all to see.
Surely, they'll have extra physical work and, according to Monroe TV station KNOE, they've already been to counseling and gone on police ride-alongs.
But those aren't consequences for a couple of men whose futures will be defined by what they do on the football field. The DA had a chance to take away that privilege, at least temporarily. Now that responsibility goes to Saban and the university.
And Saban and the university owe it to college football and, really, the two young men and other kids that could make similarly bad decisions, ensuring that privilege is temporarily lost.
Make no mistake, this is bad behavior. Possessing drugs and weapons at the same time while sitting in a public area in the middle of the night isn't a recipe to produce good feelings and happy times. It doesn't take much imagination to see that.
For that message to sink in, temporary inconveniences like having to go to counseling shouldn't be enough.
How about suspending them for the season opener against USC? That would send all the right messages. It'll remind the players and others that actions do have consequences that not only affect the individual players — it can't impress NFL scouts to do something so bad as to miss a big game — but also the entire team.
It'll send the message that Alabama and Saban put doing the right thing over simply trying to win.
In dropping charges, Jones implied that Robinson and Jones were two good kids that made a mistake. I don't doubt that.
However, we're not talking about throwing them in jail or kicking them off the team. Even if Alabama loses that opener, the pair would have a chance to come back and redeem themselves. And everybody would connect the loss to Robinson's absence.
That's a consequence that matters. It would be a valuable lesson.
If they play that night, even if they had to run punishment marathons and hours of volunteer work daily outside the public spotlight, the message being sent will be that there is no consequence to reckless behavior.
Because right now, the only lesson we know from this is that if you toil on a football field, you'll get the benefit of the doubt.
And that's straight from the DA's mouth.