ALABAMA
SDS' Ultimate Cotton Bowl Preview: Give Cincinnati its due. But should you give the Bearcats a chance?
Everything you need to know about Friday's Playoff semifinal collision between Alabama and Cincinnati in the Cotton Bowl.
Just to get this out of the way, before we go marching into the weeds. You want to know: How hard am I going to work to convince you Cincinnati has a chance? Not like an any given Saturday, that's why they play the games kind of chance. Like an actual, matches up favorably against Alabama chance. And I don't think it's spoiling the suspense to admit, not that hard. The 14-point spread speaks for itself, right? The talent gap is almost certainly insurmountable. The Bearcats' chances are not good.
But I do think it's a mistake to dismiss their presence, or assume they're doomed to infamy in an inevitable blowout. Not that lopsided matchups or inevitable blowouts are anything new at this stage. Of the previous 6 teams to enter a semifinal game as a double-digit underdog (Michigan State in 2015, Washington in '16, Oklahoma in '18 and '19, Notre Dame in '18 and '20), only 2 of them managed to cover the spread, and neither – Oklahoma vs. Alabama in 2018 and Notre Dame vs. Alabama last year – actually threatened to pull off the upset, losing by 11 and 17 points, respectively, in games that weren't even that close. We all know all too well what it looks like when a month's worth of empty hype runs into reality, especially when the Crimson Tide are on the business end.
In Cincinnati's case, though, some respect is due to the program coach Luke Fickell has built there. In his 5th year on the job, Fickell, an Ohio lifer, has turned a bunch of late-blooming, 3-star recruits from within a 6-hour radius into an outfit that looks and plays a lot like the old locally forged Ohio State teams under his mentor, Jim Tressel, before the Buckeyes' recruiting machine went national: Opportunistic, rock-solid on defense, and never caught on the wrong foot. This is a "game control" team to the core. Over the past 2 seasons, the Bearcats are 22-1, with 18 of those wins coming by double digits and the only loss, a 24-21 nail-biter against Georgia in last year's Peach Bowl, coming down to a last-second field goal. In that entire span, they've trailed after halftime just once, in an eventual 38-24 win at Indiana earlier this year, and have led by at least 10 points at some juncture in every game.
In their breakthrough win at Notre Dame, they led 17-0 at the half and won by 11; in their only other win over a ranked team, against Houston in the American Athletic Conference Championship Game, they opened up a 35-13 margin in the third quarter and won by 15.
In no way, shape, or form have they merely backed their way into this opportunity.
For what it's worth, 3-star pedigrees notwithstanding, the talent level isn't chopped liver, either. The lineup features somewhere in the neighborhood of a dozen potential draft picks, give or take a late-rounder or two, including at a first-round lock (CB Ahmad "Sauce" Gardner) and a former Alabama transfer made good (RB Jerome Ford, who for the record does not appreciate constantly being referred to as an Alabama transfer after two highly productive seasons as a Bearcat). That list also includes one of the winningest quarterbacks in college history, 5th-year senior Desmond Ridder, who has presided over more career wins (44) than any other FBS QB in a decade and boasts the best winning percentage (.898) of any active QB except Bryce Young.
None of which, again, is meant to sell you on the prospect of an imminent shocker against the sport's reigning Goliath. Let's be real. At the end of the day, Alabama's roster ranks No. 1 in 247Sports' Team Talent Composite; Cincinnati's ranks 54th, one spot behind Memphis. But the idea of an upset is no less deluded than the notion that the Bearcats don't belong on the big stage, or that their conference affiliation makes them some kind of outlier. Their presence is not a referendum on the state of the Haves vs. the Have Nots. They've earned their shot. They deserve it. They're going to get it, finally. The vast majority of America outside of the state of Alabama will be rooting for them to make the best of it.
Whatever that means in terms of the final score, it won't diminish what Cincinnati has accomplished to get to this point, and definitely shouldn't have any bearing on the doors open to teams from outside of the power conferences in the future. The Bearcats are playing for themselves, for the prize right in front of them. They've earned that much, too.
When Cincinnati has the ball

1. Does Desmond Ridder have another level?
Ridder's reputation as a winner tends to overshadow his actual skill set, which is very much in the eye of the beholder. Statistically, he lives in the good-not-great zone, coming in 11th nationally in pass efficiency, 20th in total offense and 25th in Total QBR. Solid enough, not quite the kind of numbers you'd typically expect from a guy who finished 8th in Heisman voting. Athletically, he does, too. Ridder's size, arm strength, and mobility easily qualify as pluses at the college level — he could be considered a viable first-round candidate in next year's marginal QB draft class, depending on who you ask — but aren't especially likely to strike fear into a blue-chip defense. He's a jack of all trades, master of none: Productive, but not prolific; athletic, but not electric; consistent, but rarely spectacular.
He does have weapons. Cincinnati's top receivers, senior Alec Pierce and sophomore Tyler Scott, have combined to average 17.7 yards per catch with 13 touchdowns, 9 of them coming on throws that traveled 20+ yards. Pierce, in particular, boasts a combination of size (6-3/213), speed, and body control against smaller corners that tends to translate regardless of the competition, as it did on a career day in the win over Notre Dame.
#Bearcats WR Alec Pierce (#12) had a career day against the Fighting Irish with 6 rec for 144 yards.

Here Pierce does a great job adjusting to the pass from Ridder, tracking the ball beautifully and plucking it out of the air. pic.twitter.com/VJ7jwrMvl6

— Nick Price (@PriceCheck3) October 3, 2021
As usual, though, Alabama's talent level poses a unique challenge. The Crimson Tide won't have their most experienced corner, senior Josh Jobe, due to a foot injury, but he won't necessarily be missed: Jobe regressed in coverage this year, giving up 4 touchdowns, 7 penalties, and more receiving yards (529) than all but one other SEC defender on the season, according to Pro Football Focus. Meanwhile, his counterpart, Jalyn Armour-Davis, was one of the league's top cover men as a first-year starter, holding opposing receivers without a touchdown en route to a second-team All-SEC nod, and his heir apparent in the starting lineup, true freshman Ga'Quincy "Kool-Aid" McKinstry, was the top-rated corner in the 2021 recruiting class. Armour-Davis and McKinstry are listed at 6-1, significantly narrowing the window for the Bearcats to exploit Pierce's height. If he struggles to generate separation, Ridder's margin for error may be the narrowest it's been in his career.
Key matchup: Ridder vs. The Scoreboard
Ridder has never been forced to throw his team out of a substantial hole, and preventing that kind of situation is priority No. 1. The defense and running game have at least as much to do with that as the quarterback — as long as the score is within reach, the offense can continue to call its shots on its own terms and Ridder, who's attempted all of 11 passes the past 2 years with the Bearcats trailing after halftime, can remain in his comfort zone. On the wrong end of a deficit, on the other hand, he could quickly find himself in uncharted waters.
2. How long can Cincy's o-line hold up?
Another reason Cincy wants to stay out of obvious passing downs: The lingering of memory of last year's second-half collapse in the Peach Bowl, when Georgia sacked Ridder 6 times after the Bearcats' all-conference left tackle, James Hudson, was ejected for targeting just before the half. In retrospect, Hudson's exit was the turning point in that game. His replacement, native German Lorenz Metz, was woefully overmatched on the edge against UGA's Azeez Ojulari, giving up 3 sacks on just 24 pass-blocking snaps and drawing 3 flags for false starts.
This time around, Hudson, a 4th-round draft pick, has moved on, while Metz has moved inside to right guard, where he was a first-team All-AAC pick according to league coaches and hasn't allowed a sack according to PFF. The starting tackles, Dylan O'Quinn on the right side and FCS transfer James Tunstall on the left, have been fine by PFF's reckoning as well, with O'Quinn also earning a first-team All-AAC nod after kicking outside from left guard.
As a unit, the front has been about as good as the 2020 edition despite effectively breaking in a new starting five. They've yet to have a notably bad outing, including at Notre Dame, where they allowed 8 pressures and 1 sack on 36 dropbacks. Still, if there's anywhere the talent gap is likely to leap off the screen, Bama's front seven teeing off against Cincinnati's o-line is the obvious place to start — nearly everyone who'll set foot on the field for the Tide is bound for the next level, opposite a group that may not have a future pro in the bunch. Keeping Ridder upright in sitting-duck scenarios begins with keeping them to a minimum in the first place.
Key matchup: Dylan O'Quinn and James Tunstall vs. Alabama OLB Will Anderson Jr.
This will be Anderson's first game since being unaccountably snubbed by Heisman voters, which doesn't bode well for the guys assigned to block regardless of their future earnings. Anderson recorded multiple tackles for loss, including at least 1 sack, in 10 of the past 11 games on the way to leading the nation in both categories.
He also ranked No. 3 by PFF's count in QB pressures (73), averaging a half-dozen per game vs. Power 5 opponents. The next pair of tackles that stops him from taking up residence in the backfield will be the first, and if O'Quinn and/or Tunstall turn out to be up to the task their stock is due for some serious reevaluation.
3. Can the Bearcats stay on the field?
"Staying ahead of the chains" can be an overused cliché, but for Cincinnati's purposes on offense, it will be vital. Statistically, the Bearcats' most glaring deficiency is on 3rd down, where they converted just 41.4% of their attempts and notably struggled in their biggest games vs. Indiana (4-for-14), Notre Dame (2-for-11), and Houston (0-for-8). In keeping with the theme in this section, those failures were primarily a consequence of — altogether now — obvious passing downs: UC was a combined 1-for-19 in those games on 3rd-and-6 or longer. For the season it's 10-for-65.
Ideally, the Bearcats would prefer to set up more favorable 3rd-down situations by riding Jerome Ford, a 5-11, 220-pound bowling ball of a runner who led the AAC in rushing yards (1,243) and touchdowns (19) on 6.2 yards per carry. Ford is coming off a monster game in the win over Houston, where he went off for 187 yards and 2 TDs on 10.4 per carry, including a career-long 79-yard touchdown.
JEROME FORD 7️⃣9️⃣ YARDS TO THE HOUSE FOR CINCY ? pic.twitter.com/04jHxPwchq

— ESPN (@espn) December 4, 2021
Realistically, though grinding out a living against Alabama's dominant run defense is less a plan than a prayer. Florida ran for 244 yards against the Tide back in September in what was widely viewed at the time as a bad omen for the rest of the season; in the meantime, they've held 10 consecutive opponents below 4 yards per carry and allowed a single rushing TD in the past 7 games. Setting up manageable 3rd downs is much more likely to be the result of Ridder establishing a rhythm on 1st and 2nd down.
Key matchup: Cincinnati TEs Leonard Taylor & Josh Whyle vs. Alabama LBs Christian Harris & Henry To'o To'o
Harris and To'o To'o have been indispensable to Alabama's success against the run, taking their place in a long line of hard-nosed Bama run stuffers at the position. In coverage, not so much: Between them, the inside 'backers have allowed a combined 801 passing yards and 7 touchdowns on 11.1 per catch, per PFF, while posting two of the worst coverage grades of any full-time SEC defenders.
Their last time out, Georgia's only consistent success in the SEC Championship Game came by targeting its All-American tight end, Brock Bowers, who finished with a season-high 139 yards on 10 catches in a breakout performance, 8 of them going for 1st downs. Not all of that came at Harris and To'o To'o's expense, and Taylor and Whyle aren't All-Americans. They are, however, huge, reliable targets in the middle of the field, and in the red zone, especially, where their size is a major asset — 13 of their combined 18 career touchdowns have come inside the opposing 20. Their work between the hashes may not make highlights, but it could be a big factor in keeping the chains moving and the Heisman Trophy winner on the sideline.
When Alabama has the ball

1. Can Alabama protect Bryce Young?
Bama's o-line is an enigma. On one hand, the Tide allowed more sacks in the regular season (35) than over the previous 2 years combined (31), and on their worst days looked like an outright liability. They allowed 4 sacks in a midseason loss at Texas A&M, 4 more in a low-scoring November nail-biter against LSU, and hovered on the brink of collapse at Auburn, where Young was dropped 7 times and hounded from start to finish with the team's national championship hopes hanging by a thread.
As composed as he's been under pressure for a first-year starter, the fact remains that Young has been under a lot of pressure: No other Power 5 quarterback has attempted more passes under duress, per PFF, a stark departure from the clean pockets his predecessors had the luxury of taking for granted.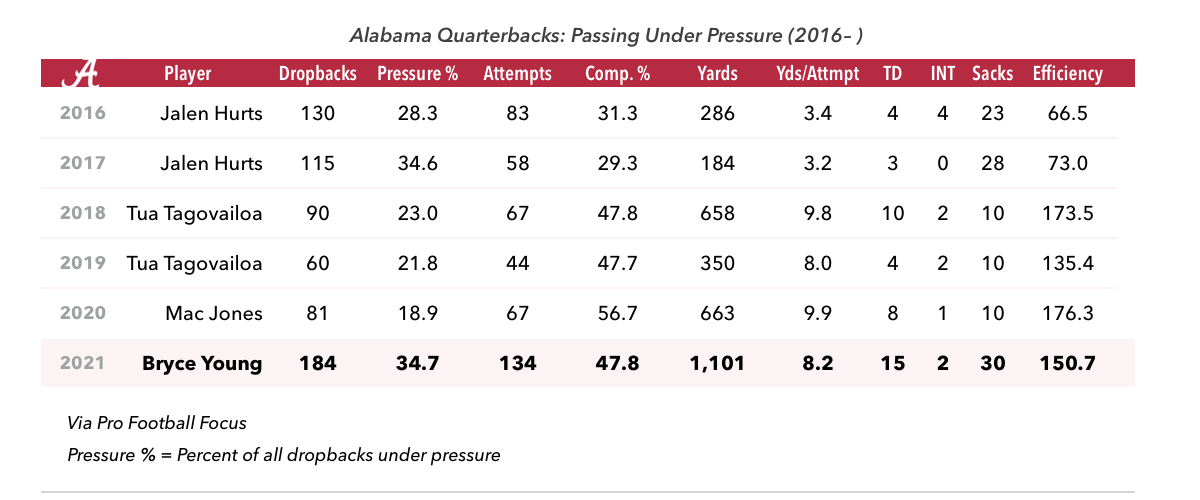 In the midst of all that, though, on its good days, there have also been glimpses of a unit with vintage Bama potential. In the SEC Championship Game, the same group that wilted in the Iron Bowl responded with its best day of the season, by far, holding Georgia's vaunted front seven without a sack and to just 3 hits on 48 dropbacks.
Young, who has spent so much of his time eluding oncoming rushers, found himself with ample space to direct traffic from the pocket, or to take off running, or generally to do whatever he pleased on his way to accounting for 461 total yards and 4 touchdowns on a Heisman-clinching afternoon — space, in other words, to be the best version of himself against the nation's most dominant defense.
Cincinnati may be as good or better than Georgia on the back end (see below), but it obviously cannot afford to give Young the same space. The question is how aggressive the Bearcats can afford to be without hanging the secondary out to dry.
The starting linebackers, Joel Dublanko and Darrian Beavers, are both efficient blitzers, combining for 56 QB pressures and 13 sacks on the year. But Young has been relatively unfazed by the blitz, completing 61.7% of his attempts with 19 touchdowns to just 3 INTs on blitzed throws, per PFF, which graded him as the No. 3 quarterback nationally vs. 5 or more rushers. Considering Young was also PFF's top-graded quarterback when not being blitzed, it may be a situation where they're damned if they do and damned if they don't.
Key matchup: Alabama OT Chris Owens vs. Cincinnati DE Myjai Sanders
The solution to Cincinnati's blitz dilemma is generating consistent pressure via the front four, freeing up the linebackers to serve as zone defenders and spies. Its most likely route is over Owens, a 6th-year senior who allowed an SEC-worst 36 QB pressures at right tackle and was briefly demoted late in the year. (His replacement, Damieon George Jr., yielded the job back to Owens after a disastrous first half at Auburn.) Sanders, a 2-time All-AAC pick, is a by-the-book overachiever: Overlooked out of high school due to his 'tweener size, he's bulked up over the past 3 years into a full-fledged, hand-in-the-dirt end capable of holding his own against the run without sacrificing any of the next-level athleticism, initial burst off the line, or relentless motor that makes him such a nightmare for opposing tackles.
Cincinnati DE Myjai Sanders is able to shuck the LT back and shoot inside to hit the QB and force the INT #NFLDraft #Bearcats pic.twitter.com/HIGGKfU7uT

— Brian Johannes (@Draft_Brian) November 20, 2021
Although he has not put up dominant sack numbers (13.5 in 41 career games), Sanders consistently makes his presence felt off the edge in other ways, recording 95 pressures with 19 holding penalties and 11 passes defended over the past 2 years. Owens, who has spent most of his career prior to this season on the interior, has notably struggled against speed rushers, and Sanders' first step is not going to let him off easy.
2. Can Cincy cover Jameson Williams?
Again: Can anybody at this level cover Jameson Williams? Since roughly mid-October, the answer has been a resounding no. A refugee from the overcrowded wide receiver room at Ohio State, Williams burned white-hot over the second half of the season, accounting for 1,081 yards and 12 touchdowns in the last 8 games alone, on a Jaylen Waddle-esque 21.1 yards per catch.
In the process, his draft stock soared, his connection with Young deepened, and his value to his new team became more obvious by the week. Against Auburn, Williams' absence loomed large as the offense stalled following his first-half ejection for targeting. Against Georgia, whom he victimized for 184 yards and 2 touchdowns, the contrast was just as palpable. If there was any doubt coming in, he cemented his rep in Atlanta as both the premier vertical threat in the college game, repeatedly stretching the Bulldogs' secondary past its breaking point, and an elite weapon in the open field, where his home-run speed made UGA look indistinguishable from New Mexico State.
JAMESON WILLIAMS IS GONE@AlabamaFTBL strikes back. pic.twitter.com/JHFIBMwuwF

— CBS Sports (@CBSSports) December 4, 2021
If you can do that to Georgia, presumably you can do it to anyone. And so far, Williams has — for the year, he ranks among the national leaders in yards after the catch (662) and YAC per reception (9.9), accounting for nearly half of his total output. He also leads the nation with 9 plays of 50+ yards, 7 of them coming vs. Power 5 opponents. Among active college wideouts, he's the definition of a big play waiting to happen.
Outside of a few early snaps vs. Auburn's Roger McCreary, though, Williams has not worked against anyone you might plausibly call a shutdown corner, and if any DB in America fits that bill in 2021 it's Cincinnati's best player, junior Ahmad Gardner. A consensus All-American and aspiring first-rounder in his own right, "Sauce" has held his own from the moment he set foot on campus, defying 3-star ratings from the recruiting sites with a 6-2 frame, fluid athleticism and ball-hawking instincts that immediately marked him as a next-level prospect.
Three years in, Gardner has yet to give up a touchdown on 134 career targets; this year, specifically, he's yet to give up a single reception of 20+ yards, while hauling in 3 interceptions to bring his career total to 9. However he managed to fly under the Big Ten's radar coming out of a relatively high-profile high school program in Detroit, there's no danger of the NFL making the same mistake.
Ahmad Gardner has some skill pic.twitter.com/qLvv2YruVY

— Cam Mellor (@CamMellor) September 18, 2021
With Gardner on one side, opposing QBs predictably directed most of their attention to Cincinnati's "other" corner, 5th-year senior Coby Bryant, who faced nearly twice as many targets. But they did not find much more success: Although the more aggressive Bryant was occasionally victimized, yielding 3 touchdowns and an average of 14.3 yards per reception, he was much more likely to make the play, picking off 3 passes and breaking up 11 more en route to a repeat appearance on the All-AAC team.
Opponents actually posted a slightly lower completion percentage against Bryant (44.3% on targeted attempts) than against Gardner (47.2%), and while Gardner's name appeared on more All-America teams — deservedly, if you ask me — in the end, it was Bryant who took home the Jim Thorpe Award as the nation's best defensive back. Pretty decent, for a second banana.
At any rate, however you rank them, Gardner and Bryant are future pros who formed the premier corner tandem in the country this season and elevated the Bearcats to No. 1 nationally in pass efficiency defense. (To be fair, All-AAC safety Bryan Cook, owner of the team's top coverage grade per PFF, deserves credit there, too.) One or the other will be looking across the line at Williams on almost every play, on a day when he figures to come in for more than his usual share of targets in the absence of John Metchie III. Shutting him out might be out of the question, but if they succeed in keeping the lid on deep and giving as good as they get on the routine stuff, the rest of the upset bid starts to look significantly more plausible.
Key matchup: Jameson Williams vs. Ahmad Gardner
Arguably the best wide receiver in the country opposite arguably the best cover man is a dream matchup for pro scouts, and one Cincinnati badly needs to win in its effort to turn the game into a slugfest. One way or the other, any lingering doubts about Gardner's top-end speed or Williams' physicality against bigger corners are about to get resolved in a hurry.
3. Where will the rest of Bama's offense come from?
Beyond Jameson Williams, the Tide's options at the skill positions are, well, let's just say TBD. Metchie's loss, in particular, is huge: Despite being eclipsed by Williams in the big-play department, Metchie led the team in receptions (96) and effectively replaced much of the routine production Alabama usually expects to get from the ground game. His absence leaves an All-SEC-size void in the lineup with no proven candidate to fill it.
Bama being Bama, of course, there is no shortage of talent waiting in the wings, raw as it may be. The most productive of the young wideouts, sophomore Traeshon Holden, has 15 receptions on the season for 211 yards; the most intriguing, true freshman Ja'Corey Brooks, counts among his 5 catches the biggest play of the year, a game-tying, 28-yard touchdown grab at the end of regulation against Auburn that forced overtime. The official depth chart lists Brooks as the starter in Metchie's place at 'X' receiver, for the record. But Holden and fellow sophomore Javon Baker are also in the mix for significant reps on the outside, as is true freshman Agiye Hall, a much-anticipated recruit who has barely played in his first season on campus but was singled out last week by Nick Saban as an up-and-comer in practice.
With Williams and Metchie both likely on their way to the NFL, somebody in that group has a golden opportunity to get a head start on the 2022 hype against a couple of NFL-ready corners. Or, you know … not.
There is some urgency on that point because even with WR2 in flux it's hard to expect much from a backfield that has been depleted by injuries and inconsistency down the stretch. When healthy, senior Brian Robinson Jr. is a reliable thumper between the tackles who has proven (out of necessity) he can handle as much mileage as coaches are willing to put on him. He is not, however, much of a threat to break off a big one, especially coming off a hamstring injury that limited him against Georgia.
In SEC play Robinson averaged a meh 4.4 yards per carry with only 1 run (a 37-yard gain vs. Auburn) of 25+ yards. For its part, Cincinnati's defense has allowed just 7 runs of 20+ yards.
On paper, it might seem reasonable to assume Alabama's massive o-line is capable of physically overwhelming an undersized Cincinnati front. Outside of a punishing Oct. 2 win over Ole Miss, though, that has not been the Tide's M.O. at any other point this season as the onus has fallen increasingly on Young's arm and creativity as a scrambler. The Bearcats aren't exactly in the habit of getting pushed around up front, either. Robinson will get his touches, but taking the ball out of their Heisman-winning quarterback's hands for the sake of imposing their will in the trenches would not be playing to the Tide's strengths.
Key matchup: Alabama WR Slade Bolden vs. Cincinnati DB Arquon Bush
The matchup in the slot will be a battle of the forgotten men: Just as Bolden (32 catches for 333 yards, 2 TDs) has been overshadowed by his more prolific receiving mates on the outside, Bush has been largely overlooked in the Bearcats' decorated secondary. As the full-time nickel, though, he's hardly been a weak link, allowing just 1 touchdown in coverage on 70 targets while adding 3 INTs.
Bolden, who's averaged 10.4 yards per catch with a long of 29, isn't about to replace Metchie's potential as a full-service downfield threat – that's where the underclassmen come in – but as a steady short-to-intermediate chain-mover and/or red-zone target who's not being covered on nearly every snap by an All-American, he should be in for a bigger role. These playoffs could be his moment.
Special teams, turnovers and other vagaries
Cincinnati hasn't played a game close enough for the kicking game to matter and it's a good thing: The Bearcats cycled through 3 kickers on the year who combined to go 7-for-17 on field goals, the worst percentage in the nation.
The veteran option, senior Cole Smith, struggled over the first half of the season and hasn't attempted a kick since mid-October due to an unspecified injury; in his place, sophomore Alex Bales and true freshman Christian Lowery are just 1-for-6 over the past 5 games. It's a running joke among Alabama fans that the other team never misses – opposing kickers are 13-for-13 on the year and 47-for-52 over the past 3 – but Cincy's field goal juju might just be bad enough to break the streak. Bama's Will Reichard (30-for-34 over the past 2 years) is virtually automatic by comparison.
On the other side of the coin, the Bearcats have effectively offset their kicking woes by inflicting a few of their own, tying for the national lead with 6 blocks – 3 punts and 3 field goals, all of the latter coming in a 35-13 win at East Carolina in the regular-season finale. Factor that in along with an FBS-best 33 takeaways on defense, and you have a picture of an outfit that thrives on erasing opponents' opportunities and creating them for itself.
Bearcat special teams are SPECIAL✨

No. 4 Cincinnati took its third blocked FG of the game to the house ? pic.twitter.com/CGuRUf4tFm

— ESPN (@espn) November 26, 2021
Then, of course, there's the ultimate wild card: The resurgence of yet another diabolical new strain of COVID-19, poised to inflict chaos at a moment's notice right up until kickoff. After a relatively placid season, pandemic-wise, every major sport is facing a fresh wave of positive tests and subsequent attrition, which in some cases has put the actual games at risk. As of this writing, 7 bowl games have been canceled or forced to find a replacement team due to the surge, and many others will likely go on without key players, including Georgia in the Orange Bowl. (Alabama's coaching staff has been affected, as well, although everyone is expected to make the trip.)
Neither semifinal appears to be anywhere near the danger zone for cancellation or postponement. Both games still anticipate full crowds. But the situation is fluid, and the CFP is making contingency plans, just in case. The most dramatic: If either team in either game falls below the threshold of available players, it will go in the books as a forfeit and the other side will advance to the championship game in Indianapolis.
Fortunately, all four teams report near-universal vaccination rates, with Nick Saban telling reporters earlier this week that more than 90% of Alabama players have received booster shots in addition to the vaccine. That's not a foolproof guarantee against the variant, especially for un-boosted individuals who were vaxxed back in the spring or summer. But on the scale of entire rosters, at least it should ensure the show will go on.
The bottom line …
No surprises here. At some point it is worth acknowledging that non-power teams have more than held their own in major bowls, going 8-7 in BCS/New Year's 6 games since 2004. And, yes, Alabama has had its lapses — more than usual, with 4 wins decided by single digits and a stunning loss at Texas A&M that snapped a 14-year, 100-game winning streak vs. unranked opponents. A&M (-17.5) was a bigger underdog in that game than Cincinnati is in this one, and didn't have the benefit of a decorated veteran quarterback at its disposal. Quite the opposite.
Yet as ordinary as Bama has looked at times this season, the SEC Championship romp over Georgia was a reminder that, at their best, the Tide remain the gold standard. If the same team that showed up in Atlanta shows up in Arlington, the Bearcats will go down as just another footnote to Bryce Young's emerging legend and just another speed bump on the way to Alabama's 6th trip to the National Championship Game in the past 7 years. If one of the more vulnerable versions makes the trip instead, things could get more interesting. But they're very unlikely to ever be in significant doubt.
– – –
Alabama 37, Cincinnati 20