ALABAMA
The Ultimate Rose Bowl Preview: Brian Kelly's Irish are back on center stage. Do they have any chance to shock Alabama?
Breaking down Alabama vs. Notre Dame in the relocated Rose Bowl.)
– – –
For a good long while now – if you're under 40, for pretty much your entire adult life – Notre Dame's primary currency in college football has been nostalgia. The Dome, the Horsemen, the Echoes, the whole spiel. Sepia-toned montages at every commercial break. The Rudy dynamic, in general. On some level, even acknowledging the Fighting Irish evokes the whiff of a museum. And the message it reinforces is clear enough: The Glory Years are in the increasingly distant past, and the claim on national relevance is long past its expiration date.
In the context of all that, the Brian Kelly era in South Bend evokes … what, exactly? With 11 years under his belt, Kelly is one of the longest-tenured coaches in Notre Dame history, and assuming he returns for Year 12 in 2021, he'll pass Frank Leahy, Ara Parseghian and Lou Holtz for longevity. Only Knute Rockne held the job longer or won more games. (At 102 wins, Kelly is set to pass Rockne's 105 early next season.) Here his team is, on the cusp of its second Playoff appearance in 3 years. And yet in many ways, the past decade feels like another one the montages might as well skip. Who in 25 years is going to feel nostalgic for Brian Kelly?
DraftKings Sportsbook is giving 100-1 odds on any team to win the College Football Playoff. Click here to get the deal.
DRAFTKINGS SPORTSBOOK APP


STATES: AZ, TN, PA, NJ, CO, IL, WV, IA, IN, VA, MI


DEPOSIT BONUS
$1050


$50 RISK-FREE BET + $1K DEPOSIT BONUS
BET NOW!
Based strictly on the record, that might seem like a dubious question. Relative to the slumping, out-of-touch program he inherited from Charlie Weis, Kelly's Irish have been reliable, undeniable winners. And the last 4 years, in particular, have been some of the fattest in South Bend in ages: The 2017-20 teams are the first in school history to notch 4 consecutive 10-win seasons, and their 43-7 record is the best in any 4-year span since the 1988-91 teams posted an identical mark under Holtz. Along with Holtz's heyday, the winning percentage over the last 3 years (.892) is the best in any 3-year window since Leahy's post-WWII juggernaut — teams barely even acquainted with the concept of a bowl game. For a huge segment of the fan base, these are the glory years.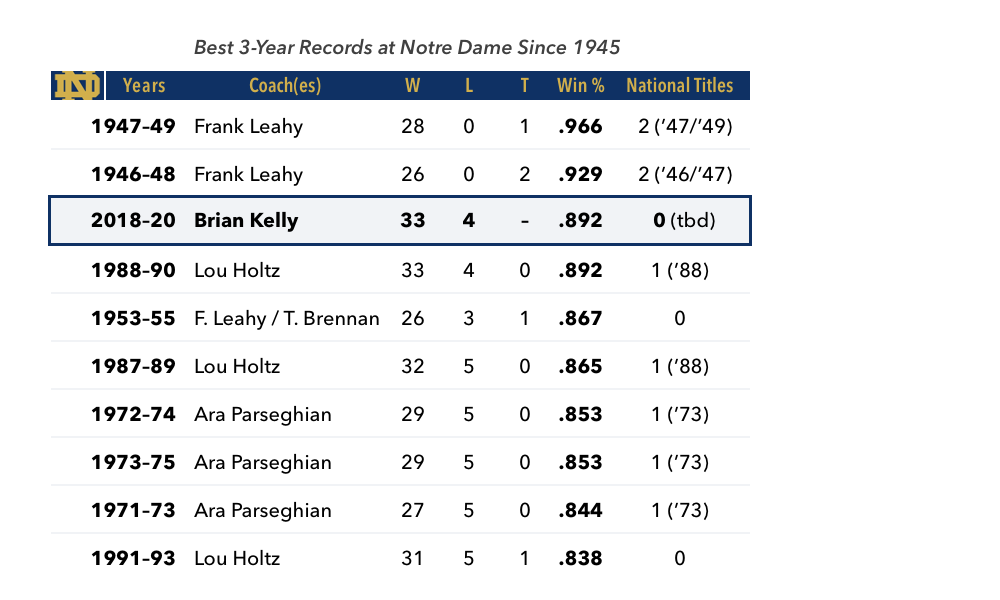 But then, it doesn't quite feel that way, does it? In a sport where perception is reality, it feels like the 20-point spread for Friday's semifinal looms larger than any other number ever could. That represents easily the most lopsided line for a Playoff game in the brief history of the format, and it lays bare the central, defining fact of Kelly's tenure: In the biggest games, his teams have looked as overmatched and out of their league as ever.
Of course, struggling on the big stage is not just a Kelly thing. But on his watch, the needle has barely budged. Since 2000, Notre Dame is 7-27 against AP top 10 opponents (as of kickoff) under four head coaches, losing on average by nearly 2 touchdowns per game. In the same span, it's 0-6 in major (BCS and Playoff) bowls, losing by an average of 24 points. That includes the two indelible Kelly-era flops with the national title on the line, Alabama's 42-14 annihilation in the 2012 BCS Championship Game and Clemson's 30-3 romp in the 2018 Cotton Bowl.
Prior to their double-overtime triumph over then-No. 1 Clemson on Nov. 7, the Irish had lost 11 straight vs. top-5 opponents going all the way back to 2005 (Weis' first season). And as thrilling as that win was at the time, whatever demons they thought they'd exorcised by edging out the Trevor Lawrence-less Tigers returned in full force in the rematch, a predictable, 34-10 beatdown in the ACC Championship Game that wasn't as close as the score. Precisely because it was such an outlier, the program's biggest win in more than a quarter-century – the one shred of compelling evidence that dusty old Notre Dame can in fact compete and win at the highest level in the modern era – was effectively erased from the public consciousness in the course of a few hours.
So yes, here they are: On the cusp of their second Playoff appearance in 3 years, as massive underdogs bearing the weight of two decades' worth of futility at the championship level and the overwhelming assumption that they don't really belong there. For the players on the field, sweeping narratives that began taking root before most of them could talk may not count for much in real-time. For the program, though, and for Kelly specifically, there's much more at stake.
"We're knocking at the door every year," Kelly said earlier this week, bemoaning yet another round of questions about Winning the Big One. "I don't know why this narrative continues to pop up when we're always in the game."
A fair complaint, to a point. But at a place like Notre Dame, being in the game is not the same thing as actually being in the game. Millions of Americans will be tuning in to the traditional Rose Bowl slot on New Year's Day – including most Irish fans, whether or not they're willing to admit it – fully expecting to watch another start-to-finish blowout at the hands of an undefeated, largely unchallenged Alabama outfit that takes the national spotlight for granted.
A lot of them are relishing the prospect. Many more won't even bother, because they've watched the same episode too many times before. Losing Big In the Big One: Notre Dame Football in the 21st Century. Until that story changes in a game like this one, the good times will always be sometime that fewer and fewer people can remember, on the other side of a door that no longer opens.
When Notre Dame has the ball

Notre Dame's offense under 28-year-old coordinator Tommy Rees (yes, that Tommy Rees) doesn't exactly lend itself to thumbnail sketch. It's a little bit of everything from your standard-issue Notre Dame attack over the past decade, served at slightly above room temperature.
Rees' Irish are productive enough, landing in the top 25 in total and scoring offense, but hardly elite. They're balanced, easily clearing 200+ yards per game rushing and passing, but not reliably dominant in either respect. They're "multiple," lining up primarily in shotgun/spread formations while also deploying multiple tight ends more than a third of the time. They're hyper-efficient in certain respects, ranking 9th nationally in 3rd-down conversion rate and 7th in time of possession, but not so much in others, coming in a dismal 94th in red-zone scoring percentage and 89th in negative plays. In their season-defining Nov. 7 upset over Clemson, they scored more points (47) than the Tigers had allowed in any game since 2013, on 518 yards of total offense; in the rematch, they managed just 10 points on 263 yards, the lone touchdown coming well into garbage time.
Quarterback Ian Book is the perfect avatar for the unit — an entrenched, overachieving senior with a 30-4 record as a starter, marginal pro prospects, and a stat line that falls squarely in the eye of the beholder. On paper, Notre Dame's run-first mentality doesn't give Book a lot of opportunities to rack up the kind of yards and touchdowns you'd expect from a guy who finished 9th in the Heisman vote, and he's firmly in the good-not-great range this season in terms of completion percentage (64.0%), yards per attempt (8.3), and overall efficiency (148.1).
But the top-line stats don't necessarily reflect his biggest strengths: He doesn't put the ball at risk, serving up just 2 interceptions on the year (tied for the fewest of any FBS quarterback with 250+ attempts), and his athleticism is an asset both on designed runs and as a scrambler under pressure; he's the team's second-leading rusher with 542 yards (not including sacks) and 8 TDs, most of them a credit to his own creativity. Factoring in his contributions on the ground, Book ranks 9th nationally according to ESPN's Total QBR metric, just a hair behind Trevor Lawrence, and 8th in its most important factor, Expected Points Added. At his best, he's a classic "moxie" guy — eluding rushers, breaking contain, extending plays, making things happen on the fly.
IAN BOOK STIFF ARM
IAN BOOK TOUCHDOWN

— PFF College (@PFF_College) November 14, 2020
Still, contrary to some of the more … let's say, enthusiastic reviews, the second coming of Johnny Manziel he is not, especially against top competition. As far as Alabama is concerned, the four Ls on Book's résumé might be more illuminating than the wins. In addition to the blowout losses vs. Clemson bookending the last 2 seasons, the Irish also dropped their two biggest games last year against Georgia and Michigan, scoring a combined 31 points with Book averaging a meager 5.2 yards per attempt. Opposite Playoff-caliber defenses, his basic athletic limitations have been more exposed: He lacks the big-league arm to challenge blue-chip secondaries downfield, and his happy-footed tendencies often look less like a playmaker buying time than a flustered QB hanging on to the ball too long. In the ACC Championship loss to Clemson, Pro Football Focus chalked up 4 of the Tigers' 6 sacks and 5 of their 15 pressures to Book's indecisiveness in the pocket. Close Irish watchers came away equally frustrated.
(88) Javon McKinley and (11) Ben Skowronek were open on this third down play.

Book simply missed a lot of open targets all game which stalled drives.

The confidence wasn't there while in the pocket.
pic.twitter.com/UE3ZYAO0A7

— Notre Dame Recruiting (@NDrecruiting01) December 20, 2020
In Book's defense, there's no way to slice and dice that performance in a way that lets his vaunted offensive line off the hook for its most humbling outing of the season, by far. To the extent that the offense has a coherent identity, it begins up front. The November upset over Clemson cemented the Irish as the nation's best o-line in reputation and reality — a long-in-the-tooth group consisting of 5 future draft picks boasting more than 150 career starts between them, reinforced by an imposing tight end rotation that's played a prominent role in the emergence of redshirt freshman RB Kyren Williams. The rematch laid them low: Between the consistent pressure on Book and the anemic output on the ground (83 yards on 3.5 per carry, excluding sacks), the Irish were whipped in the trenches every bit as thoroughly as they'd handed the Tigers their stripes earlier in the year.
That had to be a tough pill to swallow. Although they're predominantly a spread team in practice, ideally the Irish envision themselves in a similar mold to the old Andrew Luck-era Stanford teams from the start of the last decade, teams Rees faced in each of his 4 seasons as ND's on-again, off-again starting QB: Physical, run-first outfits that managed to control the line of scrimmage and execute a devastating play-action game with the same heavy personnel. In their heyday, the Cardinal boasted not only a reliably dominant o-line, but also 3 huge, athletic tight ends (Coby Fleener, Zach Ertz and Levine Toilolo) who would go on to be drafted in the first 4 rounds and become solid pros; together, their ability to serve as both functional blockers and downfield receiving threats on running downs put defenses in a permanent bind attempting to match up against them. It's too soon to assume Notre Dame's trio of Tommy Tremble, Michael Mayer and Brock Wright will have the same kind of longevity at the next level, but they're well on their way, and when the ground game is rolling they can pose similar problems against most defenses.
But again, most defenses are not Alabama's, and again, the contrast between the regular-season win over Clemson and the ACC Championship debacle is instructive. In the first meeting, the Irish churned out 208 yards rushing on 5.2 per carry, most of that coming via Williams, who had 140 on 6.1 per carry in a breakout effort. If he didn't have the Tigers' attention at the start of the night, he grabbed it immediately, on a tone-setting, 65-yard touchdown run on the second play of the game. Williams scored untouched behind blocks from three of the nation's best at their positions – Mayer (87), LT Liam Eichenberg (74), and LG Aaron Banks (69).
https://twitter.com/NDonNBC/status/1325237015454081026?s=20
None of that the second time around: Williams finished with 50 yards on 3.3 per carry, nearly half of that total coming on one play — a 24-yard gain in the first quarter — and barely any of it coming after halftime, by which point Clemson led 24-3 and had already declared open season on the quarterback. The deficit effectively derailed Notre Dame's attempts to shorten the game by keeping Trevor Lawrence and Travis Etienne off the field and rendered the play-action passing game irrelevant. In the November win, backed by a viable ground game, Book had substantial success converting 3rd downs (7-for-14) and challenging the Tigers downfield, averaging 14.1 yards per completion on an average depth-of-target of 13 yards. In the conference championship, with Williams bottled up, Book was just 3-for-11 on 3rd-down conversions, turned in an average depth-of-target of 7.8 yards, and completed only 2 passes that traveled more than 10 yards downfield.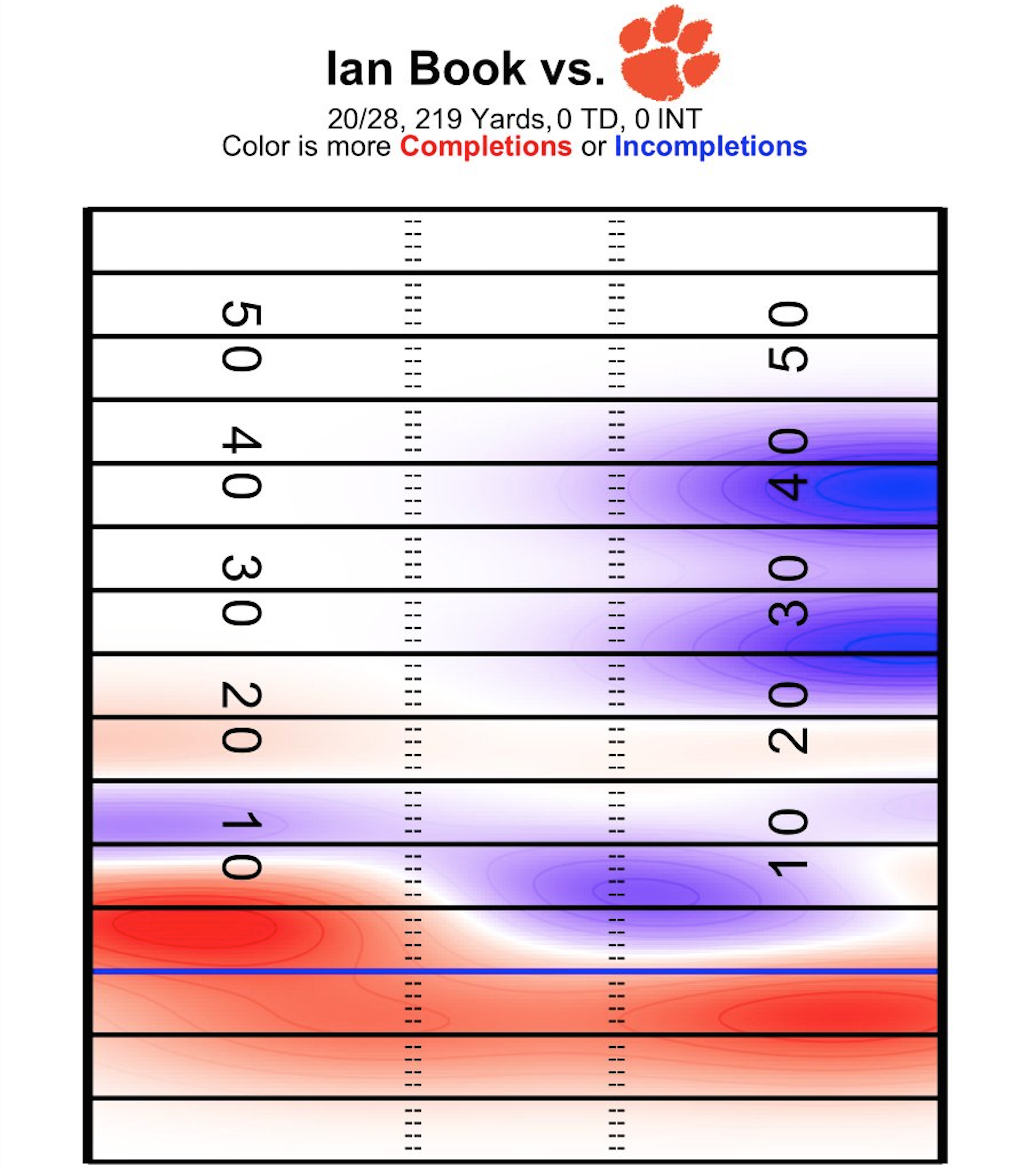 The absence of a true game-breaker among the receivers is evident in that map, as well. Book's primary downfield targets, seniors Javon McKinley (6-2/215) and Ben Skowronek (6-3/224), are big bodies on the outside who make hay by out-muscling smaller DBs on jump balls and in the red zone, combining for 1,095 yards and 8 TDs on 16.8 per catch this season. But they posed no real danger of outrunning anyone in Clemson's secondary and won't against Alabama's, either. Patrick Surtain II (6-2, 202) and Josh Jobe (6-1, 192) have more than enough size and talent to lock them up, and true freshman Malachi Moore, a rising star in the nickel role, is a fine match for slot receiver Avery Davis. Otherwise, the only players who even remotely resemble breakaway threats in any capacity are Williams and his backup, true freshman Chris Tyree, who averaged 7.1 yards per carry with a handful of big gains (most notably a 94-yard touchdown run vs. Syracuse), and their highlights came overwhelmingly on the ground.
In interviews, Kelly has nodded toward playing "complementary football" to keep Alabama's offense sidelined for as long as possible — that is, a rerun of the establish-the-run approach that backfired in a big way in the ACC Championship. If that's the case, a line like "we will have to run the ball more effectively than the last time we played" is a supreme understatement. On the other hand, there's a compelling case to be made for letting Book throw early and often against a relatively average Bama defense (emphasis on relatively, by the lofty standard of past Bama defenses) last seen giving up 408 yards and 3 TDs passing vs. Florida.
The Tide rank 71st nationally on 3rd downs, allowing a first down a little more than 40% of the time; Notre Dame, which is converting just shy of 50% of its 3rd downs, doesn't have to be much better than that to sustain drives and limit possessions in the vein of the first Clemson game. But the Irish don't have a Kadarius Toney or a Kyle Pitts in the stable, and whether they decide to go about by ground or by air their efforts will be strictly of the keep-the-chains-moving variety.
Key matchup: Notre Dame TE Michael Mayer vs. Alabama LB Dylan Moses
Mayer may not be the next Kyle Pitts, but he was a 5-star recruit and he has lived up to the hype as a true freshman in all phases. He showed up boasting every bit of the size (6-5/235) and athleticism the advance hype implied — earning him unfortunate but fitting aliases along the lines of "Baby Gronk" and "Widdle Kittle" — and wasted no time asserting himself as a blocker and a rugged run-after-catch option in the underneath passing game. Twenty-six of Mayer's 35 receptions have gone for first downs, including 12 of 14 on 3rd down.
Michael Mayer with a huge play on third down! #GoIrish pic.twitter.com/VQuPuyanIo

— Notre Dame on NBC (@NDonNBC) November 8, 2020
If the needle on Mayer's future is pointing straight up, the outlook for Moses is turning out to be wobblier than expected. Once a massively touted recruit himself, Moses was a unanimous preseason All-American in 2019 before a torn ACL nixed his entire junior year. And although the accolades have begun arriving right on schedule over the past few weeks — first-team All-SEC according to league coaches, third-team All-American per the Associated Press — the general consensus among scouts has been much cooler. Actually, it's been downright icy. Despite his upside, Moses' stock has plummeted from top-10 hopeful in August to potentially out of the first round entirely, with one anonymous scout telling AL.com prior to the SEC Championship Game that Moses is "a third at best" and could conceivably fall to Day 3 of the Draft if he opts to come out early. Going into the date with Florida, neither he nor fellow ILB Christian Harris ranked among PFF's top 20 SEC linebackers in overall coverage grade, and Moses was flagged twice against the Gators for pass interference.
Alabama has struggled against athletic tight ends, in general, giving up big games early to Texas A&M's Jalen Wydermyer (8 catches for 82 yards) and Ole Miss' Kenny Yeboah (7 for 181 yards) — a night Moses would certainly like to forget along with the rest of the Bama D – and, more forgivably, to Pitts in the SEC title game (7 for 129 yards). That's not all on the linebackers, by any means. It is, however, one area where the Tide have been vulnerable over the course of the season, and where Notre Dame has the weapons in Mayer and Tremble to exploit any ongoing issues.
When Alabama has the ball


Don't worry: Due to time constraints, this section's going to be considerably shorter than the last one. Also due to the fact there are only so many ways to say that Notre Dame's defense is in for another very long afternoon.
Nothing against Notre Dame's defense. Like the offense, the Irish rank among the top 25 nationally in nearly all of the major categories, including yards and points allowed, without being particularly dominant or deficient in any single area. They've held 10 of 11 opponents this season at or below their season scoring average, including Clemson twice. They boast a couple of bona fide All-Americans: Junior LB Jeremiah Owusu-Koramoah, a spacebacker type who plays multiple roles — off-ball linebacker, nickel, edge rusher — and makes plays in all of them; and sophomore free safety Kyle Hamilton, a 6-4/219-pound specimen described by Alabama QB Mac Jones as "almost like an Ed Reed-type person." That's an exaggeration, but not by much: Hamilton does jump off the screen, boasting impressive range in zone coverage, some man-to-man skills against much smaller wideouts, and eye-opening closing speed as an open-field tackler. I could watch Kyle Hamilton highlights all day.
Kyle Hamilton – excellent timing & speed on the blitz, textbook ankle sweep for the TFL. pic.twitter.com/Z70TZvDlC6

— Kevin Sinclair (@KevinSinclair_) November 12, 2020
But the superlatives only go so far opposite an Alabama offense that is potentially dominant in every area. The Tide are balanced, explosive and relentlessly efficient by any measure you can dream up. They rank No. 1 among Power 5 schools in scoring offense, yards per play and 3rd-down conversions. They've scored at least 1 touchdown in 39 of 44 quarters — that's including garbage time — and multiple touchdowns in more than half of them. They're averaging 4.4 points per possession, the highest PPP yield since at least 2007. They've accounted for the highest rate of Available Yards (e.g., the total number of yards an offense could potentially gain if it scored touchdowns on every possession) of any FBS offense in the same span, racking up an absurd 73.4% of the available total over the course of the season.
They boast the national leaders in pass efficiency (Jones), receiving yards (DeVonta Smith and total touchdowns (Najee Harris), as well as two consensus All-Americans on the offensive line (Landon Dickerson and Alex Leatherwood). Jones, Smith, and Harris own a flotilla of school and SEC records and have the distinction of being the first trio from the same team to finish in the top 5 in the Heisman vote since 1946. They lost the most explosive player in college football when Jaylen Waddle broke his ankle in late October and arguably got more explosive, averaging roughly a touchdown more per game in his absence. I could go on, but you get the point, right? I promised to keep this manageable.
Like every opposing defense faced with defending Alabama, Notre Dame's first priority will be attempting to limit big plays through the air, and like every defense, the Irish are going to have to give their starting corners, NC State transfer Nick McCloud and true freshman Clarence Lewis, some significant help to survive opposite Smith and John Metchie III, who combined for 38 receptions of 20+ yards. That happens to be the exact same number of 20+ yard receptions the Fighting Irish allowed, which is tied with Ole Miss (yeah) for 108th nationally. Not great. Fourteen of those big plays have come against Clemson alone (7 in each game), including a couple of over-the-top touchdowns covering 53 yards in the first game — a play that got then-starting CB TaRiq Bracy benched in favor of Lewis — and 67 yards in the second.
https://twitter.com/theACCDN/status/1340461724982534145?s=20
Notably, the unfortunate defender in trail position on that play was not a true corner but a safety who occasionally moves into the nickel, Shaun Crawford, isolated in man coverage vs. an All-ACC receiver. If he finds himself in that position vs. Smith or Metchie, it's skull-and-crossbones time.
It doesn't help the Irish's prospects that the run defense, a strength for the vast majority of the season, has suffered an abrupt drop-off in the last 2 games, allowing 229 yards on 6.5 per carry vs. Syracuse and 219 on 8.1 per carry vs. Clemson. Both the Orange and Tigers popped a pair of long touchdown runs that accounted for a significant chunk of that output, one of those coming on a 34-yard dagger by Trevor Lawrence that put Clemson's win on ice late in the third quarter. At least Notre Dame doesn't have to worry about Mac Jones pulling off anything like that. If Najee Harris finds an opening between body blows, though, he's more than capable of landing a haymaker.
Key matchup: Alabama RB Najee Harris vs. Notre Dame LB Jeremiah Owusu-Koramoah
Owusu-Koramoah, the newly anointed Butkus Award winner as the nation's best linebacker, was the star of the Irish's upset over Clemson, finishing with a team-high 9 tackles, 3 tackles for loss and a pair of forced fumbles, one of which he returned for a touchdown after rocketing into the backfield to disrupt a toss to Travis Etienne. He can cover in space, he can hit, and as SEC fans who watched last year's ND-Georgia game in Athens will attest, he's a magnet to the ball.
Still, at (officially) 215 pounds, the prospect of wrangling the 230-pound Harris in the open field is a different challenge. Harris easily led the SEC in broken tackles as a rusher and was equally difficult to bring down as a receiver, where he hauled in 32 passes with 19 first downs, and where he and JOK are most likely to find themselves mano-a-mano. Keeping the ball out of Harris' hands in the short passing game is a lot to ask when there are so many other weapons to worry about. But actually getting him on the ground in the those situations will be essential to have any chance of getting Alabama's offense off the field.
Special teams, injuries and other vagaries
In a stunning development that flies in the face of all known precedent, it's my duty to confirm that the rumors are true: Bama has a kicker. Sophomore Will Reichard, a homegrown product from nearby Hoover, Ala., has yet to miss this season on 12 field goal attempts or 73 PATs, the longest active streak in the country across both columns. He's 3-for-3 from 40 yards and beyond, including a 52-yarder against Georgia, and a finalist for the Lou Groza Award recognizing the nation's best kicker. At the risk of contributing to the great collective jinx that's been gradually building over the course of the season, he may in fact be just that.
Notre Dame's Jonathan Doerer hasn't been nearly as consistent, coming in 15-for-22 on field goals with a miss in each of the last 5 games. In the ACC Championship Game, he offset a career-long 51-yarder on the opening series by clanging a 24-yard chip shot off the upright a few minutes later, the exact moment in retrospect that the tide turned permanently in Clemson's favor. (The Tigers scored three plays later to go ahead for good.) Friday's game is highly unlikely to come down to a kick, but if it does, the Crimson Tide can feel more confident in their guy delivering for the first time in I don't even want to guess how long.
Neither team has made much noise in the return game outside of DeVonta Smith's punt return for touchdown against Arkansas, although Smith's presence in general is always a big play waiting to happen in any capacity. Notre Dame has blocked two punts this season, recovering both for touchdowns, but pulling that off against Bama will require forcing Bama to, you know, punt. The Tide average just 2.5 punts per game, fewer than all but four other teams nationally.
The most pressing injury concerns are the starting centers, Alabama's Landon Dickerson and Notre Dame's Jarrett Patterson, both of whom served as the glue of their respective fronts and both of whom are done for the season. Dickerson, an exuberant personality and consensus All-American who endured multiple serious injuries as an underclassman at Florida State, was carted off late in the SEC Championship Game amid an on-field outpouring of support from his teammates; his replacement is fifth-year senior Chris Owens, who started 4 games at center in 2019 and 1 this year (vs. Arkansas) at right tackle. His ND counterpart, Patterson, was the ACC's highest-graded center per PFF before suffering a season-ending foot injury that has cost him the last 3 games; his understudies, Joshua Lugg and Zeke Correll (who has also been limited by injury), have not fared as well in his absence.
Bottom line …
Notre Dame's path to an upset follows the blueprint of its double-OT upset over Clemson. In that game, the Irish scored 10 points off turnovers, held Clemson to 4 field goals on trips inside the red zone, broke a big play for a touchdown, converted 10-of-19 attempts on 3rd down, and got one of the most inspired performances of Ian Book's life. All of the above is possible vs. Alabama.
But all of the above is what it's going to take, and as with the win over Clemson, it might only be enough to keep the score within coin-toss range, pending late-game heroics.
The more likely scenarios are grim. Notre Dame lacks the skill personnel to consistently exploit Alabama's biggest vulnerability, intermediate-to-deep pas defense, on anywhere near the level we've seen this season from Ole Miss and Florida. It lacks the personnel on defense to keep the Tide's high-octane wideouts under wraps without abandoning its commitments against the run. It lacks the pass rush to disrupt Mac Jones in the pocket without leaving the secondary exposed.
Based on the track record of double-digit point spreads in Playoff games – Bama/Michigan State in 2015, Bama/Washington in '16, Clemson/Notre Dame in '18, Bama/Oklahoma in '18, LSU/Oklahoma last year – don't count on the score remaining competitive after halftime, much less any high drama down the stretch. Notre Dame may have earned its seat at the table as the 4th-best team in the country, even if largely by default in a season with no obvious contenders outside of the top three. But it has an even steeper hill to climb to prove it belongs.
– – –
Alabama 41, Notre Dame 17
Note: FanDuel Sportsbook is offering 25-1 odds on either College Football Playoff matchup. Grab any team with a heavily boosted payout by clicking right here.
FanDuel Sportsbook
States: TN, NJ, PA, IN, IA IL, WV, MI, CO, VA, AZ