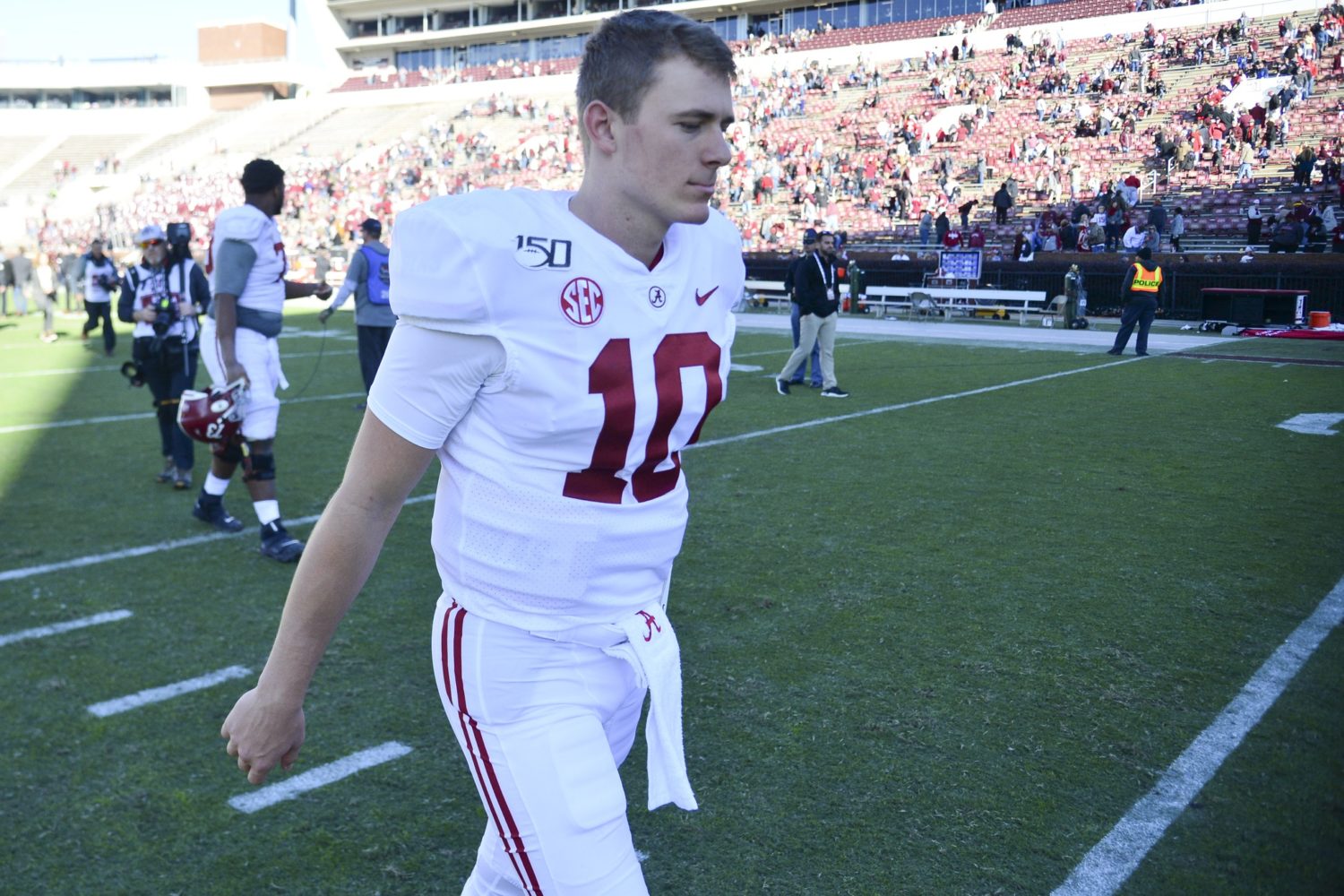 ALABAMA
Tua Tagovailoa's injury gave an early start to Alabama's next fascinating quarterback battle
In the aftermath of Tua Tagovailoa's devastating, likely college career-ending injury, reality had to set in for Alabama fans.
A new battle has begun. A battle that's much different from the one we saw in Tuscaloosa heading into 2018.
It'll be talked about a ton for the next 9.5 months — who'll be Tagovailoa's 2020 successor? And how will the rest of 2019 factor into that decision?
In the meantime, the answer to that first question is obvious. In 2019, it's Mac Jones. The redshirt sophomore who entered Saturday's game in place of the injured Tagovailoa is the only remaining non-true freshman scholarship quarterback on Alabama's roster. It's no secret that Jones is in the driver's seat having been Tagovailoa's backup all year following the departure of Jalen Hurts.
What is up in the air is how this is all going to play out. We know that Jones is going to have a prime opportunity to finish the season as Alabama's starter. Working with this group of receivers, calling it a "prime opportunity" might be underselling it. If the most likely sequence of events plays out — Alabama plays 2 regular season games and a non-Playoff New Year's 6 Bowl — that means Jones will have 3 starts to get a major leg up.
It's worth remembering that while the new redshirt rule won't burn a year of eligibility if Taulia Tagovailoa (Tua's younger brother) and Paul Tyson (Bear Bryant's great-grandson) play in a game, the former has already seen action 3 times this year. That means he has just 1 more game to see the field to preserve his redshirt, which Alabama was probably expecting to be this weekend against Western Carolina.
But, um, there's no chance I'm asking Nick Saban about the younger Tagovailoa's availability:
Nick Saban was asked will there be an effort to get Taulia Tagovailoa into the game Saturday just to expedite his progression. The audio levels went up a little bit while answering the question. @CBS_42 pic.twitter.com/5iAHsMP24I

— Ronald Gaines, Jr. (@RonGSports) October 23, 2019
Tyson, however, has yet to see the field. It wouldn't be surprising now if that changed on Saturday with him slotted as Alabama's new 3rd-string quarterback. The former 4-star recruit was much more than the ultimate Alabama legacy. He had a prolific high school career and has every intention of being Alabama's starter when his time comes.
The wild card in all of this is Bryce Young, AKA the 5-star true freshman-to-be from powerhouse Mater Dei (Ca.) who wouldn't mind following in the footsteps of the elder Tagovailoa and Hurts, both of whom made their marks in Year 1 at Alabama. The class of 2020 commit was recruited by Steve Sarkisian, which gives him a different kind of advantage than the other 3, all of whom were recruited by different offensive staffs.
Obviously there's nothing that Young can do on the field between now and Alabama's 2020 opener against USC in Dallas. The irony of that matchup is that's exactly where Hurts made his first Alabama appearance and took the job for good in a quarterback room of more experienced guys.
Who knows how different this Alabama quarterback room will look like then. For all we know, Alabama will land a transfer signal-caller who wins the job.
What we know for now is that this is Jones' time. We'll learn more about Jones the rest of the season than we have in his entire time at Alabama up to now. He'll now get exclusive reps with the first-teamers and get to prepare like a starter. And while Western Carolina isn't exactly a "prove it" game, a road matchup vs. Auburn will certainly be more telling than a start against Arkansas or any garbage time reps.
That Auburn game could be the best possible barometer for Jones' potential working with Sarkisian. Against that loaded defensive line in a raucous road atmosphere, how will he respond? There's a decent chance that game ends up being a more accurate assessment of Jones than a non-Playoff New Year's 6 Bowl, which could see NFL hopeful Alabama players sitting out.
And for those wondering, this might not be a question of whether Jones is mobile enough to play in this offense, Tagovailoa's rushing yards this year have been mostly via scrambles and not designed runs.
Sarkisian's best accomplishment this year was getting Tagovailoa to the point where he wasn't forcing the action. He understood the offense to the point where he could always take what the defense was giving him. A lot of times, that was a slant that DeVonta Smith took 70 yards. Other times, it was a swing pass to Najee Harris that resulted in him hurdling a defender.
Jones won't throw the deep ball like Tagovailoa and he won't have the touch that he did, but can he do those other things? You know, manage a game?
That could be what determines Jones' offseason outlook. It could be what determines how aggressive Alabama is on the grad transfer market with a room full of young signal-callers. How Jones plays will make a louder statement to the coaching staff than any intra-squad scrimmage or early-August practice.
The college football world knew there was a good chance that Tagovailoa would hand over the keys to the Cadillac at the end of the 2019 season. It appears that day came sooner than expected.
Who drives off in the sunset? Let the battle/debate begin.