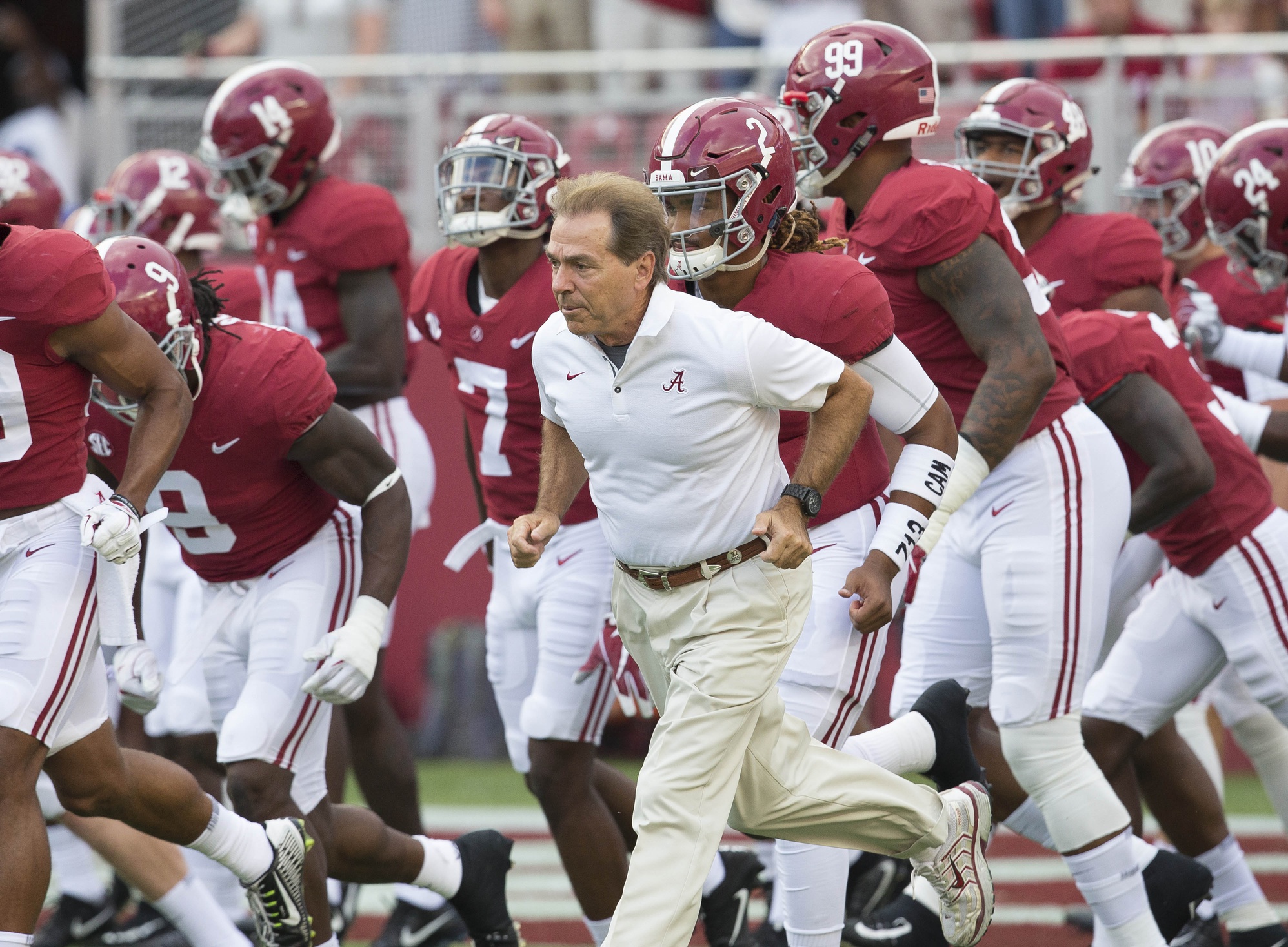 ALABAMA
What happens after Nick Saban loses a game? It doesn't end well for the next opponent
Nick Saban doesn't lose often. When he does, watch out.
Alabama's loss to Texas A&M last week certainly didn't leave Saban gleeful, but he also didn't seem overly frustrated about the loss. Why? It gave him an opportunity to coach his players with a completely full attention span. That's not to suggest that Saban doesn't always demand respect. He does. However, winning breeds complacency. For elite players who plan on winning multiple championships, there is usually a refocused response. That makes players and teams incredibly dangerous. The Crimson Tide are the team you don't want to play this week.
Alabama will play at Mississippi State on Saturday just 7 days after a monumental upset at Texas A&M. It's probably not good to be the Bulldogs this week.
Just look to the recent past for proof. When Saban has the opportunity to get right and win the next game following a loss, he has done so. The last time Alabama lost 2 consecutive games was 2013, when they lost the Iron Bowl and then a bowl game to Oklahoma. Saban hasn't lost 2 consecutive regular-season games since his inaugural season in 2007. The Tide had a 2-game losing streak and 4-game losing streak that season.
Here's how he has followed losses since then.
2019: L LSU, W MSU 38-7
2019: L Auburn, W Michigan 35-16
2017: L Auburn, W Clemson 24-6
2015: L Ole Miss, W UL-Monroe 34-0
2014: L Ole Miss, W Arkansas 14-13
2013: L Auburn, L Oklahoma
2012: L Texas A&M, W Western Carolina 49-0
2011: L LSU, W Miss. State 24-7
2010: L South Carolina, W Ole Miss 23-10
2010: L LSU, W Miss. State 30-10
2010: L Auburn, W Michigan State 49-7
2008: L Florida, L Utah
My respect for Saban rose as much in 2019 as it did in any of his championship years. The SEC media was all atwitter about LSU during the preseason. Some thought LSU was just too loaded to fall short of an SEC Championship. I had my doubts. I saw LSU's talent but I wasn't sure that the coaching staff would do all that head coach Ed Orgeron said they would do. I was wrong. Orgeron handed over control of his offense to coordinator Steve Ensminger and Joe Brady and great things happened. LSU's immense talent took over thanks to the multiple schemes that Ensminger/Brady implemented.
As it turned out, LSU silenced the critics, went undefeated and won a national title, in part, by beating Alabama 46-41. The Crimson Tide responded the next week by beating Mississippi State 38-7 but stumbled again with a 48-45 loss to Auburn in the Iron Bowl.
This is where it gets interesting. Saban and his team didn't make the College Football Playoff and were relegated to the Sugar Bowl. That used to be an incredible feat for most teams. However, it didn't have the same allure with a national title being determined somewhere else. I was certain Alabama would be flat in that bowl game since it had relatively little to play for. I was wrong; they weren't. Alabama used the extra practices to get better — much better. Bama beat Michigan soundly 35-16 and didn't lose another game until last week.
Unlike other programs, Bama took what was seemingly a game with nothing to win and got better from the top of its roster to the bottom. No one was beating Alabama. During that streak, Florida pushed Alabama to the brink twice but that was about it. No other game was in doubt.
Some have questioned if Saban has gotten too offensive-minded. For decades, Alabama was known as the team that would pound the ball on offense and pound its opponent on defense. They still do the latter, but Alabama's offense has changed. Saban accepted high-tempo and high-scoring when he hired Lane Kiffin to be his offensive coordinator in 2014. College football had changed so Saban did, too.
There has been some sentiment that Saban has strayed too far from his ground-and-pound roots, especially since his former assistant Kirby Smart is playing that type of football at Georgia. Smart was Saban's defensive coordinator. Smart has the suffocating defense that he once boasted at Bama. Smart's offense is good but not explosive like Alabama has been in recent years. It's easy to throw stones at Saban about his approach after the Texas A&M game. Hold on a second.
Do you really think that Smart would turn down an explosive offense like Saban had last year so he could win with his defense alone? I think not. Sure, a high-tempo offense can put pressure on a defense's stamina and depth but is anyone going to turn down 50 points on a Saturday? Saban's approach is still unquestionable even after the loss to the Aggies.
I wouldn't want to be on Alabama's schedule for the rest of this season. Alabama will most likely be at its best, much like it was after losses to Ole Miss in 2014 and 2015. Bama, which was still thinking possession more than points, bounced back after both Rebel defeats. In 2014, Bama beat Arkansas 14-13 the week after losing to the Rebels then trounced every team they played until they lost the national championship game to Ohio State. In 2015, Bama hammered Louisiana-Monroe 34-0 after losing to Ole Miss before winning the rest of its games and a national title.
It's a bit comical to me that fans of opposing schools cheer roundly when Bama loses. I understand the reaction, but those same fans should also realize that Bama usually comes back better from a loss. Saban has reason to critique his players after a loss and they are more apt to be more attentive. It makes the program better. It can lead to even more wins and more championships. It's not a good week to carry a cowbell.