ALABAMA
Whatever happens next, Jalen Hurts is the new standard for true freshman quarterbacks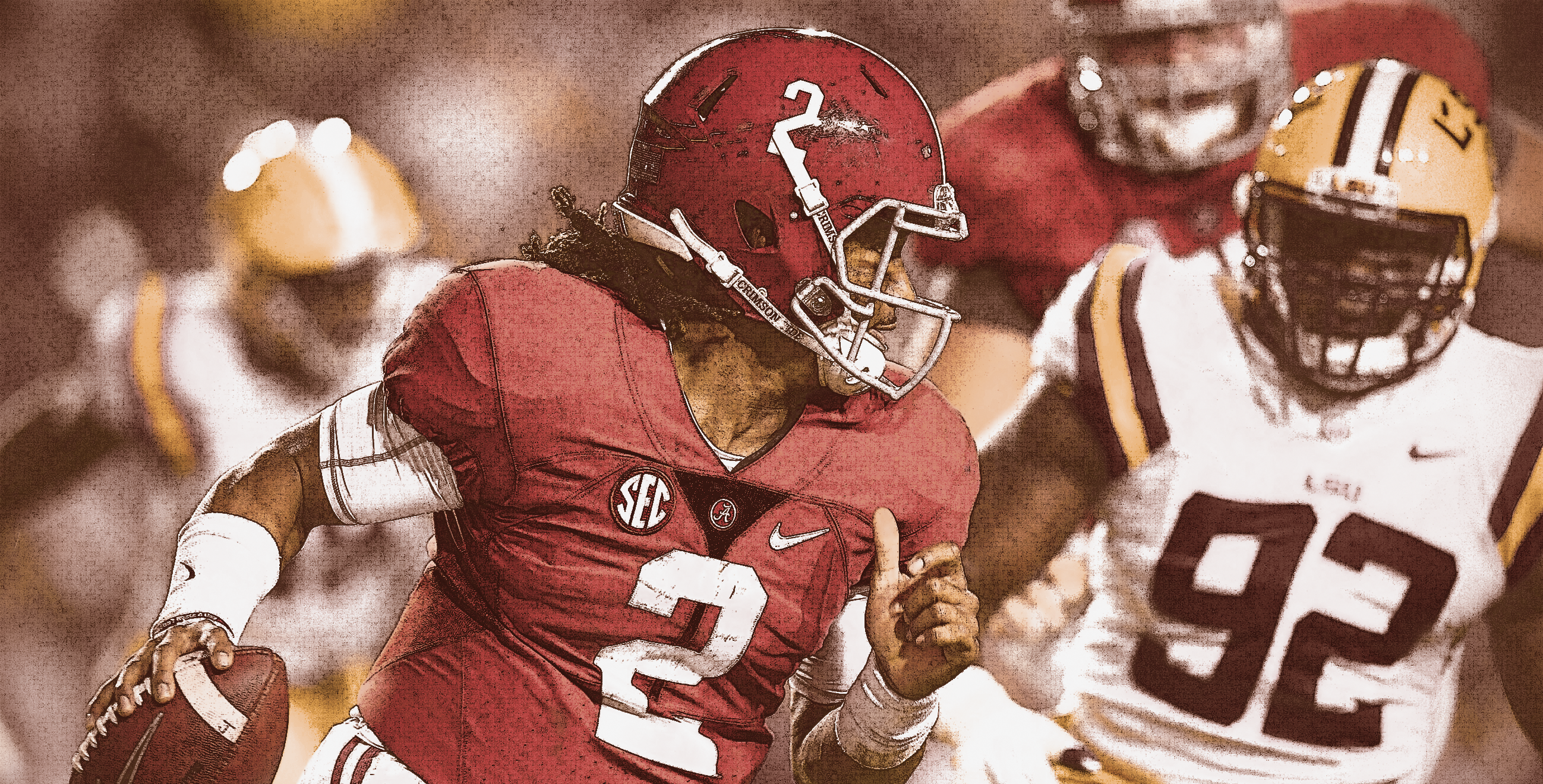 By Matt Hinton
December 2, 2016
If there's a mold for the stereotypical Alabama quarterback, as I've argued before, then Jalen Hurts breaks it in pretty much every way: His mobility has fundamentally changed Bama's offensive identity, completing the Tide's gradual evolution from a methodical, pro-style scheme to a full-fledged spread-option buzzsaw. Through 12 games, the Hurts-fueled attack is still on track to finish as the highest-scoring offense in school history, at 39.4 PPG, and only a few yards off the record pace for total yards; Alabama is as overwhelming a favorite to repeat as national champ as it has ever been in Nick Saban's decade of dominance.
Beyond his game-changing skill-set, though, by far the most revolutionary aspect of Hurts' ascendance is his youth, to an extent that might not be fully appreciated. Back in August, when it was just starting to become clear that the vague pro-Hurts chatter coming out of preseason camp had real traction, I wrote that it was almost inconceivable that Saban, of all people, would dare put the fate of the nation's No. 1 team in the hands of a true freshman QB, in part because that so clearly diverged from the blueprint Saban had followed up to that point.
Because if there's anything we know about quarterback competitions at Alabama (or thought we knew) it was that the older guy always wins over raw talent: Greg McElroy over Star Jackson in 2009, AJ McCarron over Phillip Sims in 2011, Blake Sims over Jacob Coker in 2014, Coker over Cooper Bateman in 2015 — this was a safe assumption. The position on Saban's watch was a straight line of succession in consistent favor of the veteran. Dues-paying members only.
But the initial skepticism wasn't just specific to Saban being Saban: True freshman quarterbacks never top the depth chart for serious national contenders, and if they do the team in question soon ceases to be a serious contender. In this case, never is not hyperbole; literally, there's not a single example of a team led by a true-freshman QB playing for a national title in the past 30 years, or even coming that close. Almost by definition, rookie quarterbacks go hand-in-hand with "rebuilding," when the emphasis shifts to the future and the inevitable growing pains can be written off as the cost of progress.
In the BCS/Playoff era, only three redshirt freshmen have made it as far as the national title game, and two of them (Michael Vick and Jameis Winston) went on to become the No. 1 overall draft pick. It's just not the kind of thing that happens at programs that know how to recruit and develop quarterbacks with championships in mind. Until Jalen Hurts, in 2016.
With Hurts' emergence, the name "Jamelle Holieway" has bubbled to the surface lately as the answer to the trivia question: Who is the only true-freshman quarterback to win a national championship? But that answer comes with caveats. Holieway wasn't the starter throughout Oklahoma's 1985 title run — he took over a month into the season for the injured Troy Aikman — and in many ways he belonged to a different era, completing a grand total of 24 passes in the regular season. In a wishbone offense, opposite a defense that held opponents at or below 14 points in all 11 of the Sooners' wins that season, it was possible for a raw athlete to get away with that.
Hurts can't afford to be anywhere near that one-dimensional — he has matched Holieway's '85 output as a rusher while also completing 209 passes, third-most in the SEC — or even to lean that heavily on his own dominant defense week-in and week-out. (As unyielding as the Bama D has been recently, recall that earlier in the season it gave up 40 points at Ole Miss and 30 at Arkansas, which happen to be Hurts' best games as a rusher and passer, respectively.)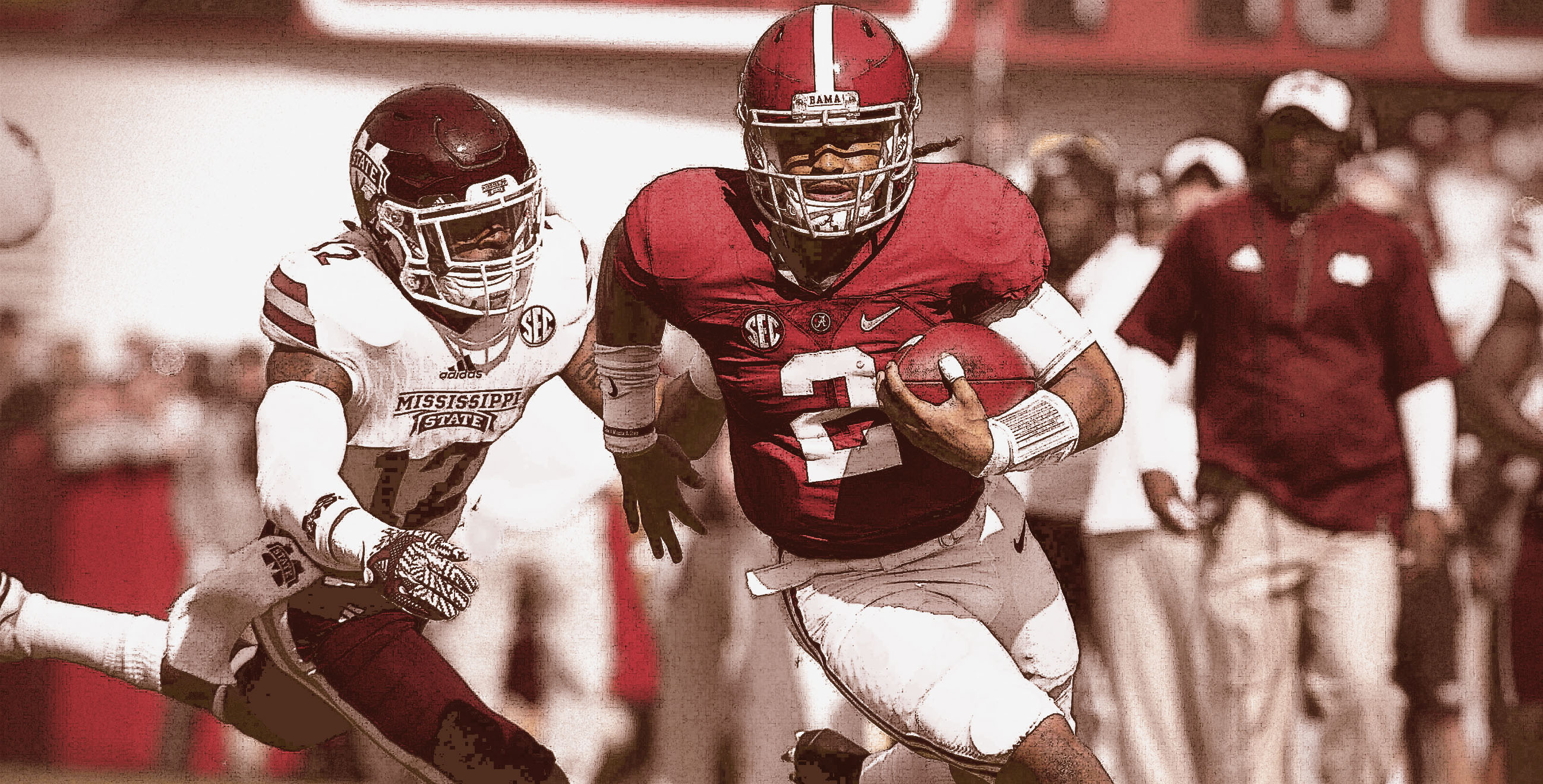 But that comparison across decades is unfair. Where Hurts' achievement heading into Saturday's SEC Championship Game really stands out is against his 21st-Century peers: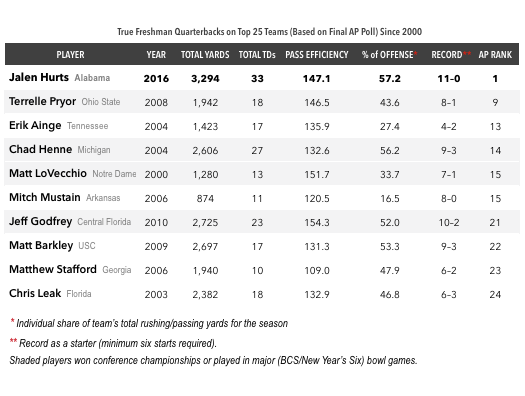 That's the complete list of true-freshman QBs at the helm of Top-25 outfits in the past 16 years, and it's not bad company if you overlook Matt LoVecchio and Mitch Mustain, who were accessories at best to their respective teams' success; both wound up losing the starting job and transferring into obscurity. Among the rest, though, Matthew Stafford went on to become a top draft pick, Chris Leak won a national championship as a senior, Matt Barkley set multiple conference passing records, Terrelle Pryor was the MVP of two BCS bowl wins, and Chad Henne played seven years in the NFL after starting all four in Ann Arbor.
But none had pretensions of leading a sustained national title run — except for Barkley and Henne, both day-one starters, that kind of ambition had already been dashed for the others by the time the keys were handed over for good — and statistically speaking, Hurts' debut campaign has left all of them in the dust: Putting the win-loss record aside, he has accounted for more yards (by a lot), more touchdowns (by a lot), and a larger share of his team's total production than anyone else who has found himself in a similar position in recent memory.
He's improving, too. Hurts' completion percentage and pass efficiency have gotten better each month.
If there's any sense in which Hurts does fit the stereotypical mold for a Bama QB, it's that his individual excellence is largely obscured by a) the excellence of the defense, which has a long, stellar track record of making any offensive shortcomings look trivial, and b) the impression that it's largely the product of the system and surrounding talent. Because really, the thinking goes, who couldn't succeed on a team this loaded?
It's a different system now than the Tide have run in the past, but to the extent that Hurts is viewed as just another in the lineage of good-not-great quarterbacks who found themselves in the right place at the right time, the dynamic still persists. Hurts is generally a steady, stay-within-the-offense kind of player, not a spectacular, improvisational athlete in the vein of, say, Lamar Jackson. (Not yet, anyway.)
With a win on Saturday in the SEC Championship Game against Florida, though, Hurts will join Henne as the only player on that list to claim a major conference championship in his first year. He'd become the first from the SEC to do so, at which point the really big goals will finally come into view.
If that includes a Heisman invite to New York (a longshot at this point, realistically, but still within the realm of possibility with an above-the-fold effort against the Gators) it will be another first. Regardless, his presence behind center on the top-seeded team entering the playoff is an unprecedented feat in itself.
Photos from USA TODAY SPORTS