SEC
Monday Down South: Alabama's defense is historically great (even for Bama)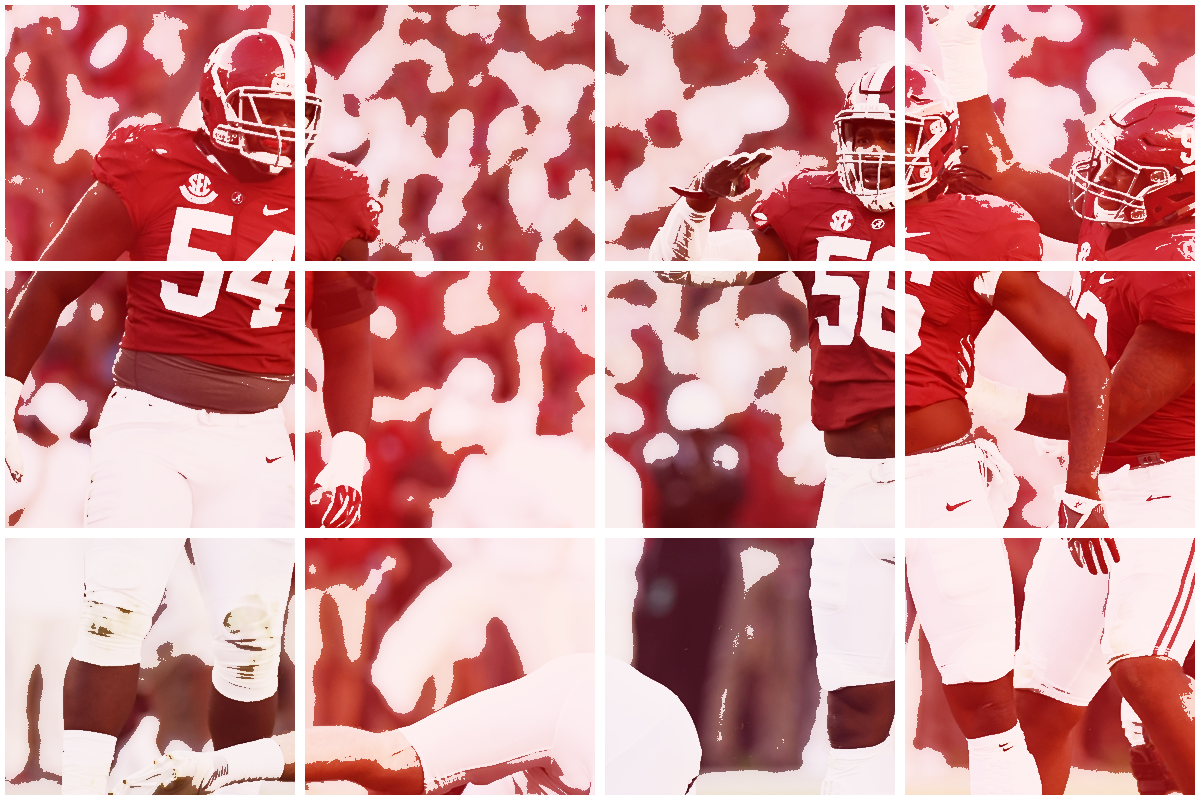 If you're reading a site devoted to SEC football, you probably don't need to be convinced that Alabama's defense is the best in the nation, or even reminded. You take the Bama D for granted, because you can. You're right: Amid the weekly fluctuations that consume so much of the sport's attention, the 2016 Crimson Tide ended the regular season ranked No. 1 nationally (again) in total defense, scoring defense, rushing defense, yards per play, yards per carry, first downs allowed, and future first-rounders.
At some point, the midseason obsession with their capacity for scoring on defense yielded to a much more straightforward, sustainable trend, in which opponents have barely managed to score at all. Saturday's ho-hum, 30-12 win over Auburn was Bama's fourth consecutive without allowing a touchdown of any kind, a streak that now spans 17 consecutive quarters and the entire month of November.
And again, if you're here you've probably already mentally extended those numbers to cover this weekend's SEC Championship match with Florida. Again, you're right.
As the season has worn on, and the rest of the conference has descended into mediocrity, the less relevant the usual measuring sticks have become — the Crimson Tide have put so much distance between themselves and the rest of the SEC, and most of the rest of the country, that they're competing less against their peers on the field than against themselves, and even against history. A dozen games in, this is a defense that enters the postseason legitimately vying for the title of best ever.
Of course, that label hinges on the criteria, not all of which are favorable to this particular unit. (The most basic standard, points per game allowed, effectively eliminates every defense since the Nixon administration. Ditto yards per game; these numbers have increased steadily for decades.) To begin with, I only wanted to check the 2016 Tide against other Saban-era outfits that have anchored championship runs; when they held up just fine, I expanded the comparison to historical SEC defenses using Sports Reference's Simple Rating System, which makes it possible to size up teams from different eras on the same curve, independent of the vast improvement in offensive production over time.
They passed that test with such ease that I decided to apply it to every defense in the "modern" era, beginning with the introduction of the Associated Press poll in 1936. And with more games already under its belt than most of the teams in that span, the current Bama D is on pace to produce the best Defensive SRS rating not only in SEC history — besting Saban's title-winning units in 2009, '11, and '12 — but on record anywhere: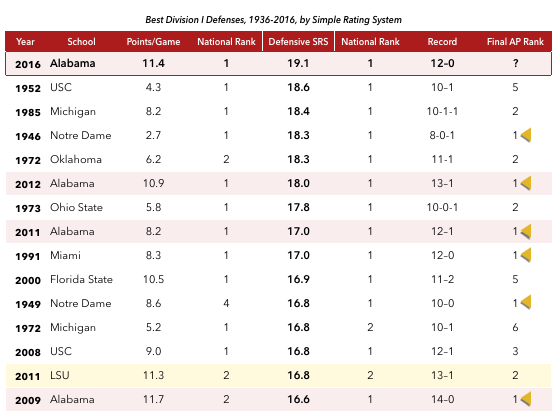 Now, does that list necessarily jibe with the fact that the defense on top was gashed for 500-plus yards and 43 points earlier this year at Ole Miss, or for 30 points at Arkansas? Unlike the rest of the teams up there, Alabama's season is not over; looking ahead to the playoff, is it any guarantee that the same unit isn't vulnerable to a replay of Deshaun Watson's masterpiece in last year's championship game if the Tide draw Clemson, or from a similar effort at the hands of J.T. Barrett, Jake Browning, or Baker Mayfield?
And what about other rating systems, like S&P+, where Bama's not even the highest-rated defense this season? (It still ranks a whisker below Michigan's.) This is heavily disputed turf, and "on pace" doesn't secure it.
But it does put into the context the kind of season the Crimson Tide are striving for, and just how high their potential is if they see it all the way through — not just as another indistinguishable link in the Saban dynasty, but as the kind of outfit that plays itself onto the short list of teams that people still talk about years later, a college equivalent to the '85 Bears. (Albeit, in this case, with a much more mature quarterback.)
To this point in the season, the 2016 edition has been Saban's best, in part because it's the first since the 2009 champs to make it to 12-0 without a blemish. For this group, though, survival is more like the bare minimum. Defensively, they're in position now to dominate on a scale that resonates beyond the immediate context. All they have to do is continue to be themselves.
NOTEBOOK
Around the conference.
LSU 54, TEXAS A&M 39
Ed Orgeron is a man who just landed his dream job, and for now, at least, the good vibes that go with it. Players are with him; locals seem to have embraced him as an excitable Cajun after their own hearts. He salvaged a 5-2 finish (and a potential Sugar Bowl bid?) out of a chaotic situation that could have ended in disaster, three years after pulling off the same trick in the post-Kiffin interim role at USC. On his watch the Tigers found an offense that set records both with and without Leonard Fournette in the lineup and a defense that gave Alabama its toughest test to date. He can recruit, allegedly. They … could have done a lot worse?
As reassuringly competent as LSU has looked over the past two months, from the outside, ambivalence over Coach O's promotion to the full-time gig is the best I can do. For one thing, in their two biggest home games under Orgeron the Tigers a) failed to score against Alabama, or come close at any point, and b) gave away a win to a banged-up, out-of-gas Florida squad, results that almost certainly would have gotten Les Miles fired if he had survived September. For another, his bosses didn't have enough confidence in Orgeron to keep them from pursuing two other candidates, Jimbo Fisher and Tom Herman, with much better résumés as head coaches. Which brings us, inevitably, to Orgeron's own résumé in full-time capacity, still the worst at Ole Miss in the modern era and the worst in the entire SEC since the turn of the century: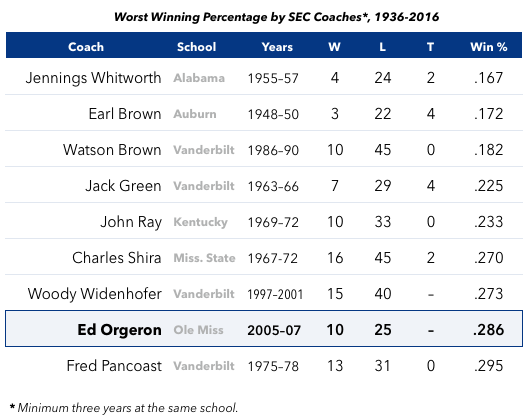 Among coaches in the past 25 years with better records: Bobby Johnson, Bill Curry, Joker Phillips, Sylvester Croom and Curley Hallman. And that's just overall; in conference play, Orgeron's teams won just three games in three years and expedited his departure in 2007 by going winless. People know all this, but I'm not sure they really remember it, viscerally. I attended his last game at Ole Miss, in which the Rebels blew a 14-point lead to an equally awful Mississippi State team in the fourth quarter, and recall how little doubt there was before MSU even scored its first touchdown that it was going to unfold exactly the way it did. The Oxford Police Department remembers.
So, yeah, it is rare for a coach with that kind of record to wind up in a job as coveted as LSU, to say the least. I can't come up with any precedent for it, and I'm not sure it could have happened under any circumstances other than the ones that prevailed in this specific case — i.e., by accident. If Miles had kept the job following the Auburn game, would LSU be embarking on a full-fledged search for an outside candidate right now? If they'd gone 4-3 on Orgeron's watch rather than 5-2? Or if they'd been slightly less competitive on defense in the process of being blanked by Bama? The margins that facilitated the Coach O era are very, very slim.
The optimistic line is that Orgeron learned from his doomed tenure at Ole Miss and will fare better this time around with blue-chip talent and first-rate assistants. His record as a midseason stopgap is encouraging, as is the fact that defensive coordinator Dave Aranda appears to be remaining in the fold despite overtures from Texas. The talent is a given. Until further notice, though, Orgeron's ability to shape it into the kind of program LSU fans expect long-term definitely is not.
REORIENTATION
Time to rethink … The Sugar Bowl Pecking Order.
In an ideal world, Alabama would be allowed to rep the conference in the Sugar Bowl by assembling a sort of JV team made up of redshirts and other little-used backups, which would presumably stand just as much chance against the Big 12 champ in New Orleans as any of the actual candidates to make the trip. All four of the contenders for the SEC's automatic bid — Auburn, Tennessee, Texas A&M, and Florida — face-planted over the weekend in what amounted to a collective, league-wide pratfall.
If this were the old days, there might be an opening for LSU, which is the most attractive candidate on a lot of levels: The Tigers will be happier to be there than any of the teams whose regular seasons ended in defeat; they're healthier; they'd bring a bigger, better crowd to a de facto home game in the Superdome; and the combination of Orgeron's first game as the full-time coach and Leonard Fournette's last in a college uniform would offer the most compelling storyline. More substantively, LSU is still ranked higher than any other non-Bama SEC team in every set of advanced-stat rankings, landing in the top 10 this week according to SRS, Jeff Sagarin, S&P+, and ESPN's Football Power Index.
Unfortunately, it's not the old days — the Sugar Bowl is effectively bound to take the highest-ranked runner-up according to the Playoff Selection Committee. Last week, that was Florida, at No. 13, while LSU fell out of the top 25 altogether. This week, it might very well still be Florida, which held as the second-best SEC team in both the AP and Coaches' polls despite the Gators' 31-13 flop at Florida State. Who knows? If the Gators put up a real fight this weekend against Alabama, actually manage to score an offensive touchdown, and keep the final margin within two scores, then they'll be as attractive an option as any.
Otherwise, the best bet is that the ticket will fall to 8-4 Auburn, which boasts one of the conference's few legit defenses and (when healthy) it's most consistently productive ground game. With nagging injuries to Sean White, Kamryn Pettway, Kerryon Johnson, and Brandon Cox, the Tigers haven't played a game with their entire starting backfield intact in weeks. Given a month to get back up to speed, they stand a chance of actually doing the league some justice.
SUPERLATIVES
The best of the week …
LSU RB Derrius Guice. John Chavis will reportedly make $1.55 million this year to oversee Texas A&M's defense, which comes out to roughly $5,438.59 for every yard that Guice gained Thursday night en route to the LSU single-game rushing record.
A few other fun numbers from the Tigers' Thanksgiving massacre:
Between Guice's 285-yard effort at A&M, his 252-yard performance at Arkansas, and Leonard Fournette's 284-yard romp against Ole Miss, LSU just produced the three best individual rushing performances in school history in its past five games.
Between Guice and quarterback Danny Etling (324 yards, 2 TDs), the Tigers produced a 200-yard rusher and 300-yard passer in the same game for the first time ever.
With 1,249 yards on the year, Guice ends the regular season more than 400 yards ahead of Fournette, and within 100 yards of the SEC lead despite logging considerably fewer carries than seven of the league's other top 10 backs. (Guice was all but ignored in the losses to Wisconsin, Auburn, and Alabama, earning a grand total of eight touches in those games.) He leads the conference in yards per carry (8.0), runs of 20-plus yards (18), and, as of this weekend, burgeoning hype for 2017.
Missouri LB Cale Garrett. Garrett, a true freshman, turned in the game of his young life in Missouri's 28-24 upset over Arkansas, finishing with 10 tackles (eight solo), two TFLs, and a game-changing interception inside the Mizzou 5-yard line that turned the tide early in the third quarter. At that point, the Razorbacks led 24-14 with a chance to slam the door on a demoralized, 3-8 outfit likely to fold in the face of a three-score deficit. Instead, Garrett's pick was the beginning of an improbable rally: The offense responded with back-to-back touchdown drives covering 96 and 81 yards, respectively, and Mizzou never trailed again on the way to its best win in more than two years.
Kentucky QB Stephen Johnson. Nobody's about to confuse him for Lamar Jackson or anything, but Johnson was a surprising match for the Heisman favorite Saturday, turning in career highs for passing yards (338) and rushing yards (83) in Kentucky's 41-38 upset at Louisville. His pass efficiency rating, 193.7, was Johnson's best of the year against a Power 5 defense, by far, and bested Jackson's rating by more than 30 points.
Altogether, Johnson accounted for almost three-fourths of the Wildcats' 581 total yards, including 49 of the 60 yards on the drive that set up UK's game-winning field goal. A validating encore in the bowl game — Kentucky is going to a bowl game! — will send his 2017 stock soaring, and his team's, too. All but two offensive starters are scheduled to return.
Mississippi State QB Nick Fitzgerald. Fitzgerald ripped off a school-record 258 rushing yards in the Bulldogs' evisceration of Ole Miss, accounted for five touchdowns (two rushing, three passing), and further entrenched himself as a worthy successor to the dual-threat mantle left by Dak Prescott. Say, Dan Mullen, who did you beat out for this kid again?
.@rick_cleveland asked Dan Mullen who they had to beat out in recruiting to land Nick Fitzgerald. This was his response & it's glorious. pic.twitter.com/fFZGJwyVFq

— Robby Donoho (@RobbyDonoho) November 27, 2016
His arm still needs some work, but for a redshirt sophomore in his first year as a starter the results speak for themselves: Fitzgerald ends the regular season as the SEC leader in both total touchdowns (a distinction he shares with Joshua Dobbs) and total offense, marks he'll apparently have a chance to defend in a bowl game.
Auburn LB Deshaun Davis. The dam burst eventually — Alabama hit 30 points without help from the defense or special teams and exceeded its season average for total offense — but not without some resistance from Auburn's defense, led by Davis, who finished with 10 tackles (seven solo), four TFLs, and a QB hurry in the face of the inevitable. And anyway, when you share the same surname with seven other guys on the roster, just standing out as the best player named "Davis" is an achievement in itself.
Catch of the Year of the Week: Russell Gage, LSU. Gage, a junior who converted from DB before the season, woke up on Thanksgiving with zero career catches. He went to bed with five, including this balletic, full-extension touchdown in the fourth quarter that was so far out of bounds I'm not even sure Danny Etling was attempting to complete it:
And that's how Russell Gage discovered that he is, in fact, Plastic Man.
MISCELLANEOUS POWER RANKINGS
The best things in the SEC this week.
1. Alabama's Front Four. Against Auburn, Bama faced the conference's best rushing offense, held it 230 yards below its season average, and improved its own absurd numbers against the run. Just another routine day at the offices of Rammer Jammer Inc. (Last Week: 1)
2. The Orgeron Effect. Handing Coach O the keys seems likely to go down as either a stroke of unconventional genius or a total flaming disaster, with not much runway in between. But you have to respect the hustle — brass rings don't seize themselves. (LW: 9)
3. Missouri's Death-Defying Fake Punt. Immediately following Cale Garrett's interception (see above), Mizzou faced a fourth down inside its own 10-yard line and an apparent punting situation that would give the momentum right back over to Arkansas. Instead, with nothing to lose the Tigers rolled the dice on a fake punt from their own end zone — and executed it beautifully:
Anthony Sherrils converts the fake field goal for a first down pic.twitter.com/NabREnbUqk

— Oscar Gambler (@OscarGambler) November 25, 2016
Two players later Drew Lock hit Johnathan Johnson on a 67-yard touchdown strike that cut the Razorbacks' lead to 24-21, and the comeback was on. (LW: Unranked)
4. Derek Mason Back In the House. Vanderbilt is going to a bowl game! Coach Mason, your thoughts?
Derek Mason YEAH pic.twitter.com/UY3V4eq0Cb

— Matt Hinton (@MattRHinton) November 27, 2016
That's the most excited anyone has ever been to be assigned to Shreveport. Go Dores. (LW: Unranked)
5. Ralph Webb Has Left the Building. Webb capped his junior season by breaking Vanderbilt's career rushing record against Tennessee, then caught a ride out of the stadium courtesy of a few teammates:
Ralph Webb carried off the field by his teammates. pic.twitter.com/Cx5GaShvOU

— Mickey Ryan (@MickeyRyan1045) November 27, 2016
This is Webb's second consecutive 1,100-yard season, which ought to be good enough to get him a few All-SEC votes in a very crowded field of running backs. If he makes the cut, he deserves it. (LW: Unranked)
6. The Next Generation of Quarterbacks. The freshmen — Hurts, Patterson, Eason, and Bentley — are all on their way to being very good. But the two best quarterbacks in the conference on Saturday were a pair of mostly unheralded sophomores, Nick Fitzgerald and Vanderbilt's Kyle Shurmur, who continued his late-season surge by lighting up Tennessee for a career-hight 416 yards and two touchdowns. Outside of Florida and maybe Tennessee, every team in the conference is going to feel very good about its QB situation entering 2017, which isn't something you would have expected to hear a month ago. (LW: 7)