SEC
Monday Down South: Alabama vs. SEC gap at historic level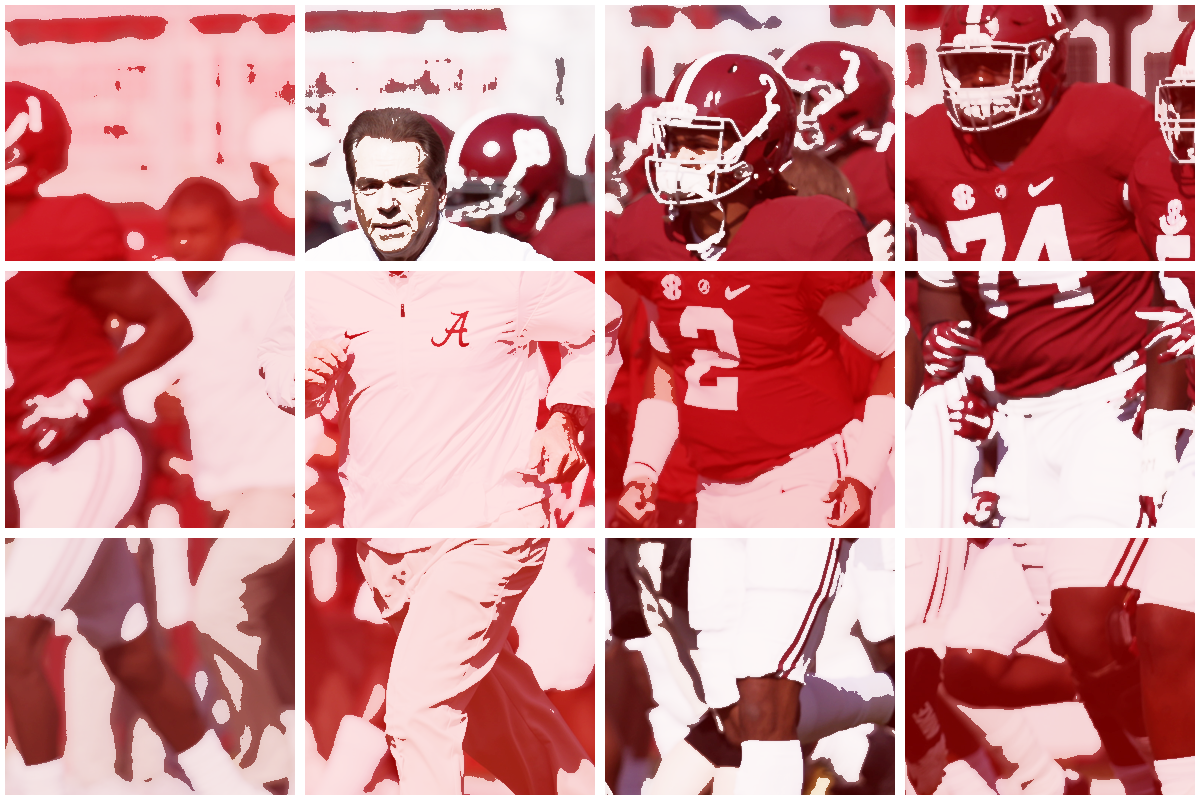 With each passing week Alabama has continued to put a little more distance between itself and the rest of college football, and after the most chaotic Saturday of the season the gap is wide as a country mile. The Crimson Tide are so far out in front of the rest of the pack that they can barely be seen.
Within the SEC, of course, this has been the case for weeks; after their Oct. 15 pasting of Tennessee I began probing the Tide for any conceivable signs of weakness, and their subsequent wins over Texas A&M, LSU, and now Mississippi State have only reinforced the suspicion that they don't really have any — at least, none glaring enough that their many strengths can't make up the difference.
But this weekend's parade of dramatic upsets only widened the chasm, regionally and nationally: While Bama was all business as usual against MSU, five of the top 10 in last week's AP poll went up in flames — three at home, four at the hands of unranked opponents — including Alabama's ostensible competition in the SEC West, Auburn and Texas A&M. When the dust cleared, not only were the Tide still undefeated, they were the only undefeated team in any Power 5 conference. Not only were they in first place, they were the first FBS outfit in any conference to clinch their division title, and claimed every first-place vote in both the AP and Coaches' polls.
At this point, the question of whether Bama can possibly be beaten before it accepts its inevitable invitation to the playoff isn't even interesting. It doesn't even matter; with the West locked up, no viable upset threat from the East, and the rest of the national contenders now squarely in the rearview, Alabama could theoretically absorb a loss in the Iron Bowl and still boast the strongest playoff case of any candidate.
It could rest its starters, if it had a mind to, and not only because Alabama's backups might be good enough to beat any other team in the conference straight up.
If the failure of another would-be frontrunner to separate itself from the rest of the SEC blue-bloods feels weird, it should. Since the conference expanded to the two-division format in 1992, the margin between the best and second-best teams in the AP poll has never been as wide at the end of a season as it is right now between Alabama and whoever's next in line. (That would be LSU, for the moment, although the distinction has changed hands on a near-weekly basis.)
Here are the widest gaps in the last 25 years' worth of season-ending AP polls, as well as the widest gaps according to College Football Reference's Simple Rating System: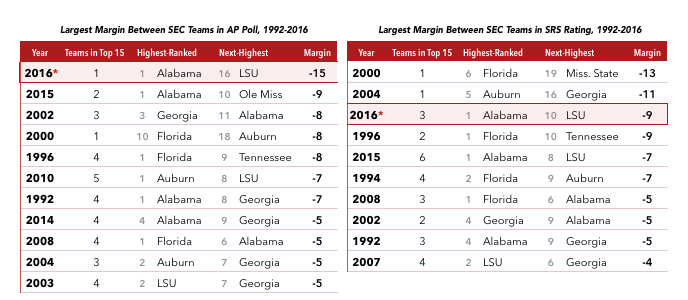 Note that the other years here reflect the final rankings after all games, including bowls, where 2016 obviously reflects the status quo in mid-November. The end results two months from now could be more in line with the historical norm. Still, for now it's safe to say that the perceived gap in the media is significantly larger than it has been at any other point in that span, so much so that no other SEC team even rates in the top 15.
The mathematical model is a little more favorable to the competition, but still reflects a larger margin than SRS has recorded in more than a decade. A week-in, week-out, dog-eat-dog grind, this is not.
Now, there are two ways to interpret that. One is that Alabama is simply a juggernaut that has ascended to a higher plane than the rest of the conference, and quite possibly the rest of the country; obviously, this is the consensus view, influenced by the fact that Bama has consistently exhibited juggernaut tendencies for the better part of the past decade.
The other interpretation, however, is that the Tide's dominance has been inflated by the relative weakness of the rest of the SEC, and the fact that they've yet to encounter another elite outfit, a la Ohio State, Michigan, or the Clemson team that came very close to dethroning them in last year's championship game is itself a sign of their vulnerability. USC? On opening night the Trojans were a completely different team than the one that just knocked off Washington, still a month from hitting their stride under a new coach and new quarterback. Ole Miss? Arkansas? The Rebels and Razorbacks were both ranked at the time of their losses to Bama, but have since descended into mediocrity. Tennessee? Overrated. Texas A&M? Ditto. LSU? The Tigers don't even have a full-time head coach.
Your mileage might vary on that line of argument; personally, I'm down with the juggernaut narrative like most everyone else. Still, it's not often that the Ain't Played Nobody card can plausibly be pulled on the SEC, much less the unquestioned overlord of the SEC West. If you've been waiting for your chance, there's never been a better time than right now.
NOTEBOOK
Around the conference.
ALABAMA 51, MISSISSIPPI STATE 3
Is Jalen Hurts a legitimate Heisman candidate? Survey says, yes: He's pretty clearly solidified his status the premier quarterback in the SEC, and even before eviscerating the Bulldogs on Saturday for 447 yards and five touchdowns, Hurts was on the short list according to ESPN's panel of Heisman voters. Once the odds are refreshed this week he ought benefit enormously from a) His own performance, which set season highs in multiple categories and at least briefly defied the notion that he's merely a one-dimensional athlete who struggles as a passer, and b) The fact that three of the prime candidates in front of him – Deshaun Watson, Jake Browning, and Jabrill Peppers — all saw their teams' undefeated seasons come to an abrupt end over the weekend. The Heisman is a political award, and "most visible player for the unquestioned No. 1 team" remains one of the de facto credentials for making a serious run.
On the other hand, Hurts doesn't put the ball in the air often enough to hit some of the usual statistical benchmarks of a Heisman-worthy passer; his big day against the Bulldogs only bumped him up to 35th in pass efficiency, which is just fine for a true freshman but not quite in the Heisman range.
There's also the true freshman barrier, which has survived stiffer challenges in the past without being breached. (Johnny Manziel and Jameis Winston won as redshirt freshmen in 2012 and '13, but they were on an entirely different level from Hurts statistically.) He looked like a shaky freshman passer against LSU before his legs took over in the fourth quarter. Realistically, unless some unspeakable fate befalls Lamar Jackson in the next two weeks, the "Hurts 4 Heisman" lobby should be satisfied with an invitation to New York as a finalist, which might still be within reach, as a prelude to a full-fledged campaign in 2017.
OLE MISS 29, TEXAS A&M 28:
Shea Patterson's debut earned rave reviews, for obvious reasons: Down 21-6 in the fourth quarter … on the road, in the middle of 100,000 hostile A&M fans … in his first college action in any capacity … all the kid did was cooly lead Ole Miss on four consecutive scoring drives to upset the No. 10 team in the nation. The Rebels have spent all season starting fast, fading late, and letting wins slip from their grasp; right away Patterson flipped the script and left no doubt that this is his team for the foreseeable future.
You can literally track his growth from "freshman jitters" in the first quarter to "y'all I got this" in the clutch:

Now for the part where I pump the brakes, remind you that it was only one game, and that Patterson still has a lot of growing left to do as opponents adjust to his freewheeling style of play. All of which is true. There was serious doubt as to whether Ole Miss would would even pull his redshirt for the sake of three of four mostly meaningless games down the stretch, or even if it should. He didn't walk out of Kyle Field a finished product.
But when a quarterback with the kind of over-the-top hype that preceded Patterson's arrival visibly elevates his game to Chad Kelly's level his first time out, there aren't enough caveats in the world to stop the flood of optimism that's bound to follow. (Significant contributions on offense from fellow five-stars A.J. Brown and Greg Little only add to the din.) As always, Ole Miss under Hugh Freeze may not be a good team, necessarily, but it's going to remain an interesting one for a good while longer.
GEORGIA 13, AUBURN 7
A few weeks ago, I broke down Auburn's sudden, spectacular success on the ground since committing to oversized tailback Kamryn Pettway as the focal point of the offense, a move that gave the Tigers a consistent, coherent identity — in the four game prior to this one more than 40 percent of Auburn's offensive snaps went to Pettway — and opened up the rest of the playbook as a result over the course of a six-game winning streak.
Pettway didn't play against Georgia, and this is what it looked like without him:
That is one full, entire half of football without a single first down, which was every bit as soul-crushing to watch as the chart suggests. The interception to open the second half was a dagger, a pick-six by Alabama transfer Maurice Smith that accounted for Georgia's only touchdown and, ultimately, the winning margin. Everything after that is just sadness.
Sans Pettway, the ground game stalled, forcing quarterback Sean White (the SEC's most efficient passer coming into the game) to operate outside of his usual comfort zone with a bad shoulder that he neglected to divulge to coaches. The result: White finished 6-of-20 passing for 27 yards (that's 1.4 yards per attempt) and the pick-six, good for a rock-bottom efficiency rating of 37.3.
Going forward, Pettway is reportedly week-to-week with an unspecified leg injury, meaning he could be back for the Iron Bowl in two weeks if he's willing to push it. Had the Tigers managed to survive Saturday's slugfest, rushing the league's leading rusher back for a winner-take-all collision for the SEC West would be a no-brainer. With their momentum stopped dead in its tracks, the same urgency may be harder to muster.
SUPERLATIVES
The best of the week…
Missouri DE Charles Harris. For a guy who still tracks as a potential first-round draft pick, it's been a relatively quiet year for Harris amid his team's struggles at the bottom of the standings. But when he's on, he's all the way on. Against Vanderbilt, Harris was credited with a team-high nine tackles, three sacks, and two additional QB hurries, his second consecutive game with multiple sacks after posting goose eggs in that column for most of the season.
LSU RB Derrius Guice. Last week, LSU's game plan all but ignored Guice, relegating him to just two carries against Alabama despite the utter failure of everything else the Tigers tried. This week, they made up for that lapse against Arkansas by calling Guice's number 21 times, a career high, on which he churned out 252 yards — also a career high — in a 38-10 thumping of the Razorbacks.
A significant chunk of that came on an icing, 96-yard touchdown run in the fourth quarter, a new LSU record behind some textbook blocking by center Ethan Pocic (No. 77) and left guard Will Clapp (64) and some eye-opening, pursuit-torching speed in the open field:
Guice will never get the kind of hype reserved for Leonard Fournette, but at its best LSU has deployed the pair more like equal partners with complementary styles. Partly that's a result of Fournette's gimpy ankle, which has opened the door for Guice to take a starring role when Fournette doesn't play and shoulder more carries when he does. (Guice actually leads the team in rushing yards and touchdowns.) But it's also because Guice might be the most efficient big-play back in the nation: Thirteen of his 101 carries this season have gone for at least 20 yards, an extremely high rate, and his per-carry average (8.7) ranks second among backs with at least 100 attempts.
Auburn DL Carl Lawson and Montravius Adams. As miserable as Auburn was offensively, if not for the pick-six to open the second half the Tigers still might have been able to hold on against Georgia thanks to a feisty defense that bent but never broke. (UGA was just 1-of-3 on red zone trips, managing only a field goal.) That started up front, where Lawson and Adams — both seniors who are fully living up this season to their original billing as five-star recruits — combined for 12 total tackles, five TFLs, and two sacks in a losing effort.
Tennessee QB Joshua Dobbs. Dobbs has enjoyed his share of gaudy box scores, most notably this season in the three-game stretch against Florida, Georgia, and Texas A&M that saw him rally the Vols back from a three-score deficit in all three games. But he's arguably never run the offense more efficiently than he did in Saturday's win over Kentucky, in which he accounted for 370 total yards, five touchdowns, and a career high for pass efficiency vs. an SEC defense (221.4).
Dobbs also set a personal best for rushing yards (147), most of them coming on a pair of TD runs covering 35 and 45 yards, respectively, on a pair of very similar-looking midline option plays.
Dobbs only attempted 17 passes, a career low against an FBS defense, but as the rest of the numbers (not to mention the scoreboard) indicate, it was probably as close as Tennessee has come to executing the offense exactly as it was designed.
Catch of the Year of the Week: Damore'ea Stringfellow, Ole Miss. Shea Patterson was great, sure, especially in the clutch. But when your receivers are hauling in finger-tip grabs like this with one hand, it helps:
I'm not entirely sure how that works, gravity-wise, but it did set up a crucial touchdown run (with the help of some atrocious Aggie tackling) that pulled Ole Miss within a score. With the Rebels' wide receivers, any throw they can get any part of the glove on tends to be a good one.
MISCELLANEOUS POWER RANKINGS
The top 10 things in the SEC this week.
1. Alabama's Front Four. There are a lot of ways to quantify Bama's perennial dominance in the trenches — the Tide lead the nation in rushing defense, sacks, etc. — most of which I've repeated in this spot ad nauseum throughout the season. So in light of LSU's latest, multi-faceted romp over Arkansas, here's a slightly different perspective:

You knew that already, of course, even if you couldn't cite the exact numbers; you could play the same game with almost every offense Alabama has faced. (Mississippi State rushed for 94 yards on Saturday, more than 200 yards below its average on the ground over the previous three weeks.) But it never hurts to check our assumptions against the evidence. This one holds up. (Last Week: 1)
2. The Legend of Leonard Fournette. Against every defense that is not Bama's, LSU's superfreak continues to live up to the mythology: Even on a night on which he was statistically overshadowed by his younger teammate, Fournette still accounted for 142 yards from scrimmage and three touchdowns, the fifth time he's eclipsed the century mark this season (in six games) and the 23rd time in his career. In spite of injuries and everything else, altogether Fournette has averaged 158.2 yards per game this year rushing and receiving — significantly down from his own pace in 2015, but still slightly ahead of Derrick Henry's pace en route to the Heisman. (LW: 9)
3. The Orgeron Effect. In one sense, LSU's trip to Arkansas was as big a test of Coach O's long-term viability as last week's showdown with Alabama — Les Miles' teams tended to crash after throwing everything they had at the Tide — and this time the Tigers passed with ease. The emphatic rebound was another sign that the team is responding to Orgeron, whose four victories in the interim role have all come by at least 17 points. Whether any of that is actually getting him any closer to the permanent job is still an open question, but it sure can't hurt. (LW: Unranked)
4. The Next Generation of Quarterbacks. It's been a rough year for SEC signal-callers, defined by Brandon Harris getting benched, Chad Kelly and Trevor Knight getting hurt, and Joshua Dobbs failing to emerge as the efficient, dual-threat star many Tennessee fans had been led to expect. Elsewhere, though, every other full-time starter in the conference is scheduled to return in 2017, and for this year's freshman class you can already feel the bar beginning to rise: There's Jalen Hurts, obviously, but also Shea Patterson, who might be the first SEC QB off the board if you held a draft today, as well as Jacob Eason and Jake Bentley, who have shown more than enough in their first year on campus to keep their blue-chip reps intact.
Aside from the freshmen, the arrow is pointing up for Sean White at Auburn, Austin Allen at Arkansas, and Nick Fitzgerald at Mississippi State, none of whom boasts next-level talent but all of whom look like productive, entrenched starters within their respective systems. Ditto Danny Etling, who has one more year at LSU. And there's still time for Drew Lock to grow into his potential at Mizzou, too. I'll have more on the league's up-and-comers behind center later in the week. (LW: Unranked)
5. Shea Patterson's Manziel-an Flair. It's still a compliment to compare a young college quarterback to a former Heisman winner on the field, right? Because Patterson's freewheeling Manziel impression on his first career touchdown pass was spot-on:
The key detail is the way he flaps his arms on the spin, I think, which is a very Manziel move. Add the socks, the sleeve, and the size, and the resemblance is just uncanny. (LW: Unranked)
6. The SEC East in the Balance. While the West has been long since won, the East race is down to two teams and a few scenarios, the most straightforward of which involves Florida clinching the division by beating LSU this weekend in Baton Rouge. Failing that, the head-to-head tiebreaker edge will fall to Tennessee unless the Vols drop one of their last two against Missouri or Vanderbilt, thereby forfeiting the division back to Florida. Considering the reward for winning out is getting another game against Bama all scenarios are in play. (LW: Unranked)
7. Nathan Peterman Shocks the World. Three years ago, Peterman, then a redshirt freshman at Tennessee, made his first career start at Florida and turned in one of the worst performances by an SEC quarterback in recent memory: His final stat line (4-of-11 passing for 5 yards, two interceptions, and one lost fumble) was wretched, generating a nearly impossible pass efficiency rating of 3.8, and it looked even worse on the field than it did on paper. Peterman was benched at halftime of an eventual loss, didn't take another snap in the 2013 season, and transferred from UT with his degree after playing sparingly in 2014.
Against all odds, though, this story actually ends well. On Saturday, Peterman emerged at the center of one of the biggest upsets of the season: Now a fifth-year senior at Pittsburgh, the one-time goat put up career highs for yards (308) and touchdowns (5) in the Panthers' come-from-behind, 43-42 stunner at Clemson, outdueling Deshaun Watson and snapping the Tigers' 22-game regular-season win streak in the process. For the season, Peterman has thrown 19 TDs to just four picks, and ranks 11th nationally in pass efficiency vs. FBS opponents. (LW: Unranked)
8. South Carolina's Garnet Helmets. The fact that the Gamecocks, wearing the sweet garnet lids they should just make permanent already, lost to a Florida team in alternate whites is a betrayal of all of my most deeply held helmet-based values. (LW: Unranked)
9. Gus Malzahn's Recently Restored Mojo. I'm not going to boot Malzahn from the rankings entirely, out of respect for the highly improbable turnaround he engineered to save the season and likely his job. But Auburn had no answers without a healthy Kamryn Pettway, putting them right back where when nothing seemed to be going right in September. (LW: 2)
10. This Patriotic Arkansas Fan as Metaphor. The specific context for this fan's lament was a garbage-time fumble that cost the Razorbacks a meaningless touchdown in their loss to LSU. But spiritually, this man is our nation right now:
A modern Uncle Sam weeps for our nation. pic.twitter.com/8H4SbCZ8MS

— Deadspin (@Deadspin) November 13, 2016
We feel you, dude. (LW: Unranked)