LSU TIGERS
Film Study: Did LSU find an offensive blueprint in beatdown of Missouri?
By Matt Hinton
October 6, 2016
A weekly look inside an SEC playbook.
When LSU decided to fire Les Miles less than a month into the season, it felt like a concession to reality: 2016 will not be the Tigers' year. Sure, it could have been, if the pieces had fallen as neatly into place on the field as they did on the preseason depth chart. If not now, the thinking went, then when?
After four games, that question was no closer to an answer, except for the realization that the time is definitely not now. Instead, the offense retreated into a shell, the starting quarterback was benched, the Tigers suffered multiple September losses for the first time since 2001, and any lingering notions of a championship run in the rough-and-tumble SEC West were left for dead.
The first half of the schedule was supposed to be the easy part. Certainly this version of LSU had no chance of beating Alabama, this year or any year in the foreseeable future; with Miles' fate sealed, all that mattered over the remaining two months of the season was replacing him with someone who can.
After five games, all bets are off. Rather than accept the role of lame ducks, the Tigers dominated Missouri so thoroughly last week that was impossible not to wonder if they could still be the team the preseason believers expected all along: The offense, dead on arrival in September, ran up a school record for total yards against an SEC opponent, and the final score, 42-7, made it Missouri's most lopsided loss since joining the conference.
With Leonard Fournette nursing a sore ankle, backups Derrius Guice, Darrel Williams, and Nick Brossette combined for 366 yards rushing against a defense that had effectively shut down Georgia's ground game two weeks before; the offense as a whole, responsible for nine touchdowns in the first four games, embarked on six touchdown drives against Mizzou that covered at least 75 yards apiece.
Without warning, everything that had gone wrong over the first month suddenly went very, very right.
The contrast was so stark, in fact, that it's tempting to dismiss the rout as an emotional one-off — one night of catharsis at the expense of an inferior opponent, never to be repeated.
Just as likely, though, the beatdown can be interpreted as a blueprint: In Guice, LSU has a legitimate complement to Fournette who has arguably replaced the Tigers' Herculean headliner as the team's most potent home-run threat. And if coaches can figure out a way to feature them both, there's no reason the offense that broke out last weekend can't be the on that shows up the rest of the year.
TWEAKS OR REAL SIGNS OF CHANGE?
The same day he was introduced as interim head coach, Ed Orgeron promised that the offense would be "tweaked," and sure enough LSU came out for its first series against Mizzou in — brace yourself — a bona fide spread formation featuring four wide receivers. The result: One completed pass for a first down, followed by three consecutive incompletions and a punt. Total elapsed time: 42 seconds. Thus concluded LSU's experiment with the spread.
The real tweaks proved to be more mundane, basically amounting to a handful of new personnel groupings and a preference for a second tight end on the line of scrimmage in place of a fullback in the backfield. Accordingly, that meant less emphasis on the I-formation, which had served as the foundation for the running game with Fournette in the lineup — more than 75 percent of his carries this season have come behind his favorite lead blocker, J.D. Moore, aligned as a fullback or H-back — in favor of more one-back sets.
In contrast with Fournette, only five of Guice's 17 carries last week came from the I, and none involved an H-back. A notable new tendency, perhaps; hardly a groundbreaking paradigm for opposing defensive coordinators to unravel.
Instead, more than any larger philosophical shift, the most relevant distinction between the Fournette-centric attack LSU fans saw in September and the breakthrough behind Guice might be simply the difference between the two backs themselves.
Fournette, of course, is the quintessential downhill runner: Give him a head full of steam and a hole through which to direct it and the result is as spectacular as anything in football. He's the platonic ideal of the I-formation workhorse. But no matter he formation, the goal is always to get No. 7 moving in a straight line as quickly as possible.
Take this play against Auburn, for example, one of the few times this season that Fournette has lined up in a single-back set without Moore in front of him as a lead blocker. (The two-TE/two-WR look seen here began to show up more frequently in the Auburn game, and actually turned out to be LSU's favorite alignment against Missouri; it was almost non-existent against Wisconsin and Mississippi State.)
Regardless, the play is still designed to be a downhill run behind a lead blocker, right guard Josh Boutte (No. 76), who pulls to kick out the edge defender (Carl Lawson, No. 55) while the rest of the line fires out. The result was a 35-yard sprint down the sideline that stands, surprisingly, as Fournette's longest gain of the season:
Not coincidentally, this is one of the exceedingly few plays this year on which Fournette has been able to hit a crease at full speed and accelerate past the second level — unlike the vast majority of his attempts, he wasn't forced to dodge a would-be tackler in the backfield or attempt to blast his way through a tangled mass of humanity at the line. This is what the offense is supposed to look like. Too often, though, runs have been disrupted or misdirected by initial penetration…
… or simply snuffed out by a stacked box. And if there's any weakness in Fournette's game, generally, it's his lack of elusiveness and jump-cutting creativity before he's able to build up forward momentum. Hit him early, and you have a chance.
ADAPTING SYSTEM TO FIT GUICE
Guice, on the other hand, while he obviously can't hope to match Fournette's straight-ahead ferocity, is about as elusive as they come: On a couple occasions against Missouri, he not only managed to leave defenders grasping at air in the backfield, but proceeded to turn those missed TFLs into the kind of explosive gains that had been so sorely missing in LSU's first four games. And rather than send Guice barreling into a stalemate at the line, the Tigers helped spring him by replacing their downhill, gap-blocking mentality with a zone-blocking scheme that allowed him to exploit his quickness and vision.
Take the first of Guice's three touchdown runs, a basic inside zone run out of the same two-tight, two-wide formation as Fournette's big gain against Auburn.
Unlike that run, though, on the inside zone there is no pulling linemen to lead the back to the designated hole, because there is no designated hole; instead, Guice has the freedom to read the blocking up front and essentially run to daylight.
In this case, that turned out to be a cutback lane to the right side of the line, which was only accessible after navigating some immediate traffic in the backfield: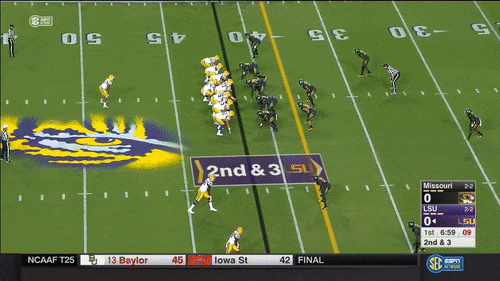 This is a dominant effort by the entire right side of the line — Boutte (76). Maea Teuhema (75), and Colin Jeter (81) — who collectively open a vast swath of space by driving their men from the middle of the field almost to the numbers. (I'm fond of the open-field block by No. 86, Jazz Ferguson, as well.) But the two blocks that keep this play from being blown up instantly are the ones by the center, Ethan Pocic (77), and the left tackle, K.J. Malone (63), both of whom appear to be initially beaten off the snap but are able to recover quickly enough to ride their respective defenders upfield, past Guice, who splits the penetration untouched.
Most of the time, the sight of two defenders penetrating 3 yards deep into the backfield on a run-of-the-mill handoff spells disaster, as LSU fans should know well. This time, though, the combination of Guice's exceptional change-of-direction and the flexibility of the zone scheme gave him more than enough space to hit the open field and start making dudes look silly.
Jump to the third quarter: Same play, same formation, same initial result — again, Missouri gets immediate pressure up the middle, this time essentially unfettered as the Tigers' leading tackler, linebacker Michael Sherer (No. 30), blows past freshman guard Donavaughn Campbell (71) into Guice's original running lane.
And again, Guice reverses field so quickly in response to the penetration that Sherer, who has put himself in perfect position to record a TFL, doesn't lay so much as a finger on him: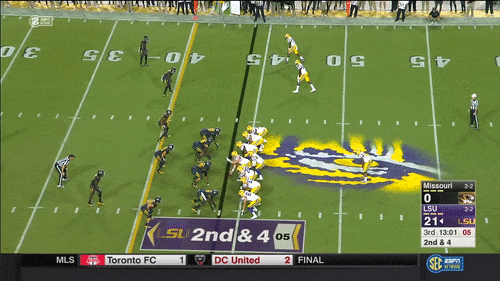 It's moves like that one that inspired comparisons to Reggie Bush, which is a little overboard for a guy coming off his second career start. Still, at this rate a little hyperbole might be warranted: That play gained 22 yards, one of eight 20-yard runs by Guice — most in the SEC, and tied with Lamar Jackson for second-most in the nation — on just 46 attempts. That's roughly one 20-yarder per six carries.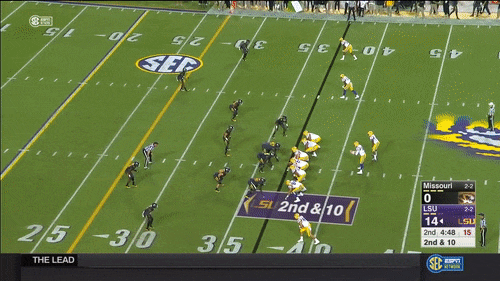 Fournette's rate this season? Three 20-yard runs on 67 attempts.
TO SATURDAY AND BEYOND
The most pressing question going into this weekend's trip to Florida is whether the game will be played at all: Gainesville could be in the path of Hurricane Matthew, which is projected to make landfall along the Florida coast Friday morning and could cause significant damage and power outages further inland. The UF campus will be closed Friday; as of this writing, the game is still on pending an official announcement on Thursday afternoon. It's not looking good.
If they do go through with it, the speculation will return to Fournette, who is reportedly doubtful to play for the second week in a row. Presumably his absence will mean more against the Gators than it did against Mizzou: Florida is ranked second nationally in total defense and ninth against the run.
Fournette had more success against UF in 2015 than any other individual back, churning out 180 yards on 5.8 per carry despite failing to break a long one; in the end, LSU needed every bit of that to prevail by a touchdown 35-28. Darrel Williams will fill the role of the I-formation workhorse if Fournette can't go, and even factoring in Williams' 130-yard, three-touchdown effort against Missouri that's a trade the Gators will make a hundred times out of a hundred.
Whether it happens this weekend or later, eventually the prospect of Fournette and Guice splitting carries more evenly than they have when Fournette has been at full speed is enticing on a couple levels, not the least of which is reducing wear and tear on Fournette.
Again, Guice isn't Reggie Bush, but ideally it's not difficult to imagine he and Fournette settling into a thunder-and-lightning relationship like Bush enjoyed at USC with Lendale White. (Orgeron was on the USC staff in 2004, when Bush and White combined for 2,600 yards and 30 TDs from scrimmage as sophomores, although not in 2005, when the duo put up even more gonzo numbers.)
Guice has the potential to open up the playbook a bit more on one-back and shotgun sets, and is undeniably on the verge to becoming one of the most dynamic big-play threats in the country.
But Fournette remains the hammer — if playing in a slightly less one-dimensional attack improves the quality of his touches, some reduction in quantity may be worth it for his own sake and the team's.
As bizarre as it is to contemplate the idea of a generational talent like Fournette as a role player, ultimately it might be the path that offers LSU the best chance to remain in the West Division race and conceivably challenge Bama. That might not the blueprint anyone imagined in August. But with Guice's rapid emergence and Fournette's iffy health, at this point it's a luxury the Tigers can't afford to pass up.