SEC
Monday Down South: Another year, another lethargic LSU letdown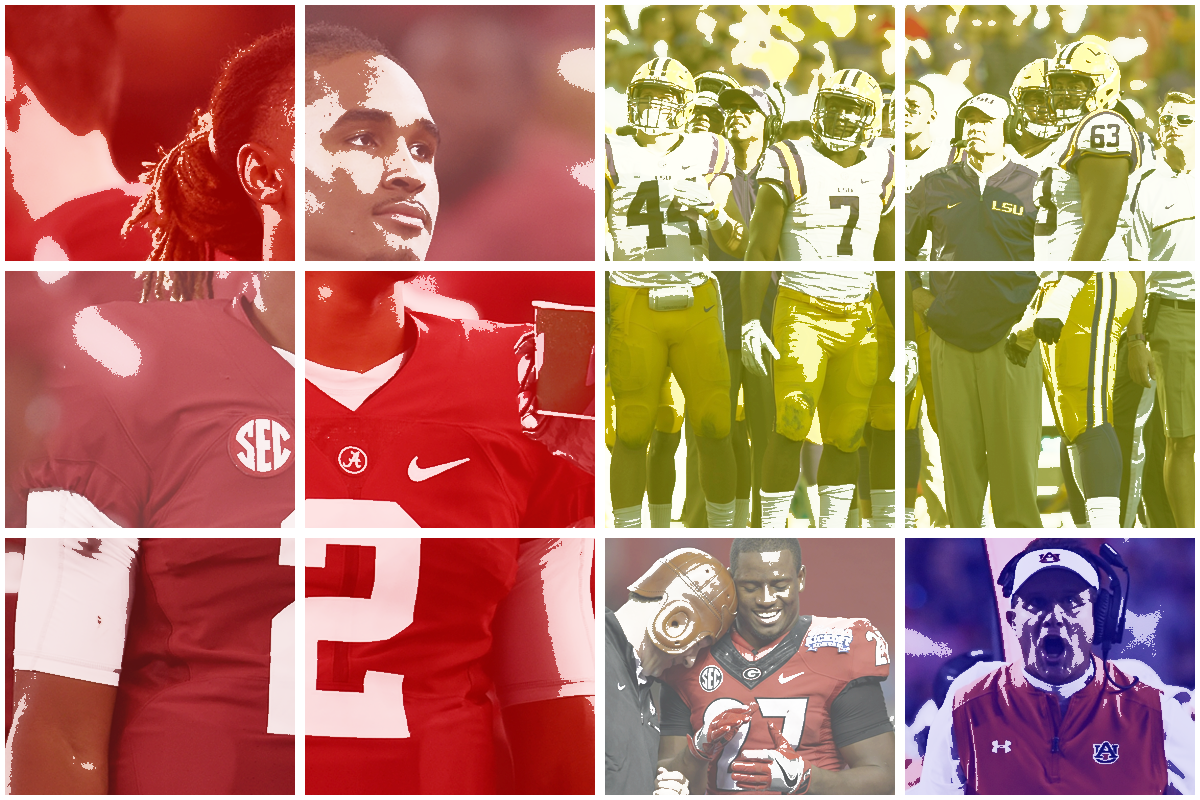 Monday Down South
Another year, another lethargic LSU letdown
By Matt Hinton
September 5, 2016
Alright, I confess: I bought the hype. Mea culpa. I was fully on board the preseason LSU bandwagon, and I could not have been more wrong.
I should have known better — in fact, I did know better, it's not like I slept through the past four years of LSU football — but I willingly ignored my better instincts. I looked at LSU's returning roster, I looked at the career starts and the recruiting stars next to the names, and I thought, yeah, this is the team. This is the year. I watched a handful of Brandon Harris' best throws in 2015, alongside some of Leonard Fournette's most spectacular, violent runs, and imagined an older, more consistent quarterback who could deliver enough big plays to make the offense more balanced and keep opposing defenses honest. I studied new defensive coordinator Dave Aranda, and imagined what his wildly successful defense would look like with blue-chip recruits in place of the overachieving three-stars and a walk-ons he molded into a top unit at Wisconsin. I crunched the numbers, and they backed me up.
I saw the most experienced starting lineup in the SEC. I saw Alabama would have to visit Baton Rouge. I saw every piece for a serious, sustained championship run falling into place, and I bit. Sure, why not LSU? Why not 2016? If not now, when?
After Saturday's relentlessly ugly 16-14 loss to Wisconsin, the most realistic answer to that question is never — at least not under Les Miles, whose most promising team in ages was indistinguishable in its first outing from all the other Les Miles teams over the years that have slowly, collectively driven LSU fans out of their minds.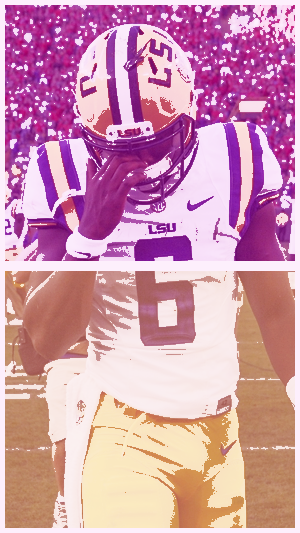 I'm not an LSU fan, but I sympathize. What I imagined coming into the season was the best version of LSU, a rerun of the dominant 2011 outfit that went 13-0 by consistently lopsided margins before releasing all of its pent-up Miles-ian complexes at once in the BCS Championship flop against the Crimson Tide. (Only this team, unlike the 2011 version, would have a bona fide offensive superstar in Fournette.) What we got instead was LSU at its worst: Sloppy, one-dimensional, and far too content to pull a victory from its nether regions by the narrowest possible margin.
Harris did not grow over the offseason: He was picked twice, sacked twice, and converted didn't have a run for positive yardage — in other words, he was the typical Miles/Cam Cameron quarterback, albeit one who committed the cardinal sin of turning the ball over with the game on the line before the afternoon could be salvaged (as it has so many times before) by a last-second, game-winning field goal.
The offense as a whole mounted one scoring drive, finished 2-of-10 on third downs, and did nothing to keep the Badgers from ganging up on Fournette at the line of scrimmage. Again: typical.
Now, it should go without saying that a single loss — especially an early one, away from home, against a solid opponent, decided by just two points — doesn't have to define an entire season. Good teams rebound from bad losses all the time. Six of the eight playoff teams in 2014-15 made the cut with a loss on their resumés, including both eventual champions, Ohio State in 2014 and Alabama last year.
Auburn played for the national championship in 2013 despite not appearing in the Top 25 until mid-October. Maybe I was right the first time, and bailing on that prediction will make me look like an even bigger idiot in two months. It's possible. Who knows? Maybe Wisconsin, contrary to expectations, is a burgeoning juggernaut. After months of speculation Week 1 is almost tailor-made to generate wild overreactions. All of the elements that made them a serious national contender in the first place still apply. All of their big, long-term goals are still attainable.
But attaining those goals will require demonstrable growth over the next six to eight weeks, and what made Saturday's loss so frustrating was the obvious lack of growth over the preceding eight months. The team that laid an egg in Lambeau is the same one that was bullied into submission by Alabama last November and subsequently descended into a three-game tailspin that nearly cost Miles his job.
It shouldn't have, and didn't in part because the potential of the 2016 team was so obvious. But nothing we saw on Saturday suggests that potential is anywhere near being met. And almost nothing we've seen from a decade's worth of Miles' teams suggests any such leap is on the horizon.
NOTEBOOK
Alabama 52, USC 6
Last week, I scoffed at the prospect of Nick Saban starting a true freshman quarterback in a season opener against a ranked opponent, and technically I was right: The start went to redshirt freshman Blake Barnett, who oversaw two uneventful series before yielding to rookie Jalen Hurts — who, for the record, got off to an inauspicious start when he fumbled the ball away to USC on his first collegiate snap. Just in case you need a reminder that the kid is still 18 years old, barely removed from prom, etc.
Because otherwise, wow, is it easy to get carried away by the rest. One of the few persistent questions around Bama in the Saban era is what the Crimson Tide would look like with an elite talent under center rather than the stereotypical "game manager" who usually occupies the role, and Saturday night was a tantalizing, terrifying glimpse: After the initial flub, Hurts accounted for four touchdowns (two passing, two rushing) in a little less than two quarters, putting to bed any doubt about whether Saban was willing to put the fate of the No. 1 team in the nation in the hands of a fledgling QB or whether a freshman was ready for the stage. By the time Barnett returned to lead a pair of garbage-time touchdown drives in the fourth, the questions were redundant. The answer was Jalen Hurts.
Now for the caveats: It was just one game — more like two-thirds of a game, really — and Alabama's dominance in all phases allowed Hurts to remain well within his comfort zone. On a couple of occasions USC's defense seemed genuinely surprised to see him put the ball in the air at all; future opponents will have a much better read on his skill set, tendencies, and limitations. Even the Trojans had seen enough by the second half to bait Hurts into his first interception.
Historically, no team has won or played for a national championship with a true freshman quarterback in more than 30 years, since the 1985 Oklahoma Sooners finished No. 1 behind triple-option threat Jamelle Holieway; no other freshman-led team in the meantime has even come close. At some point, Hurts will face adversity in a hostile road environment. He'll be asked to keep it close to the vest and make good, boring decisions to win a close, low-scoring game. He's going to do some dumb freshman stuff.
Will any of that matter? For a team this good across the board, there's a good chance it will not. And if Saturday night is any indication, the prospect of Bama finally being as good at quarterback as it is at everything else is an opportunity even Saban can't pass up.
Georgia 33, North Carolina 24
The question is a little less cut-and-dry for Georgia, which alternated its massively touted freshman quarterback, Jacob Eason, throughout its come-from-behind win over UNC in roughly equal measure with senior Greyson Lambert. Unlike Hurts' competition in Tuscaloosa, Lambert is an incumbent who turned in a 10-2 record as a starter in 2015, and unlike Hurts, Eason doesn't offer much (or any) mobility to help compensate for his lack of experience reading defenses from the pocket.
Eason does, however, offer this:
Let's take a second to admire this Jacob Eason throw one more time. https://t.co/Qd5fzXrtjr

— Jordan James (@JordanGame6) September 4, 2016
That throw covered 51 yards, longer than any UGA completion last year, and was the best example of what his raw arm strength can bring to the offense that a more pedestrian passer like Lambert or Hutson Mason cannot. With Nick Chubb back at full speed (see below), the presence of a quarterback who can keep safeties from creeping into the box — or make them pay if they do — has the potential to open up an attack that has too often been too one-dimensional the past two years.
Altogether, Eason was 8-of-12 for 131 yards a touchdown, good for a sky-high efficiency rating of 185.9, besting Lambert's efficiency (119.2) by more than 65 points; the freshman also took just one sack to Lambert's three.
True, Georgia has a lower margin for error than Alabama — when your defense isn't coiled around opposing offenses like a python, a boom-and-bust quarterback can cost more in mistakes than he adds in big plays But if Eason is the future, and he clearly is, nothing in his debut supported kicking the can down the road. Why not make the move?
Clemson 19, Auburn 13
It's a testament to Auburn's oft-abused defense that this game was even competitive long enough to come down to a Hail Mary: On a miserable night for the other side of the ball, Kevin Steele's unit held Clemson scoreless on eight of 12 possessions and generally hounded Deshaun Watson into one of the most uneven nights of his career. The Tigers never established the run with any kind of consistency, and even when they did manage to move the ball they were forced into three turnovers (one on a lost fumble, two on downs) in Auburn territory. The result was fewer points than Clemson had scored in any of Watson's previous 20 starts.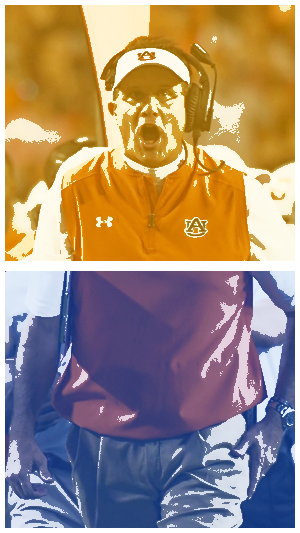 But what on earth has happened to Gus Malzahn's once-feared offense? The answer must go beyond talent — after Saturday's game, Clemson defensive coordinator Brent Venables (who is paid in excess of $1.4 million specifically to develop defensive game plans) said he prepared for Malzahn's scheme in part by typing "How To Stop the Wing-T" into a Google search engine. It worked: Auburn managed 262 total yards and a single touchdown on just 3.7 yards per play, a new low under Malzahn by a wide margin.
Most of the time, for an unranked team coming off a last-place finish, a hard-fought, six-point loss to the No. 2 team in the nation ought to be a sign of progress. And for the defense, it was. In context, though, it's hard to fathom how an attack that was regarded as recently as last year as one of the most efficient, well-coached schemes in the game could come to be so broken. The play-calling against Clemson was uninspired; the quarterback management, a three-man rotation that shuttled Sean White, Jeremy Johnson, and John Franklin III into the lineup with no apparent rhyme or reason, was a baffling mess.
(Just one example: In the third quarter, Auburn strung together a rare productive drive into Clemson territory with Franklin operating out of the read option, until Malzahn abruptly inserted Johnson amid audible boos from the crowd; Johnson promptly threw an interception to end the threat.)
Reliable playmakers have yet to emerge at running back — although sophomore Kerryon Johnson had his moments in the second half — or wide receiver. The entire operation looked out of sync, even more so than last year. And unlike last year, any remaining hope that it will suddenly gel in time to mount a serious run in the SEC West is dwindling fast.
South Alabama 21, Mississippi State 20
Dan Mullen, you just lost to a 28-point underdog that didn't field an organized football team until 2009. Your thoughts?
Mullen reaction (rq @ShafiqDe) pic.twitter.com/Q2gcFrL5tU

— Michael Shamburger (@mshamburger1) September 3, 2016
That about sums it up. Even if the ill-fated field goal attempt that ultimately cost the Bulldogs the win had gone through, the takeaways for the rest of the season would have been equally harsh: Without its former engine, Dak Prescott, the offense was limited, the downfield passing game was nonexistent — MSU's longest completion covered just 19 yards — and the supporting cast was left without a focal point to support.
Although quarterback Damian Williams racked up 93 yards rushing off the bench, the top three running backs (Brandon Holloway, Ashton Shumpert, and Aeris Williams) earned just 16 carries for 74 yards against a defense that ranked 113th nationally last year against the run. Although Williams completed 20 of 28 passes after replacing starter Nick Fitzgerald, he averaged just 5.1 yards per attempt; although Al-SEC wideout Fred Ross finished with six catches, they went for just 34 yards, less than half his per-game average in 2015.
Not that anyone expected the new quarterbacks to pick up right where the most productive QB in school history left off. But USA was supposed to be the shallow end of the pool ahead of early conference dates with South Carolina and LSU. If the post-Prescott Bulldogs are in over their heads already, the rest of the schedule's not going to offer many chances to come up for air.
South Carolina 13, Vanderbilt 10
Southern Miss 44, Kentucky 35
These games were nothing alike, as the scores can attest. But for the losers, they followed a similar trajectory toward a similarly depressing conclusion: Both the Commodores and Wildcats were favored to win at home, enjoyed a double-digit lead at halftime, and failed to score in the second half en route to defeat. And now that they've marked two of the most winnable games on their respective schedule down as an L, they're also both left with zero margin for error to have any chance of crashing a bowl game.
For now, the prospect of limping to yet another losing season is of graver consequence to Kentucky's Mark Stoops, if only because his tenure in Lexington is a year older (and a year staler) than Derek Mason's tour at Vanderbilt. But patience is clearly beginning to run thin for Mason, as well, especially over his decision in the opener to play musical chairs with quarterbacks Kyle Shurmur and Wade Freebeck after the former led the Commodores to their only touchdown. Vandy fans aren't torch-and-pitchfork types, obviously, and they recognize that Mason deserves high marks for playing solid defense and running a tight ship. At some point, though, even the realists will begin to waver if he can't win the ones he's supposed to.
SUPERLATIVES
The best of the week…
Georgia RB Nick Chubb. Chubb's mere presence in a Georgia uniform, less than a year removed from a potentially career-ending knee injury, was a triumph. The fact that he logged 32 carries in his first game back is truly astounding, especially given that those carries gained 222 yards and two touchdowns in a reassuring win. Chubb's 55-yard TD sprint in the fourth quarter sealed the victory and left zero doubt about his capacity to pick up where he left off last October as the engine of the Bulldogs offense.
LSU CB Tre'Davious White. There was plenty to dislike about the Tigers' loss in Lambeau, most of which I've already covered in detail. If not for White, though, who scored the first of LSU's two touchdowns on a 21-yard interception return in the third quarter and helped set up the second a few minutes later when he recovered a fumble in Wisconsin territory, it could have been much worse. (He was also credited with four tackles and a pass broken up.) White passed on the NFL Draft for one more year in Baton Rouge, presumably with visions of a championship in his senior year. That's probably not going to happen now, but he can rest assured that his stock is as healthy as ever.
Vanderbilt LB Zach Cunningham. Cunningham also shone in a doomed effort, racking up 12 tackles (a career high), three tackles for loss, and a fumble recovery in the Commodores' loss to South Carolina. You can't rightly call a guy who was voted first-team All-SEC by opposing coaches as a sophomore "underrated," so we'll settle for saying Cunningham is under-exposed — at least until he moves on to the next level as a high draft pick.
Catch of the Year of the Week: J.D. Harmon, Kentucky.  As a whole, Kentucky's defense against Southern Miss was a disaster. But it had its moments in the first half, none of them prettier than this one-handed, back-handed pick by Harmon, the sixth of his UK career.
That was one of three Wildcat interceptions off Southern Miss' Nick Mullens in the first two quarters, two of them by Harmon, leading to a 35–10 UK lead at the half. It was all downhill from there.
Fat Guy of the Week: Bradley Bozeman, Alabama. One of the few Bama starters who actually was not a blue-chip recruit, Bozeman had the unenviable task of replacing the Tide's only first-rounder in the 2016 Draft, center Ryan Kelly, and handled the promotion with aplomb: Against USC, Bozeman earned the highest individual grade among offensive linemen from Pro Football Focus, and had key blocks that helped spring Damien Harris for a 43-yard gain in the second quarter and a back-breaking, 73-yard gain in the third.
He also paved the way on Jalen Hurts' first touchdown run, on which Bozeman (no. 75) mauled his man so thoroughly at the point of attack he should be listed in the box score and awarded some kind of statistical credit:
Jalen Hurts is having a great debut! First rushing touchdown! #USCvsBAMA pic.twitter.com/qFq4unpV9X

— Jaison Davis (@JaiHawkFly) September 4, 2016
The line of scrimmage on that play was the 7-yard line; by the end, Bozeman had driven USC's Malik Dorton (no. 44) all the way to the one, with Hurts almost literally following in his footsteps into the end zone. With blocking that, yeah, the kid is gonna be tough to stop.
DEMERITS
…and the worst.
Josh Boutte's Cheap Shot. Is it conceivable that the 6-5, 346-pound senior didn't realize the play was over when he waylaid Wisconsin's D'Cota Dixon following Dixon's clinching pick off Brandon Harris? Les Miles is willing to entertain the possibility, at least, but everyone else watching live was pretty clear on what they saw: A frustrated player indulging the impulse to lash out in anger and denial. Although the whistle apparently had not blown — if it did, it's not audible on replay — Dixon was clearly on the ground with the ball, Wisconsin was clearly celebrating in the aftermath of the play, and no other LSU player took so much as a step towards Dixon in pursuit.
Here's why Josh Boutte was ejected. https://t.co/93m1PT0oR0

— Cody Worsham (@CodyWorsham) September 3, 2016
The flash of rage and disbelief that accompanies defeat will be familiar to most people who have ever played, watched, or cared about sports. Many people reading this have probably reacted to a loss in ways they immediately regretted. (Personally, I've wrecked furniture.) But a violent ambush is beyond the pale, and if LSU is thinking clearly it will be a while before we see Boutte in uniform again.
Tennessee's Offensive Line. The most obvious advantage for any SEC team over a mid-major opponent is size, and by that measure the Vols' front should have manhandled Appalachian State with ease. Instead, the interior line (and center Coleman Thomas, especially) was repeatedly abused by App. State linemen and linebackers who gave up more than 50 pounds to UT linemen and still managed to hound quarterback Josh Dobbs throughout the night.
Even on the ground, Tennessee struggled to generate movement, averaging just a hair over three yards per carry (127 yards on 43 attempts, including sacks and overtime) with a long gain of only 13 yards. Maybe they're just conserving their energy for when they actually take on someone their own size?
The Quarterbacks. All of Them. Hurts was a revelation, and Eason did enough in his debut to keep the hype alive for at least one more week. Kentucky's Drew Barker connected on four first-half touchdown passes against Southern Miss and finished with the best pass efficiency rating in the conference despite the Wildcats' second-half collapse. Every other SEC signal-caller was mediocre, at best, or flat-out awful — aside from those three, who all finished with ratings of 185.0 or higher, no one else who attempted at least 10 passes managed to post a 135.0 (roughly the FBS average); four regulars (Missouri's Drew Lock, Auburn's Sean White, South Carolina's Brandon McIlwain, and Vanderbilt's Kyle Shurmur) turned in sub-100 efficiency ratings while completing fewer than half of their passes.
The good news for the league's QB rep is that the best returning signal-caller in the conference, Ole Miss' Chad Kelly, has yet to play, and a couple of young, up-and-coming stars have already begun to emerge. But if Kelly falters tonight in front of a primetime national audience that has already digested the struggles of Dobbs, Harris, and the triumvirate at Auburn, "what's wrong with SEC quarterbacks?" is a narrative that could stick.
POWER RANKINGS
The 10 Best Things in the SEC This Week.
1. Alabama's Front Four. The Bama defensive line intensified its death grip on this position by putting a vintage beating on USC's offensive line, a veteran group in its own right that ostensibly ranked among the best o-lines in the nation coming into the season. And maybe it still should — judging a college front by how well it fares against Jonathan Allen, et al, is like judging your pickup against Grave Digger. (Last Week: No. 1)
2. The Return of Nick Chubb. Excluding the one in which he was hurt, Chubb has piled up at least 113 yards rushing in 14 consecutive games and scored multiple touchdowns in eight of them. (LW: 3)
3. Lane Kiffin's Revenge. Kiffin's offense dropped 52 points on his former employer in the most lopsided USC defeat in 50 years, then dropped this tweet on Sunday morning with a none-too-subtle nod to the moment he's called the worst of his career:
Post game w the game ball!!! #3:14AM-LAX pic.twitter.com/cxQkJ89254

— Lane Kiffin (@Lane_Kiffin) September 4, 2016
Of all the events that have ever transpired in airports at 3:14 a.m., Lane Kiffin getting fired is the only one worth memorializing. (LW: Unranked)
4. Texas A&M's Pass Rush. Every time you looked up during the Aggies' overtime win over UCLA, Bruins quarterback Josh "Chosen" Rosen seemed to be retreating backwards and throwing the ball away under extreme duress, and that's if he was lucky: Altogether, Rosen was sacked five times and harried into three interceptions. A&M's Myles Garrett led the charge, as usual, finishing with one sack and seven QB hurries in one of the most dominant performances of his frequently dominant career. (LW: Unranked)
5. Steve Spurrier as Mr. Two Bits. The Ball Coach led the cheers at his alma mater Saturday before the Gators' win over UMass, and had every bit as much doing it as you'd expect.
If only watching Florida's offense was remotely as entertaining. (LW: Unranked)
6. The Legend of Leonard Fournette. LSU made a token effort early to ease the burden on its Herculean meal ticket, but even in a relatively mortal performance Fournette wound up touching the ball as a runner or receiver on more than half of the Tigers' offensive snaps (26 of 50) and accounting for more than two-thirds of the team's total yards from scrimmage (176 of 257). His aura of greatness remains intact, but if the Tigers managed to develop some semblance of a consistent passing game it would go a long way toward keeping him in top Mack truck form. (LW: No. 2)
7. South Carolina's Garnet Helmets. The helmets alone against black jerseys weren't quite as sweet as the all-garnet getup the Gamecocks broke out last November against Clemson, but any step toward reinstating the garnet lids on a permanent basis is important progress. (LW: 4)
8. O.J. Howard's Untapped Potential. Howard followed up his MVP turn in the national championship game with three catches for 39 yards against USC, all of those yards coming a late, 40-yard reception from Blake Barnett with the game long out of reach. The fact that Bama put up 52 points with ease despite minimal contributions from Howard and consensus preseason All-American Cam Ridley (two catches for nine yards) is alarming. (LW: 7)
9. Los Aggies Ganan en Español. Spanish-speaking A&M fans enjoyed the triumphant overtime call against UCLA from an enthusiastic duo that never takes a breath.
OT En Español #12thMan #UCLAvsTAMU pic.twitter.com/pUwHjjYaZk

— Texas A&M Football (@AggieFootball) September 4, 2016
What will it take to get these guys on the SEC Network? (LW: Unranked)
10. Ridiculous Photos of Kirby Smart. This is the face of a man who owns a 1-0 record as a head coach.
But trust me: Getting there was way more stressful than it looks. (LW: Unranked)
Photo Credit: USA TODAY SPORTS