SEC
Monday Down South: The Hatter's last stand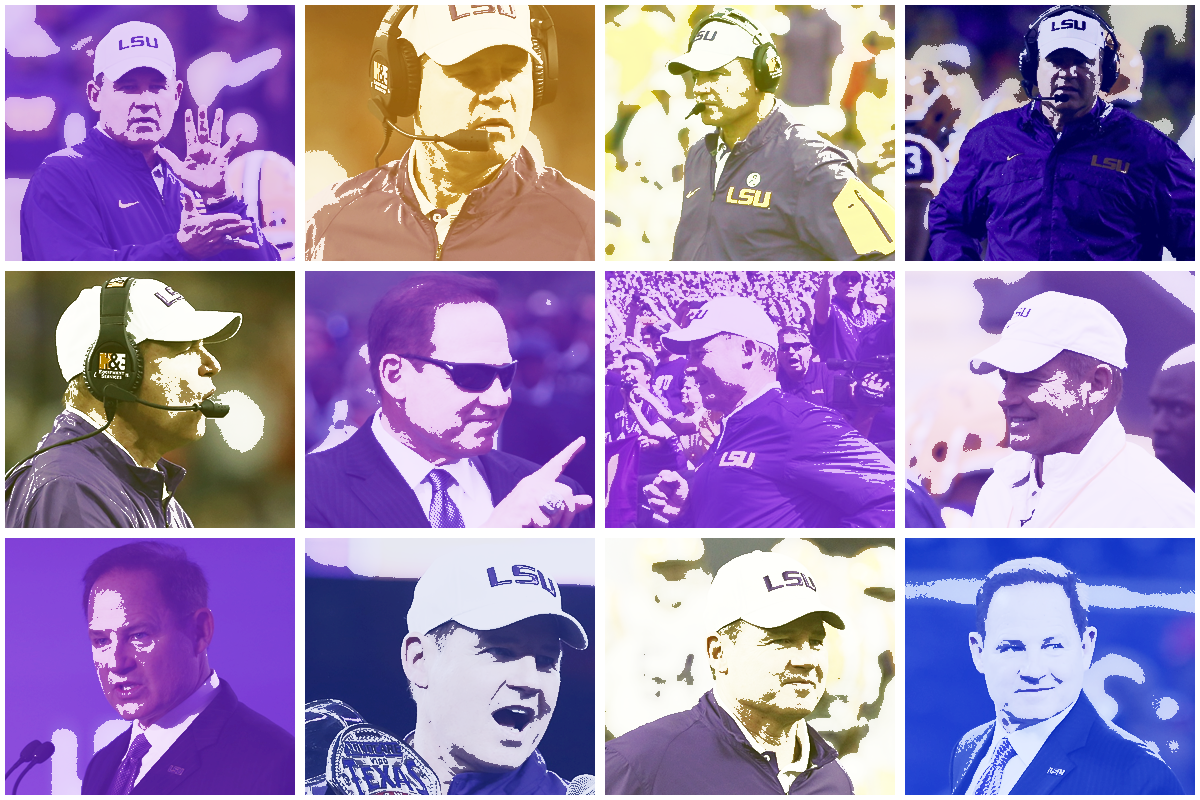 Say this much for Les Miles' tenure at LSU: It died as it lived, amid a fit of last-second chaos and confusion that nearly defied description.
Honestly, can you imagine a sequence that better captures the essence of a coach or team than the final, frantic seconds of the Tigers' 18-13 loss at Auburn? Miles has made a living for years out of pulling victory from the jaws of defeat (among other orifices) in precisely the sort of fraught situation his team faced on Saturday — on fourth-down conversions and do-or-die bombs, via fake field goals and trick plays in moments no one else would have dared, under circumstances so bizarre almost no one could remember having ever seen them before.
He seemed to relish the drama, and so did his teams: Like their coach, they were simultaneously ferocious and maddening, exhilarating and exasperating in equal measure. They were also capable of wringing surprise and suspense from a sweltering, old-school slog that would otherwise make fans' eyes glaze over.
So in a morbid way it was fitting that what turned out to be the last game in that tenure followed the script to the last letter, from the pedestrian totals on the scoreboard right down to the psychedelic finish in LSU's favor … and then negated it. The desperate, ad-libbed touchdown pass from Danny Etling to D.J. Chark with no time on the clock was the ultimate Les Miles finish, the piéce de résistance of half-assed, seat-of-the-pants survival … until it wasn't.
When the officials waved the score off, it was like watching the sands in some karmic hourglass running out. What, there are rules in these situations now? Suddenly a last-gasp effort by LSU is bound by the clock? What just happened?
In the span of an instant replay the moment transformed from the kind of win that has defined Miles into a defining loss, one that quashed any remaining illusions of progress or a resurgent playoff run. The opening-day loss to Wisconsin was no mirage; the 2016 Tigers are who they are, which is the same underachieving outfit they've been for the past four years and counting. And if they're not even pulling out the crazy ones anymore, the nail-biters that make the difference between eight or nine wins and 10 or 11, that's when you know the end is nigh.
In retrospect, it's easy to argue that Miles' bosses should have followed through on their plan to pull the plug last November, instead of capitulating to an outpouring of fan and media sentiment in his favor. It only took four games into the new season to prove the puppet masters right: Clearly the program has stagnated beyond the capacity of blue-chip recruits or shrewd hiring decisions to restore it to a championship level.
If anything, it's regressed. For all the undeniable talent on hand, the offense under coordinator Cam Cameron remained a volatile, one-dimensional mess. (Cameron was canned on Sunday along with Miles.) The quarterback swap from Brandon Harris to Etling accomplished nothing. Leonard Fournette was expected to pull superhero duty on a weekly basis, on a bad ankle, out of sheer necessity. The defense, while vastly better than its counterpart, couldn't preserve fourth-quarter leads in either of the two losses. The prospect of upsetting Alabama in November — and make no mistake, the entire point of this season was erasing the notion that LSU beating Bama qualifies as an upset — had already devolved into a fairy tale.
This was all obvious enough after just four games that it made the most sense to move immediately. Once the decision was made, there was no point in fending off speculation for another two months, or in leaving the door open for another eleventh-hour reprieve that would extend the cycle another year. The 2016 season is a wash; 2017 promises a mass exodus for the draft by the class that was supposed to make the 2016 team a serious contender. The buyout on Miles' contract is massive but manageable. Why wait?
Still, it says a lot for the expectations Miles has built in his 11-plus years in Baton Rouge that two losses in September (and just one conference loss) were enough to declare the entire season beyond the point of no return.
The championship-or-bust mentality is a direct reflection of just how good the Tigers have had it since the turn of the century: Miles won more games in his tenure (114) than any LSU coach except Charles McClendon from 1962-79, and delivered a higher winning percentage (.770) than any of his predecessors since the first coach in school history, W.S. Boreland, who went 6-1 in his only season in 1902.
Only two other coaches since World War II, Paul Dietzel and Nick Saban, won multiple SEC titles. LSU's arrival as a program that takes its elite status for granted is a very recent development, and on that basis alone there's a compelling case that Miles is the best coach the school has ever had.
Unlike Saban at Alabama, however, Miles failed to evolve beyond the retro mentality that fueled his best team in 2011, and in some respects the program never seemed to recover from the shocking beatdown in the BCS Championship Game that bounced those Tigers from the short list of the most dominant teams in SEC history. That was the first of five consecutive losses to Bama, and the last time LSU appeared in a major bowl game. This year, the Tigers still have five more games against teams ranked in the current AP poll (Florida, Ole Miss, Alabama, Arkansas, and Texas A&M), which likely means two or three more losses, at best.
Allowing Miles to play out the string out of respect of the good times would not have changed that equation, or offered any hope for the future. Now, at least, the team can hope to muster a more productive energy under interim coach Ed Orgeron while taking its time to vet and woo potential successors. Obviously, LSU is a coveted job with an unassailable recruiting pipeline — both obviously, again, thanks largely to the man it just fired.
If nothing else, we can also say this for Miles: He's a singular personality in the sport who went about his business without a whiff of scandal or indiscretion, NCAA or otherwise. He won a lot of games, occasionally in such ludicrous fashion that it's possible to remember years later exactly where you were when you watched them.
It's debatable whether he could have gone on winning enough to justify his enormous salary, especially amid diminishing hopes for a championship; at 62, there's no guarantee he'll resurface elsewhere, or that he wants to. I suspect he'd be great in a TV gig. But no matter college football is going to be less interesting to watch without him on the sideline.
NOTEBOOK
Around the conference.
TEXAS A&M 45, ARKANSAS 24
The first month of the season is in the bag and – surprise! — the Aggies look great. Is it safe trust them yet?
Seriously: Through four games, A&M is undefeated and, outside of an overtime win over UCLA on opening day, largely unchallenged. Even with the close call against the Bruins factored in, the Aggies are beating the pants off opponents by a wider margin (27 points per game) than any other SEC team except Alabama. The past two weeks they've humbled Auburn on the road and turned a close game against Arkansas at the half into a 21-point rout, burying the Razorbacks in the second half beneath a flurry of big plays on offense — at one point the Aggies scored four touchdowns in a span of 14 offensive snaps — and big hits on defense, forcing and recovering three Arkansas fumbles that led to A&M points.
Altogether, the offense finished with 591 yards on just 59 plays, the majority of it on the ground, extending its streak of eclipsing 200 yards rushing and passing in all four games this season.
A&M is a Top-10 team this week in both the AP and Coaches' polls (coming in at No. 9 and No. 10, respectively), and based strictly on its September résumé you could make a case they should be higher. At the moment victories over UCLA, Auburn, and Arkansas stack up pretty well against any trifecta of wins in the country.
The problem, of course, is that almost all of the above could have been (and was) written about A&M at this point on the calendar each of the past three years. And it was right around this point in each of those seasons that it all started to unravel.
In 2013, the Aggies started 5-1 (the only loss coming in a 49-42 shootout against Alabama) and rose as high as No. 7 in the AP poll in mid-October; from there, they lost three of their final six in the regular season en route to a consolation trip to the Chick-Fil-A Bowl.
In 2014, they vaulted back into the national conversation with a nationally televised, opening-night romp over South Carolina, climbing to No. 6 based on a 5-0 September; from there, they lost five of their last six SEC games, including consecutive humiliations at the hands of Mississippi State, Ole Miss, and Alabama to open the month of October, and finished unranked. (The collapse was defined by the breakout star of the Carolina win, Kenny Hill, plummeting infamously from the Heisman short list to the transfer market in the span of a few weeks.)
In 2015, they reassured skeptics with early wins over Arizona State, Arkansas, and MSU, impressing one AP voter enough to earn his first-place vote on the strength of another 5-0 start; from there, they dropped four of their last six in conference play — all by double-digit margins — and finished, again, unranked and reeling from a series of high-profile departures.
Including this season, A&M is 17-1 the past four years in August and September, with six of those wins coming at the expense of Top-25 opponents and the only defeat coming in a competitive effort against the consensus No. 1 team in the nation. In October and November, the Aggies are 10-12 — and just 2-8 against ranked opponents — with seven of those losses coming by at least 14 points. Fool us once, shame on you; fool us twice … well, you know the rest.
At any rate, here we are again, with another highly ranked A&M outfit after four weeks, one that legitimately looks like a highly ranked outfit but has yet to shed its dysfunctional reputation post-Manziel.
Sure, this is a different team, a different season, and so forth. Barring a major upset this weekend (TAMU opened as a two-touchdown favorite at South Carolina), we're still a couple weeks away from the Aggies' first post-September test, an Oct. 8 visit from Tennessee; after that comes a bye week, then the all-important trip to Tuscaloosa on Oct. 22. If that still looks like a meaningful game in three weeks, this group has a chance to meet or surpass the 2012 team as Kevin Sumlin's best yet.
REORIENTATION
Time to rethink … Kentucky's Defensive Debacle.
In their first three games the Wildcats made a legitimate bid for the title of worst defense in the nation, yielding at least 40 points and 500 total yards in all three. On Saturday, they looked like a completely different unit against South Carolina, holding the Gamecocks to a measly 268 yards in a 17-10 upset in Lexington. Nine of Carolina's 11 possessions for the game ended in a punt or turnover on downs.
And sure, a lot of defenses are going to wind up looking pretty good against South Carolina, which has no identity or notable playmakers outside of its true freshman quarterback, Brandon McIlwain, and McIlwain himself remains largely a novelty.
On the other hand, once you've been ripped to shreds by New Mexico State, as Kentucky was last week, then holding a division rival to 10 points in a win is about as dramatic a leap forward as it's possible to make in consecutive games. That might not be enough to get Mark Stoops off the hot seat just yet, but it was good enough to get UK the second of the six wins it needs for bowl eligibility. And if the improvement sticks, suddenly the other four are plausibly within reach. (Just, you know, keep that number in mind after this weekend's trip to Alabama, which won't be one of them.)
SUPERLATIVES
The best of the week…
Auburn DE Carl Lawson. For most of his career, it's been impossible to talk about Lawson without using the phrase "injury-plagued," but at full speed his potential remains off the charts. Against LSU, he was credited with two sacks and three QB hurries, including a sack on LSU's final drive that forced the Tigers to scramble with no timeouts and set the stage for the madcap finish. As a team, Auburn is averaging two sacks per game — nothing dramatic, but well ahead of its dismal pace the past two years with Lawson largely on ice.
Texas A&M QB Trevor Knight. It was hard to know what to expect from Knight based on his boom-or-bust career at Oklahoma, but his final stat line in A&M's win over Arkansas — 225 yards passing, 168 rushing, four total touchdowns — certainly falls on the high end of the curve. Three of those four scores came from more than 40 yards out, via runs of 42 and 48 yards, respectively, and a dead-on, 92-yard bomb to Josh Reynolds that initiated the second-half onslaught.
That throw was reminiscent of Manziel to Mike Evans against Alabama in 2013, and Knight's performance as a whole on Saturday was the closest he's come to emulating his breakthrough moment against the Crimson Tide later that year.
Texas A&M DB Armani Watts. The Aggies' junior safety did just fine in the box score, registering a team-high nine tackles, three tackles for loss, a QB hurry, and one pass broken up. But his biggest impact came on two plays that directly cost Arkansas points: On the first, Watts stripped the ball from the Razorbacks' Rawleigh Williams III just before Williams the goal line for a touchdown that would have given Arkansas a two-score lead, then pounced the fumble himself to end the threat; on the second, he chopped down wide receiver Keon Hatcher in the backfield on fourth-and-goal from the A&M 1-yard line, leaving the Razorbacks empty-handed after an epic march that took up most of the third quarter.
The irate Arkansas fan in that clip is one of my new favorites in the Angry Fan genre, in part because I sympathize with her completely: If I just watched my team drain embark on a 10-minute, 19-play drive that resulted in zero points, I'd be yelling obscenities, too. Knight's bomb to Reynolds followed two plays later, and that was all she wrote.
Tennessee DE Derek Barnett. More than anyone else, the Vols' second-half surge against Florida was led by Barnett, who finished with a pair of sacks and an additional TFL in what can only be described as straight-up domination by Tennessee's defense: After giving up 21 points in the first half, UT held the Gators to three-and-out or a turnover on eight of their nine possessions after halftime. The sacks were Barnett's first of the season after logging 10 QB takedowns in 2014 and '15, but as Austin Appleby learned the hard way he doesn't need much time to get back on pace.
Catch of the Year of the Week: J'Mon Moore, Missouri. Moore had four touchdown receptions in the first half alone in Mizzou's 79-0 massacre over Delaware State, a game so lopsided it probably should never have been played. (The teams agreed to play 10-minute quarters in the second half after the Tigers ran up a 58-0 lead in the first.) But the inferior opposition does nothing to diminish this beauty, on which Moore needed every centimeter of his 6-foot-3 frame to haul in a fade by the back half of the ball:
Honorable mention this week goes to LSU's D.J. Chark, simply for the fact that if the Tigers had gotten off the snap a second earlier his tightrope grab to (temporarily) beat Auburn would have gone down instantly among the most memorable, improbable plays in SEC history.
DEMERITS
…and the worst.
Toomer's Oaks on Fire. Two weeks ago, Auburn restored the traditional rolling of Toomer's Oaks from a two-year hiatus. (You might have heard about the whole poisoning thing.) Following Saturday's win against LSU, though, the moratorium might be extended indefinitely after one of the oaks was deliberately set on fire, for reasons even the perpetrator — visible in the clip below, if you look hard enough — probably can't really explain.
This video shows person walk up to tree and light toilet paper on fire and walk away quickly. (via @austingscott) pic.twitter.com/LVG0GXTppn

— WarBlogle.com (@WarBlogle) September 25, 2016
Fortunately the alleged arsonist is in custody, albeit without any word yet on a potential motive. Some trees just can't catch a break.
Georgia's Wide Receivers. There's no official category for dropped passes, but if there was the Bulldogs would be at the top of the leaderboard after an astonishingly butterfinger-y performance against Ole Miss that featured no fewer than five flat-out drops in the first half. Not that any one of them threatened to turn the tide in a 45-14 game that wasn't even as close as that — Georgia earned failing grades across the board, in all phases — but when the longest completion of the day comes from the arm of your punter rather than your five-star quarterback it's safe to say the passing game is not fulfilling its potential. Jacob Eason needs some help.
Hurdlin' Hayden Hurst. South Carolina's sophomore tight end caught seven passes for 84 yards against Kentucky, making him by far the most productive member of the Carolina offense in a dismal all-around effort. At one point Hurst also tried to jump over a tackler attempt by UK cornerback Chris Westry, which was … uh, not productive.
Hayden Hurst tried to hurdle @UKFootball's Chris Westry.

It did not end well: https://t.co/akwvMdZ6lC pic.twitter.com/3RnMCJCCr8

— SEC Network (@SECNetwork) September 25, 2016
Before walking on at USC last year, Hurst spent four years as a minor league baseball player, a stint that — just guessing here — presumably did not involve scaling many outfield walls.
MISCELLANEOUS POWER RANKINGS
The top 10 things in the SEC this week.
1. Alabama's Front Four. The most dominant unit in college football did pretty much what you'd expect the most dominant unit in college football to do to Kent State, helping hold the Golden Flashes to 166 yards of total offense and five first downs. After an unsuccessful field goal attempt on its first drive, the rest of Kent's afternoon  nine punts, one fumble, and a turnover on downs. (Last Week: 1)
2. The Vol Renaissance. Tennessee fans have been waiting 11 years for that second half, which was all the more cathartic after a first half so putrid it elicited a chorus of boos as the Vols retreated to the halftime locker room. UT remains inconsistent, but unlike some of its earlier wins this year, the comeback against their East Division nemesis didn't feel like survival — finally, this was a picture of what the Volunteers can look like at their best. There's no doubt now about the potential ceiling. The question is how close they can come to hitting it on a weekly basis. (LW: Unranked)
3. Instant Replay. It would have been very easy for officials to punt on the review that decided Auburn's win over LSU — controversy on a decision of that magnitude is inevitable, and the call on the field had already awarded LSU the winning touchdown. By taking the score off the board, they changed the course of the SEC West race, sealed Les Miles' fate, and offered Gus Malzahn a light at the end of the tunnel. But they got the call right. (LW: Unranked)
4. Texas A&M's Pass Rush. The Aggies only recorded one sack against Arkansas, but brought the heat on Razorbacks' QB Austin Allen all night and ended it by doing this:
That didn't officially count as a sack, for the record, more proof that Daeshon Hall, Myles Garrett and Co. can't be contained by the stat sheet. (LW: 3)
5. Ole Miss' Wide Receivers. The Rebels don't have a single, above-the-fold star on the level of Laquon Treadwell, but this is one of the deepest set of receivers in the nation. Between them, Ole Miss' top six wide outs (Evan Engram, A.J. Brown, Quincy Adeboyejo, DaMarkus Lodge, Damore'ea Stringfellow, and Van Jefferson) hauled in 19 receptions against Georgia for an average of 16.5 yards per catch. (LW: Unranked)
6. The Legend of Leonard Fournette. Even on a relatively sobering day for the Tigers' workhorse, Fournette managed to churn out 101 yards on just 16 carries, and to flash some astonishing burst for a 230-pounder running on a gimpy ankle:
No doubt Miles has plenty of regrets about the way it ended, but effectively blowing Fournette's final season has to be close to the top of the list. (LW: 4)
7. Ralph Webb Gets Up. Two weeks ago, Webb straight-up hurdled a would-be tackler in the Commodores' win over Middle Tennessee. On Saturday he went airborne again, this time going horizontal for a tying touchdown against Western Kentucky that forced overtime on the final play of regulation:
The Commodores went on to win by one point in OT. (LW: Unranked)
8. Georgia's Meme-Worthy Kicker. Rodrigo Blankenship attempted one field goal against Ole Miss, and missed. But his brief appearance connected deeply with the Internet, which took one look at the specs peaking out from behind that face mask and reacted, well, exactly the way you'd expect the Internet to react. Note that Rodrigo is only a freshman, so he's going to be popping up randomly in your Twitter feed for a long time. (LW: Unranked)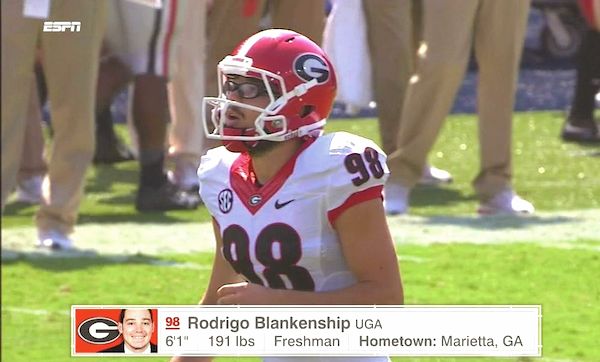 9. Gus Malzahn's (Temporary) Reprieve. His team beat a ranked opponent in ludicrous fashion without scoring a touchdown, and the mixture of jubilation and relief on Malzahn's face after weeks of hot seat chatter was palpable. Now, he just needs to keep wining with Mississippi State, Arkansas and Ole Miss just over the horizon. (LW: Unranked)
10. Ashley, the Auburn Fan Who Took a Kickoff to the Face. High marks here for effort and especially for degree of difficulty: Fielding a kickoff is tricky enough under any circumstances, much less on the move, and much much less on your knees. All things considered, this could have gone a lot worse.
Most important: She's okay, folks!
.@AshLaWard tells her side of the story after taking a football to the face #LSUvsAUB @WBRCsideline pic.twitter.com/1BZNRIlhWF

— ChristinaWBRC (@ChristinaWBRC) September 25, 2016

All things considered she still had a better day than Florida's return man. Keep on truckin', Ashley. (LW: Unranked).