SEC
Monday Down South: Alabama is evolving, and that's scary for everybody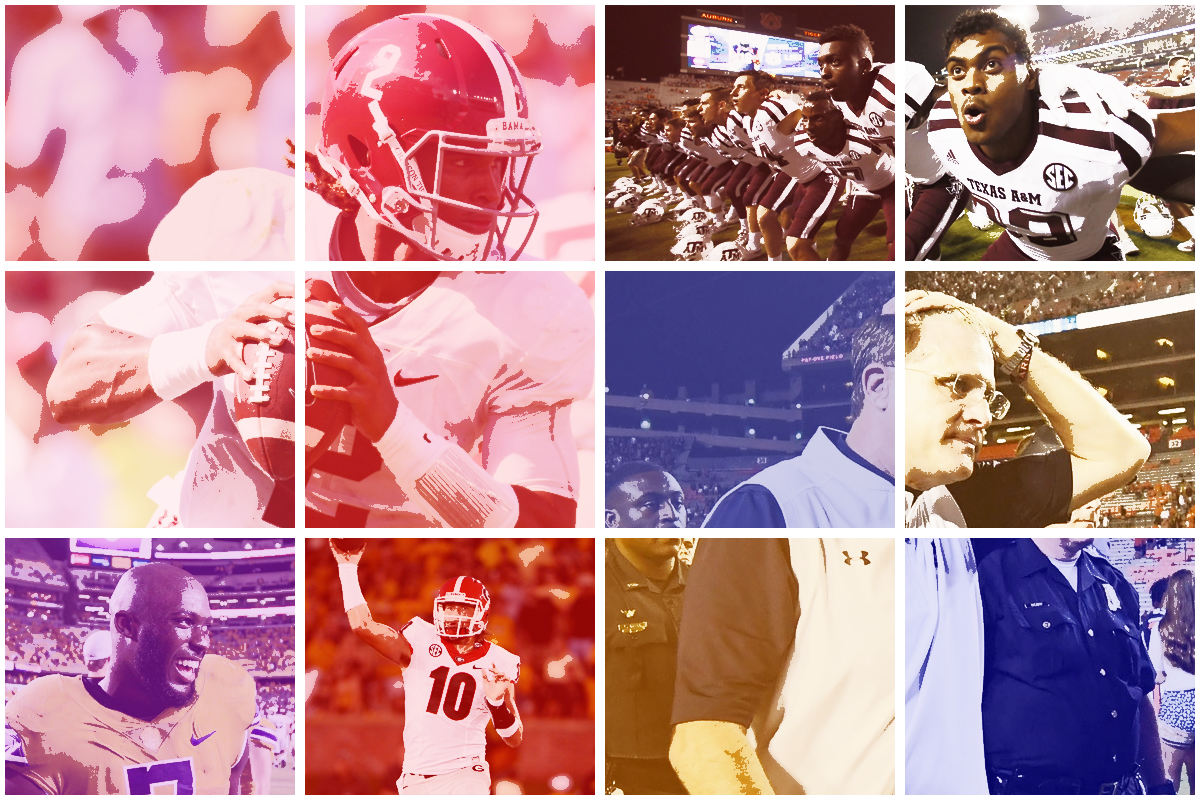 There's a natural tendency after a game like Alabama's come-from-behind, 48–43 win at Ole Miss — or after just about every Alabama win, really, because at this point they do mostly tend to run together — to marvel at the Crimson Tide's resiliency, shake your head, and mentally file the performance away under same old Bama. And why not? In many ways that's exactly what it was. After falling into a 24–3 hole in the first half, the Tide did to their would-be nemesis what they do to almost everyone, gradually asserting their superior talent and depth until their victims collapsed from the mounting pressure like prey caught in the coils of a boa constrictor.
By halftime, the once-yawning deficit had been cut to seven points; by the middle of the third quarter Alabama had pulled ahead. By the fourth, as usual, the outcome was inevitable, the only remaining drama reserved for gamblers sweating out the final margin. (Bama's lead reached 18 before a pair of late, otherwise meaningless Ole Miss touchdowns cut the gap to five, thereby covering an 11-point spread.) In the 30 minutes preceding the Rebels' garbage-time rally the Tide had already slammed the door with a 45-6 run.
Beyond the result, though, and its increasing inevitability throughout the second half, the victory was unique and distinct and weird in all kinds of ways. First, there was the hole itself: 21 points matched the largest deficit Alabama had faced at any point in any game in Nick Saban's tenure. And its corollary, the comeback: The Tide had never recovered to win a game under Saban that they trailed by more than 14. And then, of course, there was Jalen Hurts, whose very presence in the driver's seat of Alabama's offense remains a novelty: A true freshman quarterback, making his first true road start, executing a playbook that has already been largely rewritten in his image.
Put those three pieces together, and the outcome hints at implications beyond just another tough road win. The platonic ideal of Alabama under Saban is disciplined and methodical; the version that stormed back against Ole Miss was volatile and explosive.
It was also much younger in key positions, featuring eight other freshman and sophomore starters in addition to Hurts behind center. Yet this group still ranks No. 1 in both the AP and Coaches' polls by overwhelming margins, and is arguably better adapted to the modern spread ecosystem than its old-school predecessors.
Could the top-ranked teams that lost to South Carolina in 2010 (when the Tide trailed the Gamecocks by as many as 18 points) or Texas A&M in 2012 (when they fell behind 20-0 in the first quarter) have rallied from three touchdowns back Saturday to beat a ranked team on the road? Possibly. But their efforts came up short when they had the chance, whereas the 2016 edition weathered the ambush and routed it in return like it was another day at the office. And the difference is emblematic of just how significantly the Crimson Tide ideal has evolved.
On paper, at least, Saturday was one of the worst defensive performances of the Saban era. Forty-three points matched last year's winning number in Tuscaloosa and left Ole Miss just one shy of the highest-scoring performance by any Alabama opponent in the past decade. (Auburn scored 44 in the 2014 Iron Bowl.)
With 527 total yards, the Rebels were only the fifth opposing offense in that span to eclipse the 500-yard mark, and only the second to average more than seven yards per play, joining Texas A&M in 2013. They had eight plays that gained at least 20 yards, and three that covered at least 40 yards; contrast that with Saban's best defense, in 2011, when Alabama allowed just 12 plays for 20 yards against all SEC opponents combined, and only two for 40 yards.
Those teams helped define the standard for what a great Crimson Tide defense looks like. Which is why, when Johnny Manziel torched the Tide two years in a row, it was genuinely shocking — from 2008 to 2012, Alabama went five full seasons without allowing a single opponent (including Manziel's Aggies in their monumental 2012 upset) to exceed 35 points or 450 total yards. At the time, those kind of numbers against a Saban defense were almost inconceivable. It just didn't happen. Since 2013, however, it has happened, repeatedly: Including Saturday, Bama's yielded at least 40 points seven times in the past three-plus seasons, and at least 500 yards five times.
That's not an encouraging trend, obviously. But it hasn't affected Alabama's alpha rep one iota, in part because those games — while more frequent than they used to be, because they used to be unheard of — are still relatively rare, and in even larger part because Saban, the Darth Vader of the spread revolution, has made a couple of grudging-but-crucial concessions on both sides of the ball to ensure his team can keep pace on those occasions when a track meet breaks out.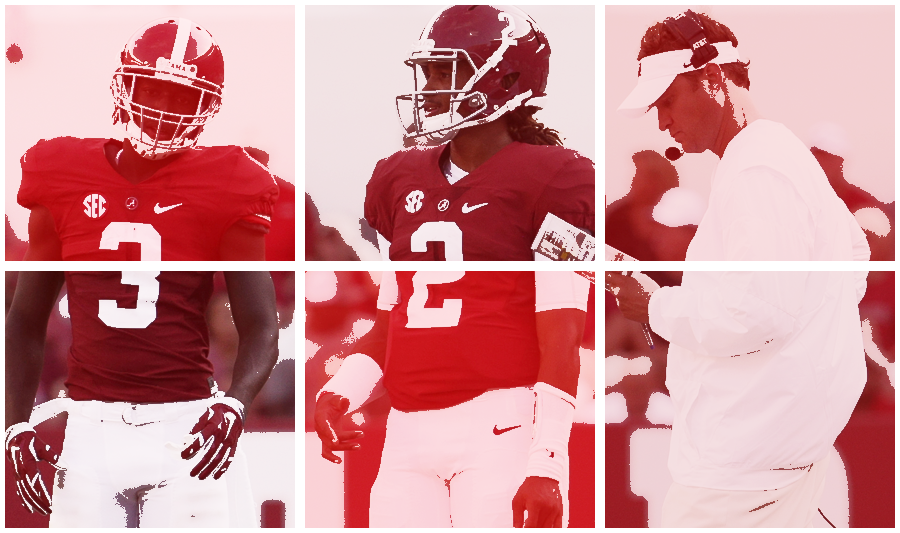 On offense, the decision to salvage Lane Kiffin from the wreckage of his head-coaching career continues to look like a masterstroke, with Hurts' performance Saturday serving as the latest example of the kind of versatility and flexibility that was missing before Saban handed Kiffin the keys. It started off terribly: After a couple of solid outings as a passer against USC and Western Kentucky, the freshman finally looked like a freshman against Ole Miss, especially in the first half, when he averaged less 5 yards per completion. (Not per attempt; per completion.)
Hurts finished with just 158 yards through the air and one of the worst pass efficiency ratings (104.1) of any Alabama quarterback in the past five years. But he also emerged as the featured back in a ground game that collectively piled up 334 yards, most of it after halftime; where no other Saban-era QB had come even remotely close to 100 yards rushing in a game, Hurts came through against the Rebels with a team-high 146 yards on 8.1 per carry. This, again, in just his second career start.
And on defense, the Tide have deliberately fostered a big-play mentality oriented around creating sacks and turnovers, even as they give up more big plays, too. That emphasis begins with the pass rush — easily the best Saban has had at Alabama — which continued its trail of destruction on Saturday by forcing Chad Kelly into a pair of turnovers (one fumble, one interception) and scored glorious, fat-guy touchdowns on both of them. Along with Eddie Jackson's momentum-flipping punt return in the second quarter, it was Bama's fifth consecutive game dating back to last year with at least one defensive/special teams touchdown; the hat trick brought the total to 17 non-offensive TDs in the past 18 games. That's exactly what the defense envisioned last spring when it introduced the "Ball Out Belt" specifically to encourage takeaways, and it's hard to imagine Alabama offsetting Ole Miss' output on offense any other way.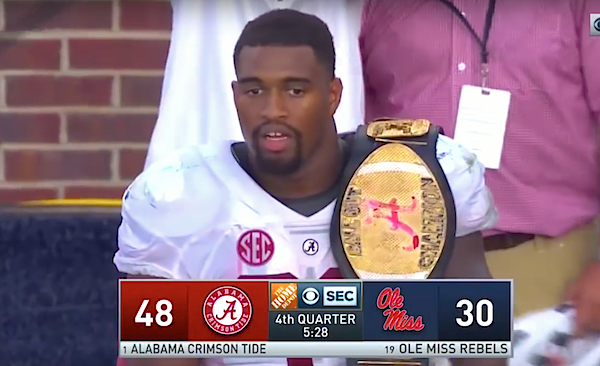 None of which is to suggest that the Tide need 100 yards from Hurts or multiple defensive touchdowns to continue winning on a weekly basis, any more than they need to take a kickoff to the house or recover a surprise onside kick. The defense still gets lit up less frequently than just about anyone else, and still frequently turns in games like the opening-day, 52–6 romp over USC, or the 38-0 thumping of Michigan State in last year's Cotton Bowl, when the distance between opposing offenses and the end zone always feels like the equivalent of the Sahara Desert. Hurts will still have to develop into a reliable passer who commands respect for his arm.
As we've seen repeatedly, though, in the spread era even the stingiest defenses — even Alabama's defense — cannot be counted on to hold every offense in check every week. Occasionally, even the Crimson Tide are forced off script. But they've rarely looked better than they did in Oxford at figuring it out as they go along.
NOTEBOOK
Around the conference.
Texas A&M 29, Auburn 16
In a different time and place, the notion that Gus Malzahn's job is on the line would be absurd: He's less than three years removed from leading Auburn on a miraculous, worst-to-first run to the national championship game, and less than three months removed from signing a contract extension that guarantees his enormous salary through 2020. Even before the extension was official, Malzahn's boss assured reporters this summer that "he'll be our coach for a long, long time." Presumably he meant longer than Thanksgiving.
But the more obvious it becomes that Malzahn isn't about to stumble into a viable solution at quarterback, the harder it seems to be for the fan base to accept another year mired in mediocrity. The 2016 Tigers might not be on the verge collapsing into an out-and-out debacle like the one that got Gene Chizik fired in 2012; they've been reasonably competitive in losses to A&M and Clemson, both ranked teams. They're also a long way from where Auburn expects to be, and the gap's not closing. Consider that Auburn's last SEC victory in Jordan-Hare Stadium came in October 2014, in a shootout against South Carolina. Since, the Tigers are 3-10 in conference games, regardless of location, leaving them tied with Kentucky and one game back of Vanderbilt for the worst record in that span.
Worse, they're boring, getting bogged down for entire quarters at a time. If you squint, you might still be able to make out faint outlines of the hurry-up attack that defined Malzahn's early success, especially against the likes of Arkansas State. With no end to the quarterback shuffle in sight, though, there's no rhythm, and with no above-the-fold playmakers, there's no spark. I'll have more on Auburn's offensive issues later in the week. But it goes without saying that if the Tigers don't put up more of a fight against LSU, no buyout is going to keep the home crowd from making its frustration heard.
Georgia 28, Missouri 27
Georgia ran 93 plays against Mizzou and called for true freshman QB Jacob Eason — in his first true road game, with the score well within reach throughout, with Nick Chubb and/or Sony Michel available at all times — to put the ball in the air on 60 of them, including nine of 11 snaps on what turned out to be the game-winning touchdown drive. (Eason actually got off 55 passes altogether, nearly twice the 28 carries allocated to Chubb and Michel; on his other dropbacks he took four sacks and scrambled once.)
Just in case there was any question about how much UGA coaches trust the kid just three games into his career, or whether he's ready to hold his own as the focal point of the offense. For now, all signs point to an emphatic YES, if only because Eason managed to connect on his final attempt, a decisive, 4th-and-10 touchdown pass to Isaiah McKenzie from 20 yards out.
Had he missed, and the Bulldogs lost, the conversation after the game might have centered less on the freshman's poise and maturity in the clutch than on the pass-happy play-calling, which largely ignored the star running backs down the stretch while leaving the freshman to misfire on 10 of his 14 fourth-quarter attempts before hitting the winner. (The TD pass to McKenzie itself snapped a streak of six consecutive incompletions.) But he didn't miss, and as long as Eason is healthy it's probably safe to assume we've seen the last of senior Greyson Lambert in meaningful action.

Beyond the all-consuming drama of the quarterback situation, how concerned should Georgia be that the once-formidable ground game stalled out for the second week in a row?
When healthy, Chubb and Michel are proven commodities, and freshman Brian Herrien has had his moments on limited touches. Still, since gashing North Carolina for 289 rushing yards in the season opener, the Bulldogs been largely stuffed the past two weeks by Nicholls State (167 yards on 4.3 per carry) and now Missouri (101 yards on 2.7 per carry), their worst games on the ground with either Chubb or Todd Gurley in the lineup since 2013. Against Mizzou, they earned all of five first downs on 30 called runs, 20 of which gained 3 yards or less; the long gain for the night covered just 16 yards.
In that context, it's easier to grasp why coaches decided to leave their fate in Eason's hands. But it's still hard to see a 2-to-1 pass/run ratio holding up the meat of the conference schedule, beginning with Saturday's to Ole Miss.
LSU 23, Mississippi State 20
It was closer than it needed to be in the end — Mississippi State trailed 23-6 with less than five minutes to go — and no doubt the fact that the Bulldogs were still in the game at all after being chopped into boudin in the first half left some percentage of the Tiger Stadium crowd on edge. There was still plenty in this game that pointed in the right direction for LSU, especially on offense: Leonard Fournette was back to looking like his usual, imposing self despite a nagging ankle injury (see below), and quarterback Danny Etling was efficient and effective in his first start in an LSU uniform. The Tigers put together four sustained scoring drives in the first half, finishing off three in the end zone.
And then, yes, they retreated into a shell at halftime and allowed MSU to hang around long enough to mount a late threat behind backup quarterback Damian Williams. It's not the first time we've seen Les Miles play bite-and-hold with a modest lead, and it won't be the last. Given how sluggish LSU's offense looked in its first two games, though, even an abbreviated glimpse at the Tigers' potential when they're firing on all cylinders is a step forward. For now, we'll take it. For now.
SUPERLATIVES
The best of the week…
LSU DE Arden Key. The Tigers' speed-rushing specialist made good on his disruptive rep in the win over Mississippi State, registering five tackles, two sacks, and a decisive forced fumble on the Bulldogs' last-gasp drive in the fourth quarter. The following clip should be accompanied by the music from JAWS.
Key leads the SEC with 5.0 sacks through the first three weeks — he's been credited with at least one QB takedown in every game — leaving him just a half-sack off the national lead.
Missouri DE Charles Harris. It went for naught in the end, but Harris was a persistent terror against Georgia, backing up his All-SEC credentials with three sacks and four TFLs in a losing effort. At one point, he turned the corner with such explosive force against the Bulldogs' left tackle, Rhode Island transfer Tyler Catalina, that even in slow motion Harris looks like he's moving at regular speed.
Harris was credited with seven total tackles, a deflected pass, and a QB hurry in addition to the sacks, leaving no doubt about his status as Missouri's best player and a potential first-rounder in next year's draft. How Mizzou was the only FBS school to offer this guy a scholarship is beyond belief.
Georgia DB Juwuan Briscoe. The sophomore cornerback got off to a rocky start against Missouri, most notably finding himself on the wrong end of a 79-yard touchdown reception by Mizzou's J'Mon Moore in the first half. In the second half, though, Briscoe was a bona fide ballhawk, picking off one pass, breaking up another, forcing a fumble, and recovering two fumbles, including the game-clinching loose ball that sealed the Tigers' fate with a little over a minute to play.
South Carolina DB Chris Lammons. Last week, Lammons was benched in South Carolina's loss at Mississippi State and singled out by Will Muschamp for shoddy tackling. Saturday, he was back in the starting lineup and turned up everywhere in the Gamecocks' 20-15 win over East Carolina, earning credit for eight tackles, two TFLs, a sack that resulted in a forced fumble, and a driving interception that ended an ECU threat in the third at the goal line:
Although East Carolina finished with 400 yards passing, it took 58 attempts to get there, an average of just 6.9 yards per pass and 9.1 yards per reception. Only four of those receptions gained more than 20 yards, and none were good for thirty.
Kentucky QB Stephen Johnson. Sure, he was playing against New Mexico State. But Johnson's performance off the bench Saturday — 17-of-22 passing for 310 yards and three touchdowns, plus 51 yards rushing — was the first glimmer of hope in a miserable September for Kentucky, and the Wildcats needed all of it to escape with a 62-42 win that was closer than the margin indicates. (The game was tied at the half, 35-35.) The nominal starter, Drew Barker, saw his afternoon end due to an injury in the first quarter; his status is TBD. Either way, though, after last week's debacle at Florida it seems obvious the job is Johnson's to lose.
DEMERITS
…and the worst.
Auburn's Home Losing Streak. Not to pile on, but anytime you share a list on national television with Colorado, Kansas, SMU, and UNLV, and list that involves football, it's not good.
Georgia's Cheap Shot. There's constant debate in college football over what does and does not constitute targeting, and exactly how the rule should be interpreted amid a lot of gray area. But in the case of Kirby Choate's hit on Missouri punt returner Johnathon Johnson, it's pretty black-and-white: Yeah, this is targeting.
Choates was ejected — rightfully so — and will sit out the first half of Georgia's trip to Ole Miss.
Kentucky's Defense. The flip side of Johnson's emergence at quarterback was a UK defense suffering from rigor mortis: The Wildcats gave up 42 points and 500 total yards (277 passing, 223 rushing) to a perennial Sun Belt punching bag that was a) playing without its star running back, and b) recently booted from the conference. The good news is that things improved dramatically after halftime, from which point Kentucky held NMSU to a single touchdown en route to a 20-point win. But from everything we've seen in the first three weeks, this unit should invest immediately in flame-retardant uniforms.
MISCELLANEOUS POWER RANKINGS
The best things in the SEC this week.
1. Alabama's Front Four. Another week, another dominant effort for the most dominant position unit in college football. Is it possible for a defensive line to enjoy a better collective moment than Jonathan Allen's icing, 75-yard pick-six against Ole Miss, which came as a direct result of pressure by fellow bookend Tim Williams?
Answer: No, it's not. (Last Week: 1)
2. This Ridiculous Juke by Trayveon Williams. Last year, Auburn safety Tray Matthews was posterized forever by his futile attempt to wrangle Leonard Fournette in the open field, an effort he later described as "a business decision." This time, Matthews found himself on roller skates courtesy of Texas A&M's slippery freshman running back, and the results were no less humbling.
Williams finished with 157 yards from scrimmage on 11 touches, cementing his status as a guy who's going to drive opposing defenses (and fans) completely crazy for the next three years. (LW: Unranked)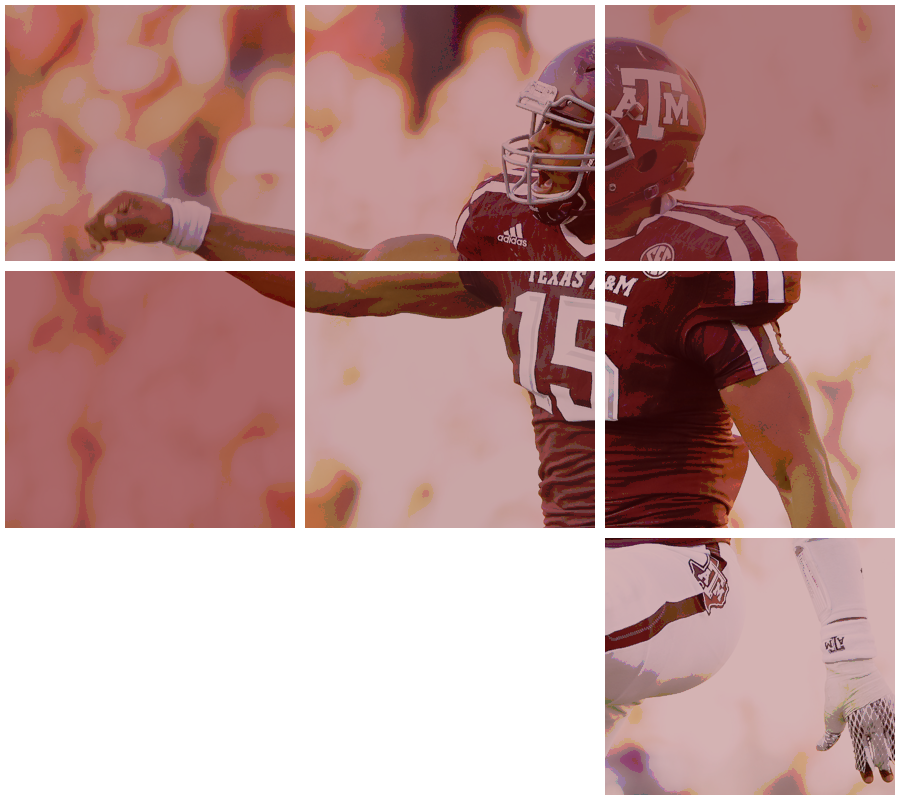 3. Texas A&M's Pass Rush.
The Aggies did their part to contribute to Auburn's offensive malaise, too, by racking up four sacks and five QB hurries, including an introductory takedown by Myles Garrett on the first play of the game. Garrett was credited with two sacks and a hurry; Daeshon Hall recorded three hurries and a recovered fumble. As a team, A&M has at least three sacks in all three games this year.
(LW: 4)
4. The Legend of Leonard Fournette. LSU's Herculean tailback put any nagging doubts about his ankle to rest by carrying 28 times against Mississippi State for 147 yards, two touchdowns, and one spectacularly violent stiffarm:
Future civilizations will discover Brandon Bryant embedded in layers of sediment just beneath the earth's surface and wonder what unspeakable fate befell him. (LW: 9)
5. LSU's "Gridiron Gold" Throwbacks. The Tigers' mustard-flavored unis looked so good I don't even care if they're historically dubious. For a one-time-only look this was a winner. (LW: Unranked)
6. Shaq Military Pressing Cheerleaders. Shaq was on hand at his alma mater and decided it would be fun to lift a cheerleader above his head without warning.
.@Shaq actually did this 1,000 times.
All [Impressed]#AllForLSU pic.twitter.com/U4bRAE1yEM

— LSU Cheerleading (@LSUCheer) September 18, 2016
I think that pretty much speaks for itself. (LW: Unranked)