SEC
Monday Down South: Saban smolders, Stoops sinks, and Arkansas arrives in Week 2
Monday Down South
Saban smolders, Stoops sinks, and Arkansas arrives in Week 2
By Matt Hinton
September 12, 2016
Kentucky's 45–7 loss to Florida on Saturday was a debacle in every sense of the word, a start-to-finish beatdown that fully embodied the ugliness of the final score. It was worse than that, in fact: If anything, the scoreboard was much too kind merely for having reflected that the Wildcats scored. A truly honest assessment wouldn't have given them that much credit.
Technically, yes, Kentucky did reach the end zone, on a 65-yard, garbage-time drive on its final possession. Prior to that, their first 11 drives had yielded a grand total of 89 yards and six first downs; they ended with five punts, four interceptions, a fumble, a missed field goal, and zero points. Starting quarterback Drew Barker, once hailed as the most promising Kentucky quarterback recruit since Tim Couch, completed more passes to Florida defenders (three) than to Kentucky receivers (two) and accumulated more negative yards on sacks (21) than he gained with his arm (10). At one point Barker lost a fumble caused by one of his own offensive linemen.
I could go on — the defense was as flammable as ever against a far less-touted quarterback, Luke Del Rio, making his first SEC start — but you don't need any obsessive statistical reenactments to get the idea. Nor do Kentucky fans, after 30 consecutive losses to the Gators and many more years of irrelevance in the conference standings, need any reminders of where the football teams stands in the grand scheme of things: The grisly details of any particular defeat don't matter nearly as much as the fact the basic idea of UK as a perennial doormat never changes. In 2016, as ever, the Wildcats are in a race to the bottom.
The head coach, however, does change. And if there was any hope for reversing the road-to-nowhere narrative under Mark Stoops, by most accounts this year — Stoops' fourth in Lexington, the money year after a pair of 5-7 finishes in 2014-15 — should have been the one.
The (relatively) touted recruiting classes that followed Stoops' arrival now formed the core of the roster; the offense belonged to Barker, the defensive line featured four-star talents Matt Elam, Denzil Ware, and Courtney Miggins, and the overall depth was a far cry from where it was during Stoops' dreadful, 2-10 debut in 2013.
The 2015 'Cats beat Missouri and South Carolina, played Auburn within three points, and pushed Florida to the brink for the second year in a row. In July, SEC media types picked Kentucky to finish fourth in the East, ahead of Mizzou, Carolina, and Vanderbilt, and almost certainly good enough if fulfilled to end the longest postseason drought in the conference, dating to 2010.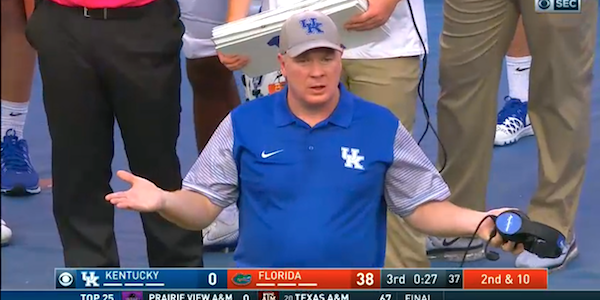 At the very least, this team was supposed to be competitive, having finally progressed beyond the routine flops and blowouts that did in Stoops' predecessor, Joker Phillips, after just three years. But the first two games have been indistinguishable from the bad old days.
The opener against Southern Miss was a must-win game for UK to have any realistic path to six wins; instead, the Wildcats surrendered a 25-point lead with such little resistance that the home crowd began filing out of Commonwealth Stadium before the game was even decided. (It didn't help that the Golden Eagles' comeback was overseen by the offensive coordinator Stoops fired last winter, Shannon Dawson.)
Saturday's trip to Gainesville offered another chance to make a statement against an unranked Florida outfit that had struggled in its opener against lowly Massachusetts; instead, the 'Cats rolled over and played dead from the opening kick, submitting to a humiliation that ranks alongside the worst in a series with many humiliations to choose from.
Now that a bowl game seems out of the question, the rest of the season is shaping up to be a money year in a very different sense: To move on from Stoops, Kentucky will have to dig deep to afford a $12 million buyout, the kind of number designed precisely to head off this sort of scrutiny over the coach's future. Before the season, the local consensus was that Stoops' contract alone would be enough to keep him off the hot seat this year, and possibly next year, too, barring a worst-case calamity that sent attendance into a nosedive.
Two games in, though, the outlines of that calamity are all too obvious. The Wildcats will be favored to win this weekend against New Mexico State, albeit likely in front of an indifferent crowd. But even assuming victories over NMSU and Austin Peay, which visits Lexington in November, getting to 6–6 without springing an inconceivable upset will require running the table against South Carolina, Vanderbilt, Mississippi State, and Missouri. Two weeks ago, that seemed plausible. After Saturday, it would be a minor miracle.
Such is life for the head football coach at Kentucky, lived largely beneath a cloud of speculation about when it will end.
If Stoops goes — or, more accurately at this point, when Stoops goes — he'll be the 10th consecutive head coach to leave Lexington with a losing overall record, a legacy of frustration dating to 1961. The cycle of rebuilding and renewal will begin anew. And it will end, inevitably, right back where it started.
NOTEBOOK
Around the conference.
Tennessee 45, Virginia Tech 24
First, the good news: The Vols are who we thought they were. After last week's harrowing escape against Appalachian State, a 21-point win over an ostensibly bigger, more athletic opponent from a Power 5 league qualifies as a resounding statement.
This time, Tennessee was the more physical team, piling up 239 rushing yards on 5.2 per carry, and the more opportunistic, converting five Hokies turnovers into 21 points — the eventual margin of victory. (Virginia Tech failed to capitalize on its only takeaway.) The Vols weathered a rough start, dominated the second quarter, and were never seriously threatened after halftime. They built a comfortable lead on a big, national stage, kept their foot on the gas, and — unlike last year, when UT infamously squandered a fourth-quarter edge in all four of its losses — actually expanded it in the final frame.
This version of Rocky Top was a fair approximation of the one the preseason believers (myself included) expected to see, i.e. one that could plausibly win the SEC East and finish in a major bowl game. Vols fans can exhale, at least until Florida arrives in Knoxville in two weeks with its 11-year winning streak in the series.
Which brings us to, let's say, the less good news: For a team with such lofty ambitions, there are still plenty of glaring issues to be resolved. Tennessee was outgained overall on Saturday, 400 yards to 330, and on a per-play basis, 5.5 yards to 5.1.
Three of UT's seven scoring drives were easy ones that began inside the Virginia Tech 20-yard line following a Tech fumble. On the other side, the defense allowed five sustained drives that crossed the Tennessee 30-yard line, plus a 69-yard touchdown run. Despite his success as a rusher, quarterback Joshua Dobbs was (again) wildly inconsistent from the pocket; only four of his 19 pass attempts went for first downs, and only two gained more than 9 yards. He was sacked twice, intercepted once, and fumbled once (Tennessee recovered). In the end, the final score betrayed a lot of ongoing sloppiness.
Still, it was enough to give us a rough blueprint for what the Vols aspire to be at their best — a physical, run-first team that can establish Dobbs and Jalen Hurd between the tackles, complement the ground game with big plays through the air (both of Dobbs' double-digit completions vs. Tech went for touchdowns), and convert opponents' mistakes into points. Now on to the next question: How consistently can they play up to that ideal?
Arkansas 41, TCU 38 (2 OT)
The Razorbacks' win in Fort Worth was the most thrilling game of the weekend, and from an analytical perspective … well, it sure was a lot of fun. Beyond that, I'm not sure we learned anything about the 2016 Hogs we didn't already know or couldn't see coming.
As with Tennessee, the exhilaration of victory came in spite of a sobering box score — Arkansas was outgained by 169 yards overall, and by nearly a full yard per play. It also came alarmingly close to letting a sure thing slip away: With a 20-7 lead in the fourth quarter and a win seemingly in hand, the Razorbacks proceeded to give up touchdowns on three consecutive TCU possessions, and were lucky the Frogs didn't make it four: A potential game-winning grab with less than a minute to go in regulation was negated by a penalty, setting up the dramatic field goal block by 6-10 lineman Dan Skipper that sent the game to extra sessions.
At this point, histrionic finishes involving Arkansas are par for the course. Sixteen of the Razorbacks' past 30 games have been decided by eight points or less, six of them in overtime. The only thing that's changed is that more of the coin flips are starting to go the Hogs' way: Where Arkansas was once 0-10 in one-score games under Bret Bielema, it's now won four of the past six.
Based on Saturday night, the locals can be reassured that they have another competent quarterback whose last name is Allen (Austin, a redshirt junior, passed for three touchdowns and ran for the game-winner in the second OT) backed up by another oversized bruiser at tailback who's built to handle a full workload (Rawleigh Williams III carried 28 times against TCU for 146 yards). The offensive line is still huge, etc. For everyone else, all you really need to know right now is that the new guys are still good for a reliably wild ride.
Alabama 38, Western Kentucky 10
You know things are going well in Tuscaloosa … well, scratch that, because things are pretty much always going well in Tuscaloosa these days. But you know they're going really really well when Nick Saban randomly blows his stack on the sideline with less than a minute to go in a 28-point blowout. Later, Saban described the win as one of the most disappointing victories of his career, which may or may not describe how the ultimate perfectionist actually felt about his team's undeniably dominant performance.
Whether he meant it doesn't really matter: Either way, the point is that Saban is determined not to let this outfit grow bored or complacent by the routine destruction it metes out.
Given that the Bama defense held the highest-scoring attack in the nation in 2015 out of the end zone until garbage time, whatever nits there are to pick this week are almost all with the offense, and the offensive line, in particular. After grinding USC to a pulp in the opener, the Tide managed just 124 yards rushing against WKU on 3.2 per carry, including negative yardage on a pair of sacks. No individual back stood out. Freshman QB phenom Jalen Hurts was fine, connecting on 23 of 36 passes for 287 yards and two touchdowns, but he fumbled once and didn't hit every single throw and therefore didn't win Saban's endorsement as the unquestioned starter.
Translation: Welcome to Ole Miss week. Saturday's revenge-minded visit to Oxford is going to be a bloody good time, or possibly just bloody.
Mississippi State 27, South Carolina 14
This felt like a reversion to the mean for both teams after their divergent fates in Week 1 — South Carolina won on a last-second field goal as a road underdog; MSU lost on a last-second field goal as a home favorite — but especially so for Mississippi State, which settled its nascent QB controversy in decisive fashion. Nick Fitzgerald, the gangly sophomore who started the Bulldogs' opener but played sparingly after a shaky start, went wire-to-wire against the Gamecocks, accounting for 373 total yards and two touchdowns in one of the most reassuring outings of the weekend.
Most reassuring: The kid can run! Although he wasn't touted as a scrambler coming into the season (and at 6-foot-5, 223 pounds, certainly isn't built like one), most of Fitzgerald's production came courtesy of his legs, including a 74-yard sprint down the sideline in the first quarter. Not that anyone is prepared to anoint him the reincarnation of Dak Prescott, but with his size and athleticism Fitzgerald does fit snugly into the prototypical, power-running mold of Dan Mullen's best quarterbacks, from Dak to Tebow to Chris Relf.
And although Fitzgerald clearly has a long way to go as a passer, as a mere redshirt sophomore he has plenty of time to get there. By the Egg Bowl he should need no introduction.
REORIENTATION
Time to rethink… LSU's quarterback situation
Last week's debacle in Wisconsin put Brandon Harris on the clock, and it took just six plays on Saturday night for the countdown to hit zero: Harris was benched after LSU's first two offensive series against Jacksonville State both went three-and-out, and if the early returns are any indication — not to mention the overwhelming sentiments of Tigers fans who had already written him off — he won't be emerging from purgatory any time soon.
His replacement, Purdue transfer Danny Etling, promptly led three consecutive touchdown drives covering 70, 79, and 64 yards, respectively, the first of which was capped by a 46-yard strike to DeSean Smith that surpassed any of Harris' 25 attempts this season.
Etling's final numbers (6-of-14, 100 yards, 1 TD, 1 INT) weren't anything to write home about, and the initial spark he supplied in the second quarter seemed to burn out at halftime. The night as a whole was a vintage LSU slog.
Still, as desperate as the home crowd was for any reason to believe this team still has a chance to fulfill the preseason hype, the fact that the offense, without Leonard Fournette, registered a pulse at all – however briefly, regardless of the competition — was a sincere relief. What are the odds that a guy who couldn't hold down the starting job for a Big Ten doormat will emerge as a long-term answer for an outfit that aspires to win the SEC West? Not very good. But his stock is up for one week, at least, and that's a start.
SUPERLATIVES
The best performances of the week …
Arkansas LB Brooks Ellis. The senior captain was everywhere in Arkansas' win over TCU, racking up 13 total tackles, three tackles for loss, and a pick-six in the first half that extended the Razorbacks' early lead to double digits and proved to be crucial in a) bridging their deficits on the stat sheet, and b) provoking this exceptional reaction from a stunned TCU fan:
Later on, Ellis was also notable in his absence: Not coincidentally, he spent much of the Horned Frogs' fourth-quarter rally in the locker room, getting an IV to deal with cramps before returning to the field for overtime.
Missouri QB Drew Lock. Most of the time, we'd be inclined to take a big afternoon vs. the likes of Eastern Michigan for granted. For Lock, however, we'll make an exception: His 450-yard, five-touchdown, zero-turnover outing against the Eagles was the best of his (still young!) career, by a mile, and on paper one of the best in school history — the TD total matched a Mizzou record, and only two other Tiger quarterbacks have ever thrown for more yards in any context.
More important, the outburst reinforced his blue-chip potential after a discouraging freshman campaign in 2015 and a less-than-spectacular sophomore debut in last week's loss to West Virginia. If bombing a hapless MAC secondary into oblivion is what it takes to remind Mizzou fans of their quarterback's talent, they'll take it.
Alabama P J.K. Scott. Not that the Bama defense needed the help, but just to be safe the lanky Coloradoan did his part against Western Kentucky by booming five punts for an average of 46.4 yards a pop, including two that traveled 50-plus yards and three that pinned the Hilltoppers inside their own 15. Even Nick Saban isn't going to be able to figure out a way to find fault with that.
Catch of the Year of the Week: Kyle Davis, Auburn. Auburn found a quarterback in its 51-14 romp over Arkansas State, and a ground game, too, courtesy of Kamryn Pettway, Kerryon Johnson, and supporting cast that piled up 462 yards rushing on 7.5 per carry. But the highlight of the night — which is saying something, on a night that also featured this run — belonged to Davis, a touted true freshman whose second career reception was this ludicrous, one-handed beauty that almost justified the hype all by itself:
Davis' first career reception? A 43-yard bomb in last week's loss to Clemson. I'm beginning to think, ya know, maybe the kid's got a knack for this.
Fat Guy of the Week: Trenton Thompson, Georgia. Trent! Welcome to the party, man. We've been expecting you.
With all eyes on this year's top-ranked freshman, Jacob Eason, the No. 1 overall prospect in last year's recruiting class wreaked havoc in the Bulldogs' skin-of-the-teeth win over Nicholls State, registering career highs for tackles (11) and tackles for loss (3) as well as his first career sack. Three TFLs matched Thompson's total for all of 2015, the best sign yet — even against an FCS opponent that arrived in Athens as a 55-point underdog — that the 310-pound sophomore is growing into his advance billing. As for the rest of the team … eh, a win is a win?
DEMERITS
…and the worst.
Kentucky's Offense. No need to pile on here after detailing the Wildcats' all-purpose flop in the Swamp up top. But suffice to say they were hoping to get a little further than two games into the Drew Barker era before retreating into bunker mode.
Georgia's Ball Security. The Bulldogs have certainly had better days, blocking-and-tackling-wise, but their near-miss against Nicholls State had much less to do with every-down fundamentals (UGA outgained the Colonels by more than two yards per play, just as you'd expect) than with turnovers: Georgia committed three (one interception, two fumbles), leading directly to 17 of Nicholls' 24 points on drives that began in Bulldogs territory.
Obviously, that kind of sloppiness won't serve them well going forward. But it is correctable — as long as the giveaways didn't cost them a win, there's no reason (yet) to think of them as a recurring problem.
MISCELLANEOUS POWER RANKINGS
The top 10 things in the SEC this week.
1. Alabama's Front Four. Another week, another punishing performance by the most overwhelming position group in college football, this time at the expense of poor WKU: Including sacks (four), the Hilltoppers finished with 23 yards rushing on 22 carries and watched their starting quarterback get suplexed by übermensch edge rusher Tim Williams for no apparent reason. Williams was flagged for unnecessary roughness, but there's not enough penalty yardage in the world right now to knock the Tide defensive line from this perch. (Last Week: No. 1)
2. Tre'Davious White Out of Nowhere. Last week, White returned an interception for a touchdown and recovered a fumble in quick succession to give LSU a fleeting spark in its eventual loss to Wisconsin. This week, he clinched the Tigers' win over Jacksonville State by taking the scenic route on a second-quarter punt return:
Officially, that went in the books as a 60-yard return, although White backtracked as far as his own 19-yard line and ultimately traversed at least twice the official distance in actual ground covered. Whatever it takes, and with LSU's offense it looks like it's going to take a lot more of this. (LW: Unranked)
3. Arkansas' Over-the-Top Two-Point Conversion. The Razorbacks needed two points following a late touchdown in regulation to tie TCU and force overtime. They succeeded via the weirdest, most elaborate way imaginable to gain three yards with the game on the line:
Any game-turning play that involves the ball exchanging hands no fewer than three times and still works will always find a place in the lofty reaches of these rankings. God bless Bret Bielema just for green-lighting that. (LW: Unranked)
4. Kickers In the End Zone. Auburn had such little difficulty scoring against Arkansas State that it decided to let its kickers in on the action, beginning with a sweet little fake field goal-turned-20-yard-touchdown-run by senior Daniel Carlson in the second quarter …
… and continuing with a 29-yard touchdown pass to walk-on kicker-turned-wide receiver Will Hastings just a few minutes later that more or less put the game on ice. For Hastings, catching the ball is quickly becoming old hat; not so much for Carlson, who admitted afterwards that "I've never carried the ball in my life … besides punting that's the only time it's ever touched my hands." Proving yet again that there is no speed like terrified kicker speed. (LW: Unranked)
5. Return of the Roll. After the win, Carlson and Hastings were among the players who joined fans in the ceremonial rolling of the oak trees at Toomer's Corner, the first proper rolling since the tradition was halted in 2013 following the poisoning of the original oaks by an herbicidally deranged Alabama fan. New trees were planted last year, and in their first live action the rookies held up their end of the bargain just fine. (LW: Unranked)
6. Texas A&M's Pass Rush. The Aggies didn't need much from their stable of sleek pass rushers to beat Prairie View A&M into a pulp, although they collectively did their part by logging two sacks and six QB hurries in a 67-0 massacre. This week's trip to Auburn should be significantly more interesting, unless you happen to be one of Auburn's quarterbacks. (LW: 4)
7. Ralph Webb Gets Up. Webb went for a career-high 212 yards and two touchdowns in Vanderbilt's 47-24 win over Middle Tennessee, none of them more entertaining than the extra dozen or so he picked up for straight-up leap-frogging a would-be Blue Raiders tackler in the first quarter:
Holy crap, Ralph Webb pic.twitter.com/9ZuiPZQzAM

— Christian D'Andrea (@TrainIsland) September 10, 2016
The best thing about this highlight is the way Webb's legs just keep on churning in midair, like Luigi's in Super Mario Bros 2. (If you get that reference and want to feel old, note that that game came out years before Ralph Webb was even born.) Through two games Webb is slightly edging Nick Chubb as the conference's leading rusher. (LW: Unranked)
8. South Carolina's Garnet Helmets. You look good, you feel good. You feel good, you play good. At least one of those maxims is still true for the Gamecocks, who remained on the right side of the fashion police despite their first garnet-lidded loss of the season in Starkville. Whatever else happens this year, they've already got the first step down. (LW: 7)
9. The Legend of Leonard Fournette. Fournette likely could have played against Jacksonville State but didn't, opting instead to nurse a sore ankle and contributing to the vaguely Jadeveon Clowney-esque start to his (presumed) final college season. The Herculean junior should be back in the lineup this week against Mississippi State, and hopefully at his myth-making best. (LW: 6)
10. The Precise Moment This Kid Became Addicted to College Football For the Rest of His Life. A young TCU fan watched Arkansas tie his team on absurd two-point conversion and will never be the same.
— Tom Fornelli (@TomFornelli) September 11, 2016
Sorry, kid, there's no turning back now. On the bright side, no one in this tribe will ever ask you to put on a shirt. (LW: Unranked)