TENNESSEE
Film study: After dismal debut, can Tennessee keep Josh Dobbs clean?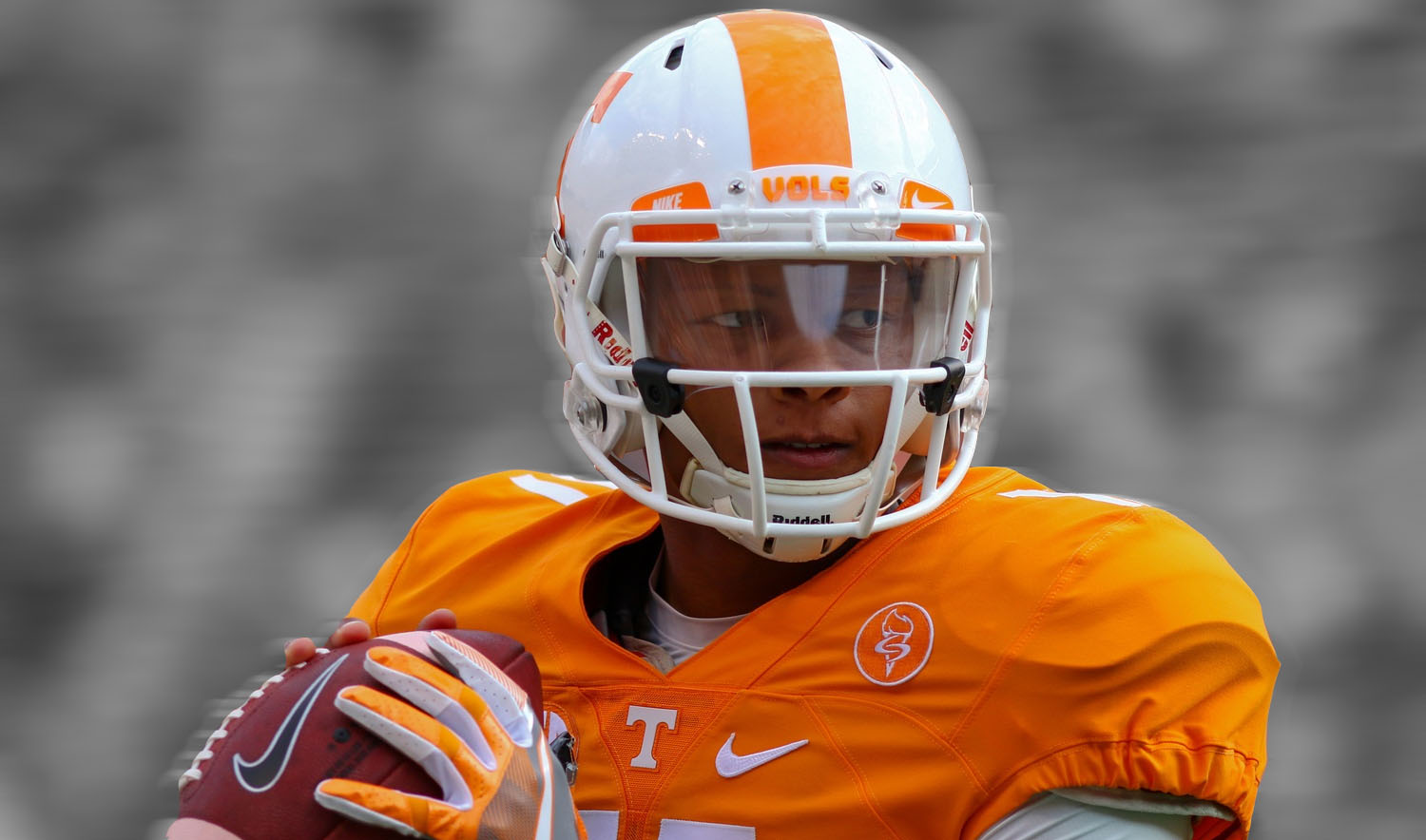 By Matt Hinton
September 8, 2016
A weekly look inside an SEC playbook.
As opening-day victories go, Tennessee's 20-13, overtime escape against Appalachian State was as sobering as they come. After years in the wilderness, the Vols debuted in the top 10 of the AP and Coaches' polls, their highest standing in a decade.
After eight months of hype and speculation over the 2016 team's potential — Sugar Bowl? SEC champs? National champs? — 100,000 people packed Neyland Stadium for their first glimpse, what was supposed to be a glorified tune-up against an overmatched, three-touchdown underdog from the Sun Belt. Some rust was to be expected; a genuine, down-to-the-wire challenge seemed out of the question.
But challenged they were, and then some: Tennessee fell behind early, trailed until well into the fourth quarter, and didn't hold a lead until an incredibly fortunate fumble recovery in overtime. On offense, the Vols were sloppy, conservative, and largely outplayed by a defense with ostensibly far less talent.
Senior quarterback Josh Dobbs, the face of the offseason hype, was ordinary and inconsistent. The offensive line, consisting of four returning starters, allowed penetration on a regular basis. The play-calling was stagnant enough to grow moss. Not including the overtime session, 13 points in regulation was fewer than Tennessee scored in any game in 2015; 294 total yards in regulation was fewer than they gained in any game except a September loss to an eventual playoff team, Oklahoma.
The only touchdown came on a single big play, UT's only gain of the night longer than 16 yards. The only sustained drives ended in a pair of field goals. And those were the highlights.
After the game, coach Butch Jones told ESPN he would "never apologize" for a victory, no matter how ugly. Nor should he. But for a team expected to take a dramatic leap forward in Jones' fourth season, the implications of such a regressive debut were obvious. Even at 1-0, the Volunteers plunged eight spots in the latest AP poll and four spots according to the coaches. Sure, they got away with it once, by the skin of their teeth. But if they can't block Appalachian State, what's going to happen when they line up across from the likes of Florida, Georgia, Texas A&M, and — oh my god — Alabama?
What's going to happen Saturday, against Virginia Tech in the marquee game of the weekend?
A respectable rebound in primetime could be enough to reassure the skeptics that the season remains on track and the Vols' preseason goals remain intact. A replay of last Thursday, on the other hand, will only reinforce the perception that elevating them back into the national conversation before they'd actually won anything was a massive overreach.
You Had One Job: Protect Dobbs
Outside of a few rare, Manziel-ian exceptions, it's no great insight that most quarterbacks tend to struggle under pressure from opposing rushers. That's the entire point of pressure. So many elements go into every successful throw — footwork, vision, decision-making, timing — that disrupting any one of them can make an accomplished passer at any level look like a rank amateur.
But to say that Dobbs "struggled" under pressure against Appalachian State would be a vast understatement. Upon further review, the difference between Dobbs' production when he had time to throw and when his protection broke down took the point to the extreme:
Excluding screen passes and bubble screens, Dobbs dropped back to pass 30 times; nine times he was forced to deal with an ASU pass rusher in his face within two or three seconds. Of those nine plays, only one resulted in a positive gain, when Dobbs managed to elude the rush and scramble 13 yards for a first down midway through the third quarter. On the other eight, he was sacked twice, intercepted once, and failed to complete a single pass.
How much of the blame for those numbers falls on Dobbs himself? Some, certainly: It's a cliché, but there's a lot to be said for poise under pressure, and the senior frequently looked rattled.
Most of the time, though, he had no choice — he was running for his life almost immediately. And the pressure wasn't the result of ingenious scheming or exotic blitzes on the part of Appalachian State, nor of Tennessee being forced into obvious passing downs that allowed the Mountaineers to tee off without worrying about the threat of a run. The heat came as readily on 1st-and-10 as it did on third-and-long, and in almost every case it was the result of App. State simply dominating a one-on-one matchup against a much larger Tennessee lineman.
Take this play, on Tennessee's first possession of the game, which saw left guard Jashon Robertson whiff not once but twice — first Robertson (No. 74) flails haplessly at a stunting defensive end (subsequently picked up by running back Jalen Hurd), then he watches as a linebacker passes unmolested into the backfield on a delayed blitz. Although neither rusher lays a hand on Dobbs before he's able to get rid of the ball, the pressure forces him to shuffle his feet, preventing him from stepping into his throw and resulting in a pass that sails well over the head of an open receiver:
Or this play, from later in the first quarter, on which dual breakdowns by Robertson and center Coleman Thomas resulted in the first of the Mountaineers' two sacks. The initial pressure here comes from Thomas' man, 275-pound nose tackle Myquon Stout, who needs only a quick swim move to blow past Thomas (No. 55) and into in Dobbs' lap; the cleanup comes from defensive end Antonius Sims, who beats Robertson to the outside and chases Dobbs down as he attempts to escape the pocket:
Let's see that from another angle, which is somehow even more unflattering:
Just a few plays later, Thomas was posterized again on an identical move, this time by linebacker Caleb Fuller. With Fuller in his face immediately, Dobbs is forced to lob an off-balance check-down to Hurd that has no chance of moving the sticks on 3rd-and-18 even if Hurd makes the catch:
And rounding out a dreadful first half for Thomas, there was this debacle, on which he was literally slapped to the ground by Fuller — a 300-pounder with legitimate NFL aspirations abused by a former walk-on who's listed at 241. The only solace for Thomas here is that another UT lineman, right tackle Brett Kendrick, had his number called out on the same play for holding:
Dobbs' worst decision of the night (at least, prior to his ill-advised lunge toward the end zone in overtime) was also the result of pressure, this time coming from a missed blitz pickup that left a free rusher up the middle and ended with Dobbs launching a desperation heave with "INTERCEPT ME" written all over it. The Mountaineers obliged, preserving a 10-point lead at the half:
That was the only play all night on which Dobbs' duress could arguably be chalked up to scheme: Appalachian State sent more rushers (six) than Tennessee had blockers (five) and cut off three of Dobbs' five possible targets by forcing him to scramble to the opposite side of the field. Otherwise, it was a long night of App. State rushers physically handing Tennessee linemen their hats.
Glimmers of hope
All of the above examples were pulled from the first half; the protection was generally better in the second, notwithstanding a late, 1st-and-10 sack by Fuller (again working over Jashon Robertson) that submarined a key drive in the fourth quarter. Earlier in the period, a pair of confident, next-level throws on consecutive snaps reminded Vols fans of just what their quarterback is capable of when not ducking for cover.
The first came with the atmosphere in Neyland Stadium at its nadir: Tennessee still trailed, 13-6, and faced 3rd-and-9 deep in its territory with time beginning to run thin. Up to that point, five of the Vols' previous six possessions had ended with a punt or turnover. But given adequate time, Dobbs successfully scanned the field, set his feet, and delivered a sharp, first-down strike to receiver Josh Malone in between a pair of ASU defenders.
The next snap was the big one, a 67-yard touchdown bomb to Malone that tied the game, snapped the home crowd from its stupor, and left them (along with everyone watching at home) asking aloud, "where did that come from?" Dobbs' longest completion in the first three quarters had covered just 16 yards, and aside from that dreadful interception at the end of the first half he hadn't attempted a pass beyond twenty. The answer is that it came from the cleanest pocket, by far, that he had enjoyed all night:
That's the kind of play Tennessee fans expected to see early and often against a designated mid-major punching bag, and one of exceedingly few from the opener that gave them any solace that the offense is capable of meeting those expectations with better execution. When the pieces finally came together, the picture looked like it was supposed to look.
To Saturday and Beyond
Again, a win is a win, and your overly optimistic friends from Tennessee aren't wrong when they remind you that Appalachian State was severely underrated as a 21-point underdog. The Mountaineers are a veteran outfit that won 11 games last year while finishing among the best statistical defenses in the nation in yards and points allowed. They're probably going to match those numbers again. And regardless of their size, they obviously have better athletes among their front seven than any Sun Belt defense has any right to expect.
Still, outside of the final score it was hard to discern much silver lining going forward. The offensive line was a mess in pass blocking, as we've seen, and not much better in opening holes in the ground game — the Vols' gifted running backs, Hurd and Alvin Kamara, averaged just 3.9 yards per carry between them with a long of 13 yards.
Despite the preseason hype, Dobbs is not a transcendent, improvisational athlete who can consistently salvage positive plays from breakdowns up front. Nor can he be expected to consistently pick secondaries apart without the benefit of a solid rushing attack to soften them up against play-action. He's a stay-within-the-offense quarterback whose success will come as part of the whole, not in spite of it.
This weekend's much-anticipated "Battle at Bristol" date with Virginia Tech is an intriguing novelty — football at a racetrack! — but it's also a litmus test for what Tennessee can rightfully expect against the kind of defense it will be seeing for the rest of the season.
The Hokies aren't as formidable defensively as they were in their best years under Frank Beamer, but they still boast an accomplished pass rusher in senior Ken Ekanem (25 career sacks) and they're still overseen by Bud Foster, widely acknowledged for years as one of the best defensive coordinators in the game. He's also regarded as one of the most aggressive; if anyone knows how to exploit a shaky front and keep a quarterback from finding a comfort zone, it's Foster.
Tennessee offensive coordinator Mike DeBord is … well, not as respected, to put it politely. But Tennessee is equipped to do what DeBord wants to do, which is establish the run, avoid unnecessary risks, and take advantage of big-play opportunities when they arise.
If Hurd and/or Kamara find traction between the tackles, that could open up play-action lanes for Dobbs without rushers immediately bearing down; if Dobbs is sharp, the offense can hum along at the rate it did last year against, say, Georgia, or in the season-ending romps over Vanderbilt and Northwestern that generated so much optimism for 2016.
If the offensive line struggles as much against Virginia Tech's pass rush against it did against Appalachian State's, though, even another ugly victory won't alleviate the sense of impending doom.