SEC
Monday Down South: Yes, Bama is beatable. But how?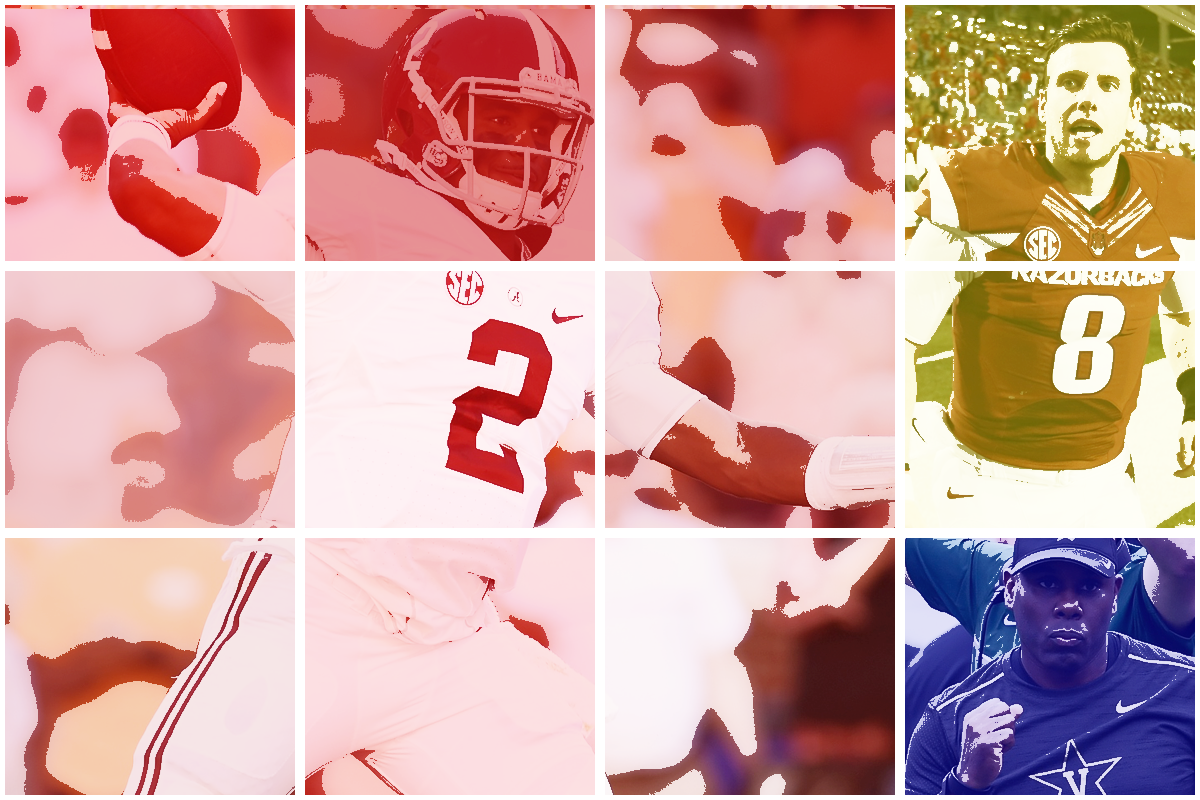 Monday Down South
Yes, Bama is beatable. But how?
By Matt Hinton
October 17, 2016
The mission of this column is to recap the weekend in the SEC with an analytical bent, so here's some hard-hitting professional analysis: Alabama is good. Like, really good. Like, across-the-board, impervious-to-pain, frighten-the-children good. In every phase this team is on pace to fulfill its terrifying potential.
What else is left to say? On Saturday the Crimson Tide stuffed another quality opponent into burlap sack and tossed it into a river, never to be heard from again. The 39-point margin of victory over Tennessee was the most lopsided in the series in 110 years. In four games against ranked teams this year, the Tide have won by an average of 27 points. In the two major polls this week they earned 121 of a possible 125 first-place votes. In a crowded field of contenders they're No. 1 by a mile.
This is not exactly revelatory stuff. At a certain point, writing about Bama's complete and utter dominance under Nick Saban is about as exciting as writing about the wallpaper. You know, it's just … there.
Including this week, the Tide have spent 47 weeks since 2008 atop the AP poll. And while the 2016 edition is unique in certain ways — the freshman quarterback, the spread-option offense (!), the relentlessly thirsty defense — at its core it's fundamentally indistinguishable from the most decorated, devastating outfits that came before. Eventually there are only so many ways to say, "these guys are good."
Alabama carrying the conference? @Aggies will disagree. pic.twitter.com/TW0KejDhmX

— Saturday Down South (@SDS) October 17, 2016
By now, that point is so deeply embedded in the collective brain of college football fans that, in these moments when the Crimson colossus expands to its full height, it's more interesting to ask the opposite question: Are these guys vulnerable? More specifically, how are these guys vulnerable?
Because there hasn't been anything written or said in the wake of Saturday's blowout that hasn't been written or said before, about equally impressive teams that inevitably walked into ambush, and at some point all of those teams were at least temporarily exposed. The past five times Alabama held the top spot before the final poll of the season (that is, every year from 2010-14) it lost the distinction in stunning fashion, in games it was favored to win by more than a touchdown. A couple of those teams rebounded from those losses to claim championships anyway; not one of them was invincible.
Has this team transcended the concepts of vulnerability, attrition, and Achilles' heels? It's possible. It's also possible, maybe even likely, that eventually they'll be undone by one of these weak links when they (and we) least expect it:
1. The Secondary Is Slightly Flammable. Emphasis on slightly: Man-for-man, Bama is as capable in the back end as any secondary in the game, and proved against USC and Tennessee that it has no problem putting a talented attack in a straitjacket. But where the front seven has been impenetrable week-in, week-out — the Tide lead the nation in rushing defense, yards per carry allowed, and sacks — the secondary has been lit up twice, by Ole Miss and Arkansas, for 400 passing yards and three touchdowns apiece. Altogether Alabama has given up 24 passes of 20 yards or more, tied with Georgia for most in the SEC.
2. The Kicking Game is Still Shaky. The return game is fantastic, a perennial threat that's already housed three punts in seven games. But senior Adam Griffith, of "Kick Six" fame, is just 8-of-12 on field goal attempts this year and 44-of-66 for his career. If he lines up for an attempt of any consequence, most of the same fans who relished their Rammer-Jammer swagger Saturday will be in puddles on the floor.
3. The Quarterback is a Freshman! Jalen Hurts has been steady and occasional spectacular within the scheme, which has proven surprisingly adaptable to his talents. Despite his arm strength, though, at this early stage in his career Hurts is still raw and inconsistent as a passer.
It remains to be seen whether he can carry the offense for any extended period of time if the running game stalls (it hasn't yet), or if he's forced into a must-pass situation to rally Alabama from behind.
(Remember, the rapid comeback from 21 points down at Ole Miss was fueled by a pair of defensive and special teams touchdowns, allowing Hurts to stay in his comfort zone.)
There's a reason no true freshman QB has led his team to a national title since Oklahoma's Jamelle Holieway in 1985, or come close. Even if Hurts breaks the mold for fresh-from-high-school starters (he does), that remains a treacherous bridge to cross.
And heaven forbid, but what if Hurts is forced out of the lineup for any reason? The top backup, Blake Barnett, has already opted to transfer; that leaves third-string junior Cooper Bateman, who had every opportunity to win the job the past two years and couldn't. If Bateman has to play for any length of time against, say, LSU, or in the SEC Championship Game, all bets are off.
4. The Defense and Special Teams Can't Keep Scoring. It just can't. Bama has scored at least one non-offensive touchdown in nine consecutive games, an astonishing streak that's taken on a life of its own and reflects the Crimson Tide's amazing talent level, etc., but at some point must end. When it does, how much will those points be missed?
If that case doesn't convince you … well, I can't say it really convinces me, either. I'm almost certain it doesn't convince the teams that have had the misfortune of having to play Bama so far. But for the outfits that still have to, there is hope. It's small, speculative, and frankly farfetched. But it's always there.
NOTEBOOK
Around the conference.
FLORIDA 40, MISSOURI 14
At various points this year, Drew Lock has looked like a quarterback on the verge of growing into his blue-chip arm — primarily against terrible competition, sure, but also in Mizzou's down-to-the-wire loss to Georgia, where Lock countered three interceptions (not all of them his fault) with 376 yards passing and three touchdowns. If the negatives that defined his dismal freshman campaign were still evident in September, at least now there were glimpses of his reported potential, too.
But there was no silver lining in Lock's past two outings, back-to-back catastrophes against LSU and Florida that, on paper, are every bit as hopeless as his darkest days in 2015. His final stat line in Gainesville (4-of-18, 39 yards, two INTs, zero TDs) added up to the worst single-game efficiency rating of any FBS passer this season with more than a dozen attempts, and that number doesn't account for the fact that both of his interceptions were returned for Gators touchdowns.
Florida's secondary is first-rate, but at this level, this decision is about as bad as it gets:
Quarterbacks always take too much of the blame when things are going badly, but halfway through his sophomore season Lock simply looks lost. Given his advance billing as a recruit — and given that he was thrown to the wolves last year in a volatile, no-win situation — Missouri is heavily invested in Lock's long-term growth and success.
But neither has been evident so far, and unless he makes tangible strides over the second half (the next four weeks offer very winnable dates against Middle Tennessee, Kentucky, South Carolina, and Vanderbilt, all but one of them in Columbia) it's getting harder to imagine them coming to fruition.
ARKANSAS 34, OLE MISS 30
Offensively, at least, this was the platonic ideal of a Bret Bielema victory: Arkansas ran 51 times, effectively balanced run (200 yards) and pass (229), and dominated time of possession by more than a two-to-one margin. Excluding end-of-half kneel-downs, 10 of the Razorbacks' 12 possessions ended in Ole Miss territory; six resulted in points. The game-winning drive in the fourth quarter embodied the night as a whole — 10 plays, 4:39 off the clock, 29 yards rushing, 27 yards passing. Touchdown.
Although they lack the backfield depth they've enjoyed the past couple years, the Razorbacks appear to have found a viable every-down workhorse in Rawleigh Williams III, a one-time Ole Miss commit who ground out a career-high 180 yards against the Rebels on 27 carries.
Adjusted for competition (and for negative yardage on sacks), it was Arkansas' best rushing effort of the season across the board, a relief after quarterback Austin Allen was forced to put up a combined 90 passes in his first two SEC starts, losses to Texas A&M and Alabama. (On Saturday Allen finished 19-of-32 with three touchdowns and an interception.)
The defense did its part to bring that number back within a more Bielema-esque range by holding Ole Miss' offense relatively in check; the Rebels averaged a season-low 5.8 yards per play. But that's a much easier assignment when Chad Kelly and Co. spend two-thirds of the game watching from the sideline.
VANDERBILT 17, GEORGIA 16
All credit to Vanderbilt for sniffing out the 4th-and-1 toss play that decided the game, and especially to linebacker Zach Cunningham for making a sound open-field tackle on one the league's shiftiest players, Isaiah McKenzie, short of the line to gain. (See below.)
But from the perspective of a Georgia fan, everything about the call seemed wrong. With a yard to go, why take the ball out of Nick Chubb's hands — Chubb lined up as a lead-blocking fullback on the play, though he didn't actually block anyone — and instead put it in the hands of a diminutive slot receiver who'd yet to log a carry in the game?
And why on earth stick with the same play even after Vandy, just a few moments before, had responded to McKenzie's pre-snap motion into the backfield by calling timeout to adjust?
"We really thought we had the exact defense we wanted," said Kirby Smart, who told reporters Georgia was expecting Vanderbilt to bring its linebackers on an inside blitz that had worked on a couple occasions earlier in the game. "I would have called timeout if they weren't blitzing up the middle. But once I saw the blitz up the middle, we had the call we wanted."
That checks out — upon further review, Vandy's linebackers clearly did show blitz prior to the snap:
Adding to Georgia's confidence, the call in question was essentially the same I-formation sweep play that resulted in two touchdown runs in the Bulldogs' season opening win over North Carolina. Even against the specific defense they hoped to exploit, though, this time the execution was sorely lacking — instead of charging headlong into the A-gap, Cunningham (No. 41 below) read the toss, easily eluded an attempted reach block by center Brandon Kublanow (No. 54), and flowed behind Chubb (who, again, is not a fullback) to wrap up McKenzie.
A bigger back might have been able to break Cunningham's tackle, or at least generate enough momentum to drag him across the line; a full-time blocking back might have gotten a hat on Cunningham and prevented him from laying a hand on McKenzie at all. But in every detail, from the pre-timeout preview afforded to the defense to the out-of-place personnel, this effort seemed set up to fail.
BYU 28, MISSISSIPPI STATE 21 (Overtime)
For postseason purposes, this was a game Mississippi State badly needed to win. Instead, the after-hours loss in Provo dropped the Bulldogs to 2-4 with the worst of the division gauntlet (Texas A&M, Alabama, Arkansas, Ole Miss) still ahead of them; the way they've played through six games, that all but ensures MSU's first losing season since 2009, Dan Mullen's first year on the job.
And if you thought it was self-evident that six straight winning seasons at Mississippi State would be enough to buy Mullen a mulligan, well, you thought wrong. Even before last Friday, certain sections of the fan base were beginning to brace for impact.
The idea that Mullen's job might be in jeopardy is plainly crazy, or should be. Mississippi State has only won nine games in a season eight times; three of those have come under Mullen, more than any other coach.
Two of the five highest-ranked finishes in school history (11th in 2014, 15th in 2010) came on Mullen's watch. Since 1960, Mullen is second among MSU coaches in overall wins (behind only Jackie Sherrill) and winning percentage (behind only Bob Tyler). The 2014 campaign, which saw the Bulldogs tie the school record for wins, spend five weeks at No. 1, and finish in the Orange Bowl, was the best season in living memory. And all those preseason articles that insisted the only nationally relevant quarterback who has ever passed through Starkville would be impossible to replace? Surprise: They weren't kidding.
On the other hand, now that bowl games are the norm it's no surprise Mullen is being judged harshly against the elevated standard he's set for himself, and at $4 million a year he's being paid accordingly.
Mississippi State is in the process of hiring a new athletic director, one whose immediate priorities will involve haggling with Mullen's new agent. No fan base is content with going 7-5 in perpetuity, especially once they've had a taste of a playoff chase; the sense that the window has closed for sustainable progress is a palpable letdown. Still, Bulldogs fans who think they can do better with the next hire are forgetting a half-century of evidence that suggests worse is far more likely.
REORIENTATION
Time to rethink … The Demise of the SEC (West) Superiority Complex
Each week, I check the prevailing wisdom in the polls and elsewhere against the cold, data-driven conclusions of five sets of advanced-stat rankings: ESPN's Football Power Index, Bill Connelly's S&P+ ratings, Sports Reference's Simple Rating System, and longstanding rankings published by Jeff Sagarin and Kenneth Massey.
Each system is very different, and they often yield different results. This week, though, there's some surprising unanimity — in sharp contrast with the mainstream human polls, all five advanced-stat systems rank at least four of the top five teams in the SEC West (Alabama, Texas A&M, LSU, Auburn, and Ole Miss) among the top dozen teams nationally.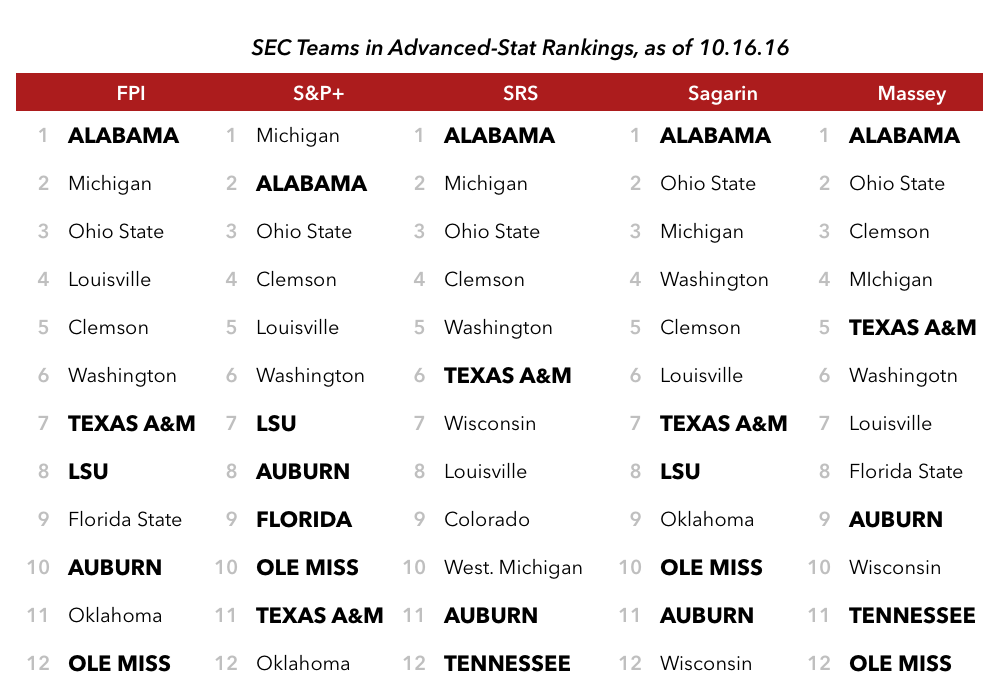 Alabama and A&M are obvious and correspond with their place in the AP and Coaches' polls. But that's a surprising level of statistically rigorous love for three teams (LSU, Ole Miss, and Auburn) that already have multiple losses and are barely hanging on in the human rankings.
Consider that one of those teams has already fired its head coach, another may still be thinking about it, and the third is currently sitting at 3-3 on the year — and yet, somehow, independent, unrelated algorithms all agree that they're all on the short list of the best teams in the country.
Either the toughest division in college football really is that tough, or else the chasm between the top seven teams nationally and everyone else is even larger than it seems.
Oh, and if you're wondering where 5-2 Arkansas fits into this picture: Good question! The Razorbacks easily rank higher than LSU, Ole Miss, and Auburn in the AP and Coaches' polls; in the advanced rankings, on the other hand, only Massey's system ranks the Razorbacks in the top 25. I'm not sure how the others square their skepticism with the Hogs' wins over Ole Miss and TCU (not to mention that both of their blemishes are "quality" losses at the hands of Bama and A&M), but with Auburn, Florida, and LSU on deck, Arkansas will have plenty more opportunities to make up the difference.
SUPERLATIVES
The best of the week …
Vanderbilt LB Zach Cunningham. Playing at Vanderbilt is a foolproof way to preserve one's anonymity, but if you weren't hip to the Commodores' criminally underrated, All-SEC tackle machine before this weekend, you no longer have an excuse: Cunningham was the undisputed star of Vandy's upset win at Georgia, finishing with 19 total tackles (a career high) for a unit that held Nick Chubb to 40 yards rushing, his career low as a starter.
That total included three tackles for loss and, with the game on the line, the single biggest stop of Cunningham's career on the decisive 4th-and-1 play in the final minute.
With that tackle, the Commodores clinched their biggest win to date under Derek Mason — a win that could go a long way toward saving his job — and Cunningham came in for some long-overdue recognition as one of the nation's best defenders.
Just to put the defense's performance into context: Vanderbilt won a conference road game in which it a) entered as a 14-point underdog, b) gained a paltry 171 yards of total offense, and c) didn't force a turnover. Meanwhile, on eight trips into Vandy territory, the Bulldogs managed only one touchdown.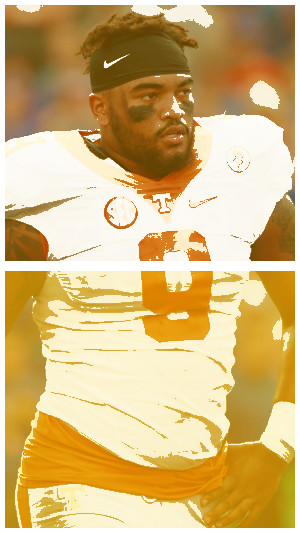 Tennessee DE Derek Barnett. Even a 39-point beatdown in the biggest game of the year wasn't enough to take the shine off Barnett's season — to the extent that Tennessee looked competitive at any point, he was the reason, thanks mainly to a sack-and-strip in the second quarter that set up the Vols' only touchdown "drive" at the Bama 11-yard line. (Barnett blew by another future first-rounder, Cameron Robinson, to force the fumble.) Later, Barnett was also responsible for Tennessee's only other takeaway, an athletic, dancing-bear interception off a tipped pass that stopped a long Alabama drive in its tracks just before the half.
Neither play turned the tide, of course, but in retrospect they were the only moments that offered UT fans any glimmers of hope that it might even be possible. And it reinforced that wherever his team winds up in the final polls, at least its best player can always be counted on to justify the hype.
Catch of the Year of the Week: Quincy Adeboyejo, Ole Miss. The ball is in the air so much these days, sometimes I wonder if tightly contested, one-on-one catches like this one, on which the elder statesman of the Rebels' NFL-ready receiving corps used every inch of his 6-foot-3 frame to bring down a jump ball over Arkansas' Ryan Pulley, are coming to be taken for granted.
True, Ole Miss has four or five other guys who can also pull down trampoline-style grabs on a somewhat reliable basis. (The rest of the conference may only have four or five other guys combined.) But sometimes the mere fact that both Chad Kelly and his coaches trust that this throw will end well — that it's actually built into the offense — is as incredible as the catch itself. Which is pretty incredible.
MISCELLANEOUS POWER RANKINGS
The best things in the SEC this week.
1. Alabama's Front Seven. Including negative yardage on sacks, Tennessee finished with 32 yards on 32 carries, with a long gain of 12. Every member of this unit should already be playing in the NFL. (Last Week: 1)
2. The Lane Kiffin Revenge Tour. In September, Alabama dropped 52 points on Kiffin's former employer, USC, before the Tide hadn't even firmly settled on Hurts as their quarterback. On Saturday, he left his former stomping grounds in Knoxville with 49 on the board, school records in his sights, and one sardonically tossed visor into the crowd.
"@B_Kamerman: Lane Kiffin with the "visor flip." #BAMAvsTENN #RollTide pic.twitter.com/emtO8R5Ll2"

— John Gould III (@coachjg3) October 15, 2016
He's enjoying this. Just look at his face. He really is. (LW: Unranked)
3. The Orgeron Effect. At halftime, LSU was tied with Southern Miss, 10-10. In the third quarter, the Tigers achieved liftoff, exploding for four touchdowns in a span of 10 offensive snaps, including a 61-yard run by Derrius Guice and consecutive passes by Danny Etling covering 80 yards and 63 yards, respectively. LSU won 45-10, giving it more points in Ed Orgeron's first two games as the interim head coach (87) than it scored in its first four games this season under Les Miles (84). (LW: Unranked)
4. Texas A&M's Pass Rush. The Aggies were off this past weekend ahead of Saturday's trip to Tuscaloosa, all the better for all-galaxy edge rusher Myles Garrett to get himself right during the bye after battling a knee injury. A&M's front is the only other SEC unit that gets after opposing quarterbacks at anywhere near the same rate as Alabama's, and might be the best chance anyone has to disrupt Hurts' ascension. (LW: 3)
5. The Vol Renaissance. Any visions of a playoff run are dead and buried, and now there's ground to make up against Florida in the East Division race, too. But the worst is behind them: After facing Florida, Georgia, A&M, and Bama in consecutive weeks, the Vols get a week off before a nice, non-threatening stretch to close the season — against South Carolina, Tennessee Tech, Kentucky, Missouri, and Vanderbilt — that offers a direct path to UT's first 10-win season since 2007. That was also the last time Tennessee played for the SEC Championship, a streak that will likely end with a stumble by Florida against Georgia or LSU. (LW: 9)