SEC
Monday Down South: Leonard Fournette falls back into the Bama abyss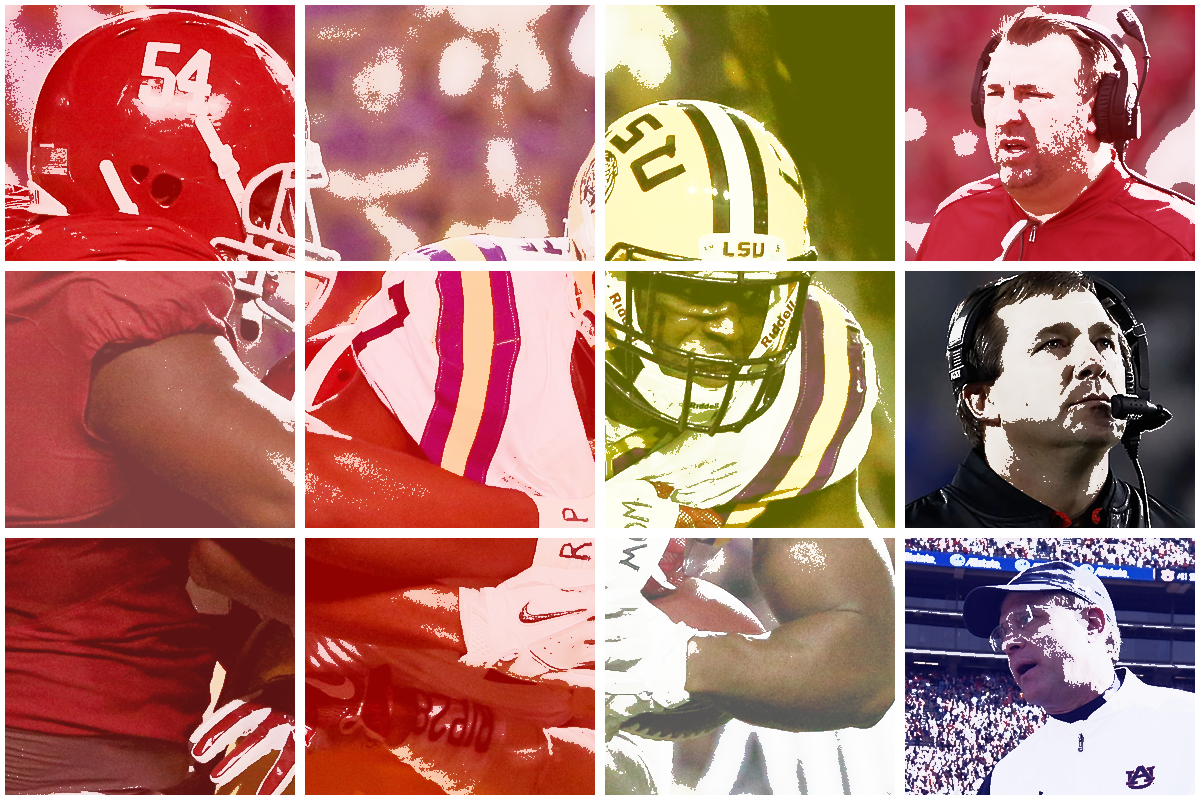 Generally speaking, Alabama's reputation in the trenches precedes it. And to the extent that it burnished that reputation, the Crimson Tide's latest demystifying mugging of Leonard Fournette, in Saturday's shutout win over LSU, was nothing we haven't seen before. Many times, in fact. You know the drill. The Tide came into the weekend allowing fewer rushing yards per game and per carry than any other FBS defense; on the other side, their lead has widened in both categories. Another week, another case of Bama being Bama en route to their 21st consecutive win.
By now, this brand of brute-force, salt-the-earth defensive struggle under Nick Saban shouldn't require a whole lot of sophisticated analysis. Just for the sake of posterity, though, it's worth reemphasizing just what a preposterous outlier their manhandling of Fournette really is.
In his past 20 games dating to 2014, only one other defense (Arkansas last year) has managed to hold Fournette below 100 yards, and none has held him below 4 yards per carry. Even when was "struggling" at the start of this season, Fournette eclipsed the 100-yard mark vs. Wisconsin, Mississippi State, and Auburn before going electric in his career-high romp over Ole Miss.
Then there's Alabama, which has limited him to 66 yards the past two years combined, on a pathetic 1.8 per carry. On both occasions the most physically imposing specimen in the college game has been reduced to giving everything he has just to get out of his own backfield.
To be clear, that has very little to do with Fournette, who (like virtually every other opposing back against the Tide) has had no chance in either meeting. I reviewed all of Fournette's carries on Saturday night, and logged them according to three categories: Yards gained before contact, yards gained after contact, and the number of Alabama defenders involved on the eventual tackle: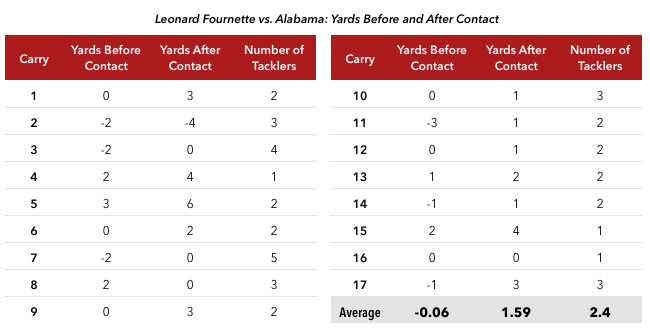 Fournette conceded after the game that he's still dealing with the ankle injury that sidelined him for three games earlier this year, and will be for the rest of the season. But it's not like the guy was going down easy — he met immediate resistance at or behind the line of scrimmage every time he touched the ball, followed by plenty of secondary resistance in the form of swarming tacklers.
Here are three examples from the first half in which the line of scrimmage effectively moves two yards into the backfield before Fournette can even get back to the original line:
At least on that play I can discern a couple of reasonably competent blocks on the backside. On this one, I don't even see that — try to identify a single Alabama player who is successfully blocked here:
Both of the above plays were made primarily by OLB/DE Tim Williams (No. 56) setting the edge, forcing Fournette to turn inside, and hanging on until help arrives to finish off the tackle. And although he doesn't make the tackle on the next one, again, Williams effectively makes the play by knifing into the backfield, overwhelming two blockers (RT Toby Weathersby, No. 66, and FB J.D. Moore, No. 44), and forcing Fournette to cut directly into the arms of two unblocked linebackers:
You get the idea. Those are some of the more extreme examples of chaos and dysfunction, but they're not an unfair representation of the whole, for Saturday night or for the rest of the season.
For all of the hype this year about how much has changed on Saban's watch — a dynamic freshman quarterback, operating in a modern, spread-friendly scheme tailored to his mobility — when confronted with a 2011-style slugfest the Crimson Tide instinctively reverted to form; Jalen Hurts, the prodigy at the wheel of an offense that had been on pace to set school records for yards and points per game, suddenly looked very much like his stereotypical, play-within-the-offense predecessors, more concerned with avoiding the killer mistake than pushing for the big play. (Right up to the moment, of course, that he delivered the only big play the team would need.)
Can a team that relies on a true freshman quarterback win a national championship? If it's this team, opposite this defense, yes. Sure. Obviously. The real question Saturday, as it's been so often in the past, was how relevant the quarterback ever was to the outcome in the first place.
NOTEBOOK
Around the conference.
ARKANSAS 31, FLORIDA 10
Well, we suspected as much, and after the debacle in Fayetteville I think it's safe to say: Florida is not good. The Gators plummeted from No. 10 in the AP poll to No. 22, and you don't need more than a quick glance at their schedule to date— or their offense, generally — to know the pollsters are being very generous.
Still, even in the wake of such widely acknowledged ineptitude Florida remains the class of the SEC East, which is beginning to feel like being elected mayor of the Titanic. How bad is that division right now as a whole? Let us count the ways …
1. Despite losing by three touchdowns to the fifth-place team in the West, the Gators remain in sole possession of first place in the East by a half-game over … Kentucky, which (at 4-3) is still in search of its first winning conference record since 1977. In fact, at this point no team in the East is assured of finishing above .500 in SEC play.
2. East teams are collectively 1-8 against the West this season, the lone victory being Kentucky's come-from-behind, 40-38 win over Mississippi State on Nov. 22, courtesy of a last-second field goal. Of the five remaining cross-division games, the East's best odds at another win (according to ESPN's Football Power Index) is Missouri's date with Arkansas on Nov. 25, where FPI gives Mizzou a 39.7 percent chance.
3. Out of nine divisions in the Power 5 conferences, the SEC East ranks dead last in overall strength according to computer polls overseen by both Jeff Sagarin and Kenneth Massey. (Both of which rank the SEC West as the strongest division, for the record.) That puts the East behind the Big Ten West, the ACC Coastal, and the entire Big 12. If you could take the top half of the American Athletic Conference, regardless of division, it would come out ahead, as well.
Of course, somebody has to win this thing, if only for the sake of staging the most lopsided SEC Championship Game on record, and you have to bet on one turtle to lumber across the finish line first then the smart money is still on the preseason favorite, Tennessee. Yes, based on the current standings the Vols (2-3 in-conference) still need Florida (4-2) to lose at least one of its remaining conference games to trigger the head-to-head tiebreaker. And yes, the Vols ended the month of October in a tailspin, beset by key injuries and a three-game losing streak that seemed to get worse by the week; Jalen Hurd's abrupt departure last week only added to the sense that the team is unraveling, and Saturday's blowout win over Tennessee Tech doesn't change that.
But the simple fact is that Tennessee has the most advantageous schedule down the stretch, by far. Of the five teams that can still win at least a share of the division (Florida, Kentucky, Georgia, South Carolina, and Tennessee), here's how FPI rates their chances in their remaining conference games: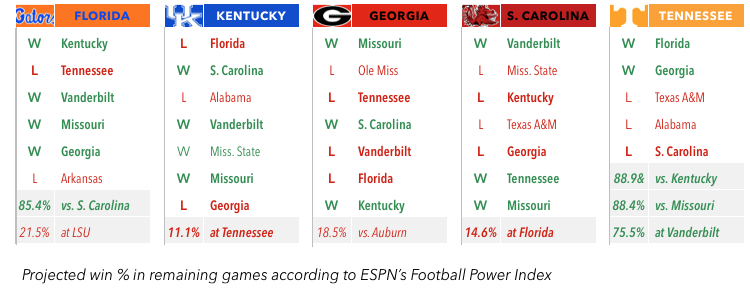 The percentages aren't forecasting any toss-ups: If each of those games breaks as expected, Tennessee and Florida will finish tied at 5-3, and the head-to-head tiebreaker will favor the Vols … whose likely reward is then a rematch with the same Alabama team that beat them 49-10 a couple weeks back in Knoxville.
There is a scenario (if Florida loses each of its last two to South Carolina and LSU; Georgia upsets Auburn; and Tennessee follows a win over Kentucky by splitting its last two against Mizzou and Vandy) in which all five teams can finish 4-4, which frankly feels like the most accurate possible result. Like, on a cosmic level. But not a statistically sound one.
MISSISSIPPI STATE 35, TEXAS A&M 28
The Aggies heard your concerns about their lofty playoff ranking and responded promptly to remedy the situation, yielding more than 350 yards and 28 points in the first half alone en route to the biggest in-conference upset of the season. That's biggest not only in the sense of "most shocking," although it was certainly that — Texas A&M was a two-touchdown favorite — but also most consequential: Along with LSU getting choked out in its biggest game of the year and Florida flopping its way out of the Top 10, A&M biting the dust in one of its most winnable conference games all but kills the impossible dream of getting two SEC teams into the playoff field. It also officially eliminated the Aggies from winning the West, leaving Auburn in control of its own championship fate. Oh, and starting quarterback Trevor Knight left the game with a bum shoulder, for good measure; his status for this weekend's game against Ole Miss and beyond is TBD.
At 7-2, A&M should be beyond the "November collapse" narrative that's plagued it the past couple years, and if another late-season plunger is a concern it helps that the Aggies' next two opponents are Ole Miss (which is mired in an injury-ravaged swoon of its own; see below) and UT-San Antonio, both in College Station. LSU has to visit for the season finale, as well, and is just as likely to go careening off track after putting everything into a game in which it didn't come close to scoring a touchdown. Even if they finish strong, though, or perhaps especially if they finish strong, after opening up in pole position for a playoff bid it will be hard to shake the sense that this was a missed opportunity.
On a brighter note, yeah, they're not calling for Dan Mullen's job anymore in Starkville. Just, you know, keep it competitive in the Egg Bowl, just to be safe.
AUBURN 23, VANDERBILT 16
At 7-2, Auburn has reached that point in every successful season when all other data points are absorbed into the all-defining march to the Iron Bowl: Barring a major surprise this weekend — Auburn opened as a 10-point favorite at Georgia — the Nov. 26 showdown with Bama will decide the West, and most likely the SEC rep in the playoff.
To that end, the most significant development Saturday was an apparent injury to the league's leading rusher, Kamryn Pettway, who "pulled something, obviously," at the end of a 60-yard run in the fourth quarter that would have gone for a touchdown had Pettway not pulled up lame.
That could be a very big deal for Auburn's chances down the stretch, or not; as of Sunday night, it was uncertain just what Pettway pulled, or how severely, or how long it stands to keep him out of the lineup, if at all.
But it is certain that the Tigers' offensive resurgence over the past six weeks coincided with Pettway's emergence as an every-down thumper between the tackles, and he's carried such a massive workload in that span that it's hard to say what the offense will look like if he's not back in time for the Crimson Tide — remember that before Pettway became a fixture the offense was in such desperate straits in September that the notion of a meaningful Iron Bowl with something more than Gus Malzahn's job at stake would have sounded like a miracle.
In the meantime, the great leap forward has been built primarily around Pettway's endurance and consistency: With 173 yards Saturday, he became the first Auburn player with four consecutive 150-yard rushing games since Bo Jackson's Heisman season in 1985. Just think back through the line of enormously productive backs who have come through the Plains in the past 30 years to really put that streak into perspective.
The other notable development for Auburn was significant, extended playing time for backup QB John Franklin III, who earned his first career start in place of a banged-up Sean White and did … eh, just fine, mostly, depending on who you ask.
The Tigers opened with a 63-yard touchdown drive on their first possession, aided by a couple Franklin carries for first downs; from there, their remaining possessions in the first half resulted in a three-and-out, a fumble, and a field goal before coaches decided to roll the dice with White in the second half. As advertised, Franklin presented no passing threat whatsoever (he was 2-of-4 passing for 9 yards) and the offense as a whole looked sluggish on his watch compared to its output over the past month.
That doesn't necessarily mean there's no place in the offense for the big-play potential fans hoped to see from him this year, and that Franklin has occasional flashed in his brief appearances. But it's safe to say at this point that the second coming of Nick Marshall, he is not. If White's shoulder problems persist, will the offense be reduced to a glorified Wildcat package?
REORIENTATION
Time to Rethink: Ole Miss' Quarterback Timeline.
Chad Kelly's college career is over, the casualty of a torn ACL and lateral meniscus in the Rebels' otherwise routine, 37-27 win over Georgia Southern. Despite his late arrival from junior college, Kelly will finish third on Ole Miss' all-time passing charts in yards and touchdowns, and first in completion percentage, yards per pass, and pass efficiency. Last year he led the Rebels to their first Sugar Bowl win (and Top-10 finish) in 46 years; this year he's accounted for nearly 75 percent of the team's total offense, easily the largest individual share of any player in the SEC. Opposite the league's most generous defense, he gave Ole Miss a chance to win almost every week.
Now, his sudden absence leaves Hugh Freeze with two options: a) Stick with redshirt freshman Jason Pellerin, who has served as Kelly's primary backup this season on top of spot duty in short-yardage packages; or b) Pull the redshirt from five-star freshman Shea Patterson, the No. 1 QB prospect in the 2016 class and, presumably, the face of the program beginning in 2017. (On Saturday, Freeze also half-joked that he might get in touch with Ryan Buchanan, a former four-star recruit who gave up football in February but remains enrolled at Ole Miss, about suiting up for this weekend's trip to Texas A&M. Don't count on it, but you know, there's a reason he was only half joking.)
At 4-5, the Rebels have nothing in particular left to play for except in-state bragging rights against Mississippi State and a bottom-rung bowl bid; why waste a full year of Patterson's precious eligibility in pursuit of mediocrity? Most likely, Freeze won't.
On the other hand, though, a relatively low-stakes November might be the perfect opportunity to begin getting Patterson up to speed before he settles into the full-time starting role as a sophomore. If he's as good as advertised, he won't be around as a fifth-year senior in 2020, anyway. And other true freshman QBs in Patterson's class have already made rapid progress; if it really is his team in 2017, why make the learning curve any steeper?
SUPERLATIVES
The best of the week…
Alabama LB Reuben Foster. Only on Alabama's defense can a future first-round pick get lost in the crowd — the Tide have so many productive stars on that side of the ball that times this year it's felt like Foster has struggled to get a headline in edgewise. He hasn't featured prominently in the team's chart-topping pass rush, and he's one of the few full-time starters who's yet to pick off a pass, recover a fumble, or score a touchdown.
He is, however, the team's leading tackler, and against LSU he was quite literally at the center of the line that held repeatedly against Fournette, finishing with 11 total tackles (only two of them solo, in keeping with the general theme) and a pair of tackles for loss.
LSU DB Dwayne Thomas. Thomas, a fifth-year senior, distinguished himself last week by predicting LSU's defense would dominate the Tide, and he did his part to back it up: Playing largely from a nickel role, Thomas was credited with nine tackles, three TFLs, a QB hurry, and the highest grade of any LSU defender according to Pro Football Focus. With any production whatsoever from the offense he would have been hailed as one of Louisiana's greatest prophets.
Mississippi State QB Nick Fitzgerald. Fitzgerald, a redshirt sophomore, has spent most of the past year reading and listening to all the ways that he is not Dak Prescott, and probably never will be. But against Texas A&M he delivered his most convincing Dak impression yet, accounting for 391 total yards (209 passing, 182 rushing) and four touchdowns, highlighted by a 74-yard run to open the scoring and a dead-on, 60-yard strike to Fred Ross that served notice that the Bulldogs were going to be there all afternoon.
The rushing total marked Fitzgerald's third consecutive game over the century mark on the ground, with a pair of rushing touchdowns in all three. Even with two interceptions, the rest of his passing stat line was one of his best yet against an SEC opponent. The only downside is, now that MSU fans have seen clearly how high Fitzgerald's ceiling is in Mullen's very QB-oriented system, how much patience will they have when he struggles to reach it on a regular basis?
Vanderbilt LB Zach Cunningham. I've raved about Cunningham repeatedly in the weekly awards section, for obvious reasons that were on display again Saturday against Auburn: The All-SEC junior led the Commodores with nine tackles, bringing his conference-best tally  to 94 stops in nine games. (At one point he also forced a fumble that was inexplicably overturned on review, and therefore didn't show up in the box score.) And then there was this, on a late field goal attempt that would have put the game effectively out of reach:
If that happened in a football movie you'd laugh in disbelief — totally unrealistic! But Cunningham planned the whole thing out in advance, because of course he did:
"I'm supposed to jump (straight) up and try to block the kick from behind the line, but I noticed the center had a cadence," Cunningham told The Tennessean. "So I went to the sideline and asked coach if I was (legally) able to jump over the center."(Linebackers coach Chris Marve) said to jump over (the long-snapper), but not to touch him or land on anyone else."
Oh, is that all? Just time up the snap perfectly and hurdle completely over a giant human without touching him? Sure. No problem. Done, done, and done.
Kentucky RB Benny Snell Jr. Last week, Snell shared this spot with his teammate, Stanley "Boom" Williams. This week, it's all Benny, in keeping with Kentucky's strategy on its final possession against Georgia: Trailing 24-21 with no passing game to speak of, the Wildcats called the true freshman's number on nine consecutive runs — all from the Wildcat, all into the teeth of a defense that knew exactly what was coming — for 35 yards and three hard-fought first downs, advancing the ball from midfield to the UGA 7-yard line to set up a chip-shot field goal to tie.
After Snell picked up 7 yards to set up a first-and-goal, a visibly smoldering Kirby Smart was forced to call timeout to halt the momentum as the crowd chanted Snell's name.
It worked: Georgia contained Snell on his next two carries, forced the tying field goal, then marched for the winning kick as time expired. Afterward, Snell said he blamed himself for failing to finish off the last drive in the end zone, a critique that's admirable in its absurdity: Snell scored two of Kentucky's three touchdowns earlier in the game, and with 114 yards altogether (his third consecutive 100-yard game) he became the first opposing back this season over the century mark against Georgia.
MISCELLANEOUS POWER RANKINGS
The top 10 things in the SEC this week.
1. Alabama's Front Four. Besides bottling up Fournette, the Tide also beat the tar out of Danny Etling, sacking him five times and hitting him on countless others. The book-end pass-rushing combo of Tim Williams and Ryan Anderson has emerged as a week-in, week-out nightmare. (Last Week: 1)
2. Gus Malzahn's Recently Restored Mojo. Auburn is full speed ahead to the Iron Bowl, where recent history has taught us anything (like, almost literally, anything) is possible. But first the Tigers have to get there in one piece. (LW: 3)
3. Zach Cunningham In the National Spotlight. If it takes a spontaneous, unorthodox display of athleticism to get the SEC's most underrated star in front of the rest of the country, however briefly, all the better. Soon enough they'll be seeing plenty of him on Sundays, anyway. (LW: Unranked)
4. Georgia's Bespectacled Kicker. Rodrigo Blankenship added to his minor cult following by knocking through four field goals in the Bulldogs' win over Kentucky, including the game-winner as time expired, then giving a full interview to ESPN in helmet and glasses in which he nonchalantly took a national audience through his warmup routine on the sideline. This man cannot be stopped. (LW: Unranked)
When the division's on the line but you know you got this. pic.twitter.com/sB9aNSoISL

— Matt Hinton (@MattRHinton) November 6, 2016
6. South Carolina's Youth Movement. Three weeks, three wins for true freshman quarterback Jake Bentley, who followed up last week's breakthrough upset over Tennessee with a hyper-efficient performance (22-of-28, 254 yards, 2 TDs, 0 INTs) in a 31-21 win over Missouri. Along with tailback Rico Dowdle, who has back-to-back 100-yard games on the ground, and receiver Bryan Edwards, the Gamecocks have a core on offense that's ahead of schedule and has the potential to be very good together for a long time. (LW: Unranked)
6. Drew Lock Stays Thirsty. From a public health perspective, should Missouri's sophomore quarterback have taken a big swig of whatever it was a frustrated Carolina fan tossed onto the field following an early Mizzou touchdown? I'm not a doctor, but I'm guessing probably not.
— ZouGifs (@ZouCast) November 5, 2016
From a swag perspective, though? It was surgeon general mandated. (LW: Unranked)
7. Trolling Tommy Tuberville. OK, Tommy Tuberville hasn't coached in the SEC for years, and this happened in Cincinnati, following a 20-3 loss to BYU. But the fact that it happened at all guarantees its place on the list.
Frustrated Tommy Tuberville vs a frustrated fan after #UC loss to #BYU. .@WCPO pic.twitter.com/L6anZFpkVV

— Keenan Singleton (@KJMSingleton) November 6, 2016
Tuberville apologized for losing his cool, but presumably has many more sorrys to go to atone for the Bearcats' 4-5 record. (LW: Unranked)
8. Texas A&M's Pass Rush. The Aggies didn't record a sack at Mississippi State, their first sack-less outing of the year after recording at least three sacks in seven of their first eight games. But Myles Garrett and Daeshon Hall remain much to dangerous to dismiss after one shaky effort allowed an opposing quarterback to survive. (LW: 8)
9. The Legend of Leonard Fournette. Fournette will never get another chance to solve Alabama, a fact that to some extent will define his college career. But with three more games to go against Florida, Arkansas, and Texas A&M, any notion that he's mentally checked out in anticipation of draft prep can be quickly disabused. If I could only tune in to watch one active player each week, he's still the pick. (LW: 2)
10. Alabama's Non-Offensive Scoring Streak (R.I.P.). The scoring streak is over after 10 games, a remarkable run that either won't be matched again for years to come , or will be matched immediately by the Crimson Tide merely picking up where they left this weekend against Mississippi State. (LW: 5)