Advertiser Disclosure
This article/post contains references to products or services from one or more of our advertisers or partners. We may receive compensation when you click on links to those products or services.
WV Online Casino: 2023 West Virginia Casino Apps & Promos
Gamblers in West Virginia can dive right in to WV online casinos to play all your favourite casino games from the comfort of your own home. Since becoming legal, all the top casino operators have jumped on board and there is now a great range of online casinos in WV to choose from. Read on to discover some of the best WV online casinos, a review of some of the top apps and as well as the best WV casino promos that you can take advantage of right now!
Our top recommended WV online casino promos are:
How to choose the best WV online casino for you
Whether you're new to West Virginia iGaming and online casino options or just looking for a fresh option, you might be asking, "How should I choose between these options?" Our team is leveraging its extensive experience with these online casino apps and industry knowledge to provide you with a framework on how you might choose the best casino option for you.
You want covered losses during your first 24 hours
If you're looking to get into the online casino app and have your first spins and plays covered, a number of these igaming operators offer great signup bonuses that will cover your losses during the first day.
Here are the best WV online casino offers that will have you covered during the first 24 hours:
Caesars Palace $10 Signup Bonus + 100% Deposit Match – This offer will give you a great signup bonus plus 2500 Rewards points.
BetRivers $250 Covered Losses – This offer by BetRivers will give you 24 hours of casino losses back up to $250. Yes, this means it's not limited to just slots.
FanDuel's $2000 play again – With FanDuel's offer you can get 100% back of your net losses up to $2000 during the first 24 hours on FanDuel Casino.
You want to maximize your initial bank roll with a deposit bonus
These options in WV allow new users to maximize your initial deposit. Deposit match essentially means that the operator will double your first deposit up to a certain amount. Here are your WV casino options with potential deposit matches:
BetMGM $2,500 Deposit Match – This deposit match is incredible. You can double your deposit up to $2,500 right away. Not only that, BetMGM will also give you 50 spins and another $50 in casino credits. This offer is tough to beat.
DraftKings $2,000 Deposit Match – Not to be left out, DraftKings also provides a super healthy deposit match up to $2,000 in value.
West Virginia legalized online casino gaming on March 27, 2019 and launched on July 15, 2020. In addition to the brick-and-mortar WV casinos, users can now fire up a number of top-tier mobile apps and play casino games from home.
In addition to West Virginia, there are a handful of other states where online casino is live and legal. This includes PA online casinos, Michigan, Connecticut and New Jersey. Recent legislative efforts suggest online casino may be coming to states such as New York and Illinois as well.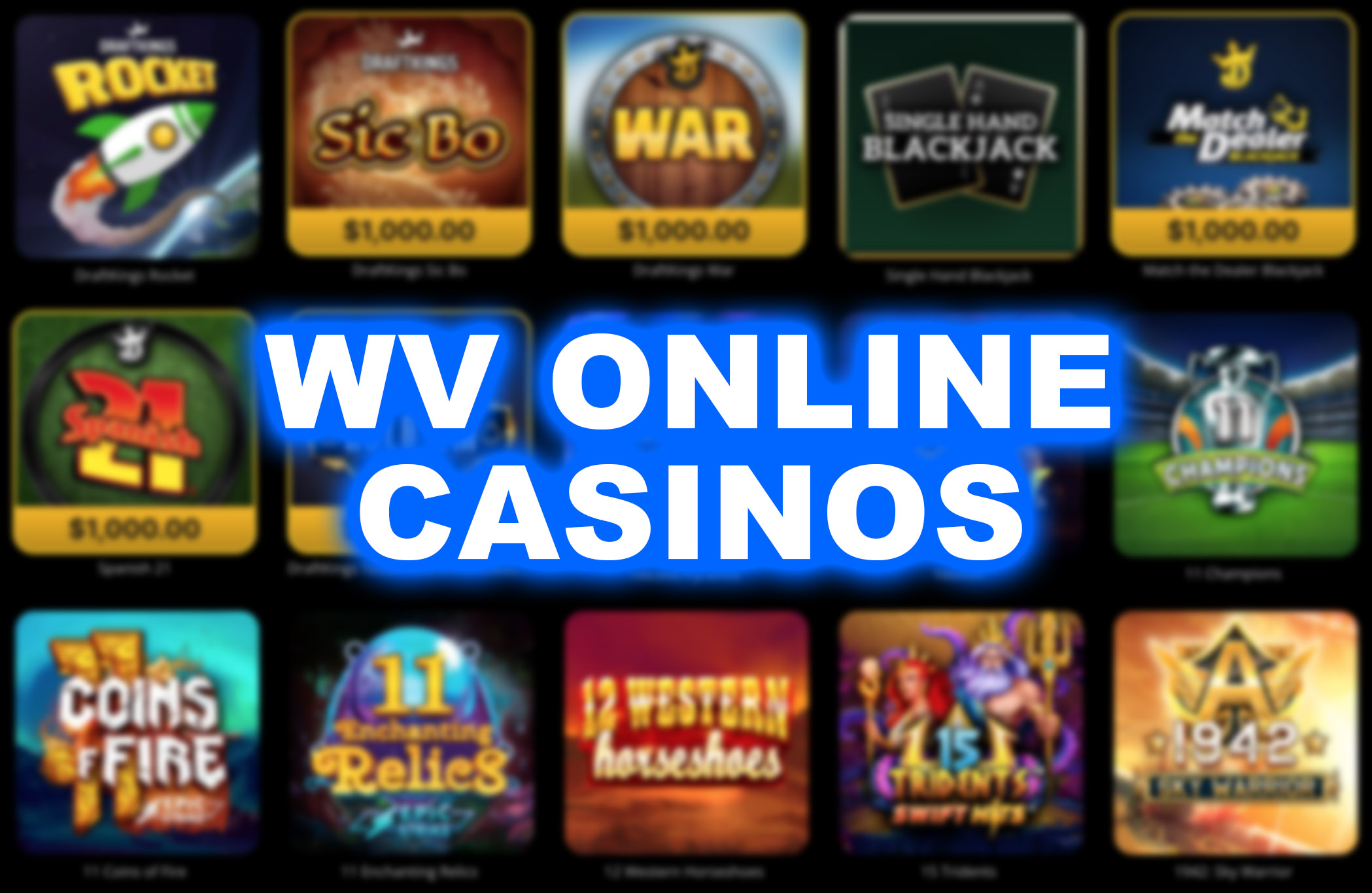 Best WV Online Casino Apps
There are a number of great online casino apps in WV. Here is our ranking as of 12 2023:
Live dealer games launched in WV online casinos during the summer of 2022. Operators such as BetMGM, DraftKings, BetRivers and more offer live dealer games to their users. Live dealer games can include roulette, blackjack and baccarat.
DraftKings Casino
One of the best and biggest brands in sports betting also has an excellent online casino offering for WV users. Take advantage of live dealer games plus DraftKings exclusive games such as its immensely popular Rocket game.
DraftKings new users can swing a 100% deposit bonus up to $2,000 plus an additional $50 in site credit. This is a fantastic new user welcome bonus.
Caesars Palace
Caesars Palace is the new app from one of the world's best gaming companies. The new app launched in August 2023 in West Virginia and includes the fantastic welcome offer of a $10 sign-up bonus with a 100% deposit bonus up to $1,250. Oh, and you get 2,500 in Caesars Rewards points to get you started in one of the industry's best rewards and loyalty programs.
It's not just the welcome bonus, the new app is stocked with excellent games ranging from your favorite slots to live dealer games. Be sure to check out the new WV casino app in Caesars Palace.
FanDuel Casino
FanDuel is the sportsbook leader in the U.S. and for good reason: they nail all the basics about the offering. The brand, the app, the user experience. It's all there. And casino is no different. While FanDuel doesn't offer any exclusive games yet, if you're looking for standard casino games and slots and a good welcome bonus, FanDuel has you covered.
WV users can snag a $1,000 "play it again" bonus as well as $100 in site credit by signing up for FanDuel casino today. This means that after your first day, if you're down, FanDuel will refund it up to $1,000. Then, they'll also give you $100 in site credit in four $25 weekly installments. It's a great offer for new users.
BetMGM Casino
Our top recommended WV online casino is BetMGM Casino where you can score a 100% deposit match + $50 in site credits and even 50 free spins. BetMGM's deposit match goes up to $2,500 in value, so your initial deposit is a great time to increase your bank roll.
BetMGM brings one of the industry's most well known brands to West Virginia gamers. Not only does BetMGM have a whole host of excellent casino games, BetMGM was one of the first operators to bring live dealer games to WV. You can play baccarat, blackjack, three card poker and more all with live dealers.
Take advantage of one of the best welcome bonuses going in West Virginia. Users can get a deposit match up to $2,500. You'll get $50 in casino credits immediately upon signing up for your account. Then after your deposit, you can claim 50 free spins on the Bellagio Fountains of Fortune slots game. Click here to get started and snag this welcome offer.
BetRivers WV Casino
West Virginia casino users can take advantage of a great promo at WV BetRivers where you will get $250 in covered losses during the first 24 hours. BetRivers offers a number of casino games including popular slots, blackjack, roulette, let it ride, and more. Click here to take advantage of this great welcome offer for new WV casino users.
Live Dealer Games Available in WV
Live dealer games are available across a number of the WV online casino apps. Live dealer games mean that when you play the game on the app, you are not interacting with a computer simulation or animation of the game, but video of a live dealer. Live dealer offerings have become increasingly popular in iGaming as many users prefer them. Whether it's just a more realistic gaming experience or users tend to trust a real person dealing cards and hands, these live dealer games are only increasing in popularity.
Online casino operators such as FanDuel, DraftKings and BetMGM use live studios – often times with third parties such as Evolution – to power the live dealer games in their casino apps. You can sometimes see the difference between shared tables and exclusive tables. An exclusive table means only users of the app you are using can play on this table, and the table will often have the branding of the app on the table itself. Shared tables do not show specific app branding, are more generic, and can share users across platforms at the same table regardless of the app you are playing on. Operators aim to offer exclusive tables as much as possible because they like the branding on the table, and users often have a better experience with lower wait times.
Live dealer games in WV can include baccarat, blackjack, three card poker, roulette, ultimate Texas Hold'em and more.
West Virginia Online Casino Deposit Methods
Similar to other legal states, online gamblers in West Virginia have the option to deposit funds into their account in multiple ways. This gives you plenty of choice of how to deposit funds, with most of them adding the funds to your account immediately. The following deposit methods are typically available:
Online banking
echeck
Credit or debit card
Paypal
Wire Transfer
It is worth noting that not every WV online casino offers the same deposit methods. We recommend using online banking where possible as it will have the most frequent success. Credit card and debit card deposits historically have shown to get blocked on occasion, but this has improved as online gaming has become more normalized in the U.S. market and you shouldn't have any problems depositing via debit or credit card.
WV Online Casino Bonus Codes
Bonus codes give you a great chance to get started and add funds directly to your account to place your first bet. While the promo code remains a constant in online offers, the above casino sign-up links have the promo codes registered with the link. Click on one of the links and it will automatically activate the bonus upon signup.
There are some great different types of that you can take advantage of. One of the best is a WV online casino no deposit bonus. This allows you to claim a certain amount funds that you can usually play with straight away when registering for an account.
Free play bonuses can sometimes come with simply signing up for an account, and don't require a deposit. For instance, BetMGM's offer above will give you $50 in free play before you even make a deposit. The $50 free play does have wagering requirements before you can withdraw any winnings associated with it.
Additionally, it's not uncommon for online casinos in West Virginia to occasionally send you an offer or reload bonus to continue to engage and encourage game play.
Is Online Poker Legal in WV?
Online poker was included as part of the legalized online gambling that the West Virginia Lottery Interactive Wagering Act (H-2934) enacted in March 2019. While online casinos and sportsbooks have launched in West Virginia by a number of major companies, online poker remains yet to launch.
Online poker is tricky for operators. When a state like West Virginia with a somewhat limited population (under 2 million people) rolls out online poker, it can be difficult for operators to house a successful online poker market due to the lack of players. One solution to this which has been used in other markets, especially Europe, is the idea of "shared liquidity." Shared liquidity refers to online poker operators combining their player pools with adjacent markets. For example, West Virginia online poker players could play, in this scenario, poker with users from other legal states such as New Jersey and Pennsylvania. The path forward here remains somewhat unclear as debate continues over how to interpret relevant legislation such as the Interstate Wire Act of 1961. Until operators have additional clarity and flexibility in how to operate online poker in WV, poker fans may have to wait for the game to launch.
The popularity of games such as Three Card Poker and Ultimate Texas Hold'em have also increased in recent years as peer-to-peer, typical poker games are not always available. In both Three Card Poker and Ultimate Texas Hold'em, you play against the dealer akin to games such as blackjack.
Eligibility
To gamble at a West Virginia online casino, these are the requirements:
21 years or older
You must be physically located in the state of West Virginia
When creating accounts on various online casino apps, you will often need to provide some information such as email address, name and possibly social security number so that your identity can be verified.
Online Casino Tax Rates in West Virginia
West Virginia has very reasonable tax rates for online gaming as compared to other nearby states such as Pennsylvania which has tax rates up to 54% on online slots games. It's important to note that taxes on online casino refers to taxes on the operator, not the players. The operators pay taxes to the state as a percentage of the revenue that they bring in on sports betting and casino gaming.
Under the West Virginia Lottery Interactive Wagering Act, operators are taxed at a 15% tax rate for WV online casino revenue.
Operators Eligible to Offer Online Gambling in West Virginia
| Service Provider | WV License No |
| --- | --- |
| American Wagering Inc. / William Hill Sports Book (Caesars) | SWP 001 |
| Betfair Interactive US, LLC / FanDuel | SWP 002 |
| Crown WV Gaming, Inc./ DraftKings | SWP 003 |
| BetMGM, LLC / Roar Digital, LLC | SWP 008 |
| Penn Sports Interactive, LLC (Barstool) | SWP 009 |
| Golden Nugget Online Gaming, LLC | SWP 011 |
| PointsBet West Virginia, LLC | SWP 014 |
| WSI US, LLC (WynnBet) | SWP 014 |
| RSI WV, LLC (BetRivers) | SWP 015 |
Operators have to go through a stringent process governed by the West Virginia Lottery. The lottery manages and approves the licensing of operators to offer sports betting and online casino services in WV. You can see the list of approved license holders here.
The path to Online Gambling in WV
In March 2018, West Virginia legalized sports betting and online gaming. While onlie sports betting began in December 2018, it was halted when BetLucky ceased operations. It returned in August 2019 when industry titans FanDuel and DraftKings opened its doors for online betting in WV. In January 2020, BetMGM also joined the party in the state and opened its online sportsbook. William Hill (which rebranded as Caesars) and Betly also joined the Mountain State online sports betting market in 2020.
Since the early days of online betting in WV, the market has further evolved and operators have upped their game offering more and more online casino options to West Virginia residents. With a myriad of online operators hosting live dealer games and a plethora of popular casino games, WV bettors and gamers have great options to choose from.
Why You Can Trust Our Reviews and Recommendations
The XLMedia team has some of the most trusted experts in online sports betting and online casinos in all the legal, regulated markets in the United States. Our team consists of reporters and thought-leaders with years of experience in the online betting and gaming field. We have professional relationships with the biggest players in the space including many of the operators listed on this page. While we may be compensated for sign-ups associated with links on this page, this does not impact the clarity and accuracy of the information on this page. We review all sportsbooks and online casino offerings with accurate information.
XLMedia is a licensed supplier with the West Virginia Lottery in the state of West Virginia with license number SWS 122. This license was received as an Interim License on May 6, 2021, and was received as a Commission Approval Annual License on December 15, 2021.
We do not target any individuals under the age of 21. We support responsible gambling. If you feel like you're losing control over your gambling experience, call 1-800-GAMBLER (NJ, PA, WV), 1-800-9-WITH-IT (IN), 1-800-BETS-OFF (IA), 1-888- 532-3500(Virginia) 1-800-522-4700 (NV, TN), 1-800-522-4700 (CO, TN), 1-855-2CALLGA (IL), 1-800-270-7117 (MI).
About Saturday Down South | Ethics and Editorial Standards | Privacy Policy | Terms and Conditions | Do Not Sell My Personal Information | Cookie Policy