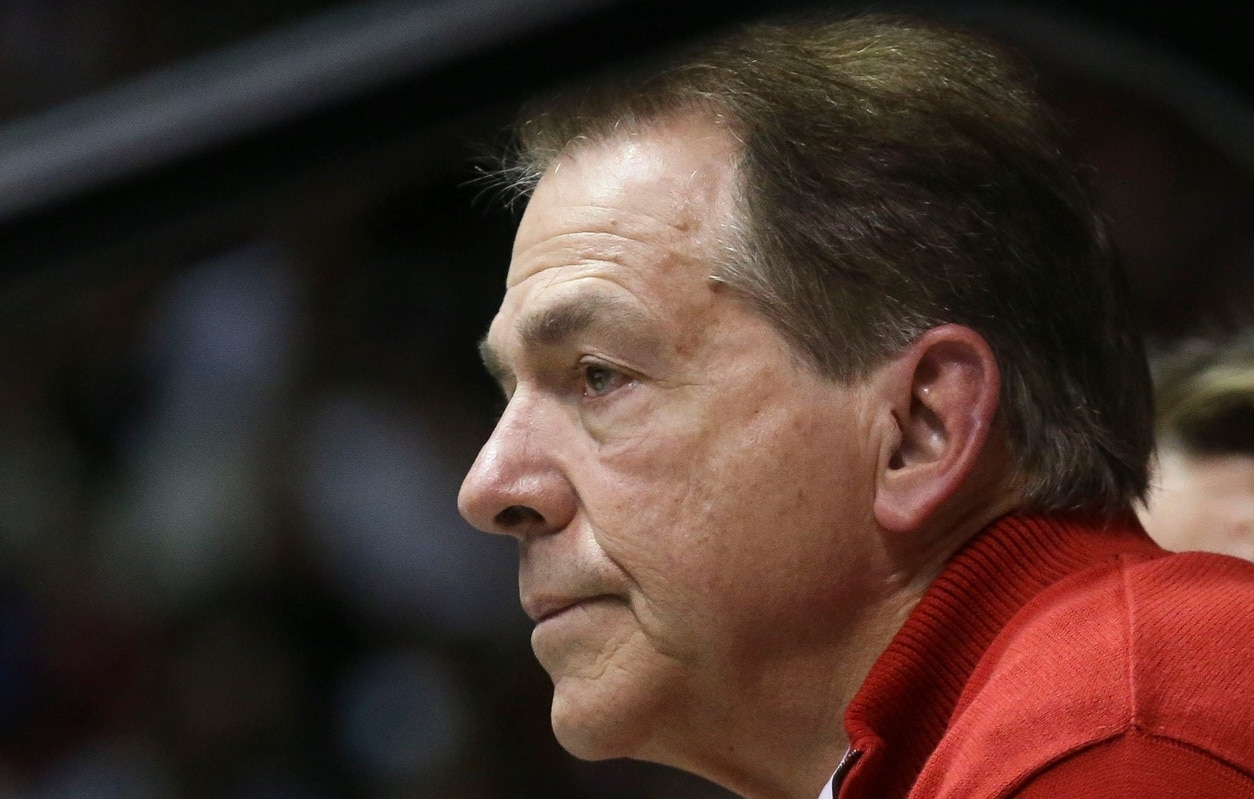 ALABAMA
Why 6 months later, Nick Saban is still wrong about his "we should've made the Playoff" argument
For my money, Nick Saban is the greatest coach in the history of college football. The G.O.A.T. has more than earned the right to speak his mind about whatever topic he chooses, even if he's doing so through Alabama goggles.
But 6 months after Saban argued that his 2-loss team should've made the Playoff because "it would've been favored against 3 of 4 teams in the field," it's clear that he still has Bama blinders on.
In a recent interview with FOX Sports' Joel Klatt, Saban doubled down that he felt his team was worthy of making the 2022 Playoff field because of what the oddsmakers said.
Here's what Saban said about the Tide's exclusion (go to the 2:25 mark of that clip):
"When they told me we would be favored against 3 of the 4 teams that got in the playoff, I'm like 'Well, why aren't we in the playoff?'"@Joelklatt and @Alabamaftbl Head Coach Nick Saban discuss parity and if the CFP system allows for it ? pic.twitter.com/5QOrVN87IO

— The Joel Klatt Show: A CFB Pod (@JoelKlattShow) June 19, 2023
I'll answer that question with a question of my own — why play the games then?
I hate to break it to Saban, but Alabama could've been 5-7 and it still probably would've been favored against a 12-1 TCU team. Oddsmakers don't crown champions. They incentivize bets, and last I checked, they built an entire city in the desert because they're pretty good at that.
It's ironic that Klatt's question was about parity in college football and Saban eventually got to an answer that shows why parity not only cannot exist, but we don't really want it to exist. In Saban's perfect world, we would just default to recruiting rankings instead of what we actually see on the field.
What we actually saw on the field from Alabama was a team that played in a 1-score game in the 4th quarter against 6 of its 9 Power 5 opponents in the regular season. What we actually saw was an Alabama team who had not just 2 losses that were decided in the final minute, but also 3 victories (Texas, A&M, Ole Miss) that came down to the final minute. What we actually saw was an Alabama team who was 1 of the 10 most penalized teams in America.
What we didn't see in the regular season was Alabama beat a team with fewer than 4 losses. What we didn't see in the regular season was Alabama beat its lone common opponent with Playoff invitee TCU, Texas, by a larger margin of victory (and Texas actually had Quinn Ewers for a full game against TCU … unlike when he got hurt in the first quarter against Alabama).
But sure. According to Saban, it's a problem with the system that Alabama didn't become the first 2-loss team to ever make the field.
I'm glad we didn't have a system that rewarded that résumé with one of those coveted Playoff spots. If we did, whatever notion there is about remaining parity in deciding a national champion would've taken its biggest hit in the last decade.
What Saban's Bama blinders prevented him from seeing was that even in a sport that rewards reputation more than any other, it has to draw the line somewhere when it comes to determining a Playoff field. That'll be different with the 12-team field.
Then again, in some ways, it will be what Saban wants. Lord knows there will be instances of a 3-loss SEC team making the field over a 2-loss team from another conference.
(Quick side tangent — I'm just now realizing the irony in Saban saying that "we just take the teams who win the most games at the end of the year and put them in the Playoff." When UCF was 12-0 in 2017, Alabama got the final spot as an 11-1 team. Should the Tide have made the Playoff that year? Absolutely, in my opinion, but it's not so black and white. OK, moving on.)
I actually don't have a problem with Saban's point that not all wins are created equal, and there's argument to be made that they should be held in higher regard when you're in the SEC. There's a reason why 16 of the last 17 SEC champs have played for a national championship.
But if you lose to the 2 best teams you face and you don't have any sort of résumé-based argument at all, well, what are we doing?
What Saban might not know is that since 2009, his team has only been an underdog on 4 occasions. The national championship against Georgia to close the 2021 season was the only time in that stretch that Saban's team played as an underdog and lost. In those previous 3 instances, it won all 3 — 2009 SEC Championship vs. Florida, 2015 at Georgia, 2021 SEC Championship vs. Georgia — by at least 3 scores.
And oh, Alabama still lost 18 times as a favorite in that stretch. Consider that another reason point spreads don't predict results.
Still, one can see why oddsmakers never make Alabama an underdog. Not even 2019 LSU was favored against the Tide. In the past 7 seasons, this juggernaut version of Georgia was the only squad worthy of being considered a favorite against the Tide. Why? Well, Georgia was the only team with comparable talent to Alabama. But as we know, talent alone doesn't win games. If that were the case, the Tide wouldn't have lost those 18 games as a favorite. Shoot, Texas would've had a decade of dominance instead of a decade of dysfunction.
If Saban had truth serum, my guess is that he'd tell you that his 2022 squad didn't feel like it was part of his decade (plus) of dominance. It felt more like 2015 Ohio State. That is, an unbelievably talented, overwhelming preseason national title favorite that played down to its competition far too often and finally flexed its muscles with its best performance of the year in a New Year's 6 bowl game.
It's OK that we didn't see that team play for a national title. It doesn't mean the system is broken. It means the system is built to acknowledge flaws, and in a rare turn of events, Alabama had plenty of flaws in 2022.
Maybe 2023 Alabama, a team many are convinced has flaws before it even plays a game, will resemble the flawless 2020 squad. Perhaps soon, Saban won't have to default to a flimsy argument about why his team should've made the Playoff and he can instead let his team's performance do the talking.
I'd much rather hear from that version of the G.O.A.T.