ARKANSAS
10 Arkansas things that are truly amazing considering the Chad Morris era struggles
This offseason, I said that if Sam Pittman hit 3 wins that he'd be my SEC Coach of the Year.
I made that declaration based on a few of the obvious things. That is, Arkansas was going to begin the season having not won an SEC game in over 1,000 days. Pittman, without any FBS coordinator or head coaching experience, also took over a team that didn't get a spring camp.
It's mid-October and Pittman should already be 3-1.
Yes, he'd have my SEC Coach of the Year vote. Yes, Barry Odom would have my Broyles Award vote as the nation's top assistant.
Even at 2-2, Arkansas has more wins vs. SEC competition than it had in the previous 3 seasons combined. Nobody can take that away from the Hogs, who you could argue will play in a "battle for No. 2 in the SEC West game" against Texas A&M after the bye.
Before that, I thought it'd be interesting to look at all the ways in which Pittman has dunked on his predecessor, Chad Morris:
1. The defense could tank and still be better than 2019
I want you to think about something crazy. If Arkansas allowed an average of 44 points in the final 6 games of the regular season, it would still be statistically better than last year's group. I'll take it a step further. If Arkansas allowed an average of 250 rushing yards per game the rest of the way, it would still be better than last year's run defense.
What's much more likely is that Arkansas, which faced 3 respected offenses in the first 4 weeks, is going to be vastly improved at season's end.
Just for a little perspective, I thought Odom would improve Arkansas' defense significantly, and I said that a realistic goal would be mediocrity. That is, somewhere in the middle of the pack of the FBS rankings in the major categories. Finishing in the neighborhood of 45-55 percentile against the run would be a massive sign of progress in Year 1 with Odom. Arkansas actually only ranks No. 12 against the run among SEC teams, but it allowed just 4 rushing scores so far.
More importantly, Arkansas ranks No. 28 of 77 FBS defenses in scoring. That's nearly the top 1/3. Even if that doesn't hold, Odom is well on his way to leading a massive year-to-year improvement.
2. The discussions have already shifted to Barry Odom's next move
When I went on a few Arkansas radio stations in the offseason, I was asked about how frustrating it would be if Odom improved the defense and then left immediately. To that, I answered, "What??!! That would be the best problem to have!" That's where at least some Arkansas fans are. That $1.2 million to Odom looks like a bargain when you consider that SEC defensive coordinators like Bo Pelini and Todd Grantham are in the $2 million range.
If Odom is 1-and-done, that'll be a sign that he elevated the defense and it'll become a much more approachable job for his successor. Or, on the other hand, we could see Hunter Yurachek follow what LSU did with Ed Orgeron and Dave Aranda. That is, continue to make Odom one of the top 3 highest-paid coordinators in America and hope that the offers to get back into head coaching take a back seat.
There's no guarantee that Odom will want to go that route, and it's not like 1 year rebuilding the Arkansas defense will totally overshadow a rather "meh" run at Mizzou. Odom is at home as a defensive coordinator, and it's possible that he could be ready to dig in a bit more in Fayetteville.
3. This start happened even though Arkansas hasn't gotten much out of Rakeem Boyd
If you would've told me heading into 2020 that Arkansas would be worthy of a 3-1 start, I would've assumed that Boyd would be having an All-American season. Well, 2.7 yards per carry won't earn him any All-America recognition. Boyd has been either banged up or ineffective so far. He has a total of 103 scrimmage yards and 1 score. Three other Arkansas skill players (not including Feleipe Franks) have more scrimmage yards than Boyd.
I say that not to bash Boyd, who averaged 6 yards per carry in 2 Morris offenses. I say that because we're seeing Arkansas find different players step up. Trelon Smith has been fantastic filling in for/complementing Boyd. Kendal Briles isn't just force-feeding Boyd carries when it's not there, too.
That's as good a sign as any that there's actual development happening so far.
4. The battle at the line of scrimmage isn't lopsided at all
I thought if there was a place that Arkansas would struggle immensely in 2020, it would be at the line of scrimmage. You don't flip the script in this league that quickly without a major influx of talent. But from the jump nobody pushed Pittman's group around. Georgia, with that respected offensive line, averaged 2.9 yards per rush. Sure, Auburn got the ground game going, but a year removed from a 51-10 beatdown that was never close, the Tigers needed a blown call to pull off a comeback win.
If you don't believe me on that, believe Cole Cubelic: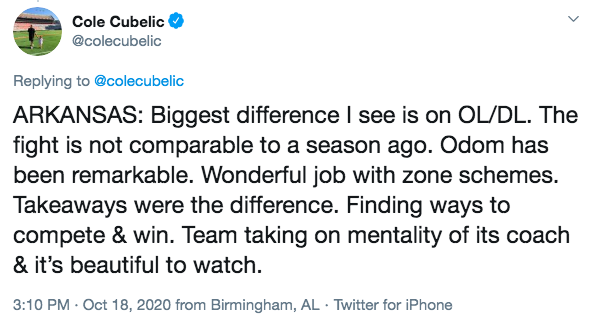 Yup.
5. So far, just 1 quarterback as the starter!
What a concept. I joked that Arkansas fans should just hope that it could get through 1 quarterback starting all 10 games. That hasn't happened yet, but Franks started the first 4 games. When you go through 7 starting quarterbacks in a 2-year stretch, yeah, it's a fair goal to have. Keeping Franks upright looks possible, and so far, he hasn't had a totally bench-worthy performance. At least not enough to lose the starting job.
It's hard to establish an offense when you can't find a quarterback who can understand and execute the system. So far, so good on that front.
6. The first half difference is astounding
Where's the evidence — besides the record — that Arkansas is more prepared than it was under Morris? The first half. In 2020, Arkansas led at halftime 3 of 4 games so far. The one it didn't was Auburn, when it had a 1-score deficit. In the entire Morris era, Arkansas led at halftime of an SEC game twice (2018 Ole Miss and 2019 Kentucky).
Yeah.
In all games in 2018-19, Arkansas trailed at halftime by an average of 10 points (it was an average of 13 points in 2019). In 2020, Arkansas led at halftime by an average of 5 points.
Call me crazy, but that's coaching. That's a sign of a team who has a game plan and a coaching staff who has players ready to roll from the jump.
7. You've got a dude with 1 arm winning a national player of the week honor
How badly to people want to play for this Arkansas coaching staff? You've got Grant Morgan, playing with a bad elbow and essentially 1 good arm, delivering an All-American performance. Against Ole Miss, the guy had 19 tackles, 3 tackles for loss, a sack and a pick-6. I mean, come on:
ANOTHER PICK SIX!@RazorbackFB's Grant Morgan to the HOUSE. pic.twitter.com/hgqaADeZT9

— SEC Network (@SECNetwork) October 17, 2020
Morgan won the Chuck Bednarik Award National Player of the Week for that performance, which saw him become the first FBS player in 20 years with at least 15 tackles, 3 tackles for loss and a pick-6. Morgan joined Bumper Pool and Joe Foucha by becoming the third Arkansas player to earn a weekly SEC award.
By the way, Hudson Clark had 3 interceptions in this game. That story in itself is awesome. With Clark's help, Arkansas has 10 interceptions this year. That's 1 fewer than Arkansas' entire 2018-19 total of 11.
8. Treylon Burks isn't just making the proverbial Year 2 step; he's already that guy
We knew Briles had some plans to maximize the skill set of Burks, who showed flashes in Morris' offense. Granted, those flashes never resulted in him getting in the end zone. Burks has been healthy for just 2 games so far, and both of them were 100-yard performances with touchdowns. The catch that he made against Ole Miss in the corner of the end zone was one of the best I've seen in the last few years. That was nowhere to be found with Morris' offense.
By the way, including De'Vion Warren's 100-yard game in Burks' absence, Arkansas had 3 games in which it had a receiver hit the century mark. How many times did an Arkansas player have 100 receiving yards in an SEC game in Morris' offense? Zero.
There's no denying that Burks and Co. are in much better spots to succeed in Briles' offense than they were with Morris.
9. The Morris vs. Pittman stat that's truly stunning
From 2018-19, Arkansas played 16 SEC games. That's a total of 960 minutes. The Hogs led for a grand total of … 126 minutes and 12 seconds. That's 13% of the time.
In 2020, Arkansas played 4 SEC games. That's a total of 240 minutes. The Hogs led for a grand total of … 142 minutes and 9 seconds. That's 59% of the time.
Arkansas has already played more with a lead in 4 SEC games under Pittman than it did in the entire Morris era.
That says it all.
10. This doesn't look like a team "hit by NCAA sanctions," as an anonymous coach alleged
It took roughly 4 weeks to turn that lazy take into a horrendous take.