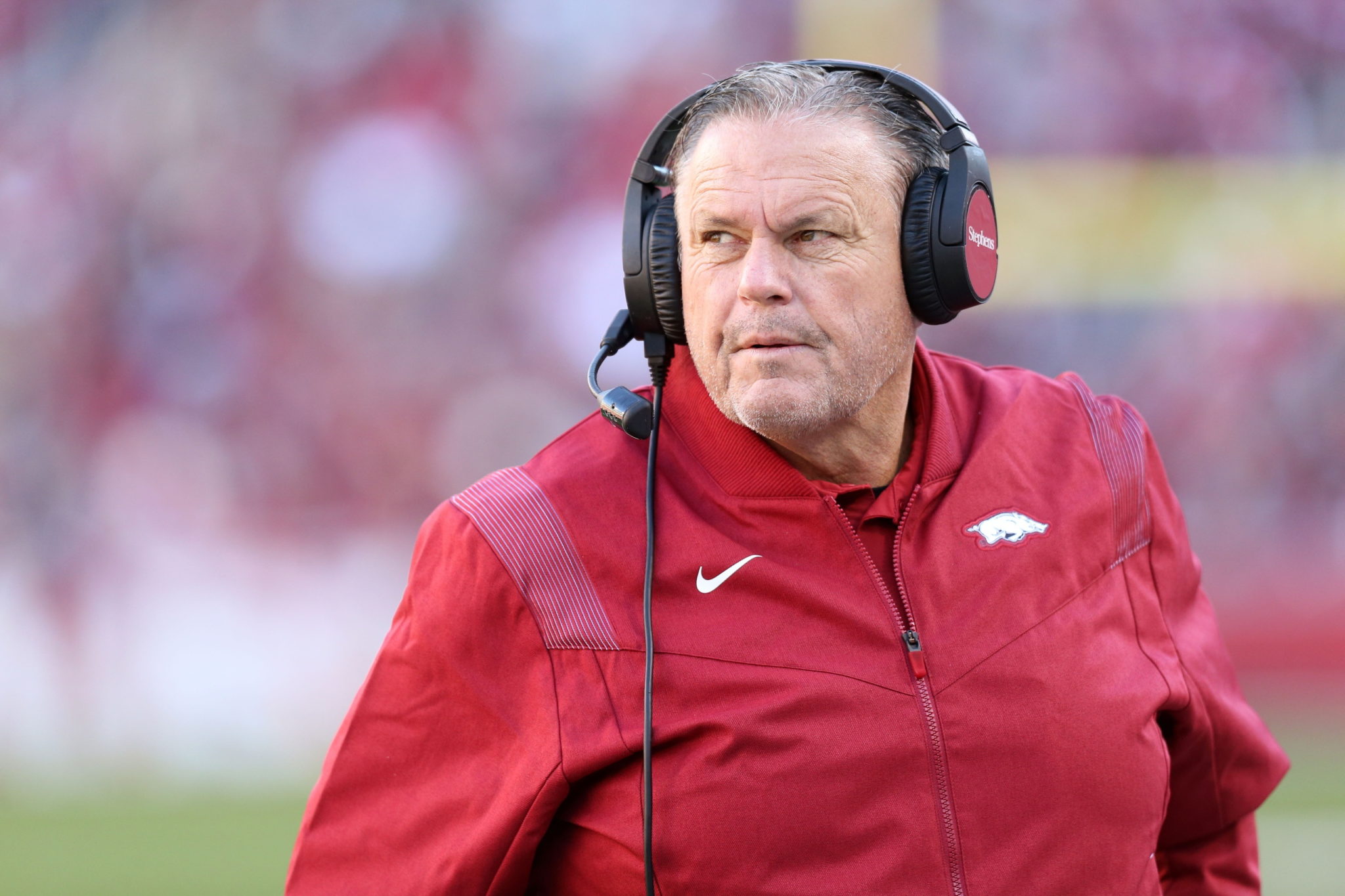 ARKANSAS
Arkansas football: 10 highs and lows from the 2021 regular season
It's been a fun ride, and although the curtain has come down on the regular season, it still isn't quite over just yet.
The Hogs will play in 1 more game in this inspiring breakthrough season. When and where that happens, we'll have to wait a few more days to find out, but Arkansas certainly has the attention of some of the better bowls out there, and the postseason should put a nice bow on a season filled with highs and lows.
Here's a look back at 5 highs and 5 lows from the 2021 season.
Highs
1. Conquering Texas
In just the 2nd game of the season, Arkansas served notice that they were a team to be reckoned with. The Razorbacks thrashed then-No. 15 Texas, 40-21, putting them on a trajectory that continued to rise 2 weeks later in Arlington where the Hogs subdued then-No 7 Texas A&M by a 20-10 margin.
The Razorbacks had arrived, starting the season 4-0.
2. Breaking into the Top 10
Following that 4-0 beginning, which included victories over 2 ranked teams, the Razorbacks rose to a No. 8 ranking under second-year head coach Sam Pittman. It made him 1 of just 14 SEC coaches in history to take over a team with a losing record and lead it to a top 10 spot in the AP Poll within their first 2 seasons.
Pittman joined Houston Nutt (1998) as the only Razorbacks' head coaches to accomplish the feat.
3. Bowl eligible
For the first time since 2016, Arkansas is going to a bowl game. The Hogs clinched their 6th win of the season in Week 10 with a 31-28 victory over Mississippi State at Razorback Stadium.
The Razorbacks overcame a 400-yard passing game from Bulldogs' quarterback Will Rogers and scored last in a wild back-and-forth 4th quarter.
4. The unstoppable Treylon Burks
Junior wide receiver Treylon Burks would not be denied in 2021. In the 2021 regular-season finale against Missouri, Burks recorded his school-record 6th 100-yard game for the season. He also became just the 4th Razorbacks receiver in school history to reach 1,000 yards in a season. With 1,104 yards, he needs 14 more to move into 2nd place, and with a monster bowl game, Cobi Hamilton's school record of 1,335 is within reach. Burks' career-high is 206, set last year against Mizzou.
His 179 yards on 8 pass receptions against Alabama was eye-opening. He's just the 3rd receiver since 2000 to record 150-plus receiving yards and 2 TDs against Alabama.
5. KJ Jefferson at the controls
The sophomore emerged as one of the premier quarterbacks in the SEC. His running ability as well as passing prowess were a key factor in the Razorbacks' success this season.
His 326 passing yards against Alabama put him over 2,000 for the season and his 3 TD passes gave him 20 scoring strikes for the season. It was his 3rd game of 300-plus passing yards with 3-or-more TD passes, the most by a Razorback quarterback since Brandon Allen in 2015.
He finished the regular season with 21 TD passes and 2,578 yards, the best since Austin Allen in 2016.
Lows
1. Georgia beatdown
The Razorbacks were brought back down to early after their 4-0 start by the No. 1 Bulldogs in a 37-0 debacle.
It was the first time the Razorbacks were shut out since 2018 against Missouri, and the first time they were shut out as a ranked team since 1995 at LSU.
Everything that could go wrong, did go wrong, including 13 penalties (100 yards), which tied for 7th-most in a single game in program history.
2. A painful 1-point miss at Ole Miss
The Razorbacks played the Rebels on near-even terms on the road, which was a positive sign coming off the Georgia loss. But with no time on the clock, Pittman decided to be aggressive and go for the win, rather than a tie that would send the game into overtime, with a 2-point conversion attempt.
The Razorbacks called a pass play that never had much of a chance. The result was a draining 52-51 loss that helped send them to a 3-game losing streak.
3. Puzzling loss to Auburn
The Tigers completed Arkansas' aforementioned 3-game skid with a head-scratching 38-23 victory in Fayetteville. Though they outgained Auburn, 460-427, the Hogs gave up a scoop-and-score as well as a 71-yard TD pass.
Arkansas was 0-for-3 on 4th-down tries and possessed the ball for under 3 minutes of the 4th quarter as Auburn pulled away.
4. Almost at Alabama
Now, this could be considered a high, depending on your point of view. To play the then-No. 2 Crimson Tide to within a touchdown on their home field could be considered quite the accomplishment.
Remember, Arkansas hadn't stayed within a TD of the Tide since the 2014 game, and the combined score of the previous 3 meetings was 165-41. And they've never beaten Nick Saban's Tide.
Still, to play their butts off and come back from 31-14 down but finish still a bit short had to sting at least a little bit. Allowing 671 total yards, including 559 through the air, was definitely among the low points this season.
5. Losing Jalen Catalon
Losing standout safety Jalen Catalon to season-ending shoulder surgery was a big blow.
The sophomore recorded 46 tackles and intercepted 2 passes in just 6 games played before the injury. His loss was felt in the secondary. Over the 6 games played, Arkansas gave up just an average of 156 passing yards per game. For reference, that would rank 3rd nationally behind only Washington (133.6) and Cincinnati (155.5).
Consider this: Arkansas allowed just 3 TD passes in the 6 games Catalon played. The Hogs allowed 12 in the next 6.