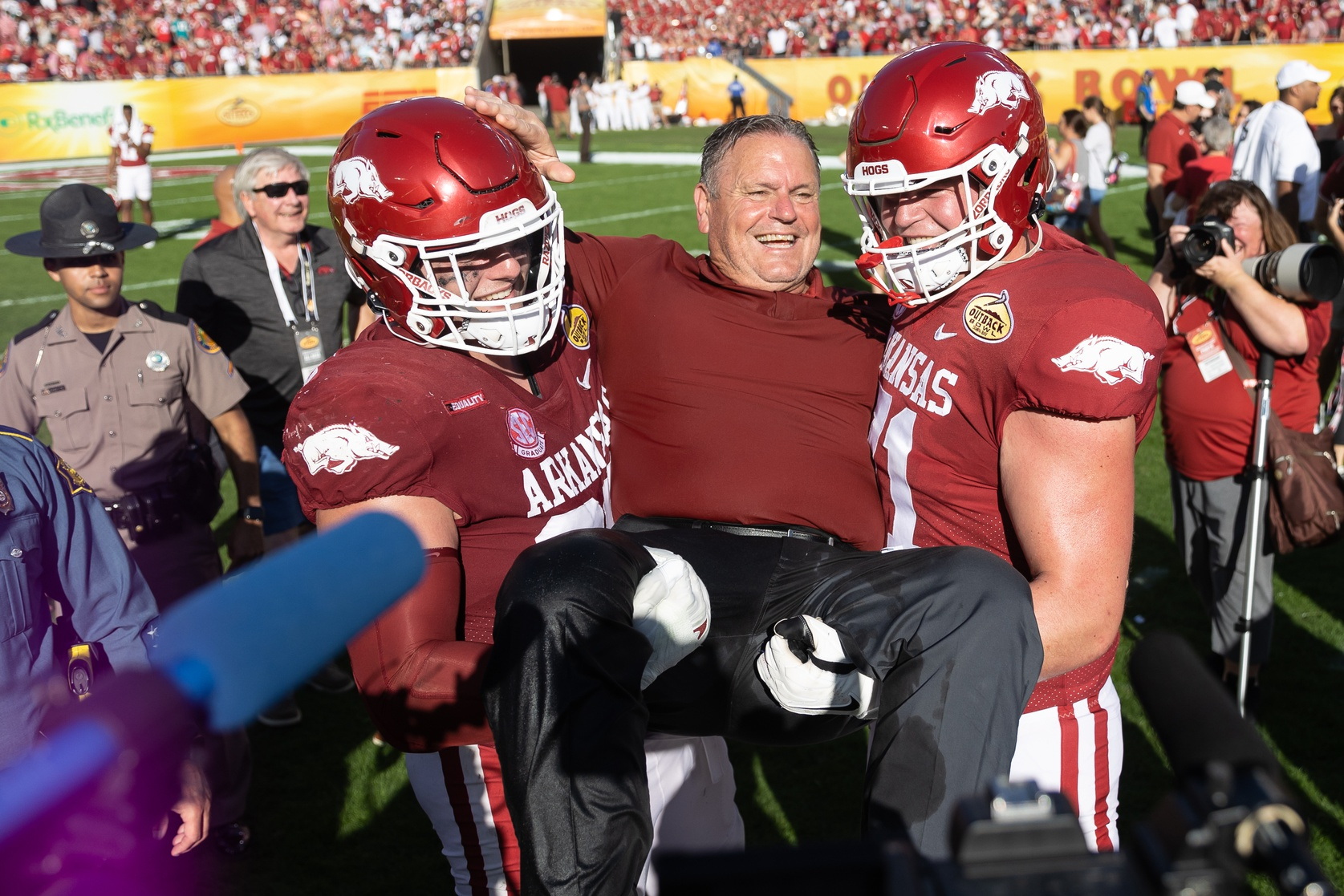 ARKANSAS
Arkansas football: 2021 was a great ride; what's next?
The final chapter to Arkansas' breakthrough 2021 season is written. It ended as it started, with an impressive victory. A victory so dominating that it gave hope to the future. The future of what would be Arkansas' best season (9-4) in a decade and the future of what might be still to come for this program under the leadership of head coach Sam Pittman.
Nine wins is difficult to accomplish in any league, but in the SEC it's a major accomplishment. Only 5 SEC teams won 9-plus games this season and two of those are playing each other for the national championship. Arkansas has won 9-or-more games in just 5 previous seasons this century.
It was a season to be savored for as long as possible. It was magical. It was unexpected. It was exciting. The kind of season you hope would never end, especially when you win 5 of your last 6 games.
So, yeah, celebrate like it's 1964.
Celebrate though you know the question nobody wants to ask. The question that Hog Nation would rather keep tucked away in the recesses of their minds. A way-to-early question we dare not ask, not until at least next football season.
That forbidden question is: maintenance, can Pittman and the Hogs sustain it? Can he maintain within the program this level of competitiveness? And if so, how? Six players on defense who started the Outback Bowl, and another 5 on offense, were seniors, and that doesn't count the opt-outs – one on each side.
Improving on recruiting, naturally is the fastest lane to the finish line. Arkansas ranks No. 19 in recruiting after the Early Signing Period. That's 9th among SEC schools and 5th among SEC West programs. Doesn't sound like a good way to compete in football's toughest conference. That means a lot of work with the transfer portal, a place in which Pittman has had some success.
But we'll leave that up to Pittman and his staff to figure out. The fact is, now that the Hogs have established themselves as a 9-win team, what are the expectations for 2022 and beyond? What is the ceiling for Pittman and the Hogs?
Heck, Shane Beamer has already declared that a national championship is not out of the question for South Carolina. How's that for bravado. They just won their bowl game in impressive fashion, and they only captured 7 victories this season.
Remaining positive is one thing; reality is another. But then again, another coach from Beamer's same state went 4-3 as interim head coach in 2008, only to build up that program to what is now — 11 consecutive years of double-digit victories with a couple of national titles.
So, the reality is that nobody can tell the future and anything is possible even for a program that hadn't won a national title in 35 years.
If that indeed is the yardstick, and who can say if it's so, then Pittman is right on target. The aforementioned coach – one Dabo Swinney – won 9 games in his 2nd year at Clemson after the interim tag came off following that 4-3 showing.
Only time will tell if Pittman can keep the jukebox playing, but one thing is for sure. He's a players' coach with an endearing personality. Can the feel-good story of 2021 take that next step to elite status?
While Hog Nation rightfully soaks up the joy from an amazing season, I already can't wait for the next chapter.