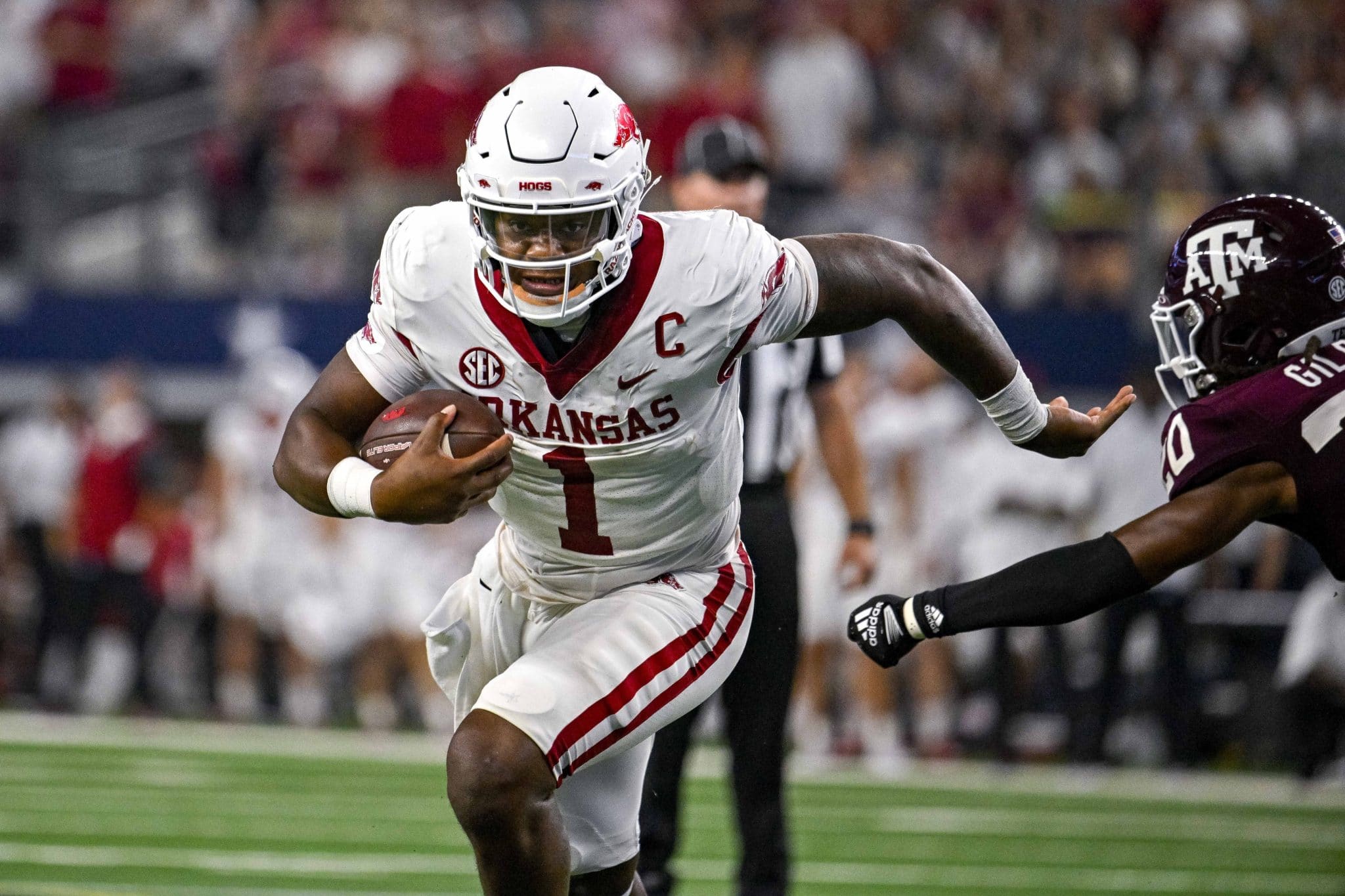 ARKANSAS
Arkansas football: 3 things Hogs must do to shock Bama
The No. 20 Arkansas Razorbacks (3-1, 1-1) look to bounce back from a disappointing loss last week to Texas A&M when they host No. 2 Alabama (4-0, 1-0) at 2:30 p.m. CT in Razorback Stadium.
The Tide is an overwhelming 17-point favorite to win on the road, which seems like a lot, especially considering that last season in Tuscaloosa, Alabama came away with just a 7-point victory. Now the Tide rolls into Fayetteville looking to extend its 14-game win streak over the Hogs. Arkansas hasn't won this matchup since squeaking out a 24-23 double-overtime victory at Fayetteville in 2006.
But the Razorbacks are focused on improving to 2-1 in SEC play for the first time since 2011.
To do that, these 3 things are a must.
1. QB KJ Jefferson must create
Historically, Alabama has had its struggles with active and mobile quarterbacks, going all the way back to Johnny Manziel at Texas A&M. Jefferson may not be as shifty as Manziel, but the Razorbacks' leader has continued to wreak havoc on opposing defenses both through the air and on the ground.
Jefferson has already thrown for 941 yards and 8 touchdowns (only 1 interception) this season, completing 69.1 percent (67-for-97) of his passes and adding 274 rushing yards and 4 more scores. He's 1 of only 2 quarterbacks to score a rushing touchdown in each of the last 5 games, dating back to last season. And he's 1 of just 3 QBs to throw for 900-plus and rush for 200-plus yards this season.
Though the Hogs came out on the short end last week against Texas A&M, Jefferson threw for 171 yards and ran for another 105 to become the first Arkansas QB since Matt Jones (2004) to pass and run for 100-plus yards in the same game.
The Razorbacks have scored 30-plus points in 12 of Jefferson's 19 career starts at quarterback. Adding to that total would greatly increase Arkansas' chances to pull off the upset on Saturday.
2. Veteran offensive line must win the trench war
The Hogs have 4 battle-tested veterans along the offensive line that must control the line of scrimmage if Arkansas is to have a path to victory. The foursome has combined for 140 career games played, including 115 career starts, which ranks 2nd among SEC offensive lines in 2022.
The group is led by senior RT Dalton Wagner, a team captain who started 10 games last season and has played in more games than any current Razorback, and C Ricky Stromberg, a coach's Preseason 1st-Team All-SEC pick and Remington Award Watch nominee, who will be making his 17th straight start at center.
It's a formidable line that also includes juniors LG Brady Latham, with 20-plus consecutive starts, and RG Beaux Limmer, who will be starting his 12th straight game. Senior LT Luke Jones rounds out the stellar cast. A transfer from Notre Dame, the Little Rock native played in all 13 games last season and made his 1st start in the 2022 season opener with Cincinnati.
These guys will make the difference because they'll have to create running lanes against one of the best rush defenses in the country. Alabama has allowed just 250 yards total on the ground over 4 games, which ranks 2nd in the nation behind only Minnesota (247).
It'll be a classic matchup of strength vs. strength. Arkansas ranks 2nd in the SEC and 9th nationally with 243.8 rushing yards per game. The Hogs have rushed for 200-plus yards in all 4 games to start the season for the first time since 2007.
Running back Rocket Sanders leads the SEC and is 4th in the nation with 508 yards on the ground. That continued success, behind one of the best offensive lines in the country, will be a major key to Arkansas' success.
3. Sanders must haunt his former teammates
Junior linebacker Drew Sanders has sparked the Arkansas defense this season. The Alabama transfer has already recorded 5.5 sacks, tying for the lead nationally on a defense that has racked up 20 total sacks, 4 more than any other team. The former 5-star recruit has tallied at least a half-sack in every game this season.
Sanders played in 25 games with 3 starts over 2 seasons at Alabama, but he is making the most of his opportunity to blossom at Arkansas. Teaming with DL Jordan Domineck (4.5 sacks) and fellow linebacker Bumper Pool, who needs 24 tackles to become the all-time leader at Arkansas, Sanders must play the game of his life at the most opportune time if the Razorbacks are to shake up the college football landscape.