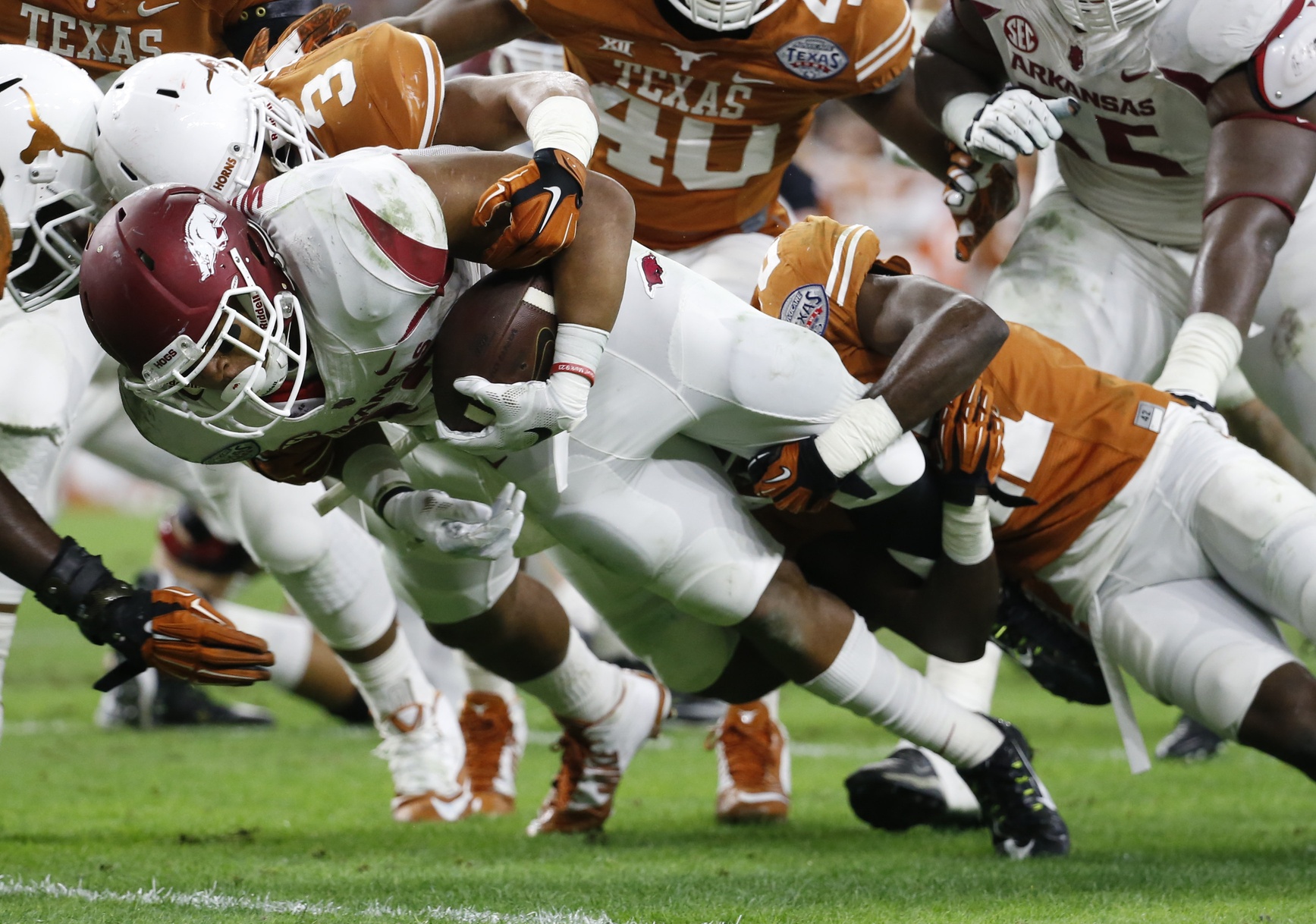 ARKANSAS
How do Hogs running backs compare to Bielema's old stable at Wisconsin?
FAYETTEVILLE – In Bret Bielema's seven seasons as head coach at Wisconsin, the Badgers churned out a 1,000-yard rusher eight times. Two seasons at Arkansas have yielded three such occurances.
Junior running back Alex Collins has done it both years on campus. Senior Jonathan Williams did it last year. In fact, the two were the only pair of teammates who each ran for at least 1,000 yards last season in all of FBS. The duo was called, by national media outlets no less, the best in the country. Arkansas literally had the best 1-2 punch of running backs in all of FBS.
Then the Razorbacks' first scrimmage brought bad news. Williams was hobbled about three-quarters of the way through it. Less than two days later the announcement is made the senior is out for the season. A broken foot would need surgery.
Enter Williams' twin, Rawleigh.
The freshman from North Carolina, Rawleigh Williams III, isn't actually Jonathan Williams' twin. They're not even related. But Bielema spent much of the fall before the elder's injury telling the assembled masses how the younger one emulated the older.
Throw in Kody Walker, a 260-pound mauler Bielema expects to get near 1,000 yards, and maybe the Williams injury isn't as devastating as it originally appeared.
Bielema has had that kind of experience before.
In 2010, Wisconsin – Bielema's old school – had almost three 1,000-yard rushers. Freshman James White had 1,052 and 14 touchdowns, junior John Clay had 1,012 yards and 14 touchdowns and sophomore Montee Ball finished with 996 yards and 18 touchdowns.
Those types of seasons aren't out of the question for Collins (1,100 yards and 12 touchdowns). He was named third-team All-SEC by the league's media and second-team by the coaches. He was also put on the Doak Walker Award watch list. Then consider Bielema's words.
"Obviously we're the only team in college football with two 1,000-yard rushers. Now we've got one," he said. "But I said during the course of the summer after last spring, watching Kody go there's no doubt in my mind if Kody was in the No. 2 spot in our offense he could go for 1,000. I think Rawleigh I'd feel the same way about right now."
The Razorbacks' offensive line is a lot like the early ones Bielema had at Wisconsin, too. Last year Arkansas had the biggest line in the country – college, pro or otherwise. A few are trimmed down so that might not be the case again in 2015, but Saturday's first scrimmage of the year showed the physicality of the offense isn't going away.
"There are a lot of teams that don't get to see it week-in and week-out and it is pretty tough to prepare for in a week. So that helps us a lot," Williams said before being injured. "Everybody has four or five wide receivers out there and they are trying to play fast. It is a lot different when you play us."
But here's a catch about running backs on Bielema teams: they tend to regress their final years in the program.
Clay, for example, had nearly the same amount of rushing yards his freshman year as his junior one. In between he ran for 1,517 yards and 18 scores. He turned pro after that junior season in 2010 and played all of two games in the NFL.
P.J. Hill was a darkhorse freshman Heisman Trophy contender after running for 1,569 yards and 15 touchdowns his first season in Madison. Year Two saw 1,212 and 14 touchdowns and his junior year was just 1,161 and 13 scores. He, too, went pro and flamed out quickly.
White hit 1,000 yards that first year under Bielema but didn't in either of his next two.
The outlier is Montee Ball. He was a Heisman finalist both his junior and senior seasons, rushing for more than 1,800 yards both times.
Williams was trending upward. From 45 carries his freshman year to 150 and 900 yards his sophomore year, then more than 1,100 yards last season. The fear was always his health. His preferred run-you-over style took its toll as the season wore along and Williams' shoulder was obviously limiting late.
But last year, when Williams was being battered, it was coincidentally the same time Collins began to struggle. He ran for 80 yards just twice in the last eight games and never broke the 100-yard mark.
The junior has found himself in Bielema's doghouse, too. The coach chided Collins all spring for his weight and work ethic. When everyone returned this fall, Bielema had nothing but good things to say about his running back's summer. Then Collins, and two other players, were late for a practice and had to haul a soggy mattress around the field for the opening minutes.
Collins followed the public embarrassment – it was in front of the media – with the best scrimmage of anyone on the Arkansas team. Bielema has raved about him ever since.
Ultimately, the Razorbacks season could hinge on the threesome. If Collins takes a Ball-like step forward, what was a mediocre passing game last year won't matter if it's only marginally better. If Williams III or Walker can become like early White or Clay or anything close, that works, too.
"Since Jonathan is out, now everyone else has to step up," Collins said. "Everyone is going to get more reps now. We know we're going to get more reps and another load on our shoulders."