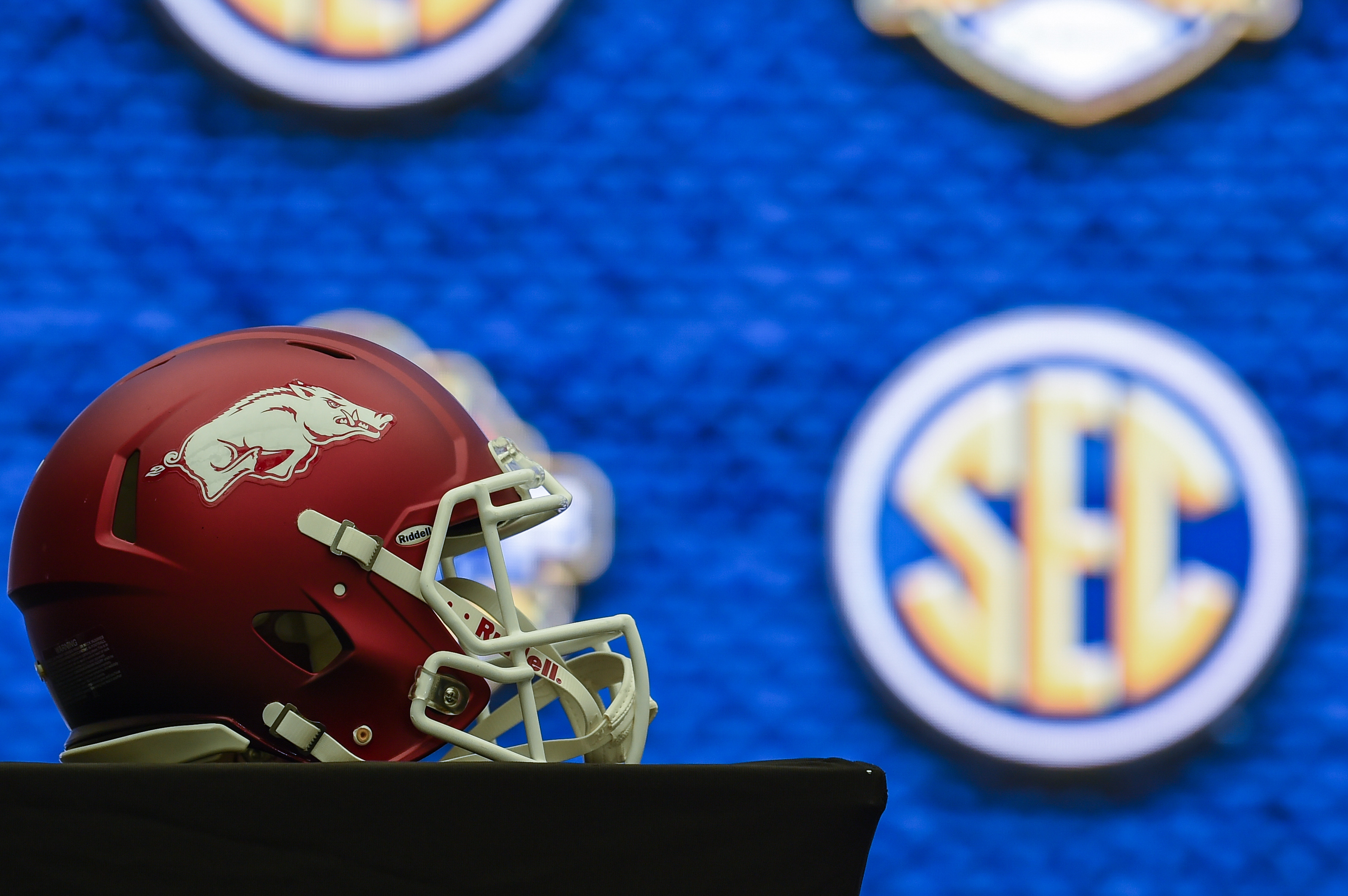 ARKANSAS
An open letter to Arkansas football fans: 2018 will be roller-coaster ride that might end without a bowl trip
Dear Razorback Nation,
College fan bases love when their teams are hyped up with huge expectations before the gauntlet of games ahead. This will not be one of those "fake news" pieces. Instead, it will be an honest letter to Razorbacks fans on what I think will and need to transpire this upcoming year.
I'll preface this by saying I've never been 100 percent accurate in my predictions of the Arkansas football team. Razorback fans always look at the season unbiased and give realistic expectations for the program year after year. Sarcasm implied.
A bowl is possible looking at the schedule, but don't assume it's automatic. There are quite a few good coaches in the SEC West. Chad Morris has his work cut out for him.
College football guru Phil Steele ranked Arkansas No. 12 out of the his list of the 15 most improved teams in college football. In an interview with Arkansas radio host Bo Mattingly, Steele mentioned several reasons he thinks the Razorbacks are going to be a better football team in 2018, starting with the depth.
"They have 17 starters coming back, and they only lose 18 lettermen from last year," Steele said.
Steele added that he thinks the Arkansas faithful will be pleased by season's end.
"I don't think they're going to contend for the SEC West title this year, but I think Arkansas fans will be pleased in the first year of a new head coach," he said.
Fans can be demanding at the wrong times during a coach's tenure. Expecting to contend for a SEC Championship in Morris' first year is going over the top. Returning 17 starters is nice, but how valuable is that for a team that finished 4-8 last year and has to learn new systems on both sides of the football?
Based on the people I've talked to close to the program, the ballpark is 5-7 wins in Year 1. Arkansas seems to come up short when hyped up and overperform when not well thought of. We'll see what holds true by the end of 2018.
Look at the talent the Razorbacks will be facing. There are clear Heisman candidates, including Jarrett Stidham, Damien Harris, Tua Tagovailoa, Nick Fitzgerald and Drew Lock. Good ol' Southern boy football at its finest.
While the SEC schedule is daunting every year, the Razorbacks shouldn't be as worried about the nonconference games. Though Eastern Illinois has some famous alums — Tony Romo, John Malkovich and Sean Payton — it is an FBS football team. Arkansas should wipe the floor with them in the opener — key word being "should."
Colorado State, North Texas and Tulsa should factor in as three more wins. Those easy games gives the Razorbacks four wins even if they don't manage to pull out a conference victory. Surely they can find two conference wins on the schedule.
Many, including me, would be curious to see what Morris' view would be if given the opportunity to write an open letter to fans. If I had to guess, "hammer down," "full tilt boogie," and "pop the clutch" would be mentioned several times. His new style of offense similar to what Gus Malzahn and Bobby Petrino employed at Arkansas would be alluded to as well.
Morris is an offensive innovator, but his sole head coaching opportunity at the collegiate level didn't yield an exuberant amount of results. The Arkansas athletic department and sports information directors will pump fans with rainbows and excitement because it's their job. I'm just here to tell you Morris is 14-23 overall in three years leading a D-1 program.
Granted, he inherited a program that had three 1-11 seasons in a span of 8 years, including the season before he arrived. SMU improved every year on his watch, reaching a bowl in Year 3, and the offense was explosive, but the question remains if the progress with the Mustangs can translate in the toughest division in football. Coaching the American Athletic Conference is one thing. It's a whole different animal coaching in the Southeastern Conference.
Let's go back to some big wins under first-year coaches at Arkansas. Petrino burned LSU on a 4th-and-1 for the game-winner that is now forever known as "Miracle on Markham II." This play shone bright during a season where the Razorbacks consistently came up short, finishing 5-7.
Houston Dale Nutt welcomed the first ranked team in his tenure to town — No. 22 Alabama — with a 42-6 romping at home in 1998. He's the Hogs' last first-year coach to beat Alabama. (Nutt also is the last Arkansas coach to beat Bama at any point in his tenure; 2006 seems like a lifetime ago.)
John L. Smith and Bret Bielema produced zilch in their inaugural years as coaches of Arkansas. Bielema's first year was my freshman year at the University of Arkansas. The 3-9 record was one of the main factors 2013 was a terrible year for Tye Richardson.
Though 2013 was a disaster, storming the field against LSU in 2014 after a 17-0 shutout victory will go down as one of the best sporting experiences in my life. It was the first SEC win as a college student I got to experience. Everyone remembers their first love, football game, etc.
Bielema's jolt came in his second year, which is a long time to wait for a big win. Morris needs to summon everything he has for one giant victory in Year 1. The victory will get the wheels turning for what he wants to do with the program.
I see Arkansas' ceiling at 7 wins, but 6 is what I'm sticking to. My prediction isn't going to excite any fans, coaches, or players, but qualifying for a bowl would be a successful Year 1 for Morris.
This is not bulletin board material. This is simply my opinion. I'll be waiting on the backlash and hate mail from all the hallucinating Razorbacks fans who believe Arkansas has a chance to win 10 games this year.
Sincerely,
Tye Franklin Richardson