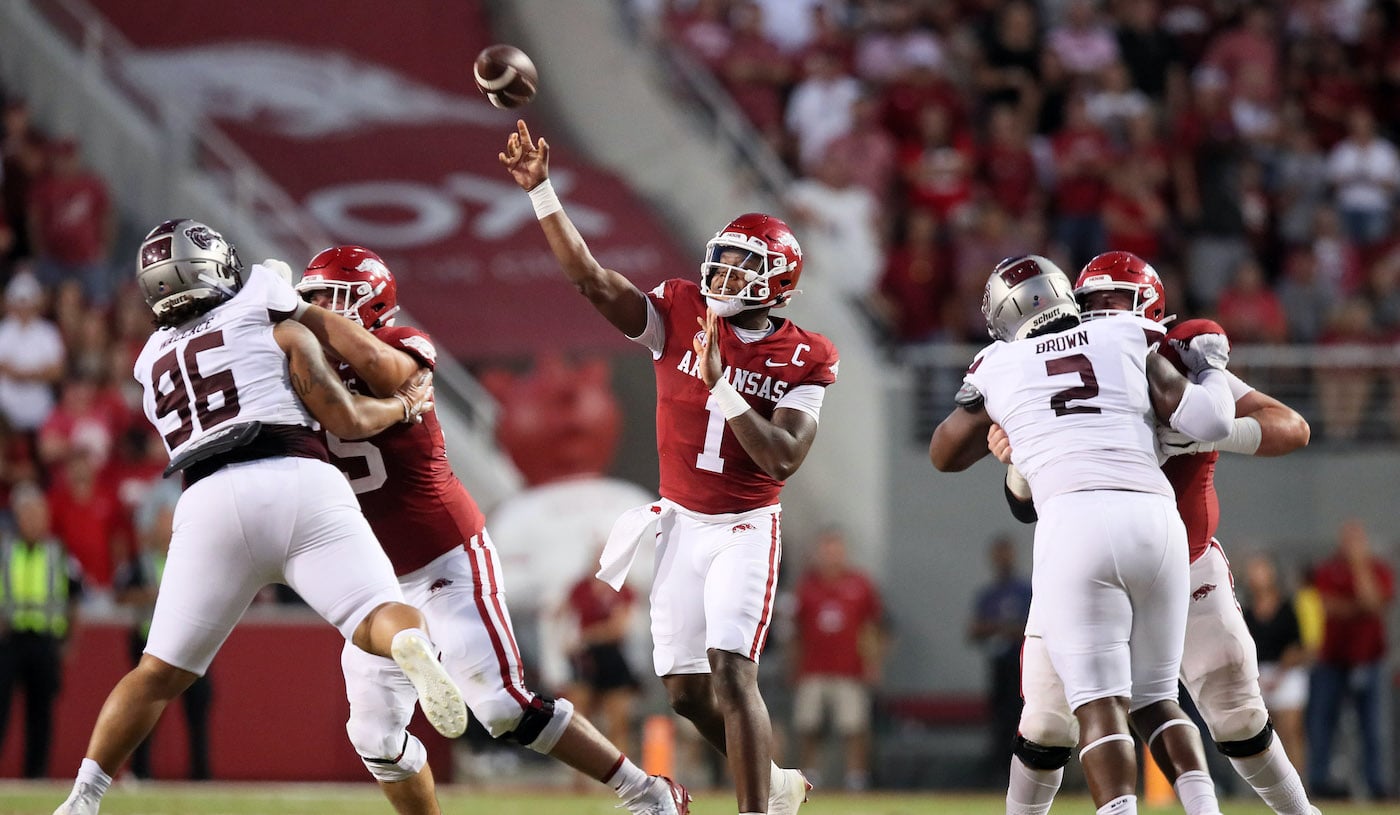 ARKANSAS
Rapid Reaction: No. 10 Arkansas barely survives scare from Missouri State in Bobby Petrino's return
Arkansas received a visit from former head coach Bobby Petrino and his Missouri State Bears on Saturday.
The No. 10 Razorbacks got more than they bargained for from their FCS foes, as the Bears jumped out to a 10-0 lead and led 17-14 at halftime.
After tying it up at 17-17, Arkansas gave up this big play to give the Bears the lead again. Missouri State would soon extend that lead to 27-17:
MISSOURI STATE!!! pic.twitter.com/3HV7yyXmX6

— Mr Matthew CFB (@MrMatthewCFB) September 18, 2022
Rocket Sanders had another big game and he was up to the task after Missouri State took a 27-17 lead, taking this shovel pass and going 74 yards for an important touchdown:
Just good ole north and south runnin pic.twitter.com/7yTh9BuV06

— Arkansas Razorback Football (@RazorbackFB) September 18, 2022
Then, Bryce Stephens put the Hogs ahead for good, taking this punt to the house to give Arkansas a 31-27 lead:
On the very DAY Joe Adams goes into the Razorback Hall of Honor, Bryce Stephens has his own punt return moment at DWRRS. pic.twitter.com/3HgSelJrOh

— Arkansas Razorback Football (@RazorbackFB) September 18, 2022
Arkansas eventually added another score to escape with a 38-27 victory, but this was far from a comfortable victory for Sam Pittman and company. But, the important thing is that the Hogs did win. They avoided becoming only the second top-10 team ever to lose to an FCS opponent (No. 5 Michigan losing to then-FCS Appalachian State back in 2007 holds onto that dubious honor alone).
Bobby Petrino certainly put a scare into his former team, but the Hogs improved to 3-0. Were the Razorbacks perhaps looking ahead to a showdown in Arlington against Texas A&M next weekend? We'll see how Arkansas looks in Saturday's game.