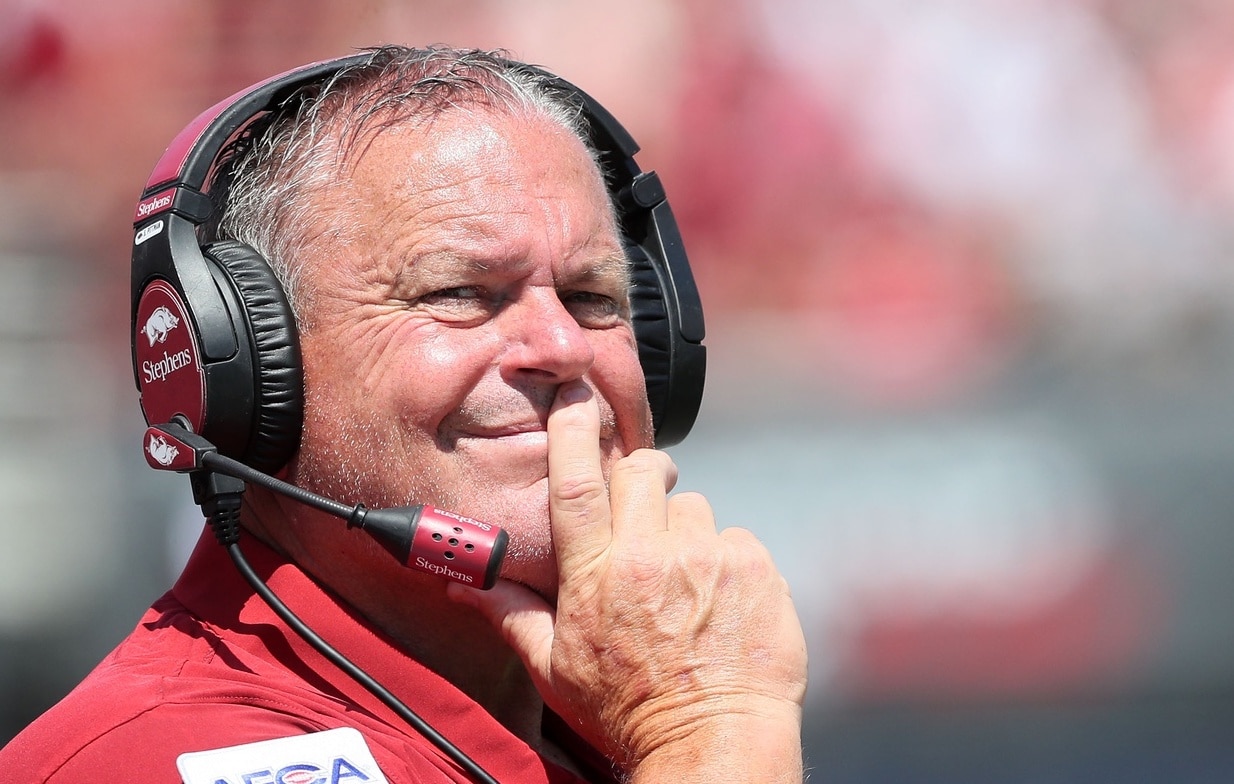 ARKANSAS
O'Gara: Why I'm officially worried about Sam Pittman's future at Arkansas
I'll admit that when it comes to Sam Pittman, I'm biased. I'm a fan.
If there's a more likable coach in college football, I haven't found him. I like that he's as genuine as the day is long. I like that when he talks about having a nice cold beer after a victory, I don't have to question if he's just saying that to sound relatable. I like that he had a slobbering hog statue built at his lake house that he takes great pride in. I like that before each of the 3 times I had him on The Saturday Down South Podcast, I asked him if he had a "hard out" and he always responded with "nah, let's roll."
I like Pittman. A lot.
But man, I'm worried about the Boss Hog.
On the heels of a home loss to BYU wherein Arkansas' offensive line couldn't block a soul and it squandered multiple double-digit leads, one can't help but feel like a daunting stretch awaits.
In case you haven't peaked at Arkansas' upcoming schedule, here's what awaits the next month:
at LSU
vs. Texas A&M (in Arlington)
at Alabama
at Ole Miss
To recap, that's 4 games away from home against a trio of top-15 teams and A&M, which is 10-1 against the Hogs since it joined the SEC. Arkansas might be a touchdown underdog in every game.
Yikes.
That stretch would be daunting for a team that looked like a juggernaut the first 3 weeks. Arkansas, to this point of the season, certainly isn't that. And sure, some of that was to be expected (though I expected the Hogs to be 3-0 at this point). Two new coordinators were tasked with rebuilding flawed units. So far, that's been a work in progress on both sides of the ball.
KJ Jefferson has been mostly good in the Dan Enos offense, but there's a ceiling on his potential with the issues Arkansas is working through. Rocket Sanders' availability is still a question mark after the All-SEC running back was injured in the opener. Even if he was available, there's not a lot of optimism that he'd have running lanes because of the subpar play from the Arkansas offensive line.
"The offensive line just has to play more consistent," Pittman said. "We probably need to move the pocket more, we can't just stand back there and let people blitz-a-thon or bull us."
Pittman repeatedly expressed concern about that unit, which returned anchors Beaux Limmer and Brady Latham, but was inexperienced across the board. If you were an optimist in the offseason, like me, you thought, "well, if there's ever a guy that you want coaching up an inexperienced offensive line, it's Pittman." Now, though, it's fair to change that tune. If you're a realist, the thought should be, "well, if a guy who knows offensive line play as well as Pittman is still voicing concern about that group heading into Week 4, that's a problem."
Yep. It's a problem.
It's a problem that needs to be corrected or else the Hogs will watch last year's game script vs. LSU play out again — All-American linebacker Harold Perkins will take over the game and the Arkansas offense will play behind schedule all day. Jefferson will be a sitting duck if Arkansas doesn't find a way to slow down Perkins. That's the more urgent matter that Arkansas must find a way to address.
The long-term issue is how quickly things can go south if the Hogs can't find some answers to avoid a 2-5 start. We saw what happened last year when high preseason expectations were dashed by the midway point of the season. It was a divided locker room that led to a mass exodus in the transfer portal. Pittman's approval rating after the Mizzou loss to close the regular season was at an all-time low.
If 4 blowouts await, it can get even lower. It might not matter that Arkansas' final 5 games are much more manageable. If impact players have 1 foot out the door by mid-October, salvaging the 2023 season could be quite the challenge. We don't know if that'll happen.
We do know that in the SEC, coaches rarely get a chance to return after consecutive disappointing seasons. That decision would be a heavy one for AD Hunter Yurachek, who has been nothing but supportive of Pittman. If you recall, it was Yurachek who made the off-the-radar hire of Pittman — someone who didn't have FBS coordinator or head coaching experience — to erase the Chad Morris embarrassment. It was also Yurachek who negotiated the program-friendly contract and extension after Pittman completely turned things around in Year 2.
Pittman has the rare performance-based buyout. If fired without cause, he's owed 75% of his remaining contract. However, if Pittman's record — which excludes the 3-7 season in 2020 — is below .500 when he's fired, he's only owed 50% of his remaining contract.
Per the terms of his incentive-heavy extension that was signed after the 2021 season, Pittman's 7-win season in 2022 meant that he got an extra year added and a $250,000 bump to $5.25 million annually through the 2027 season. That means after the 2023 season, he has $22.1 million remaining on his deal, including retention bonuses. If his total record at Arkansas since the start of 2021 is below .500 at season's end, his buyout is a very affordable $11.05 million. If Pittman's Arkansas record since the start of 2021 is at or above .500 at season's end, his buyout would be $16.575 million.
In other words, 1 game could have a $5.5 million difference in Pittman's buyout. That could absolutely impact Yurachek's decision if that's indeed one he has to make.
There's also a world in which Yurachek's loyalty to Pittman wins out and even a disappointing 2023 season earns him a "prove it" 2024 season. Trying to prove yourself in the newly expanded SEC could be even more daunting than the 4-game stretch that awaits Pittman.
Either way, it's concerning to think about what could await the Arkansas coach. He's 13 months removed from having about as high of an approval rating as one could've had after taking over a program in search of its first SEC win in over 1,000 days. And now here we are, 1 loss into his Year 4 season, having real conversations about his buyout.
As a Pittman fan, that makes me uneasy. When he signed that extension, I envisioned him living out his dream of coaching Arkansas for a decade and retiring to a relaxing life in Hot Springs with his wife Jamie and bulldog Lucy.
But even he would tell you that you're only as good as your last season. This is a wins-and-losses conference. The sense of urgency needs to be high. If Arkansas doesn't start exceeding expectations in the next month, this can go south in a hurry.
I'm worried about Pittman. If you've got a soft spot for the Boss Hog, so should you.