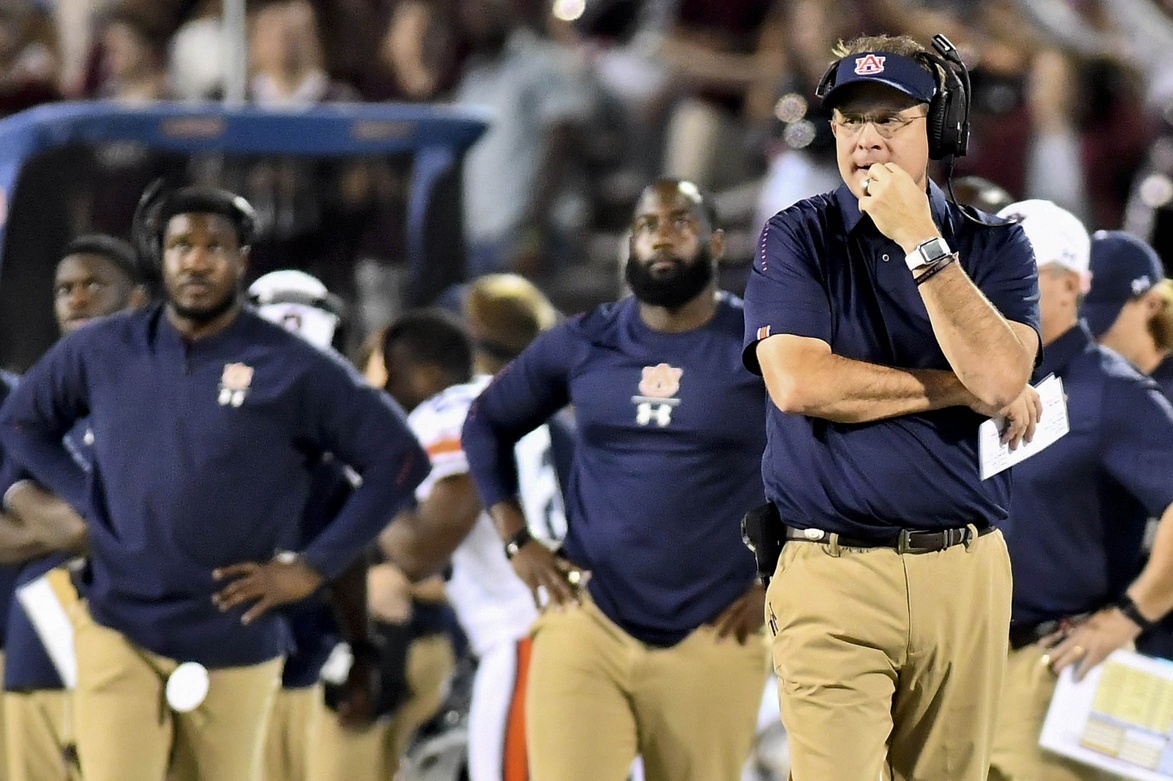 AUBURN
5 main takeaways from Auburn's first day of Early Signing Period
There's no reason to panic, at least not yet. Auburn didn't blow the doors off the college football recruiting scene on Wednesday, but the thing to remember is that it was still just the Early Signing Period.
Yes, the vast majority of talent signed on the dotted line Wednesday, and Auburn finished outside the top 10 in the team rankings, but there's still some serious talent out there that are Auburn targets who did not yet sign.
Of the 16 commits (13 signed by early Wednesday afternoon), the Tigers are projected by 247Sports.com to have reeled in one 5-star and 10 4-star recruits.
Here are five takeaways from Wednesday's first day of the Dec. 19-21 Early Signing Period.
1. Uncertainty
The Tigers are dangerously close to finishing outside of the top 10 in the final rankings for only the second time in six years. But there is still enough talent out there to push Auburn into the top 10. That's the uncertainty that surrounds the program.
The Tigers got letters of intent from the expected recruits on Wednesday. A trio of 4-stars, however, did not have their papers in by Wednesday afternoon and are not expected to sign early. That's a lot of talent still unofficial, although they are labeled as "hard commits" and added to those who have made it official; they would, and are expected to, add nicely to the class.
It would also be a big boost if the Tigers could pull in some of their targets who were not expected to sign on Wednesday. Among that group is mammoth 6-8, 330-pound 4-star JUCO transfer offensive tackle Bamidele Olaseni. Auburn is projected to battle Utah for his services.
2. LB Owen Pappoe
Auburn's lone 5-star signee, Pappoe will fill in nicely where need is the greatest. Head coach Gus Malzahn told SEC Network that Pappoe was Auburn's top recruit on defense not only because of talent but because the position is about to be depleted by graduation.
"We're losing four seniors," Malzahn said. "We think he's set up to have a great career here."
Welcome to the #AuburnFamily @opfreak15! ✍️
#WarEagle | #AUNSD19 pic.twitter.com/Whbderwbnh

— Auburn Football (@AuburnFootball) December 19, 2018
At 6-0, 210 pounds, the Georgia product runs a 4.47 and has a 40-inch vertical. He uses his speed, quickness and strength to pursue and finish. He'll work on pass coverage at Auburn to round out his game.
3. Negative recruiting
With Malzahn on shaky ground after a 7-5 regular season, it had to be a trying time to get recruits to buy into a long-term relationship. Add to that an unproven, to say the least, offensive coordinator hire (Kenny Dillingham), and Malzahn was working from behind the 8-ball. The final results could reflect that; we'll see when the dust ultimately settles.
What we do know is that the 16 commits make up the smallest signing class in the SEC, with the aforementioned factors seemingly certain to have played a role.
4. Secondary strength
Three of Auburn's top five athletes in the 2019 class are defensive backs. All 4-star recruits, the talented group includes two corners and a safety. Cam'Ron Kelly is considered by 247Sports.com to be the No. 9 rated cornerback in the country, and safety Zion Puckett is ranked No. 11 nationally at his position.
That certainly bodes well for the future of the Tigers' secondary group, which includes three freshmen and a sophomore as backups on the depth chart.
5. QB Bo Nix
Malzahn landed his top target on offense. With the announced departure of current starting QB Jarrett Stidham, Malzahn will be in great need at what is considered the most important position on the field. But the Auburn head coach told the SEC Network that he has had his eye on Nix for quite some time.
"We've been recruiting him since his freshman year," Malzahn said. "He'll be here early. He'll be competing for the job."
Nix is considered the top dual-threat quarterback in the nation by 247Sports.com. The 4-star recruit from Pinson, Ala., threw for more than 10,000 yards and rushed for more than 2,000. He set the Alabama High School Athletic Association all-time record with 161 touchdowns, 127 of those passing.
He is the only quarterback in Auburn's class of 2019 and is expected to immediately challenge current sophomore backup Malik Willis and freshmen Joey Gatewood and Cord Sandberg for the starting role next season.