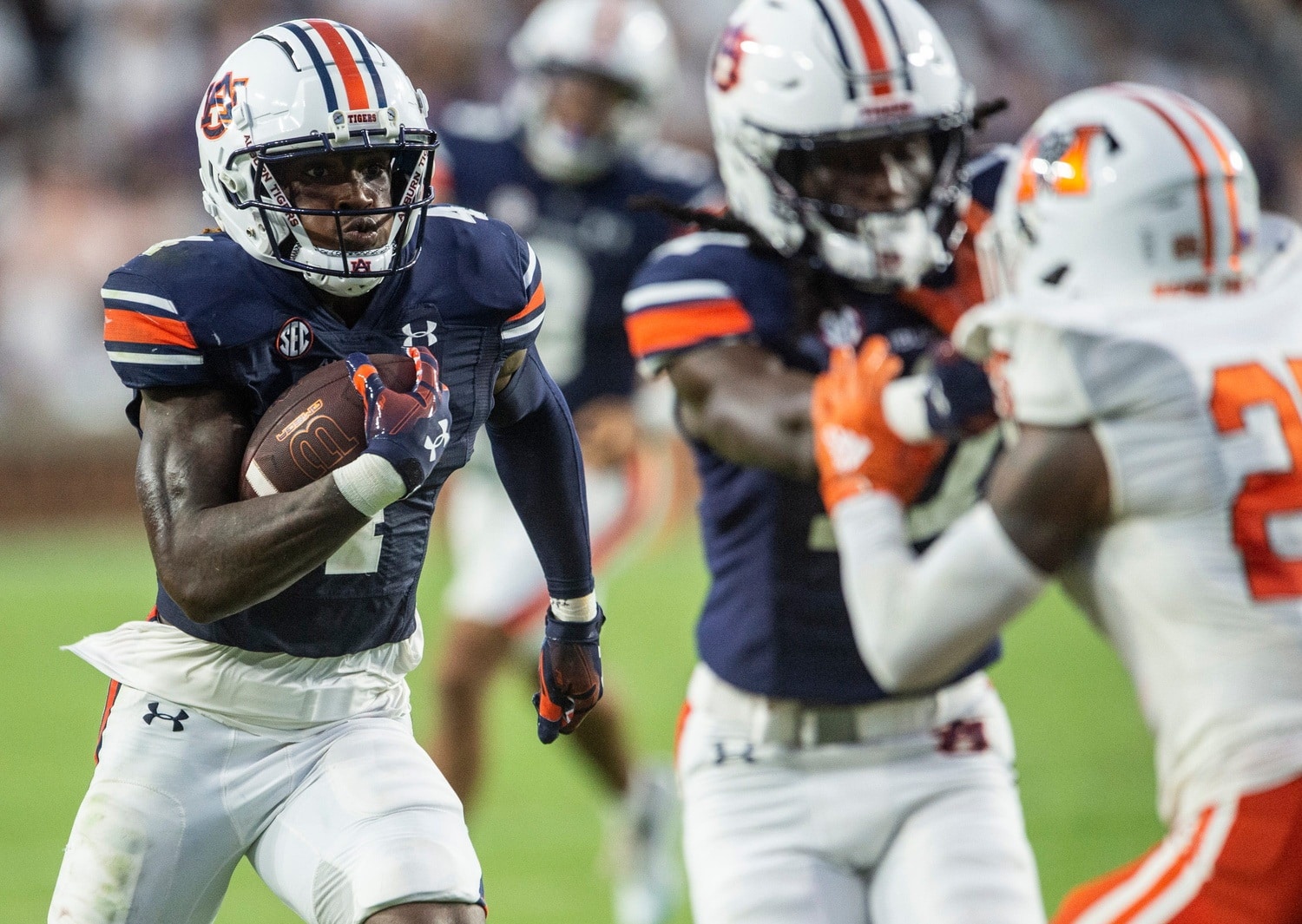 AUBURN
Auburn football: Bigsby turns in career day at Jordan-Hare
Auburn took care of business in its season opener on Saturday, turning away Mercer by a comfortable 42-16 margin. And while most attention focused on the quarterback play of TJ Finley and Robby Ashford, the Tigers' ground game was largely overlooked.
In particular, it was veteran Tank Bigsby who led a 285-yard rushing attack, compiling just more than half that on his own. Bigsby rushed for 147 yards and 2 touchdowns, averaging 9.2 yards per carry.
The junior workhorse posted his most prolific game at Jordan-Hare Stadium, and his 9th career 100-yard rushing game. He has had a couple of better games on the road, but none better on the Plains. He was consistent, and at times spectacular, in helping the Tigers balance out a 497-yard explosion.
Not even a 90-minute lightning delay in the 3rd quarter could suppress Bigsby on Saturday. In fact, it may have even served as inspiration. On the 1st play back from the interruption, Bigsby bolted 39 yards for a touchdown. And Auburn was well on its way to a 16th consecutive home victory over a nonconference opponent, a streak that dates back to a 19-13 loss to No. 2 Clemson to open the 2016 season.
The Tigers have won 45 straight home games against unranked nonconference opponents. The last loss was a 26-23 decision to South Florida in the 2007 season.
Kudos also go out to 1st-time starters Tate Johnson (center) and Kameron Stutts (guard) for helping pave the way for one of Bigsby's most successful games of his career. It was bettered only by a 192-yard effort at Mississippi State in the 2020 regular-season finale, and a 164-yard outing at South Carolina last year.
"We wanted to run the football," Auburn head coach Bryan Harsin said. "Jarquez (Hunter) had a big night. Tank, that was a great start after the lightning delay. If we can run the ball like that and be effective and spread it out a little bit and hit some shots, that seemed pretty effective. It starts with running the ball."
Hunter equaled his career total of 3 rushing TDs on Saturday with scoring plunges of 2 and 1 yard after opening the scoring with a 19-yard TD jaunt that extended Auburn's streak to 118 consecutive games without being shut out, the 2nd-longest streak in school history. The last Auburn player with 3 rushing TDs in a game was JaTarvious Whitlow in 2019 against Mississippi State.
But it was Bigsby who did most of the damage. With his rushing touchdowns of 2 and 39 yards, Bigsby bumped his career total to 17. It was his 6th multiple-TD game.
So while Harsin decides how to use his 2 QBs moving forward, the mainstay in the backfield is one Harsin knows he can count on to move the chains.
Racing beyond the 2,000-yard mark in his career, Bigsby (2,080) passed 2 Tigers on Saturday, Secdrick McIntyre (1,992 from 1973-76) and Lionel James (2,068 from 1980-83), and now ranks 18th on the all-time list.
It was an outstanding start to the new season for Bigsby, who has led the Tigers in rushing the last 2 seasons, including the 1,099-yard compilation last year. If not for a little quarterback controversy, it would be Bigsby deservedly grabbing the headlines this week.