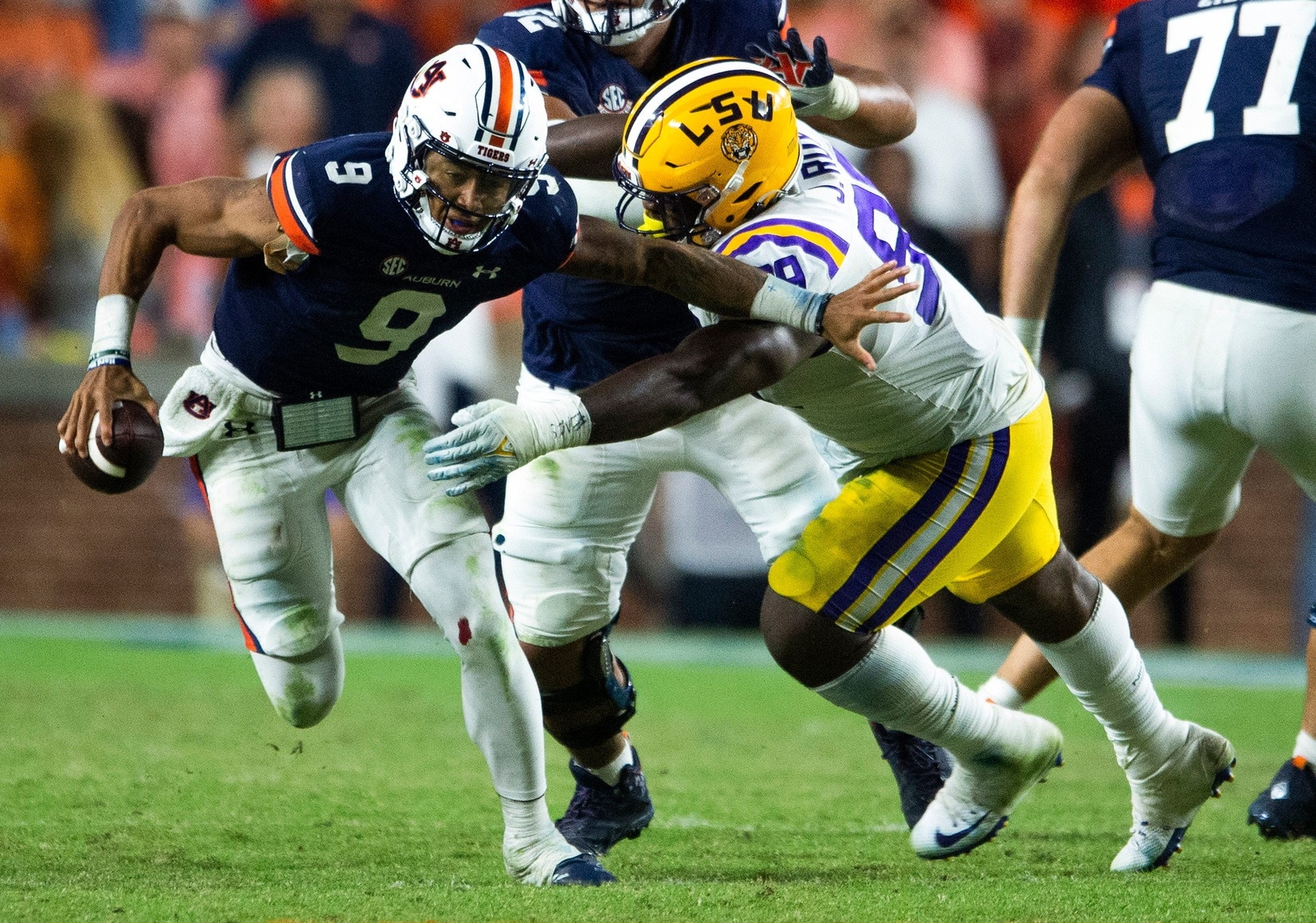 AUBURN
Auburn football: Tigers blow big lead, waste Ashford's 300-yard game
Bryan Harsin removed his headset, he no longer needed it. He was out of timeouts and LSU had just made a first down to sew up a 21-17 comeback victory on Saturday at Jordan-Hare Stadium. All Auburn's beleaguered coach could do was shake his head. How did his team blow a 17-0 lead?
That is the question, isn't it? How do you blow a 3-score lead when it appears you have everything going your way? How do you slow down after piling up 170 yards in the first quarter? How do you stop putting up points after scoring on 3 of the first 5 drives of the game?
Well, the final 2 possessions of the first half were a prelude of what was to come. A fumble and a missed field goal turned momentum, and that carried into the second half where Auburn went 1-for-6 on 3rd downs. On 5 possessions in the 2nd half, Harsin's team had 2 interceptions and turned the ball over on downs once.
Yeah, that'll do it. Well, that and some questionable play calling, with the most egregious being a trick play as Auburn was driving for what could have been a game-winning touchdown.
Receiver Koy Moore took a handoff and attempted to throw a pass. But instead of the transfer from LSU beating his former team he threw an interception at the LSU 10-yard line. It flushed Auburn's best drive of the game, a 13-play, 65-yard march.
It was a head-scratching call that proved costly.
That was the shame of it, because the effort was there for Auburn on Saturday. For all the talk about Harsin toiling in his final days on the Plains, Auburn came to play. The Tigers were prepared to shut down outside noise and prepared to take it to LSU. For the better part of 2 quarters had their way with the Bayou Bengals.
Even considering legitimate criticism of Harsin, he hasn't lost this team. The players still are giving their all on the field. The depth and talent level might not be on par with the SEC's top tier but the determination remains. That's undeniable.
Speaking of determination, the energy infused into the offense by Robby Ashford cannot be overlooked. The redshirt freshman QB threw for 337 yards and 2 touchdowns against LSU. It was Auburn's first 300-yard passing game this season. He played well enough for Auburn to win.
Start there on a search for positives. Ashford led 4 drives of 50-plus yards. He played like he belonged in the starting lineup, especially through the better part of 2 quarters. Was he perfect? Of course not, but Ashford displayed signs of maturity and mobility. He scampered 24 yards on one run and completed passes to 8 receivers.
Despite lacking the polish of the SEC's more experienced quarterbacks he showed the potential to be dangerous for opposing defenses. Now, like the rest of the Tigers, he has to learn to maintain that edge.
Will Harsin be the Auburn head coach who sees that to fruition? It doesn't seem likely. Auburn went 3-2 in 5 home games to start the 2022 season. Next week brings a trip to Athens, Ga., (2:30 p.m., Central time) to face the No. 1 Bulldogs in the Deep South's oldest rivalry. Then it's a visit to Ole Miss. Both upcoming opponents are undefeated through 5 weeks.
It's after that game in Oxford, Miss., that Auburn has its bye week. That's when things could get interesting as far as Harsin's future at Auburn. Stay tuned.