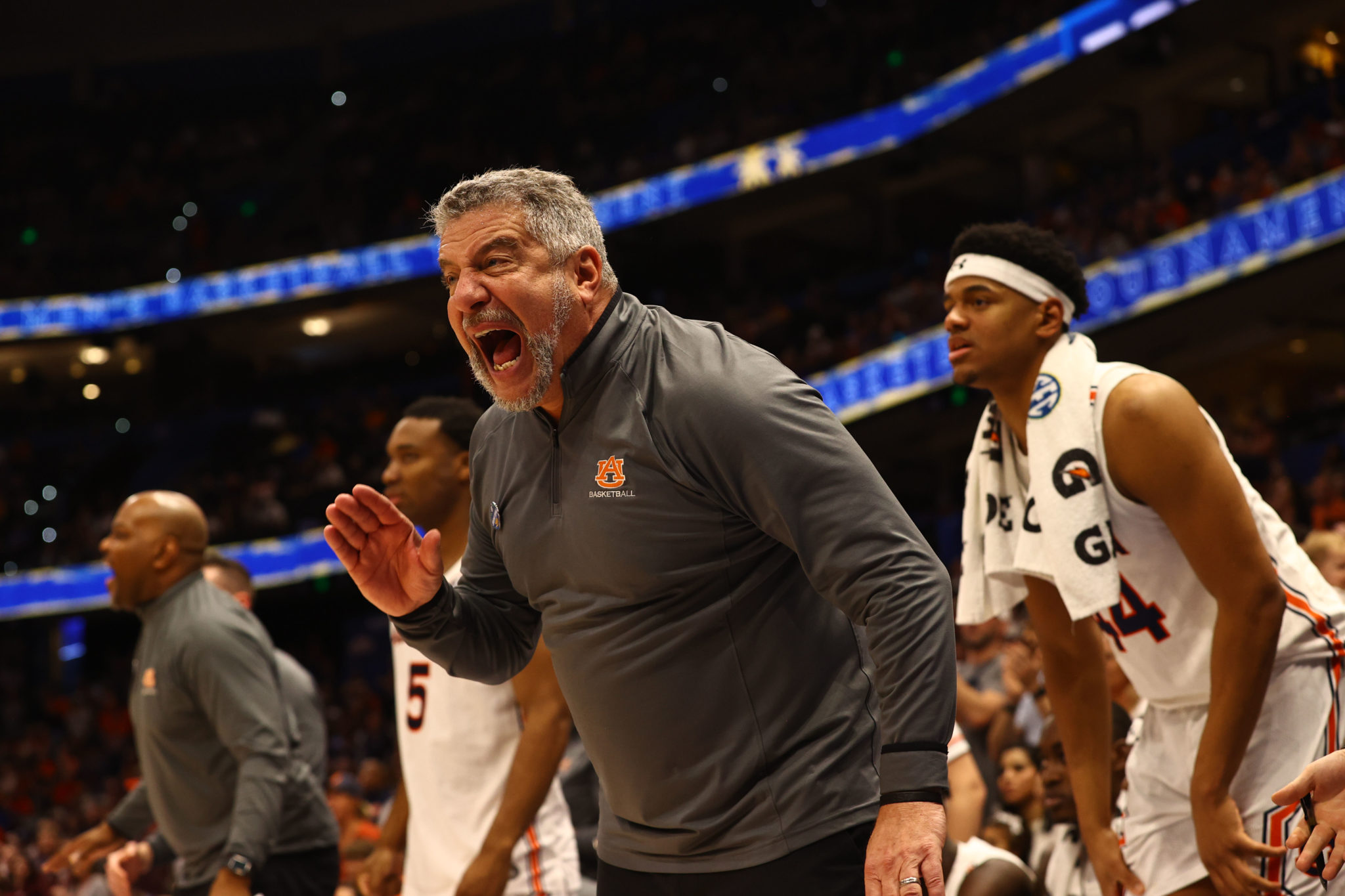 AUBURN
Auburn is paying Bruce Pearl like a football coach ... and he's worth it
Bruce Pearl has never struggled to accumulate paychecks. NCAA Tournament victories have been a bit harder to come by.
We'll discuss the latter in a moment, but let's first look at what has transpired since Selection Sunday. Pearl, who has been Auburn's head basketball coach since 2014, recently signed a new contract that will pay him over $50 million during the next 8 years. That's a whopper of a deal for an SEC basketball coach. Pearl will make about $6.275 million per season to coach hoops at a football school. For context, Pearl's average annual salary is more than what 9 SEC football coaches made last season — including the football coach at his school.
However, it's not just the money — or the amount of it — that Pearl, his family and his supporters should be celebrating. Auburn's willingness to pay Pearl "football" type of money is the final validation that Pearl is no longer considered the coach who misled his employer and the SEC. Pearl is now considered an elite basketball coach. History has faded. Pearl has risen like a phoenix in War Eagle attire. The latest contract made it official.
Auburn had no issue doling out a huge paycheck to Pearl despite some off-the-court issues at Iowa (where he was an assistant), Tennessee and Auburn. Pearl's contract became public knowledge just after Auburn had finished the season with a 27-5 record, won the SEC regular-season title and earned a No. 2 seed in the NCAA Tournament. To no one's surprise that has followed his career, Pearl has made Auburn relevant nationally when it comes to college basketball. That no small feat in the SEC.
Pearl has done everything he can to excite Auburn's fan base from the moment he showed up on campus. Whether it was impromptu displays of enthusiasm among students, planned community events or just winning, Auburn basketball is clearly a force that opposing coaches and national analysts will have to take into account. That's not a surprising turn of events. Pearl has done the same in other stops throughout his career.
Auburn just spent the offseason dealing with a bizarre situation involving its head football coach, Bryan Harsin. With his job seemingly in jeopardy for reasons that are not completely understood, Harsin simply turned a blind eye to the controversy and told everyone that he was simply going to go on vacation. That's a novel approach. Imagine your boss coming to you and telling you that there were serious issues about your job security and that things weren't going well. Your response? I need a beach. Peace out.
The football fiasco that Auburn had to endure last month surely made the Pearl contract an easier agreement to extend. As long as the NCAA isn't involved, Pearl is an incredible feel-good story. Auburn hasn't been a factor in basketball since peach baskets were used as goals. Auburn has won 4 SEC regular-season titles in its history. Pearl can claim 2 of them. In 2019, Pearl led Auburn to its first SEC Tournament title since 1985. Auburn has made the NCAA Tournament 11 times. Three of those invites came with Pearl as head coach. He's the only coach to lead Auburn to a Final Four. With 165 wins, Pearl already ranks 4th all-time in coaching wins at Auburn. Within 2 seasons, he'll likely jump to No. 1. Barring something unforeseen, Pearl may prove to be Auburn's best basketball coach of all time. No offense meant to Sonny Smith.
Smith has long been considered the lead dog of Auburn basketball. Pearl is changing that. Smith reached the Sweet 16 just twice in his 11 seasons at Auburn. Smith only managed to make the Elite 8 once. Long considered the godfather of Auburn basketball, Smith's public stature benefitted as much from a long-running radio show as it did from what his teams did on the court.
Pearl has not only changed Auburn; he has also changed the SEC. It's one thing for Kentucky to be a Final Four team. That's expected. Other schools, like Florida and Tennessee, have also had significant runs of success. Pearl is making the Tigers very well known among college basketball circles.
Unlike many other coaches, Pearl excels in the NCAA Tournament. There's good reason why. Pearl's teams usually have great guard play and Pearl is known for creating highly effective play designs, especially after timeouts on in-bound plays. As good as Pearl is overall as a coach, he's probably better in March. We'll see what happens this time, starting Friday when No. 2 Auburn plays No. 15 Jacksonville State.
Auburn is one of those teams that can change the way the SEC is viewed. Despite the successes that the SEC has had, the ACC, Big Ten and Pac-12 have generally been viewed as the premier leagues in college basketball. That means they often get the benefit of the doubt in tournament seeding and rankings throughout the season. This year put a dent in that, as several notable basketball analysts have said the SEC has claimed the top spot. Why are things trending that way. Money.
The SEC can't spend all of the money it makes from football on just football. There's just too much cash laying around. Like a rising ocean, the influx of television revenue for football lifts all boats or — in this case — all sports. Basketball has been a play thing for the SEC, a toy that is fun once a year. Having success in basketball has been nice for Auburn, but it's not like winning the Iron Bowl and it probably never will be.
Would Auburn fans take a win over Alabama in football over a Final Four appearance? Probably. Auburn, however, isn't thinking in those regards. It has shown it's willing to pony up and pay Pearl. That's a good call. He might just change the face of Auburn basketball forever and elevate the SEC as an entire league. I'm betting tournament wins will come alongside the increased financial commitment that Auburn has made to Pearl. The money is just the beginning in what should be Pearl's last job in his career.