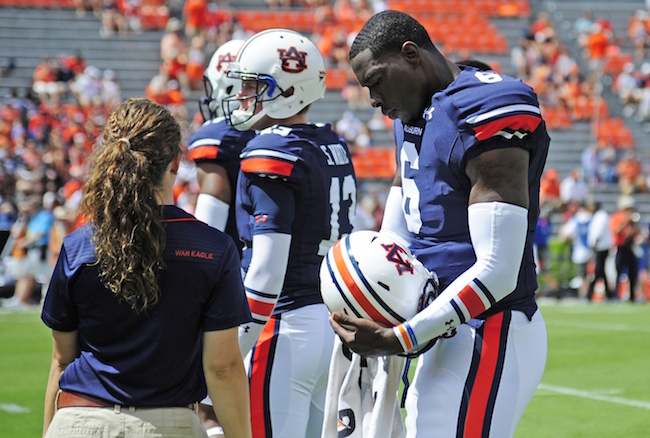 AUBURN
Auburn's biggest recruiting misses since 2010 have come at quarterback
Cam Newton, the four-star dual threat quarterback who was part of Auburn's 2010 recruiting class, is currently busy blowing up the NFL, leading the Carolina Panthers through a historic season. Newton also blew up college football while he was part of it, leading the Tigers to a national title during his one year as their quarterback after a stop at Florida and junior college.
Auburn is proud of what Newton is doing in the NFL and glad that they are able to call him one of their own. But since Newton graced the program, Auburn has never again been quite as comfortable at filling the quarterback position.
In Auburn's 2011 recruiting class, many became impact players. Sammie Coates, Kris Frost, Jermaine Whitehead, Tre Mason, and Justin Garrett all had great careers.
But not mentioned as often is four-star commit Kiehl Frazier, a dual quarterback who totaled only 753 passing yards and 326 rushing yards over his three-year tenure at Auburn. He was a massive disappointment.
There also have been many other misses with quarterback recruits.
There were two quarterback commitments in 2012. Four-star pro-style quarterback Zeke Pike enrolled early in January but was quickly dismissed from the team in June after an arrest for public intoxication. Since then, he has also been let go from Louisville and Murray State.
The other recruit was three-star dual threat Jonathan Wallace. With Frazier struggling at quarterback in 2012, Wallace got his chance but wasn't much better. He was ultimately moved to wide receiver. Frazier transferred away.
In dire need of a solution at quarterback, Auburn happened to recruit two in 2013. One was three-star JUCO prospect Nick Marshall, the other was four-star pro-style Jeremy Johnson.
Marshall did some good things in the surprising 2013 season that led to an SEC title and a shot at a national championship against Florida State. He rushed for 1,068 yards and threw for 1,976 in leading the Tigers to a 13-1 season. He's the only one of the group that really wasn't a huge bust, but he really wasn't a true quarterback either. He struggled at QB in 2014 and was signed as a cornerback by the NFL's Jacksonville Jaguars.
Johnson had a few chances in 2014 and came into 2015 with a lot of hype but was horrible early in the season and wound up losing his job to freshman Sean White.
The Tigers have more four-star quarterback prospects coming in 2016. Will Johnson beat them out or will one of them break Auburn's cycle of recruiting misses at quarterback?