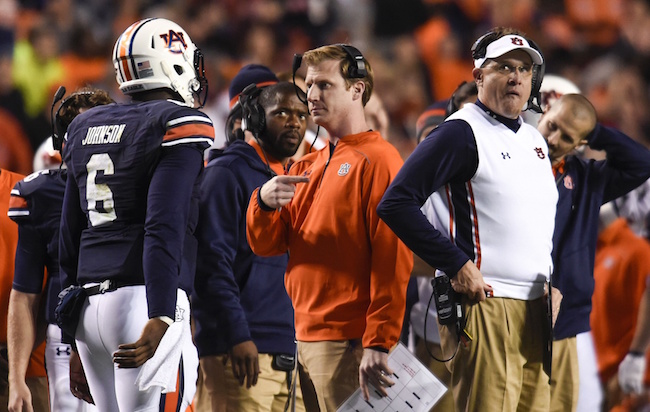 AUBURN
Auburn's top concern in 2016 is at quarterback
Auburn finished the 2015 season at 7-6 with the second-worst defense in the SEC. Auburn will have at least five new faces on its coaching staff, including yet another new defensive coordinator. Auburn is losing three senior linebackers to graduation, and has five quarterbacks on the roster but no idea who the quarterback will be.
Welcome to the Auburn Tigers' offseason.
Coming off a season like this, there are a litany of problems that need to be addressed during the offseason. To identify Auburn's top concern out of that long list is tough. But at the same time, it's not. It's already all over the media.
It's that obvious of a question. Who is going to be Auburn's quarterback in 2016?
Let's break down the options:
Jeremy Johnson and Sean White, the returners: Together, Johnson and White stuttered through the 2015 season. Both have arm strength, both do well in up-tempo offenses, but both also struggle with decision-making. Neither one was able to end the season as a beacon of stability and consistency, but both will gun for the job during the offseason. Each had a chance to lock down the starting job, and neither did.
Tyler Queen, the freshman: If it wasn't for the elbow surgery that took him out for the season, there's a chance that we could have seen Queen out on the field under center. In high school, Queen showed a glimmer of dual-threat potential with 27 passing touchdowns and 10 rushing touchdowns in his senior year. He was the top-rated QB in Georgia coming out of high school, so the potential is there. Since dual-threat seems to be what Gus Malzahn really wants deep down, Queen will be another name thrown into the ring for 2016.
Woody Barrett, the four-star dual-threat: Barrett so far just a verbal commit, but after looking into what recruiting analysts have to say about him, it's clear why Malzahn wanted him. Barrett seems to be able to do what all Auburn's current quarterbacks cannot. He moves well in the pocket, moves even better when flushed out, runs with speed, and throws accurate mid-range balls. Compared to what Johnson and White gave this season – especially with accuracy issues – what Barrett is rumored to possess could be a breath of fresh air.
John Franklin III, the JUCO dual-threat: Noticing a trend? Malzahn has hedged his dual-threat bets with Franklin already signing his letter of intent. Franklin's JUCO coach claims he has the speed and athleticism to be an SEC quarterback. Franklin, a former Florida State recruit, is on campus and confidently has said he plans to be the starter all year. And while this doesn't really add anything substantial to the debate, we'd just like to remind you of how well Auburn tends to get along with JUCO transfer quarterbacks. We're thinking of Cam Newton and Nick Marshall in particular.
So who will it be? At this point, your guess is as good as ours. But answering that question will be the top concern for Malzahn and his staff.