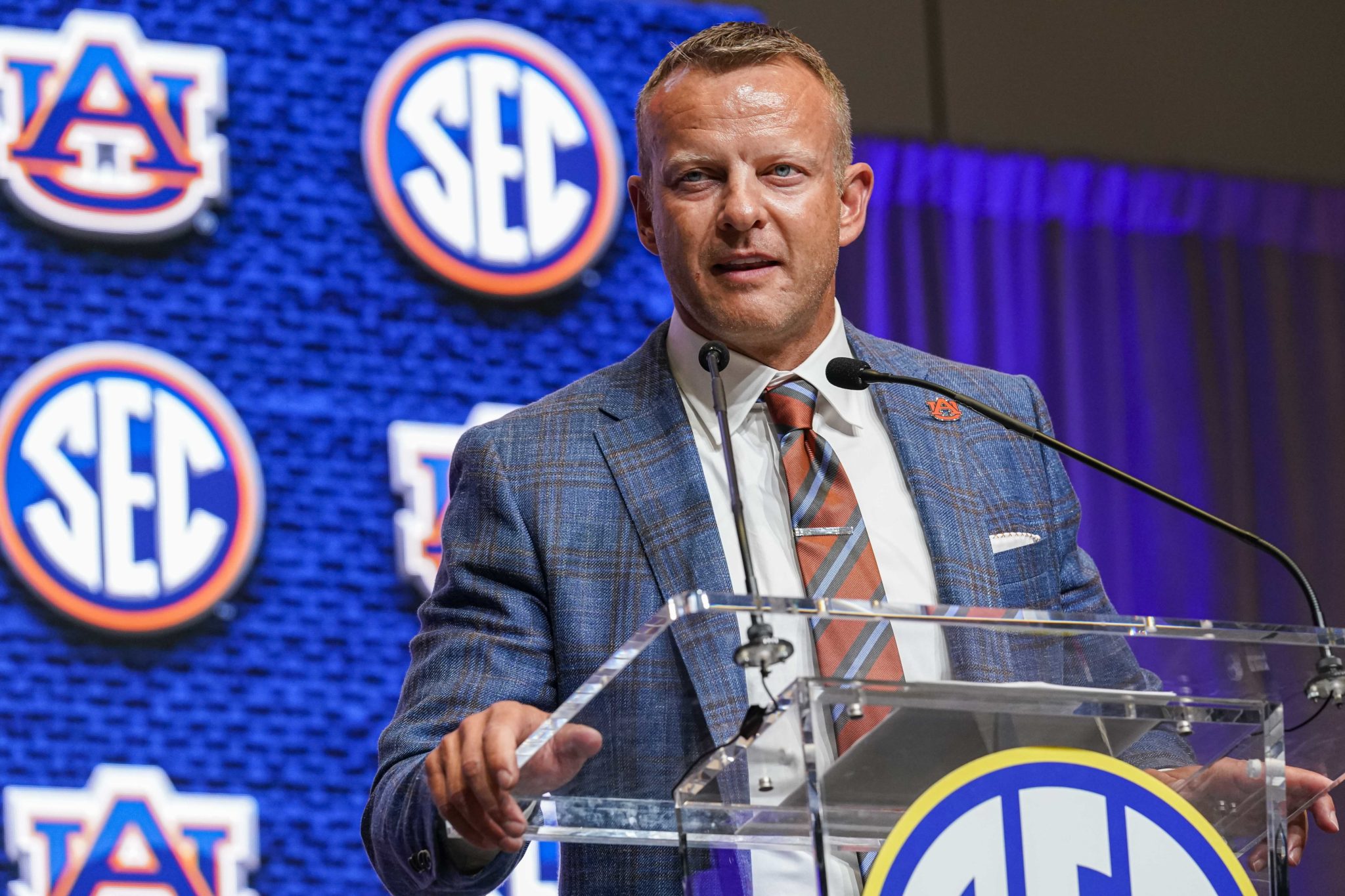 AUBURN
Hayes: Bryan Harsin vs. Auburn boosters is the hottest rivalry in college football
ATLANTA — This is who they hired, and why they hired him. What did Auburn think was going to happen?
Bryan Harsin will not go gentle into the good night. He will rage, rage, against the dying of the light.
The rain poured on the roof of the College Football Hall of Fame Thursday as Harsin walked, a confident pounding stride, to the podium of SEC Media Days.
Then let it fly.
"There was an inquiry. It was uncomfortable," Harsin began, his jaw set and his back bowed. "It was unfounded and it presented an opportunity for people to personally attack me, my family and also our program. And it didn't work."
But it didn't end there. For the first few minutes of his highly-anticipate first address since the attempted coup at Auburn — because that's what it always is with Auburn boosters — Harsin made it very clear what happened, the absurdity of why it did, and how he's in charge moving forward.
For however long that is.
Rage, Bryan Harsin. Rage against the dying of the light.
Rage against the worst job in college football.
Away from the stage, when I reminded Harsin of the classic Dylan Thomas poem from the 1940s — Do not go gentle into the good night — there was a confident, purposeful smile.
"That will be the last time I talk about that," Harsin said earlier on stage. "If you want any more information on it, just go Google it."
I'll save you the search — and provide some reality.
Harsin was hired at Auburn last year for this very reason — because he has the backbone, the fortitude, the unwavering personality, that screams we're doing this my way. Not the way of those lunatic fat-cat boosters, who do everything in their power to soil the Loveliest Village on The Plain in the name of winning football.
This was the plan all along. Hire an outsider as athletic director (Allen Greene in 2018), and have him begin the process of decoupling from those with too much money and too much influence.
Three football seasons later, Greene got his chance when Auburn and coach Gus Malzahn — who beat Alabama coach Nick Saban 3 times — decided enough was enough and it was time to part ways.
Greene then tried to hire — in no uncertain order — Louisiana coach Billy Napier (now at Florida), Shane Beamer (who chose South Carolina) and Clemson defensive coordinator Brent Venables (now at Oklahoma) — and struck out because all three were concerned with Auburn's alignment between the those inside the football building and those outside of it (see: board of trustees, boosters).
So Greene went further outside the box and found the one personality who would not budge when faced with the historic meddling from the Auburn board of trustees and boosters. Then a collapse in the second half of Harsin's first season happened, and those same boosters saw their opportunity.
It was a difficult argument to fire Harsin after Year 1 — assistant coaches and players leave all the time after Year 1 because of fit and buy-in — so those with money decided to get dirty. Because this is how it works at Auburn: Those with money overshadow a wonderful university and community, with salt of the earth people, to satisfy their own greedy needs.
They've taken what should be a top-10 job — the beautiful campus, the unwavering fan support, the facilities — and turned it into the Raiders of the NFL.
Then came the dirtiest move of all in the fight to remove Harsin: a nasty social media campaign that included an alleged affair with a member of the athletic department. Because what better way to get Harsin than by jumping into the sewer that is social media — and allowing it to take over.
"Brutal, just brutal," an SEC coach told me. "We've all heard the stories about that place, but to see it play out like that. Just sickening."
The inquiry began and the investigation concluded and there was no real reason to fire Harsin — other than a disappointing first season and his refusal to bend to fat-cat boosters.
Again, this is what you wanted, Auburn. You wanted a strong personality who would stand toe-to-toe with Saban and not blink. More to the point, who wouldn't back down from outside influence.
So after Tank Bigsby forgot to get down inbounds in the last 90 seconds of the Iron Bowl — in what would've likely sealed a victory over Alabama — the fallout began.
Eight months later, Harsin was standing on the stage at SEC Media Days addressing the nonsense of the offseason before finally moving forward to what he does best: coach ball.
"It united our football team, our players, our staff," Harsin said. "I'm proud of what seething like that, that could be very challenging and difficult for a lot of people, how our guys stepped up and handled it."
Said Auburn DE Derick Hall: "He's my guy. Has been from the first day. Nothing will change that."
Nothing, too, will change what those in power want at Auburn. If Harsin doesn't win enough games this season — 8 or 9 games? — he'll more than likely not make it to Year 3.
That's how it works at Auburn. It's how Terry Bowden was forced to quit, and Tommy Tuberville was run off, and Gene Chizik was kneecapped and Malzahn was finally worn down.
Four coaches with winning records, two with unbeaten seasons (Bowden, Tuberville), one who beat Alabama 6 times (Tuberville), one with a national title (Chizik) and one who beat Saban more than any other SEC coach (Malzahn).
All fired from the worst job in college football.
"Anytime we're going backward, talking about the past, we're not moving forward, talking about the future," Harsin said. "We've moved on."
Rage, Bryan Harsin. Rage, against the dying of the light.