AUBURN
Auburn coaching candidate trending as fans are doing what they can to prevent his potential hire
As Auburn's coaching search continues in an effort to replace Gus Malzahn, reports have continuously surfaced that defensive coordinator Kevin Steele may be in line to take over as Auburn's head coach.
Auburn fans don't seem to be in agreement with this move.
The Twitter hashtag #StopSteele has surfaced, as fans hope for a more accomplished hire to replace Malzahn.
Steele has certainly done an excellent job as Auburn's defensive coordinator, and has the respect of college coaches across the country, but his only head coaching experience was a miserable stint at Baylor from 1999 to 2002 in which Steele went 9-36.
Steele made an appearance at a press conference on Wednesday to discuss Auburn's 12 signees during the early signing period, and the hashtag made a quick appearance on one of the first replies.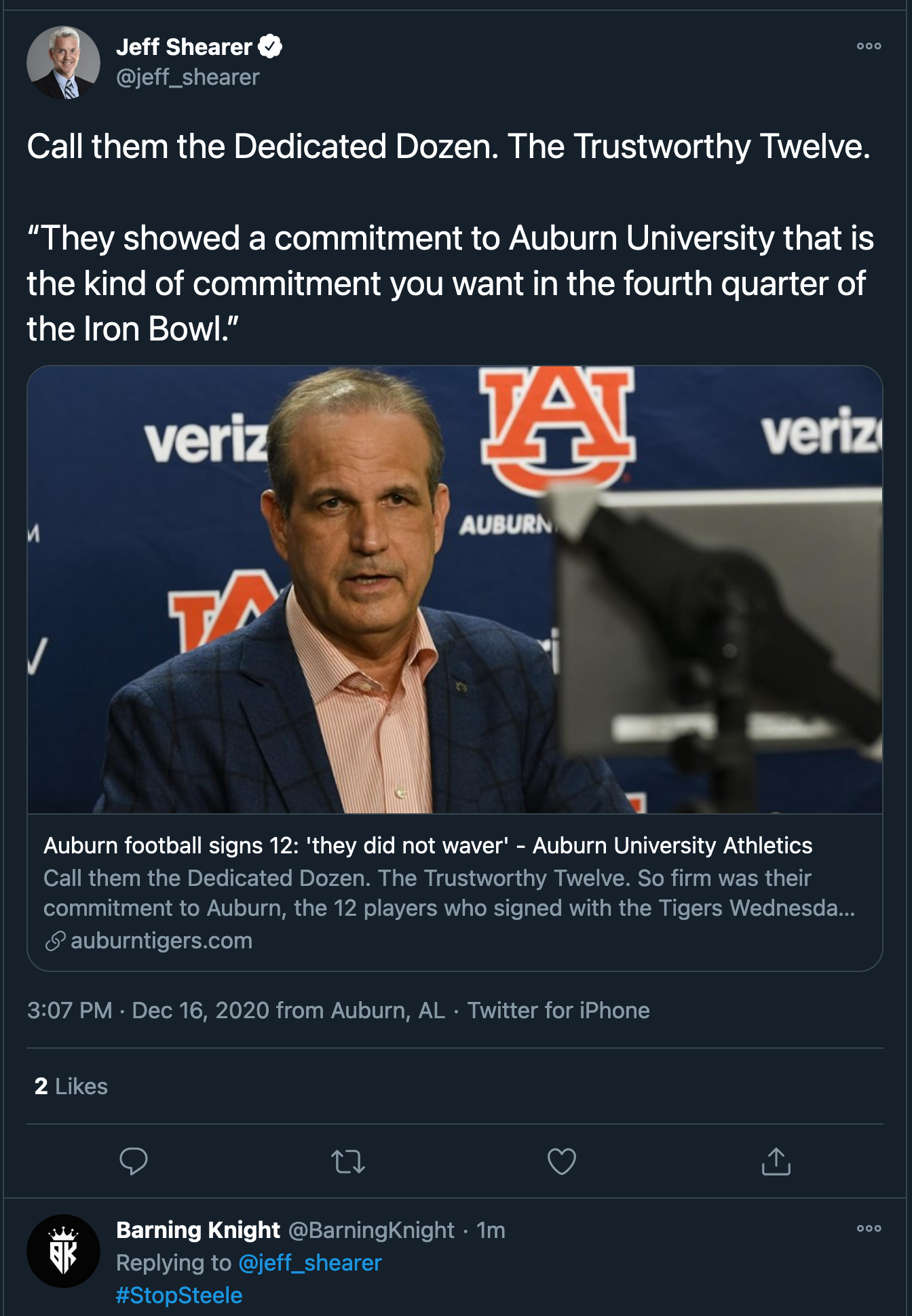 It is abundantly clear that Kevin Steele is not the preferred choice for the majority of the Auburn faithful.
There is a reason you never heard Steele's name come up in any head coaching openings in the last 4 years.

Auburn is going to punk itself if they don't open their eyes to what everyone else clearly sees #DontHireSteele #StopSteele @AGreeneIV @AuburnFootball @AuburnU

— Auburn Memes (@AuburnMemes) December 16, 2020
NO STEELE, YOU WILL LOSE THE AUBURN FANBASE IF YOU DO THIS@AGreeneIV @KirkHerbstreit @davidpollack47 @TheAthleticCFB @DesmondHoward @CollegeGameDay @ESPNCFB @SECNetwork @BoJackson pic.twitter.com/n6d10hbQUL

— Jason Smith (@JasonSm39679259) December 16, 2020
The hashtag #StopSteele is trending on Twitter so things are going well at #Auburn #WDE

— Adam Gorney (@adamgorney) December 16, 2020
Auburn needs a real Head Coach! #stopsteele #Auburn pic.twitter.com/zms9vnrXan

— Todd Gantt (@JABA_WDE) December 16, 2020
Hire Tubs
Fire him
Hire his DC
Fire him
Hire Gene's OC
Fire him
Hire Gus's DC?#StopSteele @AuburnFootball @AGreeneIV

— Auburn Reddit (@AuburnReddit) December 16, 2020
@yellawood this should be our first ,and only candidate for Head coach @AuburnFootball not Kevin Steele #stopsteele pic.twitter.com/61bHwxpK59

— Kevin J (@wishbone32) December 16, 2020
Do not do this Auburn. You have a chance to not screw this up. And hiring Steele would be the DEFINITION OF SCREWING UP!!!!! #StopSteele

— Wes Richards (@WesRichards7) December 16, 2020