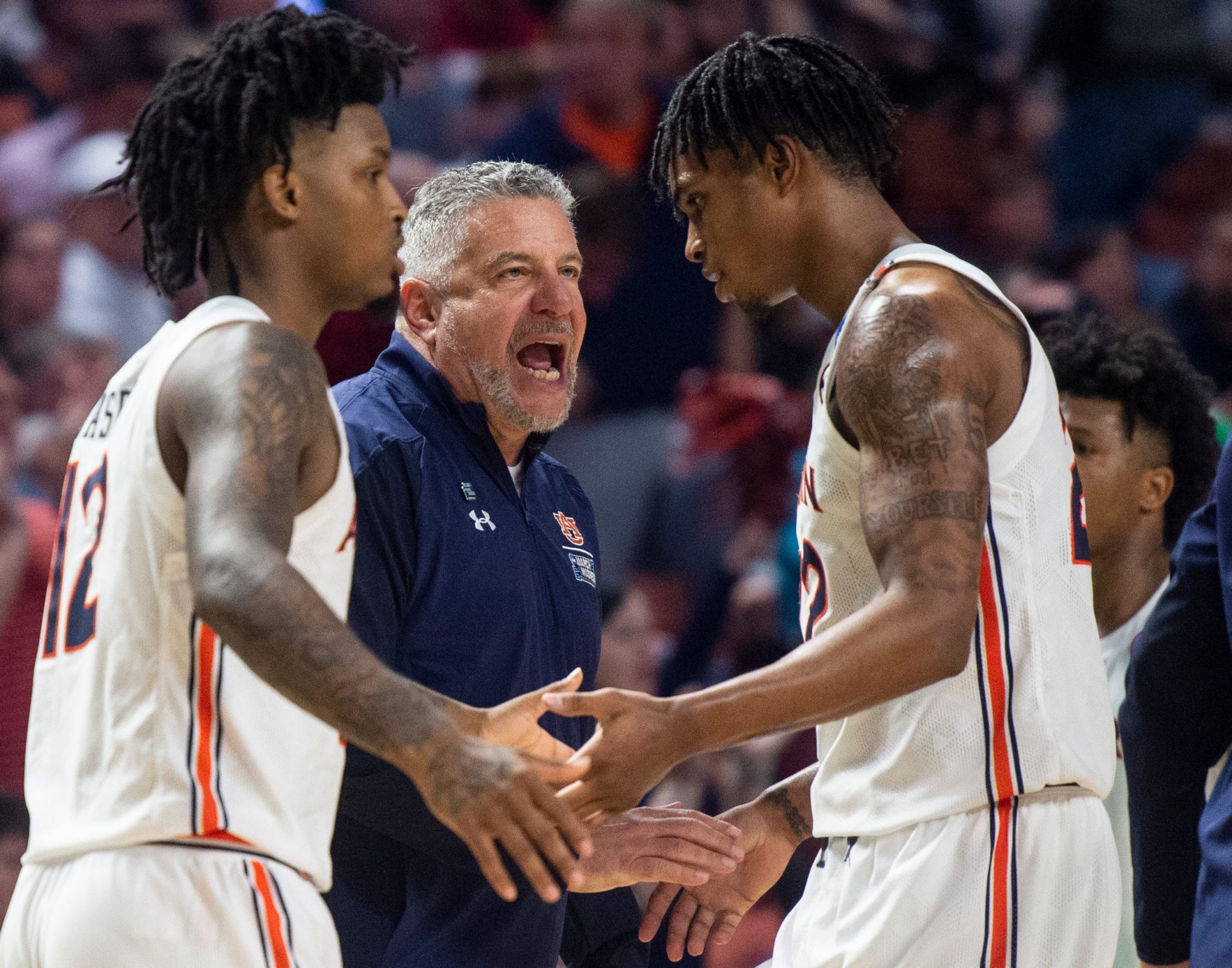 AUBURN
New contract, new expectations: Why Bruce Pearl has to get Auburn to Sweet 16 ... and beyond
Auburn's march to relevance once again under coach Bruce Pearl seems to be destiny in the making. Before we get that far, let's remember that the NCAA Tournament can turn favorites into foils in just 40 minutes.
There's every reason to believe that the Tigers will advance to the Sweet 16 when they play No. 10 seed Miami on Sunday night (7:45 ET tip). The Tigers are about a touchdown favorite in the game. That's 7 1/2-points to be exact. Auburn has better players and better coaching. Auburn also gave no indication that it was ready for an early NCAA Tournament exit with its first round 80-61 win over Jacksonville State.
Returning to the Sweet 16 would be a major step in the right direction for a program that was ineligible last season due to self-imposed penalties that resulted from NCAA infractions — though at 13-14, they weren't going, anyway. Auburn's top brass seems to think the Tigers are on the right path. They ponied up earlier this week with a major contract for Pearl, who will average $6.25 million per year for the next 8 seasons. In the SEC, that's called football money. Pearl's recent history made the decision to extend the whopping offer a bit surprising. The timing was also a bit strange. However, one could make a strong argument that Pearl deserved the new contract.
Pearl has a memorable Final Four run on his Auburn record, but that occurred in 2018-19. Sure, COVID got in the way, but that seems like a long time ago or, as the kids say, "It's been a minute." Auburn and Pearl put some serious pressure on themselves with the new contract. Yes, Pearl won the SEC regular-season championship this season, but there didn't seem to be any logical reason for Auburn to be so generous before the NCAA Tournament, which is where Pearl and any coach will ultimately be judged. Just ask Rick Barnes.
If Pearl and Auburn lose to Miami on Sunday, then the naysayers will be out in force. Well, at least they won't be talking about embattled football coach Bryan Harsin. Can Auburn lose to Miami? Certainly. Will they? Probably not.
Auburn has two players who have been projected to be selected in the first round of the NBA Draft: forward Jabari Smith Jr. and center Walker Kessler. Miami has one player that is popping up on NBA Draft projections. Guard Kam McGusty is thought to be a potential second-round pick. The Tigers clearly have better talent than the Hurricanes.
The coaching advantage also goes to Auburn, but that's more debatable. Pearl has had far more recent success than Miami's Jim Larrañaga, who has a Final Four appearance as the coach at George Mason. However, Larranaga hasn't turned the Hurricanes into any sort of a Final Four contender. The 'Canes have only made the Sweet 16 once in Larranaga's 10 full seasons in Coral Gables. Pearl made the Sweet 16 or better during 3 seasons when he was the coach at Tennessee from 2005 to 2010. Then, his career got put on hold because of NCAA issues before he was tabbed to rebuild Auburn. Pearl's enthusiasm rubs some people the wrong way, but his results are hard to argue with when the NCAA isn't involved.
If Auburn loses to Miami, we'll be able to look back at signs as to why the Tigers' season ended in disappointment. Auburn finished the season with a 5-4 record before earning a No. 2 seed in the NCAA Tournament. Miami has won 7 of its past 9 games and was certainly a challenge for Duke in the ACC Tournament before losing 80-76 to the Blue Devils.
Momentum may be the one advantage Miami has over Auburn on Sunday. The No. 10 seeded 'Canes defeated No 7 Southern California 68-66 to advance to the second round. Auburn was never really tested in its opener, beating Jacksonville State 80-61.
If Miami is able to upset Auburn on Sunday, then turnovers will be a likely reason. Miami is one of the best teams in the country in protecting the ball and creating turnovers. The 'Canes rank 6th in the NCAA in turnover margin. Auburn, however, is no slouch at No. 39 in the country.
Auburn will certainly be keeping a close eye on sophomore guard Isaiah Wong. He scored 22 points in Miami's opening-round win. Wong has a tendency to get hot. That was evident against the Trojans when he scored all of Miami's 13 points during an 8-minute span. When Wong's teammates aren't playing well or have decided to take a break, Wong is a guy that Miami can turn to.
There will never be shame in making the Sweet 16. That's an accomplishment for any program. However, falling short of that feat would open up Pearl and Auburn to some criticism, especially after they agreed to that monster contract. After the Harsin fiasco, no one wants to look foolish on The Plains again.