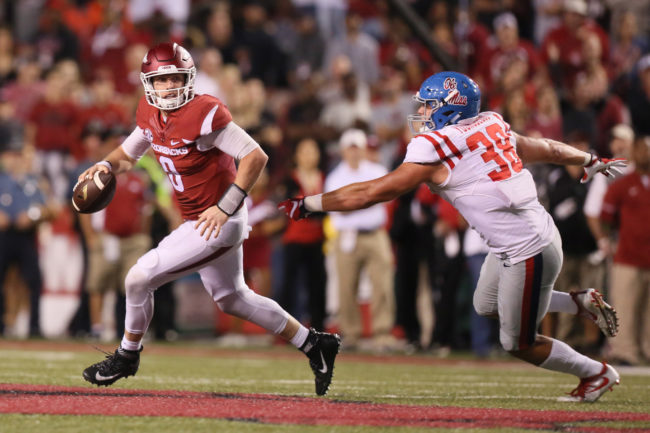 AUBURN
Next two weeks will be Auburn's biggest back-to-back test
Hopefully Auburn enjoyed its bye week, because the next two weeks represent the Tigers' toughest two-game stretch of the season. AU hosts Arkansas on Saturday night before visiting Ole Miss the following week.
In those upcoming matchups, Auburn will face arguably the two best quarterbacks in the SEC in the Razorbacks' Austin Allen and the Rebels' Chad Kelly. Coincidentally, those signal-callers faced each other in Arkansas' 34-30 victory on Saturday night, giving the Tigers a clear taste of what's to come.
Allen had a better game, completing 19-of-32 passes for 229 yards, 3 touchdowns and 1 interception. And as it turns out, it can be argued that he's having a better season than Kelly as the Razorback leads all SEC quarterbacks with 18 passing TDs, four more than any other, while completing a slightly higher rate of passes (63 percent) and ranking second in the conference in passer rating (156) behind only Auburn's Sean White.
Kelly, who leads the SEC in passing yards per game (308.2), completed just 18-of-39 attempts against the Razorbacks for 253 yards, a TD and an INT. Despite that performance, he's still within striking distance of some of his numbers from last season, when he led the SEC in passing yards per game (310.9) and TDs (31).
Auburn, which has won three straight and made its 2016 debut in the AP Top 25 last week, has turned around its season behind its running game and its defense. Under first-year coordinator Kevin Steele, the Tigers are fifth in the SEC in total defense, allowing 346.8 yards per game, and are third in the conference against the pass, yielding 199.7 yards a contest.
Entering its two-game SEC gauntlet, the toughest QB Auburn has faced this season is Clemson's Deshaun Watson. Watson, who is not having the type of campaign that helped him become a Heisman Trophy finalist a year ago, had one of his worst games of the season in Week 1, when he completed just 19-of-34 passes for 248 yards, a touchdown and an INT in Clemson's 19-13 victory on The Plains.
Allen, who has rushed for a touchdown despite losing 49 yards on 34 carries this season, is obviously not nearly the running threat that Watson is. But coincidentally, Kelly's average yards per rushing attempt (4.1) is better than Watson's (3.9).
Auburn had a chance to beat Clemson on the final play of its opener in part because of how it prevented Watson from having a big game running the ball. Watson had just 21 yards on 11 carries against AU, and maybe Steele and the Tigers can use that performance as a blueprint on how to contain Kelly.
None of the quarterbacks Auburn has faced this season have been as good as Watson, so against Allen and Kelly, the Tigers' defense has a chance to prove how good it really is. Auburn didn't let Trevor Knight make the same impact he's made in other games, limiting him to 42 yards on the ground, his second-lowest output of the year. Meanwhile, he only completed 50 percent of his 40 pass attempts in the 29-16 victory over Auburn.
In two of the next three weeks, Auburn contained Danny Etling and Nick Fitzgerald in wins over LSU and Mississippi State, respectively.
Led by Carl Lawson, Montravius Adams and Marlon Davidson, Auburn's defensive line has been its biggest strength. After missing all of 2014 and half of last season due to injuries, Lawson has five of the Tigers' nine sacks over the last three games, and Adams and Davidson each have compiled 17 tackles and 2.5 sacks.
Carlton Davis (19 tackles, 7 pass breakups) has followed up making the All-SEC freshman team last season with another solid campaign. Redshirt freshman and fellow cornerback Javaris Davis (13 tackles, 3 pass breakups) has held his own in the secondary as well.
Plus, after going into the season without any of its starting linebackers from 2015, Auburn has gotten key contributions from Deshaun Davis (24 tackles) and Darrell Williams (23). Their production has helped offset subpar seasons from Illinois transfer LB T.J. Neal (8 tackles) and defensive end Byron Cowart (4 stops).
Arkansas has four players with at least 19 catches and 199 receiving yards, while Ole Miss boasts five pass-catchers with at least 201 receiving yards, so Auburn will definitely be tested as it closes out October. But based on his defense's performance through its first six games, Gus Malzahn is confident its success will continue.
"We knew we had the potential to be pretty good on defense," Malzahn told auburntigers.com last week. "Kevin Steele coming in, and the defensive staff really jelled, and guys are playing extremely hard for them. It's really great to have a defense that has done what it has done so far."