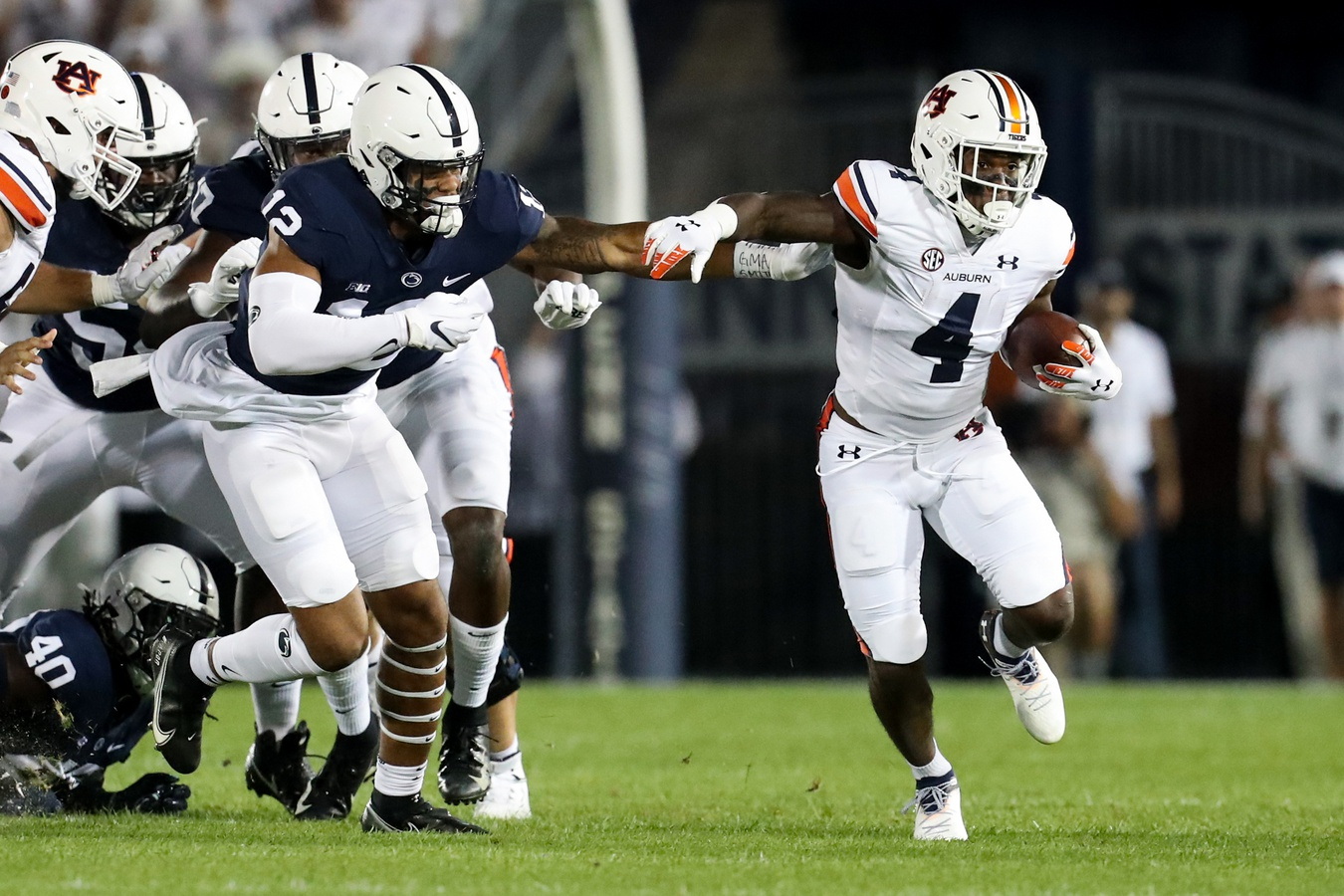 AUBURN
Rapid Reaction: Auburn drops the ball at Penn State's 'White Out'
We wondered just how good Auburn is. Lopsided victories over Akron and Alabama State didn't answer that question.
Now we know. The No. 22 Tigers (2-1) weren't up to the level of play from B1G contender Penn State (3-0) and its "White Out" crowd in Happy Valley, dropping a tense 28-20 decision to the No. 10 Nittany Lions on Saturday night.
Quarterback Bo Nix did little to erase the stigma that continues to haunt him on the road, although his receivers didn't do much to help him out, either. There were several dropped passes on top of the number of errant throws, including a final one on 4th-and-goal with a chance at a TD and 2-point conversion to tie.
Nix finished 21-of-37 for 185 yards. He didn't throw a TD pass or an interception.
We knew the Tigers couldn't maintain their nation-leading scoring offense against Penn State. Auburn came into the game averaging 61 points per contest. It would take far fewer points to win this old fashioned slobberknocker. But when head coach Bryan Harsin got cute in Auburn's first drive of the second half, it backfired and put the Tigers in a hole they couldn't dig themselves out of.
It was supposed to be a reverse pass with wide receiver Kobe Hudson taking a pitch from quarterback Nix. Hudson was supposed to throw a pass, but in his haste, he fumbled the ball and Penn State needed to go just 20 yards to extend their lead to 21-10.
To their credit, the Tigers answered with an impressive 15-play, 75-yard drive, putting the football in the hands of their best player. Auburn turned to running back Tank Bigsby, who carried 8 times for 39 yards, including a 6-yard touchdown run, his second of the game, which brought the Tigers to within 21-17 midway through the third quarter.
Bigsby finished with 107 yards rushing and 2 TDs.
Then the Lions opened the door for a potential Tigers comeback. Auburn stuffed a fake punt on 4th-and-1 from the Auburn 43 and the Tigers moved to within range of kicker Anders Carlson, who booted a 43-yard field goal on the first play of the fourth quarter, making it a 1-point game and leaving Penn State clinging to a 21-20 advantage.
But that's as good as it would get. Penn State drove 75 yards in 9 plays on its ensuing drive to grab a 28-20 lead. During the drive, Auburn LB Zakoby McClain was ejected for targeting and will also miss the first half of next Saturday's Homecoming game with Georgia State.
Bigsby entered the contest leading the SEC and ranking 2nd in the nation averaging 10.04 yards per carry. Though he didn't keep up those video game like numbers, he did initially flash his brilliance during Auburn's only touchdown drive of the opening half.
Bigsby rushed 5 times for 21 yards in an 11-play, 75-yard drive. He carried 3 straight times from the Penn State 13 and bulled his way into the end zone to give Auburn a 10-7 lead.
We couldn't have expected Auburn to keep up its scoring defense numbers either. The Tigers came into the game tied for the lead nationally, giving up an average of 5 points per game. The Lions surpassed that mark by halftime, taking a 14-10 lead.
It could have been worse. Nix gift-wrapped a pick-6 near the end of the first half, but the Penn State defender, who jumped the route, bobbled the pass, tipped it up, and then ultimately dropped it. Auburn punted and the Lions had one more chance to add to their lead before intermission. But a Roger McCreary interception at the Tigers' 3-yard line ended that threat.
The Auburn defense kept the game close while Nix and the offense sputtered until turning to Bigsby, who provided the only real consistency in the Tigers' attack.