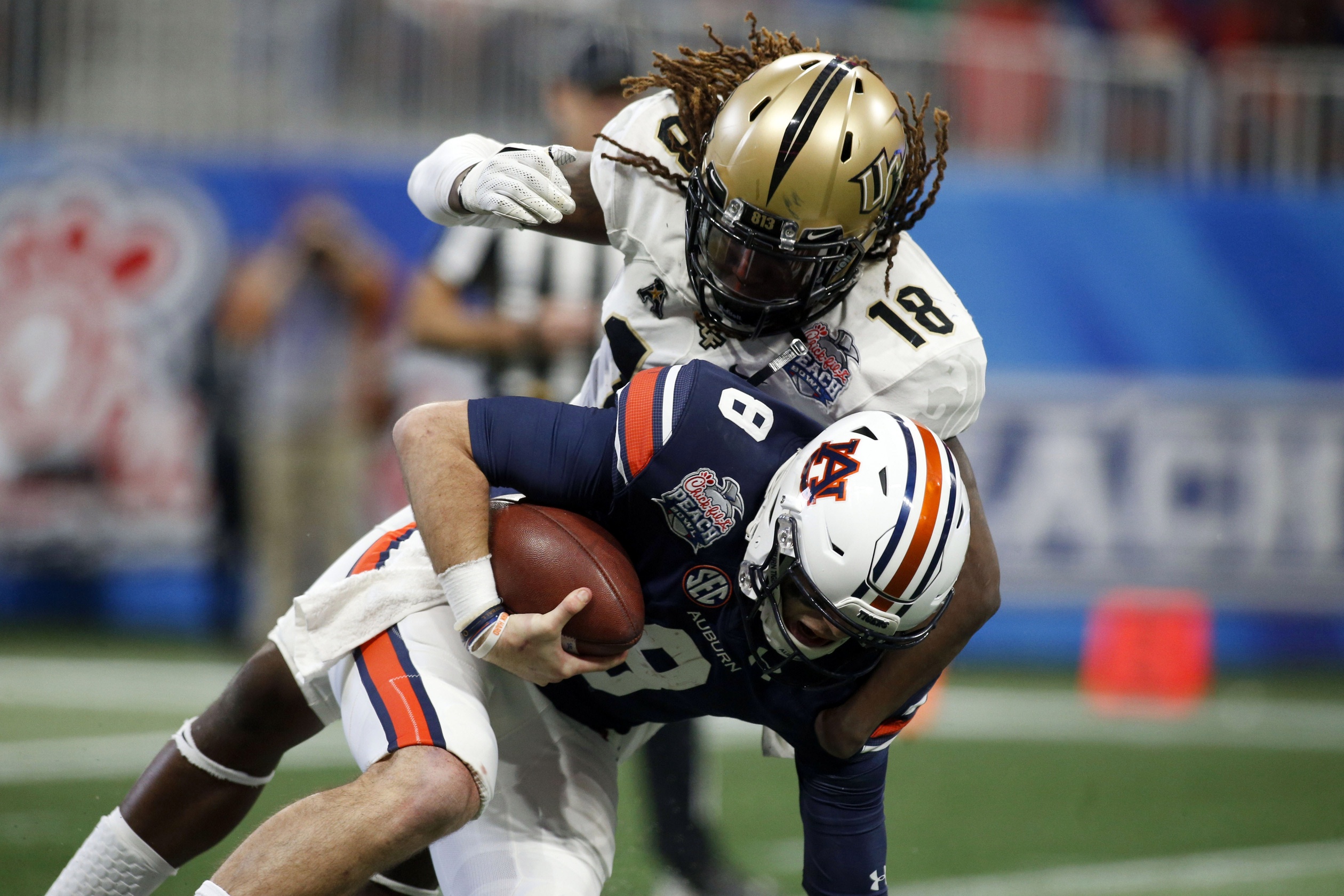 AUBURN
What went wrong for Auburn in the Peach Bowl? Plenty
UCF deserves a ton of credit for its performance as a team in Monday's Peach Bowl. The Knights were a 15-point underdog to the Auburn Tigers according to Odds Shark. They didn't just cover that spread; they won outright.
Auburn found some success through the air offensively — Jarrett Stidham completed 65.1 percent of his passes for 331 yards and a touchdown — but the Knights made plays defensively when it counted.
The Tigers' struggles all started with their inability to win in the trenches. UCF's defensive front dominated en route to sacking Stidham six times, including 1.5 from star edge rusher Shaquem Griffin. That's a surprising stat considering the Knights only had 21 sacks in their prior 12 games.
It didn't stop there, however. UCF generated so many sacks — and forced Stidham into two interceptions — because they earned the right to get after the quarterback by winning early downs.
Auburn's offensive line struggled to get any consistent movement in the run game. Star running back Kerryon Johnson looked healthy, but ran for 71 yards on 22 carries — an average of only 3.2 yards a carry. He had 77 total yards, his third fewest this season.
It wasn't the offense's best day, but Auburn wasn't totally anemic. Stidham did a nice job distributing the ball to multiple guys, as four receivers had three or more receptions. The Tigers also found success on third and fourth down, going 10-of-19 (52.6 percent) on the day.
The offense certainly doesn't deserve all of the blame.
UCF gained 411 total yards (242 passing, 169 rushing) and converted 42.9 percent (6-for-14) of its third downs. Sophomore quarterback McKenzie Milton was a huge reason for that success, accounting for 87.1 percent (358) of that total yardage.
Overall, Auburn had a lackluster performance with way too many inconsistencies.
At one point, it looked like the Tigers had gotten things together to start the second half. They tied the score at 13 on their first drive, held UCF to a three-and-out on the ensuing drive, then took a seven-point lead on the next possession.
From there, it was all the Knights. They went on a 21-0 run to take a 34-20 lead, and despite a late touchdown, that was all she wrote for the Tigers' season.
After beating two No. 1 teams in a three-week period and believing they had a shot at the College Football Playoff, the Tigers might have had their motivation affected for this game.
That isn't an excuse, though. Gus Malzahn agreed to a seven-year contract extension following a 28-7 loss to Georgia in the SEC Championship, then the Tigers delivered an inconsistent performance against an inferior team (talent wise). That simply isn't acceptable.
But coach Scott Frost and the UCF Knights weren't intimidated by one of the SEC's top teams, and it showed.