2023 NCAA Baseball Tournament schedule: Super Regionals (June 9, 2023)
The 2023 NCAA Baseball Tournament resumes Friday as Super Regionals begin. Sixteen teams are now 2 wins away from making it to Omaha.
Eight Super Regional series are set to be played. Four begin Friday, with the other 4 set to open on Saturday. The 8 winners of the best-of-3 series will play in the College World Series.
The 2023 College World Series begins in Omaha on Friday, June 16. The 2 teams to survive double elimination will meet in the CWS finals, a fresh best-of-3 series, starting Saturday, June 24. The CWS finals will be completed by Monday, June 26.
2023 NCAA Tournament Schedule: Super Regionals, June 9, 2023
All times ET
Duke at No. 7 Virginia | 12 p.m. | ESPN
No. 14 Indiana State at TCU | 5 p.m. | ESPNU
No. 15 South Carolina at No. 2 Florida | 6 p.m. | ESPN2
Oral Roberts at Oregon | 8 p.m. | ESPNU
First pitch times and TV assignments are set for Friday and Saturday, with Sunday and Monday's schedules to be determined.
2023 Super Regionals schedule (June 9-June 12)
Winston-Salem — Alabama vs. Wake Forest
Game 1: Saturday, June 10 | 12 p.m. ET | ESPN
Game 2: Sunday, June 11 | TBD | TBD
Game 3: Monday, June 12 | TBD | TBD
Stanford — Texas vs. Stanford
Game 1: Saturday, June 10 | 6 p.m. ET | ESPN 2
Game 2: Sunday, June 11 | TBD | TBD
Game 3: Monday, June 12 | TBD | TBD
Hattiesburg — Tennessee vs. Southern Miss
Game 1: Saturday, June 10 | 3 p.m. ET | ESPNU
Game 2: Sunday, June 11 | TBD | TBD
Game 3: Monday, June 12 | TBD | TBD
Gainesville — South Carolina vs. Florida
Game 1: Friday, June 9 | 6 p.m. ET | ESPN 2
Game 2: Saturday, June 10 | 3 p.m. ET | ESPN 2
Game 3: Sunday, June 11 | TBD | TBD
Fort Worth — Indiana State vs. TCU
Game 1: Friday, June 9 | 5 p.m. ET | ESPNU
Game 2: Saturday, June 10 | 6 p.m. ET | ESPN U
Game 3: Sunday, June 11 | TBD | TBD
Eugene — Oral Roberts vs. Oregon
Game 1: Friday, June 9 | 8 p.m. ET | ESPNU
Game 2: Saturday, June 10 | 9 p.m. ET | ESPN U
Game 3: Sunday, June 11 | TBD | TBD
Charlottesville — Duke vs. Virginia
Game 1: Friday, June 9 | 12 p.m. ET | ESPN 2
Game 2: Saturday, June 10 | 12 p.m. ET | ESPN 2
Game 3: Sunday, June 11 | TBD | TBD
Baton Rouge — Kentucky vs. LSU
Game 1: Saturday, June 10 | 3 p.m. ET | ESPN
Game 2: Sunday, June 11 | TBD | TBD
Game 3: Monday, June 12 | TBD | TBD
2023 NCAA Tournament Bracket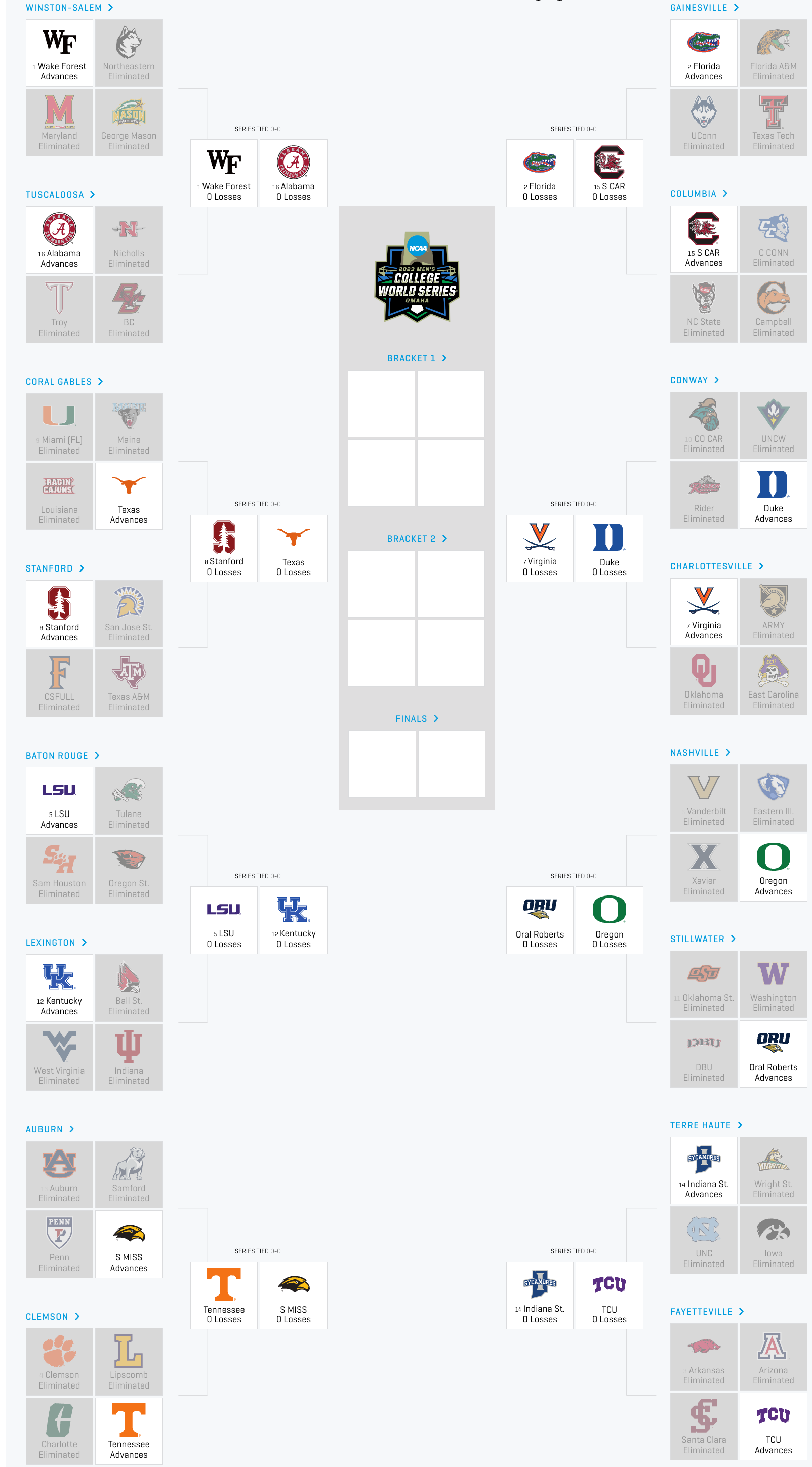 2023 NCAA Tournament Regionals scores
Here's a recap of how we got from 64 teams 1 week ago to 16 teams remaining in the NCAA Tournament field:
Auburn Regional hosted by Auburn (Southern Miss wins region)
Game 1: Samford 4, Southern Miss. 2
Game 2: Penn 6, Auburn 3
Game 3: Southern Miss. 7, Auburn 2
Game 4: Penn 5, Samford 4
Game 5: Southern Miss. 9 , Samford 4
Game 6: Southern Miss. 11, Penn 2
Game 7: Southern Miss 11, Penn 7
Baton Rouge Regional hosted by LSU (LSU wins region)
Game 1: LSU 7, Tulane 2
Game 2: Oregon St. 18, Sam Houston 2
Game 3: Sam Houston 10, Tulane 2
Game 4: LSU 6, Oregon State 5
Game 5: Oregon State 3, Sam Houston State 1
Game 6: LSU 13, Oregon State 7
Charlottesville Regional hosted by Virginia (Virginia wins region)
Game 1: Virginia 15, Army West Point 1
Game 2: East Carolina 14, Oklahoma 5
Game 3: Oklahoma 10, Army 1
Game 4: Virginia 2, East Carolina 1
Game 5: East Carolina 8, Oklahoma 5
Game 6: Virginia 8, East Carolina 3
Clemson Regional hosted by Clemson (Tennessee wins region)
Game 1: Clemson 12, Lipscomb 5
Game 2: Tennessee 8, Charlotte 1
Game 3: Charlotte 9, Lipscomb 2
Game 4: Tennessee 6, Clemson 5
Game 5: Charlotte 3, Clemson 2
Game 6: Tennessee 9, Charlotte 2
Columbia Regional hosted by South Carolina (South Carolina wins region)
Game 1: NC State 5, Campbell 1
Game 2: South Carolina 19, Central Conn. St. 1
Game 3: Campbell 10, Central Connecticut St. 5
Game 4: South Carolina 6, NC State 3
Game 5: Campbell 11, NC State 1
Game 6: South Carolina 16, Campbell 7
Conway Regional hosted by Coastal Carolina (Duke wins region)
Game 1: Duke 12, UNCW 3
Game 2: Rider 11, Coastal Carolina 10
Game 3: Coastal Carolina 12, UNCW 2
Game 4: Duke 2, Rider 1
Game 5: Coastal Carolina 13, Rider 5
Game 6: Coastal Carolina 8, Duke 6
Game 7: Duke 12, Coastal Carolina 3
Coral Gables Regional hosted by Miami (FL) (Texas wins region)
Game 1: Texas 4, Louisiana 2
Game 2: Miami (FL) 9, Maine 1
Game 3: Louisiana 19, Maine 10
Game 4: Texas 4, Miami 1
Game 5: Miami 8, Louisiana 5
Game 6: Texas 10, Miami 6
Fayetteville Regional hosted by Arkansas (TCU wins region)
Game 1: Arkansas 13, Santa Clara 6
Game 2: TCU 12, Arizona 4
Game 3: Santa Clara 9, Arizona 3
Game 4: TCU 20, Arkansas 5
Game 5: Arkansas 6, Santa Clara 4
Game 6: TCU 12, Arkansas 4
Gainesville Regional hosted by Florida (Florida wins region)
Game 1: Texas Tech 3, UConn 2
Game 2: Florida 3, Florida A&M 0
Game 3: UConn 9, Florida A&M 6
Game 4: Texas Tech 5, Florida 4
Game 5: Florida 8, UConn 2
Game 6: Florida 7, Texas Tech 1
Game 7: Florida 6, Texas Tech 0
Lexington Regional hosted by Kentucky
Game 1: Kentucky 4, Ball St. 0
Game 2: Indiana 12, West Virginia 6
Game 3: West Virginia 13, Ball State 5
Game 4: Indiana 5, Kentucky 3
Game 5: Kentucky 10, West Virginia 0
Game 6: Kentucky 16, Indiana 6
Game 7: Kentucky 4, Indiana 2
Nashville Regional hosted by Vanderbilt (Oregon wins region)
Game 1: Oregon 5, Xavier 4
Game 2: Vanderbilt 12, Eastern Ill. 2
Game 3: Xavier 7, Eastern Ill. 0
Game 4: Oregon 8, Vanderbilt 7
Game 5: Xavier 2, Vanderbilt 1
Game 6: Oregon 11, Xavier 2
Stanford Regional hosted by Stanford (Stanford wins region)
Game 1: Stanford 13, San Jose St. 2
Game 2: Texas A&M 12, Cal St. Fullerton 7
Game 3: Cal St. Fullerton 9, San Jose St. 5
Game 4: Texas A&M 8, Stanford 5
Game 5: Stanford 6, Cal St. Fullerton 5
Game 6: Stanford 13, Texas A&M 5
Game 7: Stanford 7, Texas A&M
Stillwater Regional hosted by Oklahoma St. (Oral Roberts wins region)
Game 1: Washington 9, DBU 5
Game 2: Oral Roberts 6, Oklahoma St. 4
Game 3: DBU 18, Oklahoma St. 4
Game 4: Oral Roberts 15, Washington 12
Game 5: DBU 9, Washington 1
Game 6: Oral Roberts 6, DBU 5
Terre Haute Regional hosted by Indiana St. (Indiana St. wins region)
Game 1: Indiana St. 6, Wright St. 5
Game 2: Iowa 5, North Carolina 4
Game 3: North Carolina 5, Wright State 0
Game 4: Indiana St. 7, Iowa 4
Game 5: Iowa 6, North Carolina 5
Game 6: Indiana St. 11, Iowa 8
Tuscaloosa Regional hosted by Alabama (Alabama wins region)
Game 1: Troy 11, Boston College 10
Game 2: Alabama 4, Nicholls 3
Game 3: Boston College 14, Nicholls 6
Game 4: Alabama 11, Troy 8
Game 5: Boston College 4, Troy 1
Game 6: Alabama 8, Boston College 0
Winston-Salem Regional hosted by Wake Forest (Wake Forest wins region)
Game 1: Maryland 7, Northeastern 2
Game 2: Wake Forest 12, George Mason 1
Game 3: George Mason 11, Northeastern 3
Game 4: Wake Forest 21, Maryland 6
Game 5: George Mason 11, Maryland 10
Game 6: Wake Forest 15, George Mason 1