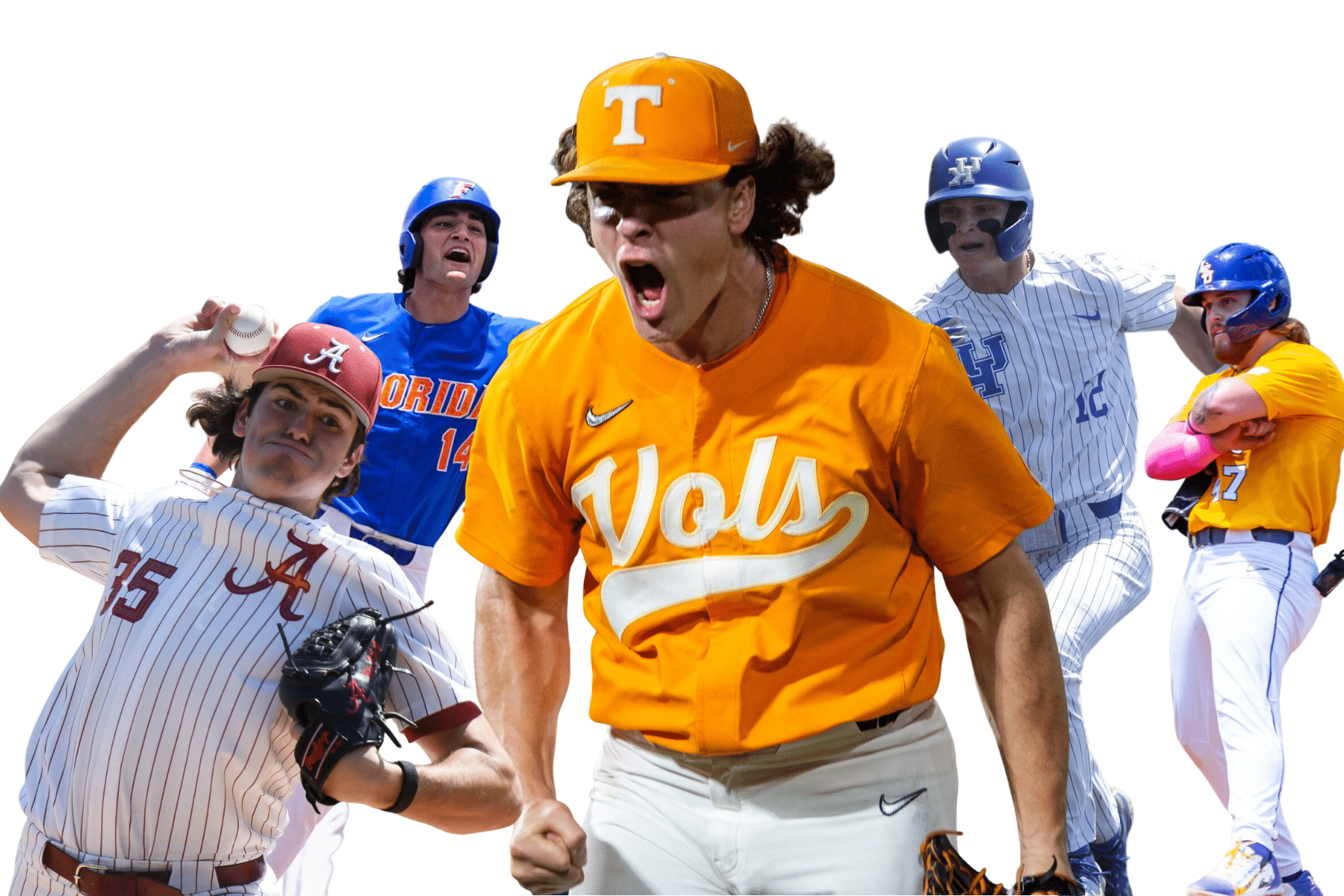 BASEBALL
Predicting how SEC teams fare in Super Regional showdowns
Six SEC squads are still standing in the hunt for Omaha.
The good news is that based on a pair of league-on-league matchups, the SEC will have at least 2 teams in the College World Series.
The bad news is that by the same token, no more than 4 SEC schools can get to Omaha.
Predicting college baseball is a difficult business. After all, Vandy, Arkansas and Auburn headed home from regional matchups they hosted. Meanwhile, Kentucky has reached just its 2nd Super Regional, LSU looks super again, Alabama continues its Cinderella run, and Tennessee is fired up and angry to still not be at home.
Here's our best guess on what happens in the weekend to come:
Alabama at Wake Forest: Wake in 3
Forget Kentucky, Alabama is the massive Cinderella. Alabama has gone 13-4 since Brad Bohannon was fired in midseason and climbed from the NCAA Tournament bubble to regional host to Super Regional squad. The problem is that the matchup runs smack into the top team in college baseball. Wake Forest ran through its Region by a 48-7 margin. They're talented, deep, and tough in all areas of the game. Rhett Lowder is the ACC's version of LSU ace Paul Skenes.
That said, Alabama's pitching has been underrated all season and will be again. They gave up just 11 runs in winning their Regional battles. Bama will pitch well enough to hang around in this series, get it to a 3rd game, and impress all of college baseball … but the Demon Deacons will survive and advance.
Florida vs. South Carolina: Gators sweep
South Carolina was a surprise in regional play. The host Gamecocks hit the NCAA Tournament something near ice cold, but they swept through by a 41-11 margin.
Florida also hosted a regional, but the Gators had to come through the loser's bracket to advance.
Their Super Regional in Gainesville looks like a great matchup. They are 2 of the top 4 home run hitting squads in the SEC and each has above-average pitching staffs led by some truly super starting pitching.
Both teams have current or future MLB prospects. Wyatt Langford could be the No. 1 overall pick in the upcoming draft. Jac Caglianone (31 HRs at plate; 7-3 on the mound) arguably is college baseball's best 2-way player. South Carolina's Ethan Petry (.374/23 HRs/75 RBIs) is the most feared freshman slugger in the country.
Florida took 5 games to win its regional, but they allowed just 8 runs in those 5 games. That seems to be the difference. Both teams have big-time pitching, but UF's squad gave up 1 run in 2 games to a team that beat them earlier in the week. Florida's pitching is red-hot and makes the Gators a team to watch not only this weekend, but all the way to the CWS finals.
Kentucky at LSU: Kentucky in 3
When Kentucky gave LSU a terrific series in Baton Rouge in April, it was somewhat surprising. That's before the Tigers struggled through a humbling last month of SEC play, going just 7-5. LSU, along with Wake Forrest, could be the most complete and talented team in the NCAA Tournament.
The Tigers are unquestionably the most star-laden team, as Paul Skenes and Dylan Crews could become the first set of teammates drafted No. 1 and No. 2 in the same MLB Draft. Slugger Tommy White (93 RBIs) isn't draft-eligible this year, but he's already projected as a top-10 pick in 2024. Plenty of other Tigers will be drafted in the next 2 years, too.
Kentucky, meanwhile, is grit central. The Wildcats win ugly, with clutch pitching, with walks and sacrifice bunts, and dribbled singles, and outfield flares that turn into doubles.
Kentucky is vastly outmanned, but also plays a style that will put pressure on the favored Tigers.
Six weeks ago, LSU looked to be coasting to the CWS title. But Kentucky can shock the world, and that's the pick.
Tennessee at Southern Miss: Vols in 3
Tennessee has alternated between brilliant and clueless. And there's a tendency to think last week's regional performance at Clemson was just another bounce, to be followed by a down turn. Maybe the best reason to pick the Vols came when the NCAA had to decide who got to host the Super Regional.
Neither was a national seed, and both went on the road to win their regional.
Tennessee had a superior RPI ranking and most metrics leaned their way, but the Super Regional went to Hattiesburg.
Now, an angry Tennessee team gets the pick to flex their way to Omaha. UT has always had the power, has always had the pitching, and at the 11th hour they got the added chip on their shoulder that Tony Vitello needed.
Three of the 8 College World Series are coming from the SEC East? You heard it here first.