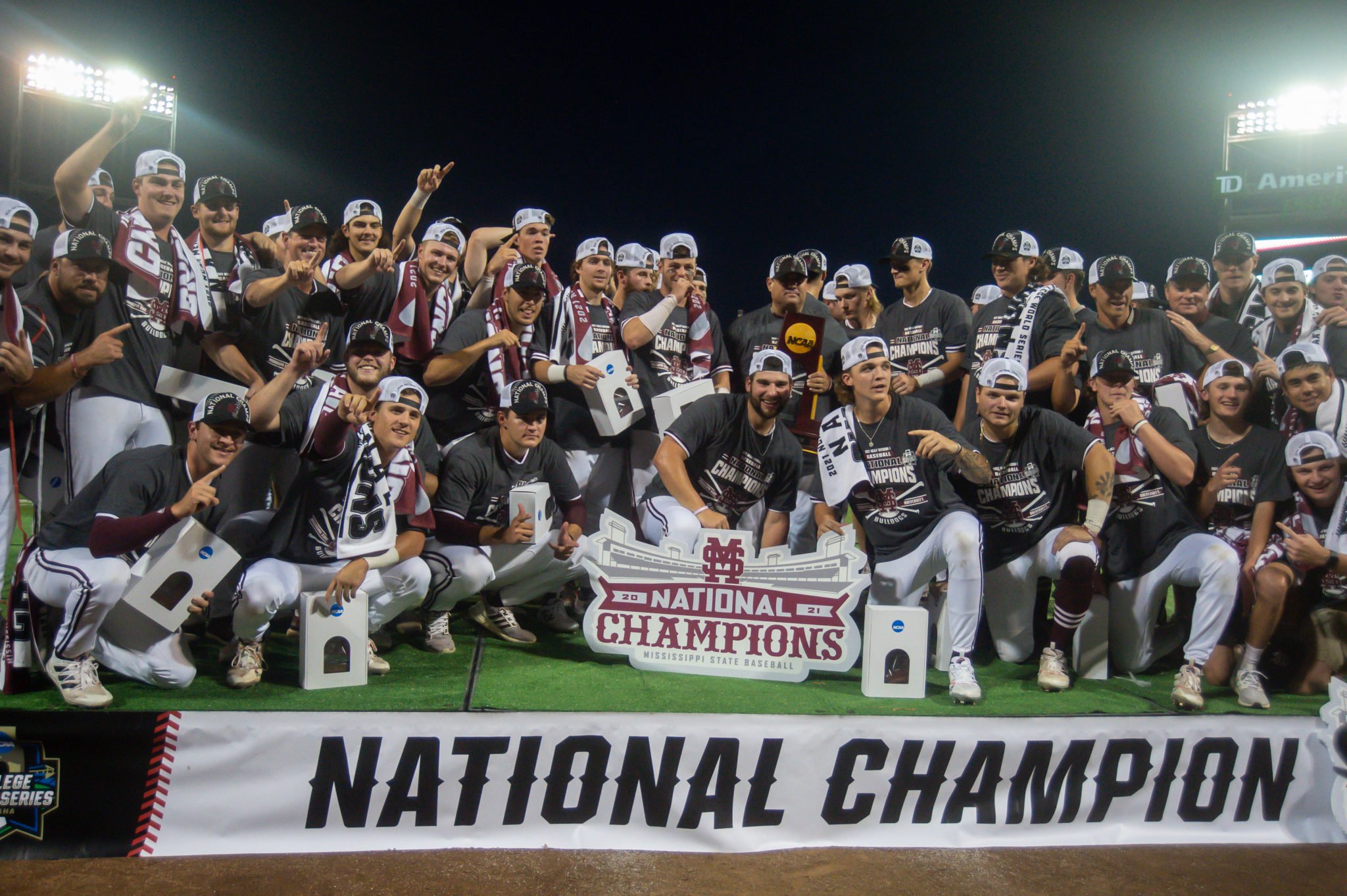 BASEBALL
Top 10 SEC moments in College World Series history
It's sometimes hard to believe that the SEC had never won a College World Series until Georgia broke through in 1990. In part, it's hard to believe because SEC teams have won 13 of the 31 national titles since — including the past 2. (Four more SEC teams are in Omaha this year, trying to make it a 3-peat for the league as CWS play begins Friday.)
Over that slightly more than 3 decades, there have been a ton of great SEC moments.
We even dove back into the 1980s for a couple, but here's a list of 10 top SEC moments in College World Series history.
10. Alabama's Dave Magadan has a series to remember
In 1983, the SEC was still vying for its first CWS title, and while Alabama came up a run short in the (then single-elimination) final, it wasn't Dave Magadan's fault. The future New York Met had an incredible CWS, batting .550 over the 5 games. His 11-for-20 performance (including a double, a homer and 5 RBIs) served notice that the SEC was producing some potent bats. Indeed, college baseball didn't have to wait long for another such reminder …
9. Will Clark thrills the MSU faithful
Indeed, 2 years later, another left-handed first baseman tore apart the CWS. Will Clark's Mississippi State Bulldogs went down in the semifinals, but not because of Clark. The .391 career hitter outdid even his own lofty standards, posting a 7-for-15 run in Omaha (.467) that included a double, a triple, 2 home runs and 5 RBIs. Clark earned All-Tournament honors, even though Miami took home the 1985 trophy.
8. Todd Walker's crazy run
On the other hand, LSU's Todd Walker did nab a trophy in his time in Omaha. Walker was part of the 1993 LSU title team and made a return visit to Omaha in 1994. In '93, Walker was Most Outstanding Player after hitting .350, with 3 homers and 12 RBIs in leading the Tigers to victory. His RBI total remains the most by an SEC player and is tied for 4th-most in CWS history. (Let's not forget Brett Laxton's contribution, either, to that title. Laxton struck out 16 to beat Wichita State in the championship game. That total remains the most by an SEC pitcher in Omaha.)
LSU didn't repeat the next year, but Walker's 5-for-7 performance at the plate demonstrated that he still very much meant business.
7. Putting the 'K' in Kumar Rocker
It's not just about hitters for the SEC, though. Freshman phenom Kumar Rocker owned the 2019 CWS. After a 19-strikeout no-hitter in the Super Regionals, Rocker was more or less human in Omaha. He won 2 CWS games that year, allowing just a pair of runs in 12 1/3 innings, and fanning 17 opposing hitters, earning Most Outstanding Player honors– again, as a freshman.
6. Florida's Faedo leads Gators to the crown
Rocker followed in the footprints of another SEC ace — Florida's Alex Faedo, the Most Outstanding Player in the 2017 CWS. In delivering the Gators' first CWS title, Faedo won won both of his starts, pitched 14 1/3 innings of scoreless ball and fanned 22 hitters. He didn't even have to pitch in the finals, because UF rolled to the title easily.
5. UGA winning the first SEC CWS title
Georgia finally put the SEC on top of the college baseball heap in 1990. The Dawgs haven't won another since, but this was a culture-changing victory. Key to the title was pitcher Mike Rebhan, who went 2-0 with a 1.00 ERA in Omaha, outdueling future Baseball Hall of Famer Mike Mussina along the way. Rebhan was named MOP. Sadly, Rebhan, who chose to be a computer software engineer rather than a professional pitcher, passed away from cancer in 2019. Every SEC ace dominating Omaha (see above 2) follows in his footsteps.
4. LSU and Bama have the first all-SEC final in 1997
For a league that hadn't won in Omaha until 1990, the SEC didn't waste much time, sending 4 teams to the CWS in 1997, and having the first all-SEC final with LSU taking down Alabama to repeat as baseball's national champion. LSU rolled to the title game, while top-seeded Alabama lost to Miami and had to beat the Hurricanes twice to earn the second spot in the final. How good were these two teams? Well, they took home 10 of the 11 All-Tournament nods, with LSU's Brandon Larson winning the MOP.
3. Mississippi State's 2021 rally
Vanderbilt rolled into Omaha having won the most recent CWS in 2019 (of course, there was no 2020 edition) and armed with the likely 2 best pitchers in the sport in Kumar Rocker and Jack Leiter. MSU arrived as something of an afterthought. The Bulldogs had to beat No. 2 national seed Texas twice to win a spot in the best-of-3 finals, but they did so, winning by a single run both times.
And in the finals, after Vandy rocked State 8-2 in Game 1, the unfazed Bulldogs rolled, winning Game 2 13-2 and then cruising 9-0 in game 3 as MOP Will Bednar outshone Vandy's aces and State claimed its first CWS title.
2. South Carolina closes one stadium as champions and opens another
Winning back-to-back CWS titles is always impressive, but South Carolina's 2010-2011 run will always be unique for another reason. The 2010 CWS was the last at venerable Johnny Rosenblatt Stadium, where the series had been played since 1950. Carolina swept the finals over UCLA, with Whit Merrifield's walk-off single in the 11th inning of Game 2 ending the proceedings.
The next year, Carolina christened TD Ameritrade Park by winning another CWS. Carolina did not lose a game in the NCAA Tournament, working late to nab a semifinal win over Virginia (3-2 in 13 innings) and Game 1 of the finals against Florida (2-1 in 11 innings). The 5-2 win in Game 2 wasn't as dramatic, but it gave the Gamecocks claim to a unique CWS dynasty moment that may never be equaled. South Carolina remains the most recent team to repeat as national champions.
1. Warren. Freaking. Morris.
Every kid has the dream. Bottom of the 9th, 2 outs, your team is behind, you're up to bat and … crack! The championship-winning homer sails into the stands as your teammates mob you.
Thing is, it actually happened to LSU sparkplug second baseman Warren Morris in 1996.
And if that doesn't sound improbable enough, check the details. Morris was an under-the-radar recruit who had turned himself into an All-American in 1995. But he missed much of the 1996 season with a painful wrist injury and was playing at well under 100% in Omaha. The walk-off homer to beat Miami? It was the only one he hit all season. It'll take something insane to supplant Morris' spot in SEC (and CWS) history.