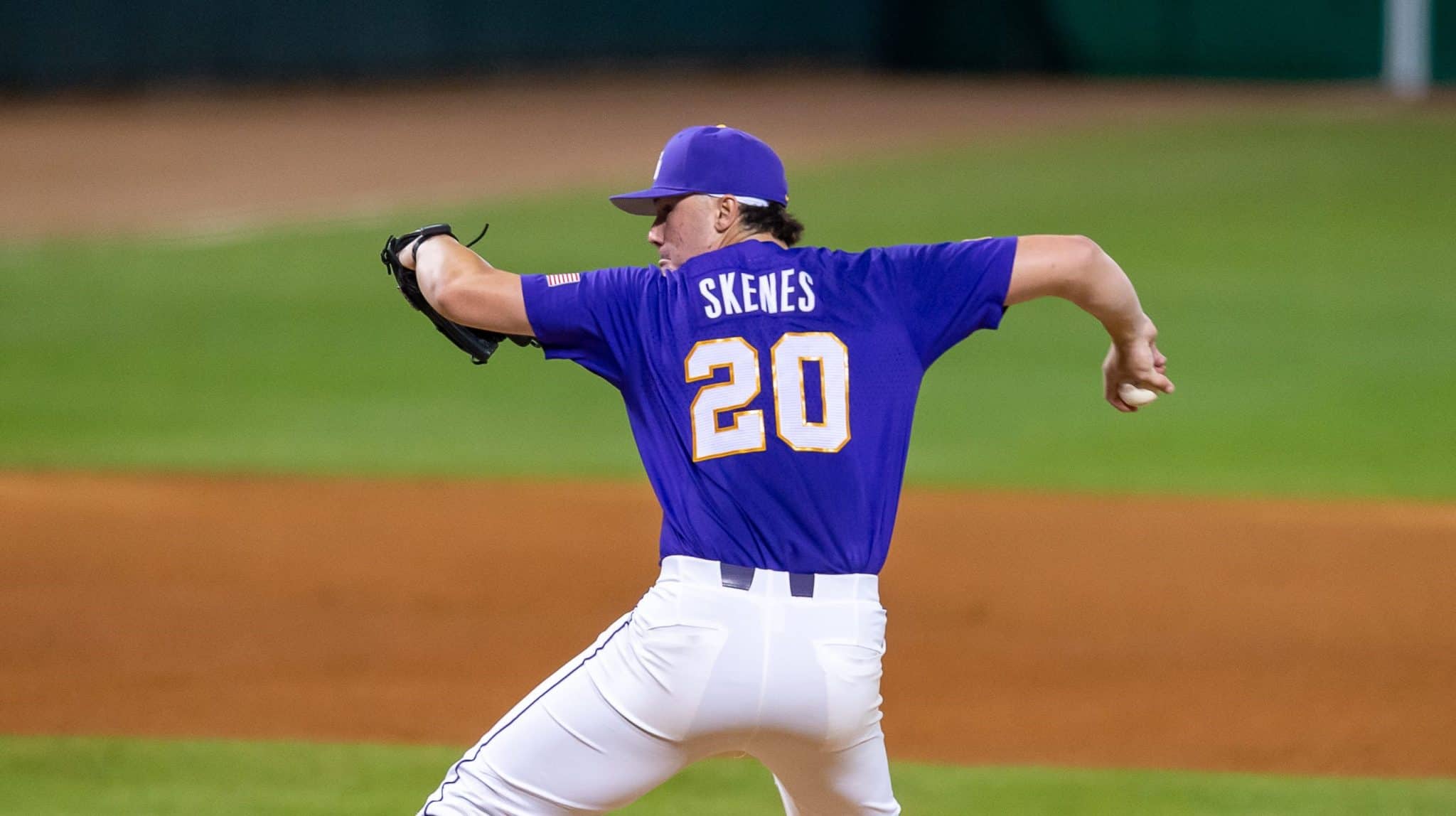 BASEBALL
Welcome to the most talent-rich College World Series ever
The College World Series is an event that needs no inflating.
No matter which 8 teams are involved, it's always going to be a special event. Though in terms of overall rowdiness in and around the ballpark, it certainly doesn't hurt when LSU is among those teams.
But Tigers fans quenching the thirst of their 6-year Omaha dry spell won't be the only thing standing out in this year's College World Series.
Every fan at Charles Schwab Field over the next fortnight will potentially be witnessing college baseball history — for this is poised to be the most talent-laden College World Series of all-time.
It is quite likely that for the first time, the top 3 picks in the upcoming Major League Baseball Draft will all be on the field in Omaha.
LSU pitcher Paul Skenes, LSU outfielder Dylan Crews and Florida outfielder Wyatt Langford are considered the consensus top 3 prospects in this year's draft. The only debate is over which order they'll be selected.
That order could account for another bit of history.
Rick Monday, the No. 1 overall pick in the inaugural MLB Draft in 1965, remains the only top pick to win the College World Series in the same year. He led Arizona State to the CWS crown. The Tigers or Gators could potentially produce the long-awaited second No. 1 pick with a championship ring.
But the talent hardly stops at those 3 players. As many as 6 players in the CWS field could be drafted in the top 10 (the record is 4), and perhaps 10 could go in the first round.
That's according to former Baseball America and current MLB.com draft analyst Jim Callis, who has been covering the MLB Draft extensively since 1988.
"It is pretty stunning how loaded this College World Series is," Callis said. "There's usually draft talent, obviously. But not like this."
The 2015 CWS is the current gold standard. Vanderbilt's Dansby Swanson and LSU's Alex Bregman went 1-2, followed by Arkansas' Andrew Benintendi at No. 7 and Vandy's Carson Fulmer at No. 8.
The 2008 CWS also had 4 top-10 selections: Florida State's Buster Posey (No. 5), Miami's Yonder Alonso (No. 7), Georgia's Gordon Beckham (No. 8) and Stanford's Jason Castro (No. 10).
Two players from each of those years reached the CWS championship series.
A few more historical nuggets to ponder:
Just 3 times have 2 top-10 picks reached the championship game: and 2021, 2015 and 1978. If draft projections hold, LSU could equal that mark by itself just by reaching the championship series. A matchup against Florida or Virginia likely would break it.
Again, this collection of talent in Omaha could leave those drafts in the dust.
In addition to the Big 3 at the top, Tennessee pitcher Chase Dollander, Wake Forest pitcher Rhett Lowder and Virginia catcher Kyle Teel are all ranked as top-10 prospects.
There are several players also likely to go later in the first round.
Stanford shortstop Tommy Troy, Florida pitcher Hurston Waldrep, Wake Forest third baseman Brock Wilken and TCU third baseman Brayden Taylor are all rated among the top 30 prospects.
"We have not seen this many guys in Omaha in a while," Callis said.
Maybe not ever.
Underdog Oral Roberts is the only team in the field without a first-round prospect. But the Golden Eagles aren't bereft of potential big-league talent.
"They have some guys that could go 3rd- or 4th-round," Callis said.
In a 20-round draft, that is still very much near the top shelf of talent.
Trend, or truly history in the making?
As more top prospects elect to attend college rather than signing out of high school, it might seem like this talent laden CWS is symbolic of change.
But it's more likely to be something we rarely, if ever, see again.
Callis said that the 5-round 2020 draft changed the calculus for MLB teams and high school prospects.
"I do think this year's college class is deeper because of the pandemic," Callis said. "Teams weren't going over in the bonus pools and had less flexibility in shifting money around."
Callis said players like Crews, Dollander and Teel had the ability to sign out of high school. But because of the circumstances, each was better served playing in college.
On top of that unprecedented scenario, there's the reality of every college baseball season: It's really hard to get to Omaha.
Wake Forest is trying to become the first national No. 1 seed to win it all since 1999. That stat symbolizes how even teams with the most prospects don't always end up on this stage.
"Last year the best team in the country was Tennessee," Callis said. "Very similar to this year's Wake team in balance. Didn't make it to Omaha.
"The year before that, the best team in the country was clearly Arkansas and they didn't make it to Omaha. The best teams don't always make it. You kind of have to have a perfect storm for something like that to happen."
So really, this College World Series is a confluence of two perfect storms.
The college talent pool is deeper than usual, and more of the best teams made it to Omaha than usual.
It could create a once-in-a-lifetime feel to what is already one of the greatest events in sports.
"It's my favorite event in baseball every year, and it's going to be even more exciting," Callis said. "It's great for college baseball. It's a great showcase.
"It's a tremendous event in a normal year. But now you have all these guys who will go very high in the draft and probably get to the big leagues quickly."