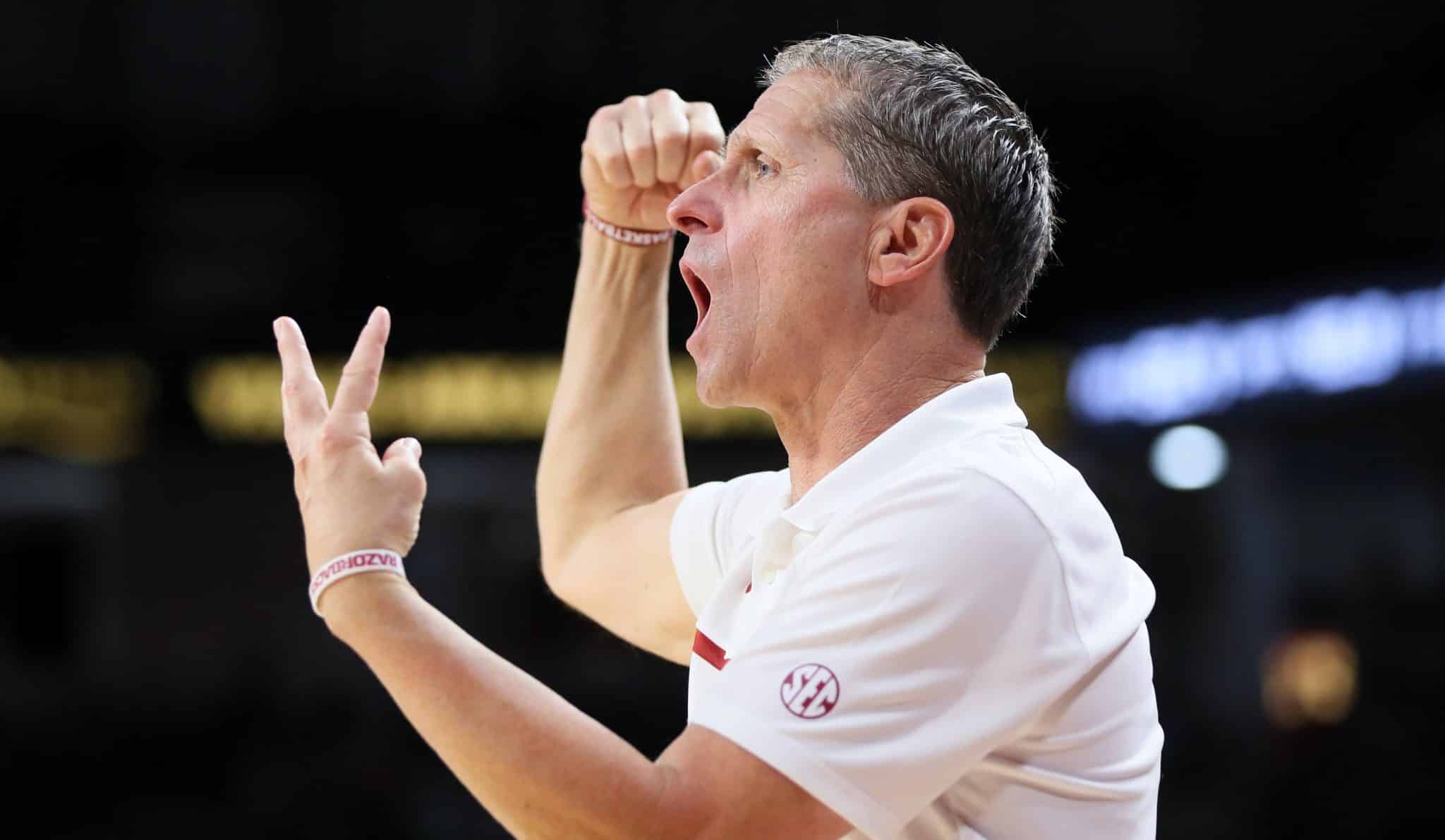 COLLEGE BASKETBALL
SEC basketball notebook: Arkansas, Kentucky trending up, a coach on the hot seat and more
The SEC is starting to get shaken up. After falling to 1-5, Arkansas has rebounded. After losing at home to South Carolina, Kentucky has sprung back to life … although each has big nonconference games upcoming. Auburn is sneaking into the top of the SEC conversation, and 1 SEC school is likely staring at coaching vacancy. Here's where the SEC stands.
Arkansas comeback?
Somewhere in the Hogs' 1-5 SEC start, their struggles became pretty easy to spot. Yes, losing Nick Smith was critical, and before that, losing transfer big Trevon Brazile was more important than many first thought. But Arkansas had been dreadful in conference play in shooting and defending the 3. In those 5 conference losses, the Hogs had games where they shot 16, 13 and 20% from long range. They also had games where they allowed opponents to shoot 56 and 45% from 3-point distance. The good news is that the problem has been remedied, whether by playing 2 poor teams in Ole Miss and LSU, or by shooting 40% and 39% from distance in those games, or by holding the opponents to a combined 6 3-pointers made.
The Razorbacks finish the month with a trip to Baylor and a home game against Texas A&M. Both are opportunities to test whether Arkansas has really revived, or the schedule was simply favorable. Ricky Council and Anthony Black have been an excellent one-two punch, and if Arkansas ever gets Smith back, they could yet surprise the league and the nation. Saturday is a good test run in that quest.
Kentucky again?
Meanwhile, after the coaching obituary columns flowed freely after Kentucky's still unintelligible home loss to South Carolina, John Calipari is proving rumors of his demise to be greatly exaggerated. Kentucky has rallied to 5-3 in SEC play and may yet play its way into a decent NCAA Tournament seed. The temporary loss of guard Sahvir Wheeler has forced scorers Antonio Reeves and CJ Fredrick into bigger roles. Meanwhile, Oscar Tshiebwe has looked more like the defending National Player of the Year, which of course, he is.
Kentucky has tightened its rotations and is using Wheeler as a spark off the bench, rather than the focal point of UK's offense. The Wildcats shot 56% in Tuesday's win over Vanderbilt and Tshiebwe has 67 rebounds in UK's 4-game winning streak. Jacob Toppin is even showing signs of consistency, and Calipari could be preparing another of his late-season UK turnarounds, perhaps best illustrated in 2011's run to the Final Four and 2014's run to the national title game.
Auburn contending
Meanwhile, Auburn has snuck its way to a 6-1 SEC start. After a puzzling loss to Georgia to open the month, the Tigers haven't lost since, and if they can survive a home tilt with Texas A&M, they have an excellent chance to best West Virginia and enter February with a 7-game winning streak.
Auburn is holding opponents under 38% shooting and to a 22% mark from 3-point range. Johni Broome has been a pivotal plug-and-play transfer, and veteran role guys like Zep Jasper make Auburn a frustrating opponent. The Tigers might not be overwhelming, but they've been successful.
The hot seat
It can't be much of a secret, but Ole Miss is pretty terrible. The 9-11 Rebels are the lone squad with 1 conference win that's not led by a brand new head coach. Kermit Davis is now 73-72 overall at Ole Miss and 31-49 in conference play. He's 0-2 in postseason play and 0-1 in NCAA Tournament games.
Davis won 20 games in his first year in Oxford, but hasn't done so since. His predecessor, Andy Kennedy, won 20 games 9 times in 12 seasons (and won 19 games in one of the other 3). Look for new AD Allen Greene to make a move after the season. Ole Miss might struggle to exist in the upper echelon of the SEC, but given how the SEC's younger coaches have performed, don't be surprised if the Rebels go young.
The NCAA hunt
BracketMatrix has Alabama tied with Purdue as the nation's 2 teams both universally garnered 1 seeds in the 79 brackets comprising the site's composite NCAA field. Tennessee stands as the top No. 2 seed in the projected field, with over a dozen projecting the Vols as a top seed, but on the other hand, a few bracket projectors looking at UT to fall to a No. 3.
Auburn sits solidly as a No. 5 seed and a team listed in every NCAA projection. Arkansas is forecast as a No. 8 seed and is likewise included in every NCAA field. Missouri is projected as a No. 10 seed and was chosen in 74 of the 79 projections, while Kentucky is currently a No. 11 seed and 1 of the final teams in the composite bracket. Florida and Mississippi State were both chosen in just 1 projected bracket, while Texas A&M remains outside any projected bracket.
ESPN's Joe Lunardi has Bama and UT as No. 1 seeds, Auburn as a No. 6, Arkansas as a No. 8, Missouri as a 10 seed, and Kentucky as a No. 12 seed. The Wildcats are Lunardi's next-to-last team in the field.
Games to watch
Among a multitude of big games to watch are the SEC/Big 12 Challenge matchups. Here's our highlights of the week to come:
Texas A&M at Auburn (Wednesday): The Tigers are a 4.5-point favorite, but this is a chance for the Aggies to pick up another big win and move to 6-1 in league play.
Kansas at Kentucky (Saturday): With the Jayhawks stumbling into Rupp, this game doesn't feel quite as uneven as it did. But Kentucky could use a quality win as they still look to offset that Quad 4 loss to South Carolina.
Arkansas at Baylor (Saturday): Again, are the Razorbacks better … or have they just feasted off little fish? We'll know soon enough. Baylor just beat Kansas.
Texas at Tennessee (Saturday): A pair of top-10 teams meet in the "Rick Barnes Bowl." UT has a legitimate shot at a No. 1 seed and this win might push them up a notch in that pecking order.